Report of Alan & Jan's Visit to Europe
Jan, Rejieli & Alan in London
We flew to London on 18 June after a one-night stopover in San Francisco, arriving in London on Sunday morning, 19 June, which was Father's Day in England. That evening Rejieli Paulo invited us to a barbecue in Mecklenburg Square, not far from Russell Square where we were staying, and very near to where some of the bombs went off a few weeks later. Rejieli is staying with her husband, Duncan, and daughter, Isabella, at Goodenough College just off Mecklenburg Square. She is studying at the National Opera Studio in London and has performed at the Queen Elizabeth Hall, London, with the London Ballet orchestra. This was the first time we met Rejieli and we were charmed by her; she is a delightful and very talented lady. It was a fun evening for us, in large part because of the delightful community that has been formed by the students and their families (Goodenough College is composed of postgraduate students from around the world studying in various academic and artistic areas). We were happy to see that Rejieli and her family had already made so many friends there.
The following evening Rejieli and Duncan invited us to dinner in their flat along with a couple of her friends. We really enjoyed talking to each other and we stayed on past midnight before returning to our hotel. The next day Rejieli left for a visit back home in Melbourne, so we were lucky to have had the chance to meet her, Duncan, and Isabella.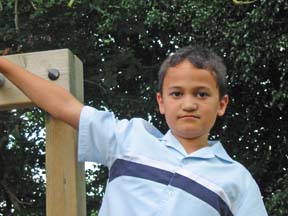 David Rosser
On Wednesday, 22 June, we met Sheridan Rosser at Waterloo Station, and went with him by train to his home in Sandhurst. Sheridan was married to Harieta Muaror before she tragically died in the year 2000. Their son, David, is now nine years old and his face reminds us so much of Harieta. Sheridan has since remarried (a lovely British woman named Anne), so David now has a step-sister named Molly, around his own age. We had a really enjoyable time visiting with them.
From Sandhurst we went to Sutton, Surrey, where we spent a couple of days with Richard and Lorraine (Rigamoto) Tizard-Varcoe. Staying with them are daughter Tieri and their niece, Elinoa Rigamoto (daughter of Victor and Kafoa). Elinoa is in England on a 2-year work-visit visa.
On Saturday, 25 June, Richard and Lorraine invited a few people over for dinner, including son Bruce and his lovely bride, Leilani; Akeneta (who had been married to Hiagi Apao); their daughter Katalina; Katalina's husband Michael (who is in the British army and was about to leave for Afghanistan); and their two children, Helava and Lars. We felt a special bond with Akeneta because she is sigoa to Akeneta Sakimi, who was like a sister to us.
| | |
| --- | --- |
| | |
| Akeneta, Lorraine & baby Lars | Tieri & Elinoa |
Bruce & Leilani
The next day we left England for Hamburg, Germany, where we spent a couple of days with Hans & Heike Schmidt and their two young sons, Paul and Theo. Hans is a linguist who has done a lot of work studying the Rotuman language. The conclusion of his doctoral thesis, about the history of the Rotuman language, is on this website. Hans first went to Rotuma in 1981 for several months, and then returned in 1993 (with Heike and Paul; Theo was not born yet) for his dissertation research. We enjoyed walking around Hamburg with Hans and taking a cruise on the Elbe river one afternoon. It was a really enjoyable visit.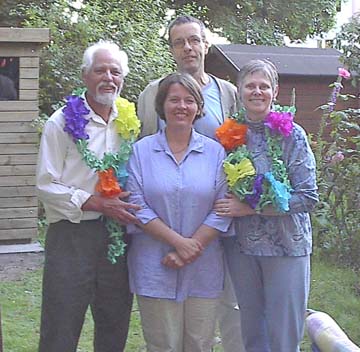 Alan & Jan with Hans & Heike Schmidt in Hamburg
From Hamburg we flew to Pisa, Italy, where Fr Tom Splain (a Jesuit priest who is a former student of Alan's at the University of Hawai'i) came up from Rome where he has been teaching a the Gregorian University, to meet us. We went to look at the leaning tower (of course) and took an excursion to the nearby walled city of Lucca, before going to Assisi (home of St. Francis) for a couple of days. From there we went to Rome and spent three days, eating wonderful Italian food and walking around the city. Tom took us to the Marist Archives in Rome where the archivist, Fr Carlo-Maria showed us some of the original letters (in French) from the Catholic priests who served in Rotuma during the last two centuries. It was exciting to see their hand-written letters, but the big surprise came when we asked about photographs. Fr Carlo-Maria said there were no albums for Rotuma, but he brought out eight volumes of photos from Fiji, and sure enough, scattered among the Fiji pictures were some 90 photos from Rotuma, dating back to the early years of the 20th century. It was really exciting to discover this treasure. Fr Carlo-Maria offered to scan the photos for us and put them onto a CD which he mailed to us. See photos.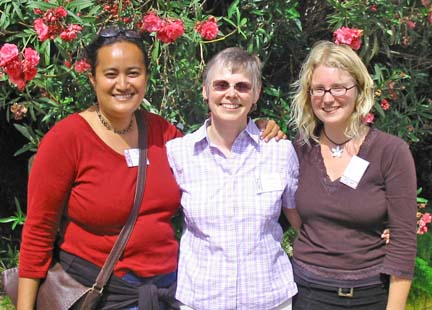 Mere Taito, Jan, and Ragnhild Scheifes
After a week in Italy we took an overnight sleeper train from Rome to Marseille, where we attended a conference held by the European Society for Oceanists. It was great to meet many old friends there and to make some new ones. As in Italy, dinner in Marseilles doesn't usually begin until about 8 or 9 in the evening and goes on for 3 or 4 hours; the food, wine, and company were all memorable. Our paper at the conference was a powerpoint presentation about Vilsoni Hereniko's film, The Land Has Eyes. Vilsoni was scheduled to come to the conference to screen the film, but he was unable to make it, so he asked us to present it, which we were happy to do. (Vili and Jeannette are currently at Cambridge University in England, where Vili has a scholarship for two months to study court jesters). The audience responded very well to the film, which Jan introduced. Afterwards, Alan led a question and answer session about the film. When someone asked about how Rotumans have responded to the film, Alan introduced Mere Taito, from the Centre for the Enhancement of Learning and Teaching at USP, who was attending the conference. Mere told the audience how wonderful she thought the film is, and how proud she is that this film was made for the Rotuman people. She said she spoke for all Rotumans, and Fijians as well. Also at the conference was Ragnhild Scheifes, who has just completed a Master's thesis about fara music in Rotuma. Ragnhild was on the island during this last mane'a season and recorded a lot of fara songs.
After the conference we spent three days with our very dear friends, Paul van der Grijp and Francoise Douard-Marsaudon, at their home in Salon de Provence in southern France. Paul and Francoise are both anthropologists who have done much research in Tonga, Futuna, and Wallis Island, which, of course, have much in common with Rotuma. Paul has, in fact, visited Rotuma with the idea of making some comparisons with these other Polynesian islands.
Memorial flowers for victims of London bombings
Finally, we headed for London by train via the tunnel under the English Channel. We must admit that we were a bit nervous while going through the "chunnel" because it was only four days after the bombings in London, but we got through okay. Our hotel in London is just off Russell Square, not far from one of the bombings, and some of the streets in the area were still closed off. We were deeply moved by the flowers and condolence messages placed in the park at Russell Square.
The flight home from Heathrow to Honolulu was long and rather tiresome, but we felt happy to get back home, filled with fond memories of such wonderful friends, good food, and lovely places.