Report of Visit to New Zealand and Fiji, June-July 2006
New Zealand (25-30 June)
We arrived in Auckland aboard Air Pacific shortly before noon on Sunday, 25 June, and were met at the airport by Savika Oakley and her son James. Savika drove us to her farm in Bombay, south of Auckland, where we rested a bit before going into town to Kingsland Hall, where Savika had arranged a gathering. We were happy to meet a number of old friends there, including Susau and Pat Strickland, Rosie Ackland, the Rev Ravai Rennel, and Darleen Penjueli, among others.
Roger & Savika Oakley

Savika, Susau Strickland, the Reverend Rennel
& Pat Strickland
We stayed overnight with the Oakleys and the next morning took the plane to Wellington, where we stayed with Ravai and Arthur Shaw and our 3-1/2 year old sigoa, Hatamara, in Whitby, Porirua. During our stay we visited the Alexander Turnbull Library and acquired some historic photos from Rotuma, but most of the time we spent getting to know Hatamara--playing games with her, going with her to her preschool, and just enjoying our time with the Shaws. We found Hatamara to be full of boundless energy and talkative as can be (mostly in English, but with occasional bursts of Rotuman). We were totally captivated by her charm.
| | |
| --- | --- |
| | |
| Hatamara | Jan reading to Hatamara at bedtime |
On 30 June we took Air Pacific to Nadi, arriving around 4:30 in the afternoon; we were scheduled to fly to Nausori (Suva) on Air Fiji at 8:45 that evening. We went to the Air Fiji counter to see if we could check in. The agent told us that the 5 pm flight was delayed till 6 pm, and that we could go on that flight if we wanted. We said it would be okay with us and he checked our bags and wrote out boarding passes. Then he got a phone call (his computer was down) and was told that some incoming flight had been cancelled. He started swearing at the guy on the phone... the upshot was, he told us, we couldn't go on that flight. Later we heard him announcing to the 5 pm (now 6 pm) passengers that their flight would be at 7 pm. Around 7 pm we wandered back to see what was happening, and asked the agent about the "7 pm" flight.
"Don't even think about it," he advised us. "Forget that flight. You're on at 8:45." But about 7:15 another Air Fiji agent came over to us and said, "Come, your flight is boarding now!" So we grabbed our carry-ons and went through security, but the gate agent couldn't find us on her list of passengers and sent us back inside. When the original agent spotted us and the gate agent, he yelled out, "No, those people are on that flight!" So we ran back through security (we had to have our carry-ons scanned again) and the gate agent ran out on the tarmac waving her arms and yelling, because the plane already had its engines revved and propellers turning, and was preparing to taxi away. But they stopped and opened the door and the gate agent said, "Take any open seat!" and we scrambled aboard. We arrived in Nausori about 8 pm and phoned our hosts, John & Sue Tevita, and they picked us up at 8:45.
We tell about this incident because it is indicative of the problems Air Fiji has been having lately. In fact we were unable to go to Rotuma this time because Air Fiji had cancelled every flight to Rotuma for four weeks in a row! The issue of Air Fiji's problems was even raised in Parliament while we were in Suva. As we understand it, Air Pacific has requested permission to fly domestically within Fiji, including to Rotuma, but Air Fiji is trying to block it. Hopefully the situation will improve soon.
Despite missing out on going to Rotuma, our time in Suva was well spent. Fortunately, Elisapeti Inia, our dear friend, was able to come to Suva by boat, so we were able to spend a lot of time with her. During the first week Jan attended a conference at USP ("Vaka Vuku: Navigating Knowledge"), which was attended by representatives from all over the Pacific region. Rotuma was well represented by Vilsoni Hereniko, who participated on two panels, one on Pacific Film, the other on Aesthetics and Art, and by the Rev Seferosa Carroll, who gave an exhilarating talk entitled "Hospitality: A Helava Way." Also attending the conference was Ragnhild Scheifes, who was visiting Rotuma for the first time since completing her Master's thesis about fara singing and dancing. Ragnhild, who is from The Netherlands, came back to Suva on the boat with Elisapeti. At USP we also were able to spend some time with our friends Mere Taito and Mausio Ralifo.
| | |
| --- | --- |
| | |
| Reverend Seferosa Carroll | Ragnhild, Mere Taito & Jan |
While Jan was at the conference, Elisapeti and Alan attended a two-day Rotuman Language Teacher's Workshop at the Curriculum Development Unit (CDU). The workshop was organized and led by Maria Fonmanu and attended by nine teachers, including Jieni Savike, Mua Jione, Fatiaki Managreve, Foraete Inia, Sitika Mario, Luisa Hanfiro, Saufiri Mere, Sarote Erasito, and Mafai Mausio. It was a fun and fruitful workship. We discussed issues associated with the teaching of the Rotuman language, and spent some time trying to develop a Rotuman vocabulary for mathematical terms. So, for example, the group decided that piu he fol = triangle, te ut ma'oi = polygon, väeag he e rere = numerator, and so on. Altogether we came up with Rotuman terms for about 45 concepts. Maria also presented some materials for teaching the Rotuman alphabet, including two charts developed by CDU, and the Rotuman alphabet song.
| | |
| --- | --- |
| | |
| Maria Fonmanu | Rotuman Language Workshop |
During the second week we spent some time at Fiji Museum and the Ministry of Information collecting historic photos of Rotuma. We will upload them to the website in the near future. We also were fortunate to be in Suva when Yat Sen School was celebrating the 70th anniversary of its primary and 20th anniversary of its secondary schools. We got to tour the school with Sue Tevita, principal of the secondary school, and attend dance performances by the students. It was great. Jan's sigoa, Harieta Janet Vilsoni, attends Yat Sen Secondary and we got to spend some time with her, which was a real treat.
| | |
| --- | --- |
| | |
| Sue Tevita and mother, Elisapeti Inia | Harieta Vilsoni with sigoa Jan |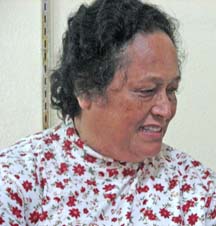 Rigamoto Langi
We were happy to have an opportunity to visit with Rigamoto Langi, and had the good fortune to come across Seferosa Johnson and her family, who were visiting from Australia to celebrate Sef's birthday.
In addition to the Tevita family, who so graciously hosted us for the two weeks we were in Suva, we were hosted for meals by Tukaha Mua, his daughter Makereta, Timoci and Helene Tuitakali, Maniue Vilsoni, and Jioje and Sarote Konrote. We are grateful to all of them for making our visit to Fiji so very special.
---