From Alan & Jan (21 February 2007)
We are saddened to report the death of Aubrey Parke, who died on 20 February. Parke served as District Officer on Rotuma in 1964 and did a remarkable amount of research into Rotuman culture while on the island. Among his publications are the following:
Rotuma: A Brief Anthropological Survey. The Journal of the Polynesian Society 73(4): 436-437 (1964)
Legends, Language and Archaeology of Rotuma. Transactions and Proceedings of the Fiji Society for the Year 1964 and 1965: 97-115. The Fiji Society, Suva (1969)
Rotuman Idioms: Fäeag 'es Fuaga. Linguistic Society of New Zealand, Te Reo Monographs. Auckland. 48 p. (1971)
Rotuma - Custom, Practice and Change. Coombs Academic Publishing, ANU, Australia (2003)
Seksek 'e Hatana, edited by Aubrey Parke. Suva, Fiji: Institute of Pacific Studies, University of the South Pacific (2002)
The following eulogy was composed by his daughter, Fiona:
It is with great sadness that I inform you that Dad passed away at 11.30 am this morning. Determined that he was to live on the earth for a lot longer, his tired and worn out body just wouldn't let him.
He was a Gentleman and a Scholar right up until the end. Always polite and appreciative of anything anyone was doing or had done to assist him no matter how uncomfortable it made him feel. He never complained. Woe betide you if you showed signs of an ethnic background. He'd gently dig away with questions about your heritage and then more than likely continued conversations in your native tongue. He was delighted to discover a couple of Fijians from a familiar village working in the kitchens of his last nursing home. He would take his daily constitutional walks up there and the two men would stand on ceremony catching up on news in the local dialect. Or with a very elderly women who had forgotten the art of speech. Dad discovered she was a refugee from Germany and used to speak English. So on his walks he would stop and sing to her in German and to his delight and to everyone's surprise she joined in the chorus. He discovered a young Cantonese student working part-time while she studied at the university. They made a deal - he would assist her with English and she taught him Cantonese. His brain and patience never stopped.
Our visits were always greeted with absolute delight. He'd be sitting surrounded by numerous pages of newspapers and we'd sit discussing world events, he informing me of the most up to date information, usually if something was brewing in the Pacific. He loved hearing about our daily lives and news we passed on from friends and colleagues. From him there would always be a little request or rather a list of requests of things to do and things that needed to be done. He still held office. Our thanks to those who were the end receivers of requests, you know who you are.
For Dad his last great achievement was to complete his thesis, and to receive his PhD. His bound copy is now full of corrections! Dad just didn't want to go as he still had unfinished business to attend to. I am aware of at least 6 publications he was determined to sort out, and I am sure he would have thought of something else too.
---
From Mika Taito in Big Sur California (21 February 2007)
 


Noa'ia 'e mauri!


 
The Seven Stars of Rotuma in California will celebrate Rotuma Day 2007. Celebration this year will be on Saturday May 12th at the Centerville Community Center in Fremont California.
 
Celebration is scheduled to start at 4pm. Tickets are sold at $20. A

tautoga

will be performed by members of the Seven Stars of Rotuma followed by ever popular Maliha Band including DJ Pete.
 
Our
purotu
for the

tautoga

this year will be Mrs.Makrao Mario from Santa Rosa California and our next dance practise and meeting will be on Saturday March 10th at 11am in Fremont.
 
Seven Stars of Rotuma will be honoured to have Mrs. Sarote Weseley Tolo from Kerns Utah as our Guest Speaker and Dr. Bruce Richmond from Las Lomas California  as our Master of Ceremonies.
 


'Otomis Gagaj Puer ta

Pedro Rigamoto and members of Seven Stars of Rotuma wish to extend an invitation

se ta kainag 'e Mereke ma ut tutu ne rante'

to join us for Rotuma Day. You can reach us via  email  RotumaDay2007@aol.com
 
Here are the time and place & directions to the Celebration Hall
 
                                        Rotuma Day Celebration 2007
                                        Dinner & Dance
                                        Featuring Maliha Band & DJ Pete
                                     
                                        Saturday May 12th 2007
                                        4:00 pm - 12:00 am
                                        Dinner 6:00 pm - 8:00 pm
 
                                        Centerville Community Center
                                        3355 Country Drive
                                        Fremont CA 94536
                                        (510) 791-4324
 
From Oakland ( North )                                           From San Jose ( South )
I-880 South                                                             I-880 North
Exit Mowry Ave. East                                             Exit Mowry Ave. East
Turn Left Fremont Blvd                                           Turn Left Fremont Blvd
Turn Right Country Dr                                             Turn Right Country Dr
3355 Country Dr                                                      3355 Country Dr
 


Faiaksia ma fu'uomus

!
 
---
News from Bruce Tizard-Varcoe in England (8 February 2007)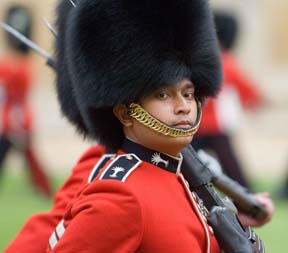 Kava Fullman at Welsh Guard rehearsal
Kava ("Ieli") Fullman has returned to the U.K. having completed a 6-month peacekeeping tour of Bosnia.
Son of Tarterani and Selina (nee Albert), Kava joined the British Army in 2001 and is in the Welsh Guards, one of a number of regiments who wear the famous bear skinhats(now synthetic) and red tunic uniform.
In 2004, he married his English fiancee, Loise, before heading out to Iraq for a tough 6-month tour.
Currently based in London, his regiment provides the Guards at St James's and Buckingham Palaces, the Tower of London and Windsor castle. Other ceremonial tasks and parades consist of Trooping the Colour and Guards of Honour for visiting heads of state.

In May 2006, the Welsh Guards presented their new "Colours" to the Queen at her Windsor Castle residence.
Kava in Iraq
---
From Lily Penjueli in California (5 February 2007)
On Saturday, 3 February, Nata Makasini and Judy Makasini (nee Delai) celebrated daugther Salome's first birthday. The function was held at the Sandpiper Community Center in Redwood City, California. The celebration was attended by many relatives and friends. Most notably were those from Nata's Tongan side and Judy's Fijian, Rotuman and Samoan side.
Both sides of the family presented many traditional gifts and dressed the couple in colourful traditional costumes. Food was prepared by both families. There was lots of lovo food, fekei, palusami and much more. The guests were entertained with singing and several excellent dance performances by Nata's Tongan cousins and the Vaioli sisters from Matofili's Samoan side.
| | |
| --- | --- |
| | |
| Nata | Judy |
Nata and Judy are US citizens. Judy is the youngest daughter of Eliki and Matofili Delai. Eliki is originally from Tailevu and Vanua Balavu in Fiji and Matofili's parents are Sefrosa and Maisi of Motusa, Rotuma. The family now lives in California.
---
From Fijitimes Online (5 February 2007)
Right dose for Rotuma
PEOPLE of Rotuma will have better and new health facilities.
This was possible with the kind donation of Project Rotuma, a United States of America based charity organisation.
The project has donated wheel chairs, walkers, crutches, walking canes, hospital beds, lounge furniture and other medical equipment and supplies to the hospital.
Flying Doctors, Organisation of San Jose, an American based doctor's charity group has also laid a helping hand in this by donating medical supplies. A Nadi businessman, Mua Taukave will be officially donating the supplies to Rotuma Island Council today on behalf of Project Rotuma. Mr Taukave said this would be a big help to the community of Rotuma that has a population of approximately 2500. "This will mean a lot to the hospital and the people of Rotuma as this would be the first time for them to receive something in abundance by this organisation. Mr Taukave said the donation was timely.
---
From Glory Brown in Hamilton, New Zealand (4 February 2007)
On the 21-22 December 2006 family, friends and dignitaries gathered at the small village of Saukama, Juju District, to celebrate the women's and men's craft and agricultural competition. Guests included Jioje Konrote; Principal Susau Managreve, his wife Rachael and student representatives; the Manuelis from Noa'tau; the District Officer; and numerous international visitors.
Visoni Aperto took the men's overall points and Marieta Varea Veu from Hahi'a captured the top female points. The day concluded with a tautoga by the youths, an abundance of food of every description, and of course, kava.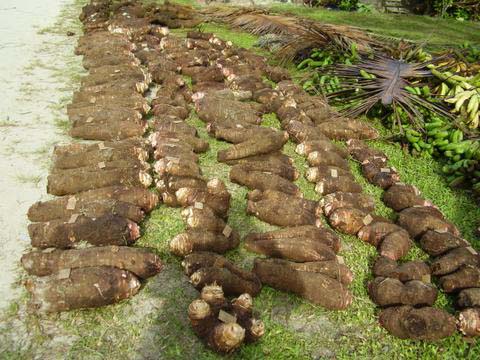 ---