From Fijitimes Online (11 January 2009)
Aisea Konrote
Fashion designers interpret and blend instances of life in their works. Even though the Fiji Fashion Week ended early last month, one emerging fashion designer with the heart and passion for the field is Aisea Konrote who graced the catwalks with his Viti Versace collection for the first time.
His designs at the fashion week got heads turning in all directions as he simmered and smothered his works on the catwalk.
The brand name for his collection is Hefrani, a Rotuman word for morning star. But the name is one close to his heart as it is also the Rotuman name of his grand niece Karay whom he loves and adores.
Originally from Tuoi in Juju, Rotuma, Aisea is a former model and flight attendant whose passion for fashion designing began at an early age.
It was only this year that he gathered the courage to showcase what he's longed to do for a very long time - see his designs come to life on the catwalk.
And when he finally saw his creations in all its glamour and awe, he knew this was the field fitting for his imaginative and artistic touch in the field of fashion designing.
His collection depicted the plentiful resources and natural wealth in Fiji and the Pacific. Natural resources such as coconut fronds and shells were used as accessories on 12 very exceptional designs.
In fact, these resources inspired Aisea to combine the tone and colours of nature with his Versace couture collection.
"My 11-year old grand-niece is the only person in our family who followed me into the fashion field. She's always with me and she's eager to do everything I do," said Aisea.
"My mother was a seamstress so the interest was there when I was young.
"I dedicated this collection to my mother who died some years back.
"My family and Rosie (Emberson-Semisi) and Hupfield (Hoerder) who came home and saw the outfits.
"I am very proud of my collection especially as it is my first time. Hupfeld's belief that success was not winning awards or cash but about seeing your dream materialize gave me great encouragement."
At the showing, he found t his to be true, The show was the perfect opportunity to start a business venture and after a successful display at the fashion week, Aisea already has a signed contract for uniforms and two potential clients.
It opened up a world he was always interested in but Aisea knows that to be successful in the field, hard work and perseverance are key factors on the runway.
He entered the Emerging Designers category and was expected to come up with 12 original designs which he promptly did with the help of close nephews and nieces.
Working under time constraints, Aisea missed the opening night of the fashion week on a Friday and completed his last design on Saturday morning for the show later that night.
With only $5 in his pocket when he finally reached Denarau where the show was held, he was confident everything would turn out well. And it did.
"I did not sew all 12 even though the designs are my originals. I only sewed six and the other six were sewn by my nephew and a close friend," he said.
"All I did was put the accessories on. I chose these 12 outfits because of the time frame of six weeks to prepare.
"I chose the ones that could be done the quickest but even putting on the accessories was challenging. By the time I got money to purchase my materials, I had only four weeks to prepare the clothes."
His collection was centered on the theme 'From Dawn till Dusk - Viti Way' describing the lives of Pacific people and the celebrations of the rhythms of life in harmony with nature.
He said the use of glitter, sophistication, hugging designs, elegant figure and the fact that Versace is a personal favourite in haute courture was ideal for his collection.
All in all, his collection was a simple reflection of his life - daring to be a different trendsetter.
"I was so proud of the outcome. When they called everybody to the catwalk for the finale, I had this feeling of greatness and happiness," he said.
"I knew this was another field that matched my passion of flying. I was very happy and there was great response from the public and my friends although most of them were totally surprised.
"I was the only male designer in the Emerging category. The rest were all women apart from Carlos Semisi who prints T-Shirts and jeans.
"My designs were all bold and very provocative ...but I had to ensure that my designs were not too vulgar and I had to respect the culture we are in."
For Aisea, fashion designing is not just about sketching a pretty dress. It's considering factors, environment, natural resources, culture and traditions.
He stressed the importance of respectability of cultures, traditions and the use of natural resources.
"Our natural resources in Fiji are an oyster for fashion design and I intend to use that. I intend to stay in Fiji and work within the Pacific and Fiji," he said.
"I feel comfortable here especially with the resources and materials. If I need some really good material, a trip to Rups or Rosewear would do the trick.
"The shirt I wore that night had two shades and it was so grand people were asking where I bought it from.
"My nephew and nieces did the shirt for me and I know that a shirt like this abroad would cost $100 but the one I wore didn't cost more than $5 because one shade cost 50 cents while the other was $1.80."
In between travels to Suva and Nadi, Aisea savours the moment when natures radiance provides an ounce of inspiration for a next piece.
He never duplicates any of his collection simply because of his desire for uniqueness. Thanks to the help of his family members including niece Marayka Konrote Wasile and sponsors Caregivers Services International, Jane Howard, Winnie Veikoso and Rachael Williams, Aisea wouldn't have been able to shine.
---
From Fijitimes Online (14 July 2011)
THE Catch of the Night - a red and black off the shoulder dress - for the transgender Amazon category at this year's Crest Fashion Show will be something to look out for next week.
Designer Aisea Konrote - known for his signature shell designs - says the frock is red to signify the battle against HIV AIDS.
"It has black fish netting for the dark nature of the disease," he said yesterday.
Fishing lines and pearls with a hint of neon lights make up the skirt of the costume, he said.
"The transgender community is often asked "who is the catch of night?"Aisea said of the Catch of the Night dress.
Aisea worked well in advance and is now assisting his niece - a contender for the designers award - as the two compete at this year's Agriculture Crest Fashion Show.
He will submit one costume for the recycled category and one for the organic category.
"There was no sewing machine used for the recycled category. Everything was women or hand stitched," he said about the costume for the organic category.
A blue tarpaulin-made dress - which he has named Ocean Bride - has fish scales pasted along the hemline of what appears to be a joint sulu and chamba dress.
"Because we are celebrating nature, blue in the tarpaulin represents the ocean," Aisea said.
The show will be held at the Tattersalls Gym next week organised by designer and seamstress Rosie Semisi.
---
From Fijitimes Online (17 September 2011)
Designs celebrate Pacific identity
by Nasik Swami

BUDDING local fashion designer Aisea Konrote Fostino launched his new fashion brand on Saturday night.
The new brand, tagged Hefrani, showcases the uniqueness of the Pacific culture and tradition incorporated with the fusion of the modern world.
Speaking to The Fiji Times during the launch at the Fiji Museum in Suva on Saturday night, he says Hefrani is a Rotuman name that means the morning star that shines throughout the day and night.
"My designs are such. I want them to shine all throughout when someone wears it. It is something that stays, providing people their Pacific identity," Mr Fostino said.
He said his designs were the celebrations of his identity as a Pacific Islander.
"I am usually inspired by natural resources and that is one aspect that I consider while designing my clothes," he added.
Mr Fostino who loves designing clothes using Clifton fabrics said his designs were for everyone and could be worn by people of all sizes and ages.
The budding award-winning designer who ventured into fashion in 2008 showcased his designs at the 11th Festival of the Pacific Arts in Solomon Islands in July this year and will soon be taking some of his designs to Australia.
He said Fiji's fashion industry was doing well and advised young designers who plan to venture into fashion designing to believe in themselves.
---
From Fijitimes Online (28 May 2014)
Freedom in colour
by Torika Tokalau
AISEA Konrote will be showcasing not one, but two collections in the 2014 Fiji Fashion Week in two categories.
Konrote's garments will be featured in the Resort Wear show on the opening night on May 29. The Established Designers show on the final night of FJFW is on May 31.
With his success in the musical stage show Karmen, where he was in charge of costumes and wardrobe, Konrote's collections at this year's fashion event will be all about colours.
"Colours, it portrays a lot of freedom, easy to put on, easy to take off," he said.
"It's in line with living in luxury at resorts, out in the sun and an infusion of colours that work with the sun during the day and some slight glitters in the night."
Konrote says his established collection has achieved another level of fashion.
"There are 16 pieces and the collection is called Interrupting Black and White."
---
From Fijitimes Online (2 October 2016)
Fashion is Konrote's tribute to his mother
By Sikeli Qounadovu

AISEA Konrote grew up watching his mother sew.
He remembers toiling the land and having his own vegetable garden. Then when it was time to harvest, he would go around selling the vegetables just so he would be able to buy materials for his new shirt.
"I did not know how to sew before, but I would give my mum my material and she would sew my shirt. And then it reached a stage where every week I would be giving her the material. You know in those days it was 99 cents per metre so $2 was enough for a shirt.
"I grew my own cabbages and sold them to the PWD workers and in those days it was easy to make $1 or 2, and sometime during their pay day I would be much richer than the young gang in my family.
"And every week I would save my pocket money for my mum to sew my shirt, she got fed up and she told me 'you want a new shirt every week you sew your own shirt'. So my mum taught me how to sew."
However, that was not his dream job. The joy of seeing planes every day from their Lomolomo home close to Sabeto in Nadi gave him the desire to become a pilot.
Educated at Mount St Marys Primary School in Nadi, he moved on to St Thomas High School in Lautoka before completing his secondary education at Marist Brothers High School.
Because he did not do well in mathematics and physics, which were a requirement for entering pilot school, Konrote went on to join the Reserve Bank of Fiji and worked there for seven years.
"So I worked seven years in the banking industry with the RBF when Air Pacific started taking flight attendants who were stewards so I applied and was blessed enough to get through. So I joined them, and was a flight attendant for the next 15 years."
Yet he was still not satisfied so he decided to go to Hawaii for studies and work.
"I guess I was always ambitious. I set my targets and look at ways to achieve that and when I achieved that I looked around and see what else
"When I came back to Fiji in 2008, I asked myself 'what I was going to do'. Fiji Fashion Week had just started, so I said I would give it a try, just something for me to do in that year."
His desire to enter the fashion industry was further fuelled when he reminisced about the days his mum used to sew glamorous gowns for herself and other women.
"So when I took up fashion in 2008, I realised I could do well with it so I thought this is something I could build my career on."
However, he had no financial backing to help him kick-start his career. The only thing he had was his mother's sewing machine but in only his first fashion parade he walked away with top honours.
"I only had my mother's old machine, which of course was from the previous century.
"I did clothes out of art where I knew I was artistic and that is where the islander in me came out. I did clothes out of feathers, chicken bones, fish scales, tarpaulins, mats - anything I could find from the earth and the ocean I would use. And that year I entered all five categories and won four out of the five - so it was a total of $4000. The next morning I zoomed into town, bought myself a new sewing machine which was a little of $1000 and that's where I started from."
For the 53-year-old who in 2014 was awarded the established designer award at the Fiji Fashion Week, getting the best out of his capabilities was a mammoth task.
"I had to teach myself, I Googled stuff and all that. I bought clothes, took it apart and then I fixed it again, so over a period of two years I taught myself.
"What I did was I would go to second-hand clothing outlets and I would look for the most complicated dress or skirt. I would bring it home, have a look at it first and then I took it apart, everything and then I would stitch it back on.
"The very first dress I sewed did not look very well but over the years I was perfecting my imperfections.
"That first dress was for my mum. It was a pink dress, it was just a simple one, but you know my mum was a very glamorous person so she loved ruffles and frills, but I did not know how to make ruffles and frills. At that time, the dress looked glamorous to me but looking back now, it must have been really ugly but my mum wore it to church."
Konrote, together with the Lambert Marist old boys, are organising a fashion show which will be dedicated to all women in the Marist community
"Because it is dedicated to women, we will be having plus sizes for very big women to model and we are yet to confirm but a seven months pregnant woman could be modelling too. I am picturing that the Marist old boys will be coming with their sisters, mums, girlfriends, partners, wives and grandmothers because this is a way of giving respect where respect is due and that is our mothers or the female society.
"The first half of the show will have the four colours of Marist then we will open the second half with the pregnant woman and we will close it off with the red fire outfit our show stopper where the lights will be all off and the red fire outfit will be the light."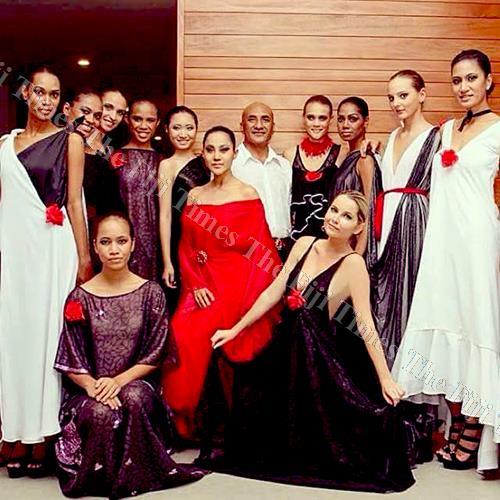 Aisea Konrote with models showcasing his designs. Picture:supplied
From Fiji Sun (09 May 2022)
Orders, Proposals Pour In: Aisea Konrote
Designer, Aisea Konrote, believes he has come full circle on his fashion journey. "I am in a perfect place in my time now," he said during the launch of his Dreaming wear in Suva. But he will not rest on his laurels – not just yet.

by Frederica Elbourne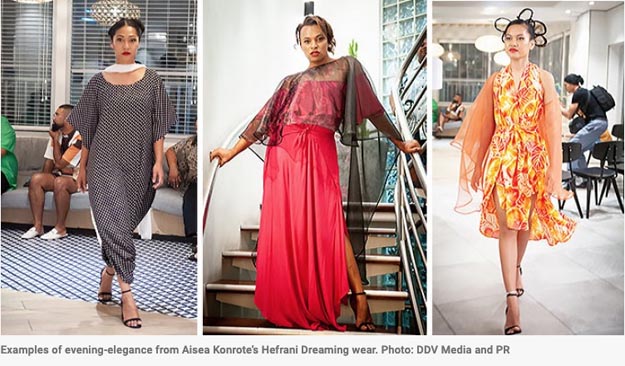 Designer, Aisea Konrote, believes he has come full circle on his fashion journey.
"I am in a perfect place in my time now," he said during the launch of his Dreaming wear in Suva.
But he will not rest on his laurels – not just yet.
"I am a dreamer," the early 2000s Viti Versace collection designer said.
"I don't restrict that part of me."
"But I admit, I have a weird imagination, which comes out in my designs."
Mr Konrote has evolved from his early days of earthy hues, to a courageous shift that demonstrates stronger, more flamboyant and bold designs.
His most recent show at Tanoa Plaza, Suva, featured loud shades of red, yellow, peach and black as main colours.
There were polka dots, stripes, dream catcher pendants, and the unconventional choice of models.
For those that follow Mr Konrote's designs, the uneducated summary of his recent selection was as odd as it was intriguing.
"I've moved inwards – to me," he said. "I know who I am as a person and a Pacific islander – and that's what you see in my work."
"Some models were short or my higher standards fat fat, but that's exactly how I wanted it."
"I had it my way, for a change."
Ahead of his time Mr Konrote could be described as an artist who is ahead of his time.
One such example was when he conceptualised pieces designed out of inflated helium balloons.
"I was going to throw in Michael Jackson's Thriller theme, with smoke from dry ice," he said.
Some doubts and reservations were expressed at the time, until he received information that something similar was pulled off elsewhere.
"That's when I said, 'I should have just gone ahead and done it'," Mr Konrote said.
Glitter
The Rotuman native, who grew up in Barara, the interior of Nadi, has since received two business proposals and an increase in orders following the success of his latest show, where he put together 20 pieces.
"I usually do more," he said.
A former flight attendant who took to the fashion runway before he honed in on his designer skills, Mr Konrote comes from a family background steeped in design.
His mother, for instance, was a seamstress.
"I spent my formative years watching my mother work behind the sewing machine."
"My father worked for what was then known as the Public Works Department, in Lomolomo, Nadi," Mr Konrote said.
"We lived in a community where we had the best of both worlds – the Fijians of Indian-descent lived one side; the iTaukei on the other side of the road."
"Everyone in the village was either na or ta to us; and at every Hindu festival, we were welcomed by the neighbours for the celebration."
"The blessings of living in such humble beginnings are now being realised."
His primary school years were spent at Mt St Mary's Nadi, and St Thomas Primary in Lautoka.
He completed high school at Marist Brothers.
Mr Konrote arrived on the fashion scene in 2008 and has since had shows in some Pacific island countries and the United States of America.
The exposure offered assurance of his fashion pursuits.
"I like my faults – I embrace them," he said.
"I learn from it; and most of all, it keeps my feet on the ground."
---