From Fiji Times Online (18 January 2008)

Steadily stealing the spotlight
by Geraldine Panapasa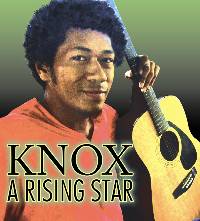 Inoke Kalounisiga
His style is simple and his personality undeniably affable. But there is something pulsating about Knox, a standout in Fiji's amazing breed of talented young musicians. When he sings and plays notes on his keyboard or guitar, a sense of appreciation for local talent and music in all forms literally fills the air. At least that's what I thought when I took snapshots of Knox playing a song on his keyboard while his mother, Sela Fatiaki, and younger brother, Suliasi Junior, proudly watched him. Sela is part-Rotuman/Samoan and is from Motusa in Rotuma. It was the first time for me to meet Knox although I'd heard his single Jah Live Jah Crucify on the radio and seen the video clip on national television. I was very excited about meeting the young man who is scaling musical heights with his sheer talents. So off I went to a place called Naimasimasi Village in Tailevu where his father, Suliasi Tamanalevu, is originally from. The gloomy weather made the trip seem dull but after reaching our destination, Knox emerged from the shadows to greet us. He introduced us to his mother and younger brother while his father had left to take a relative to the nearby health centre. Most people would have guessed already that the name Knox is a nickname for his real name, Inoke. Kalounisiga is the surname he uses. Interestingly, Knox did not know this until he started school.
"My mum called me Knox and it just stuck but when I started school I realised my name wasn't Knox but Inoke," he said laughing on the phone before I journeyed to his home.
"I was brought up with music. My dad loves music and he taught me how to read music. He also taught me how to play the first three cords on a guitar. I was the lead guitarist for the group Kulture which opened up for Lucky Dubes last tour here. But most of the time I taught myself how to play musical instruments. I wish I had a book to learn but I didn't. One other person who helped me out was an old man from Rotuma, Petero Romana from Motusa. He grew up partly in Suvavou with his maternal grandparents."
The oldest of three siblings, Knox wanted to be a doctor or pilot and took science subjects in school with this aim in mind. The idea of being a full-time musician hadn't crossed his mind although he loved music and playing instruments. He moved to different primary schools because his father was a teacher at the time and continued his secondary education at Marist Brothers High in 1999. Knox finished high school at Rotuma High. After foundation studies at the University of the South Pacific, he switched to the Fiji Institute of Technology where he took up music and electronics.
"I used to like listening to Boys II Men but that was before Lucky Dube," he said. "Out of high school, I found people who started influencing my interest in music," he said. "These include artists like Bob Marley, Eric Clapton, Ray Charles, Ben Harper, Jack Johnson and Jimmy Hendrix. I dont listen to heavy metal but I like some rock songs. I like listening to music that will survive the ages. So far, I've released two songs - Jah Live Jah Crucify and Old Old Tree. The songs are all personal experiences. It's what I can see through other peoples eyes. The Old Old Tree song is like a story. It talks about life back in Rotuma where in front of my grandparents house (in Motusa) is this old dilo tree near the sea," said Knox, who is proud to be fluent in Rotuman.
Knox started as the lead guitarist of Kulture but after the lead vocalist left the group, he stepped in. In 2003, Knox worked for the Robinson Crusoe liners on which he entertained tourists. Another highlight was when he participated in the Reggae Roots and Rhythm concert that featured BoneyM and Te Vaka.
"The only challenge for me is finding a real decent recording studio in Fiji. I've written enough songs to do about three to four albums," he said. "My music is not full-on reggae but when I sing I find its the only time I can really be myself. When I see people singing along to the song, or when the song puts a smile on their face it makes me happy. Its never easy being a musician. Its never an easy road. But if theres a will, theres a way. With Jah Live Jah Crucify, I went to the recording studio owned by Danny Costello and asked them to have a listen to the song. He liked it and helped with the recording."
Believe it or not, Knox has more fans overseas than locally. This year, he wants to be the first Fijian to win an MTV award. With the help of close friends including Peter Thompson, who Knox says is a manager figure, he has managed to defy the odds and come out a successful musician.
"I couldn't have done this also with the help of God, says Knox, who is a Seventh Day Adventist. I'm also in this band called One2Eight. We named it after our common trend of knocking off work at 1am and drinking grog until 8am. Weve performed at corporate functions, gigs and we've even been hired by Uprising for gigs."
He has performed at various hotels and resorts as far as the Mamanucas, Sheraton, Westin, Mango Bay, Plantation Island resort, the Pearl and Eds Bar in Nadi. Knox also appeared onstage for the Peace Unplugged concert at USP, Foreshore carnivals and events organised by the Alliance Francaise. He's planning to hold his first concert sometime this year and is hopeful that by June, more singles would be released. In the meantime, Knox is a household name that will serve as an inspiration to young musicians who want to make it in the world of music and entertainment. And when he's not writing, recording or singing, Knox likes to help out with family chores including looking after their farm and helping with house renovations. He's a local man with the heart and passion to take music to the next level and he's doing just that with sheer determination, commitment and perseverance.
---
From Fiji Times Online (11 April 2010)
Singer launches seven years' work
by Harold Koi

Local singer Inoke Kalounisiga performing during the launch of his CD at MHCC in Suva on Friday night.
Local singer Inoke Kalounisiga performing during the launch of his CD at MHCC in Suva on Friday night.
INOKE Kalounisiga, better known as Knox, is back with a new album.
The man known for his hit song Jah Love Jah Crucify, performed at the MHCC in Suva on Friday.
Niu Wave Media general manager Imraz Iqbal said Knox came to them with 11 originals whichtook him seven years to write and two months to put together at the studio.
The album, titled The old, old tree was drawn from his childhood memories of a tree at his grandparents' place in Rotuma.
Mr Iqbal said they had a lot of support from people that gathered at MHCC. He said they also managed to sell a few of Knox's CDs.
He said Knox's music would revive the local market with his brand new original tunes.
"If you're a fan of Jack Johnson and Ben Harper, than you'll definite love this. When his tunes are played on the radio nobody will guess it's local."
Mr Iqbal said Knox needed a lot of local support to develop. "This artist has potential to make it in the international market and if local people support him, he will reach that market and excel."
Knox paid tribute to well-known local reggae band Rootstrata. Knox said Rootstrata achieved great heights with original music and were recognised by the international reggae band Big Mountain.
---
From the Illawarra Mercury (21 March 2013)
Knox takes humble path
By Kate Walsh
Fijian-Rotuman singer and guitarist Knox believes musicians are a conduit for the spiritual aspects of their craft
Music was the only way Fijian-Rotuman singer and guitarist
Knox ever wanted to make a living.
Surrounded by harmonies since he was small, by the end of his time at high school, he knew what path he wanted to take.
"I grew up playing music at home, in church and other places," he says.
"By the time I was in my last year of high school, I was like 'This is it. I'm going to finish these exams and going to become a musician'."
Knox (whose real name is Inoke Kalounisiga) only picked up a guitar in his late teens, but was making music with his family long before that. When he was five years old, Knox and his parents performed as a vocal trio at their local church, while his father studied and taught Indian classical music.
"That was a bit weird to see this big Fijian man playing a sitar," Knox jokes.
The dreadlocked singer has been playing professionally for 12 years, starting in cover bands - which he says are huge in Fiji - as a guitarist.
He made the move to singing with his band Kulture and began writing his own tunes, going solo a few years later.
His song Jah Love, Jah Crucify gave him his first international recognition in 2007, topping the reggae charts in New Zealand and getting airplay around the world, with people often describing him as the Fijian Jack Johnson.
He didn't release his first full-length album until three years later and is only just getting ready to release his second, having spent the last few months performing small gigs and busking in London.
Knox is based once again in Fiji, but travels to Australia two or three times a year to tour and visit his Australian partner's family. He is gigging now to launch the first single, Candy, off his yet-to-be-named second record, inspired by watching his cousin pine for a girl who didn't notice he existed.
"It's the cheesiest of my tunes so far, normally I don't like cheesy stuff. It's about this guy who really likes this girl, but she never really looked at him," he says.
He thinks it is important for musicians to realise they are never bigger than the music itself.
"It's a passion, something you live and die for. It's everything in my life. I realise that music is something bigger than you and your own artistic ego or your band.
"That's a problem nowadays, some people think they are bigger than the music, but you're but a mere conduit. When you get to realise that, you get to see this whole other side of music, this spiritual side, which you don't get if you don't know what it's all about."
---