From Fiji Times Online (26 October 2008)

Koni's music for the soul
by Geraldine Panapasa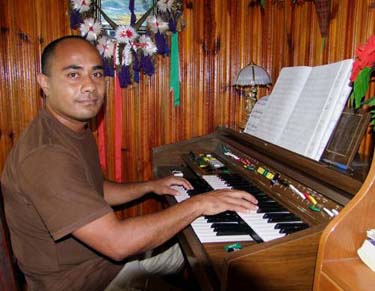 Music man ... Koni Fiu
Music is a tool that calms the nerves and talks to the soul. At least that is what 29-year-old Koni Fiu believes.
The Losa lad from Itu'ti'u in Rotuma recently wrote the lyrics for the mental health theme song titled We are gonna keep on walking alongside Gary Rounds.
The pair worked closely with world renowned musician and composer Igelese Ete to develop the inspirational piece meant to empower young people into thinking positively about mental health.
Born in Rotuma and brought up in Fiji, Koni's passion for music is exceptional especially for some one who gave up his day job as an electrical engineer to take up music full time in Fiji.
"When I was younger, I started playing the guitar. Writing songs actually caught me by surprise," said Koni.
"I bought a new keyboard and I just started typing. The ideas come when I least expect it to or at weird times.
"The weirdest would be when I'm sleeping. I hear the music and think of the songs when I'm sleeping.
"Then when I wake up, I write down whatever I dreamt," he giggles.
He attended secondary school at Marist Brothers High with the hope of becoming an electrical engineer.
After high school, he went straight into the workforce and did his apprenticeship as an electrical engineering technician with the Fiji Electricity Authority for five years and two years as a qualified electrical engineer.
So why give up the opportunity to take on a profession in music knowing full well the limited potential in Fiji?
"With music, I am more relaxed. At FEA, I was always under pressure but with music I find it real easy," he said.
"It gives me inner peace and I'm not under pressure plus it's easier to write songs especially when it's from personal experiences.
"I find that songs written from personal experiences are more effective and when people listen to the songs, they can feel the song."
The eldest of four is also a private guitar and piano tutor apart from finding his way up the music ladder in Fiji.
Having soft-rock ballad singer and songwriter Michael Bolton to look up to, Koni likes to listen to a genre of music, classics in particular.
But like many local musicians struggling to find that golden opportunity to make it big time, Koni believes the drive for any musician is their love for music.
"There are a lot of challenges for musicians in Fiji. One is the small market for local music and if you want to succeed you either have to be a full time performer or move into teaching music," he said.
"In 2004, I wrote and composed a gospel album released by the group Mighty Men. The album is called God our Protector and it's still available at the Christian bookshop at Queensland Arcade in Suva.
"The opportunity to write a theme song for mental health came about when our youth group - Dilkusha church youths - were invited to attend the suicide prevention youth forum organised by Foundation of the People of the South Pacific International who are behind the formation of the youth champs for mental health.
"We were one of the Christian youth groups invited and I was given the opportunity to help out with the lyrics for the theme song."
He is currently working on a book based on music.
Whether it's dreaming of lyrics in his sleep or listening to classic songs on Legend FM, Koni is one Rotuman destined for greatness in the music and entertainment industry.
"You can only be what you are meant to be and even though you may be good at something you're not meant to be, you won't be great at it.
"Simply put, we are all unique," he said.
---