From: Air Pacific Islands Nov 07 - Jan 08 issue
Article By: Rajan Sami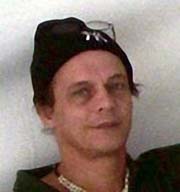 Craig Marlow
After nine weeks of trying to interview the highly unpredictable and somewhat outspoken artist, I can't believe that this same person is responsible for the meticulously detailed and structured artwork featured on these pages.
For four decades, Craig's been the enfant terrible of the Fiji Arts scene. Although an immensely gifted artist, his earlier reputation as a wild child often overshadowed his talents. "Most people who knew me in the '80s will recall me painting my face more than producing anything I could live off," he says, with a laugh.
Craig's stylised interpretations of his island heritage are crisp, clean and well defined. He is the first to admit that they are a far cry from the "vacant vagrant" image that most people have of him. "It's only in the last couple of years that a paradigm shift has taken place," he says, presently commutes between a studio in the capital Suva and an artist-in-residency with the National Trust of Fiji at the Sigatoka Sand Dunes. "I am the original 'of no fixed address'," he says.
That hasn't prevented his work from gracing the walls of serious art collectors within Fiji and abroad. Although Craig has been painting all his life, it's only been in the last five years that his work has come into its own.
It was in 2002 that the new owners of Toberua Island Resort, Vern and Kara Hayden, approached him about producing large pieces of artwork for the island's bure accommodation. Says Craig: "That challenge gave me the confidence to take my work seriously and encouraged me to discipline myself with production standards and deadlines."
Top end resorts throughout Fiji increasingly feature his highly recognisable paintings. Craig also specialises in graphic design and developed the logo for the exclusive Myola Plantation Villa, also overseeing the construction of their luxury accommodation on the Coral Coast.
"My great grandfather established Marlow's Construction in the 1900s so the building industry is in my blood," he says. "When I left Suva Grammar School in '77, I worked briefly at the Fiji Times art department before joining Architects Pacific as a graphic artist. They fine tuned my aesthetic values and gave me a more international grounding," he says. That early influence is apparent in the linear precision of his work.
Unlike most artists, Craig prefers to work with acrylics on white masi (traditional bark cloth). His unique style of framing and presentation also sets his work apart. While painting is a calling, he thoroughly enjoys creating whimsical pieces using found objects. "Nothing gives me more pleasure than finding the 'lost soul' in a piece of driftwood or some discarded man made object," he says.
Bearing the logo-like signature "craigfiji", his work often straddles the disciplines of graphic design and art. Next up, the accomplished artist will be stamping his distinctive style on clothing and homeware.
Corporate collections that feature his work within Fiji include law firm Munro Leys, the US Embassy, Tebutt Research and Pure Fiji among others. Private collectors are also known to snap up his work at the annual Fiji Arts Club and Fiji Arts Council exhibitions, where he scooped up major awards in 2004 and 2005. Over the years, the Fiji Government has purchased his art as official gifts for visiting dignitaries.
"During the 2006 Pasifika Arts Festival in Auckland, I was surprised to come across my name in the Fiji section of the World Arts Almanac," he says, one of only two Fiji artists to be listed. This has led to increasing interest from overseas collectors via the internet. The international recognition has been good for Craig, who like other Fiji based artists, has struggled to raise the profile of his art and the creative industries as an alternative livelihood.
To this end, Craig is a member of the Pacific Arts Alliance, a new regional group founded by fellow Rotuman artist Letila Mitchell. "Because of the low priority and deplorable level of support by previous governments, we've taken it upon ourselves to seek out opportunities and improve the recognition of Pacific artists," he says.
Craig Philip Marlow was born on 29 September 1960 in Fiji's capital Suva. His father Herbert is a third generation Englishman and mother Liebling Hoeflich is of Rotuman-Scottish and German-Samoan ancestry. "My mum, a living legend, was crowned the first Miss Hibiscus in 1956, and is a prominent Fiji artist in her own right," he says. Younger brother Warwick is also a recognised artist.
Craig identifies strongly with his Polynesian heritage and Fijian upbringing. His work is influenced by the flora, fauna and totemic symbolism of the islands. "I spent the weekends of my preschool years at our housegirl's place at Wailekutu, outside of Suva. In those days, it was pristine forest and I loved the folklore and legends that she would relate."
To this day, the lizards, birds, sea creatures and vegetation from those stories find themselves in Craig's work, all rendered in his bold, graphic style. Some of his work features imagery with hidden forms of native flora and fauna that reveal themselves upon closer examination. Craig also produces meticulous interpretations of masikesa, the traditional bark cloth patterns. These colourful contemporary pieces blend perfectly with the prevailing monocultural aesthetic.
His lifelong love for nature has recently led him to volunteer his artistic skills to WWF's Pacific Programme and Live and Learn, an environmental education NGO. His work with them involves visits to rural schools to raise awareness and encourage preservation through art workshops. His National Trust of Fiji residency involves the upgrading of the Sigatoka Sand Dunes National Park and the production of environmental art using flotsam and jetsam found along its beachfront.
In December, Craig will travel to Rotuma, a remote island 300 miles north of Fiji, as part of an outreach program for school students run by Läje Rotuma Initiative. LRI is an environmental group promoting sustainable development and environmental preservation on Rotuma through education.
"We will be running workshops where the island children learn about the fragility of their environment through interactive art and craft. This pristine island is of unique cultural significance and the people's traditional lifestyle is under threat due to the effects of global warming," says Craig, who identifies himself as an artist of Rotuman heritage.
At 47, after decades of "drifting on dope and depression", he has finally found his niche in the art world and the world at large. "Looking back, I wouldn't change a thing as every step I've taken has led to where I am now," he says. "I'm a firm believer that nothing is so bad that it's not good for something."
Designs by Craig Marlow
---