From Fiji Times Online (6 January 2011)
Poet at heart

by Kelera Serelini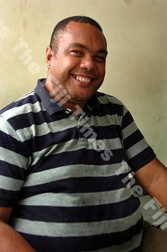 Jason Konrote - man of fine arts
JASON Konrote had always been a poet at heart. From his days at uni in 2006 at the University of the South Pacific, he would call out to his friends and read aloud his newly-written poem as how his lecturer, Larry Thomas, had taught him that semester.
Jason would grin at the positive response he received from the listeners and knew straight away that he would continue writing.
Since then, Jason never looked back.
Only this time, he has added more to his poetic skills - music.
With his easygoing attitude to life it was not long before Jason found refuge in a choir and eventually joining the Malaga production and Pacifica Voices to advance his musical talent.
"Music has become the main part of my life," the 31-year-old said.
"Initially, I didn't think I had it in me.
"However, over the course of time, when I was at university, I joined graduation choirs and from there whatever little interest I had in music, I developed it further.
"I've grown to actually love singing and also learnt that music can be used as a tool of empowerment.
"It brings out the best in me."
Making new friends was something that drove Jason to attend choir practice and other commitments he had toward developing his musical interest.
"It was more to do with getting to know people," Jason said about the friendly atmosphere he surrounded himself in during production rehearsals and choir practice.
"The more graduation choir I joined, the more people I got to meet.
"I was making more and more friends that way especially those who had music interest as I had."
Apart from the many people he met, Jason has grown as a person and become more appreciative of the art of music and the people who create them.
"There has been a big change in my life," he said of his journey from a choir member to composer.
"It has made me appreciate not only what I have but also how certain people have contributed to my life.
"I used to work and I was a person who wasted money on drinking and parties.
"Now, music has given me a purpose in life.
"I just hang around with people who love to sing, talk, so music has changed me in many ways."
Jason's musical journey had its ups and downs, especially with the lack of parental support.
This after eventually proving that he has what it takes through his music composition titled Turaga Dau Loloma.
He had composed the song with his friend, Eroni Dina, and the song was sung by a 400-member choir during the Secondary Schools Music Festival in 2008.
"At first, my parents thought it was a waste of time. I think this was because they thought it did not generate great income for me but over the past year, their perception has changed, I have money in my pocket.
"They have started to support me more and this is because ever since I associated myself with Malaga, I am able to do things which they thought I was not able to do. Hopefully all the sacrifice will bring international travel."
Originally from Pepjei, Rotuma with maternal links to the Rounds, Jason said music had become a way for him to express his identity as a young Rotuman living in a multi-cultural society.
He gains confidence from his mentor, the renowned conductor, composer, Inglese Ete.
"It is all about social identity and how I see other young Rotumans in terms of how they value the culture and language.
"I might not be a full Rotuman but I know more than some of my cousins who are."
In years to come, Jason hopes to incorporate many more to his work following in the footsteps of Ete, his mentor.
With brimming ideas and determination, there is no doubt that Jason's music could one day be a reminder of the uniqueness of Rotuma, its people, and the poetic heart that created it.
---