From Fiji Times Online (7 July 2009)

By Geraldine Panapasa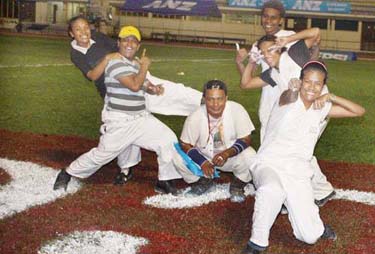 Final touch. John Garisau (middle) with painting and decorating students from the Australian Pacific Technical College at the tfl National Stadium in Suva on Wednesday night.
It's a noticeable work of art whenever an international sport is played on the field. Whether it's soccer or rugby, ground turf markings of corporate sports sponsors and businesses are hard to miss.

These markings are huge advertisements and logos painted on sports fields like the IRB Sevens World Series logo that was painted on the ground at Twickenham Stadium in London during the last leg of the series two months ago.

For sign artist and founder of Kiana Designs John Garisau, ground turf marking is nothing like sketching or stencil designs and drawings on paper and signboards.

"In this line of work, you need a professional because it's not stencil drawing on a signboard," he said.

"There's a whole lot of work involved like precise measurements of the design on the whole field. It's mainly for television advertisement so the presentation on camera has to be perfect.

"People may think it looks crooked but it's the view on camera that will show so it has to be done professionally ."

His father hails from Nakorotubu in Ra while his mother is from Losa... in Rotuma.
What started off as a hobby and passion for drawing and designing for John turned into a professional business venture.

But John, 39, says his hands are blessed with a god-given gift that runs in the family. His mother is known for her handicraft and tailoring skills while his three older sisters are seamstresses in Lautoka and Suva.

"I grew up in Vatukoula and this was always a hobby for me. I was always interested in drawing and sign writing," John said. "As time passed, I began to develop my interest in this hobby and joined Emperor Gold Mine in Vatukoula as a sign writer before moving to Suva.

"I've lived in Suva for 12 years. I spent two years working as a signwriter for Graphics Systems while conducting my own private jobs.

"I started working for Kriz Signs and helped Nilesh Chetty build the company. I left after four years and decided to start my own business."

His private business faced the brunt of a fluctuating economy many times when he first started but his faith in developing a less demanding profession in ground turf marking lingered.

He moved to New Zealand to further his knowledge in the field and spent two years with Dudley and Dennis Signs Limited in Whangarei, North Auckland.

He returned to Fiji and continued to apply his knowledge in the artwork and design to steady his business.

"For the past 20 years, I've been involved in signwriting and designing but this IRB ground marking is the latest work I've done," John said.

"When I was in New Zealand, I was exposed to the way ground turf marking was done and it costs about $10,000 to $18,000 to complete.

"But for me, it's not about the money. I like the job, it's a hobby and I'm willing to help and teach others how to do this kind of work and get the experience.

"The interest is there especially amongst the young people but there's no one here to teach them this kind of work."

Students from the painting and decorating program at the Australia Pacific Technical College put their white overalls on to help paint the rugby field on Wednesday night last week and with much needed experience, John says their talents will take them far.