John Mausio hails from Salvei and Noa'tau, the Island of Rotuma and is a self taught artist. His parents are Fakrautonga Mausio from Marenteu, Noa'tau and Petero Mausio from the village of Savlei.
He is registered with the Fiji Arts Council and is a member of the Rako Group. He aims to be a specialist in mural art.
He draws his inspiration from society – the communal lifestyle of his cultural heritage, the vast change of the modern world that affects and challenge "the innocence" of his culture, the demands of society and its expectations on individuals, the gap between the haves and have-nots, religions/racial intolerance, daily struggles of the oppressed and the ancient history and legends of the different cultures of the world especially the Pacific islands.
John's most significant Mural is the current project at the St. Giles Psychiatric Hospital. He is also a new member of Youth Champs for Mental Health and has contributed greatly to this project in reducing stigma associated with people living with a mental illness. He uses his community work experience to engage psychiatric survivors and interested members of the community whilst working on this project.
2009 saw him seriously tap into the world of art as he aspires to become a professional artist and he has always had an interest in art as far back as he could recall.
He used to be a tattoo artist at Skimarks Tattoo. Inc. His skills range from screen printing, graphic design, sign writing and community facilitation.
In 2009 he collaborated with a number of senior artists in decorating the following:
APCO Float for the Hibiscus Festival

Punjas Float - Sugar Festival
South Pacific Pageant Ball Venue at the Vodafone Arena
Munro Leys Christmas Party Venue at the Fiji Arts Club
Exhibition
National Fine Arts Exhibition
Rako and Laje Initiative Rotuman Exhibition
He has worked on the following murals in 2010:
Deep Sea Night Club
Foundation of the Peoples of the South Pacific International- Stairway
Fiji Olympic Fun Run
Coordinated 2010 Hibiscus Festival Queen's Community Project
CWM Hospital Children's ward
FASANOC Mural during Hibiscus
Coordinated St. Giles Psychiatric Hospital
Bula Re Kava Shop
Agriculture Show Art Exhibition
---
John Mausio in front of mural
From Fiji Sun online (13 January 2017)
Mausio Credits Art to Family
by Mere Satakala
John Mausio is no stranger to the art community in Fiji.

Originally from Rotuma, Mr Mausio is a home-based artist and has been painting since 2009.

Ever since he was young, he knew he could draw.

"Even in school I would just draw even when the teacher was teaching in class," said Mr Mausio.

Recently, he took part in an Art Exhibition in collaboration with the Fiji Arts Council and the China Cultural
Centre.

His painting titled "The Drowning" was based on climate change and its effects.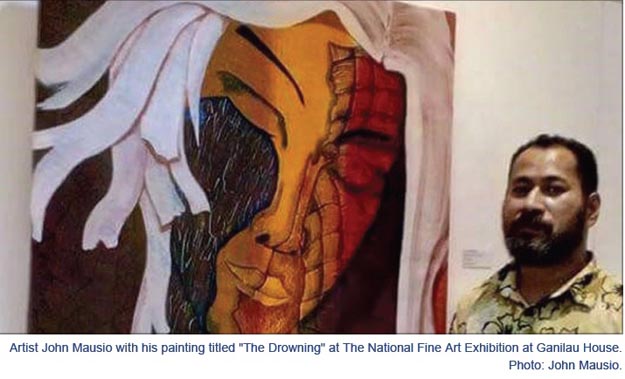 "The most rewarding feeling is when people see my painting and they have their own definition about the
art," he said.

Mr Mausio paints from experience and the journey he has been through over the years, his art focuses on
social issues such as mental health and individual empowerment.

As an artist, he feels the challenges that local artists faced in Fiji are: There is still no National Art gallery
for artist to showcase their work. The absence of an association for artists in the country.

"Issues of finances, sustainability, marketing, and having a long -term client base is a challenge as well,"
he said.

"There is no consistency with art (here), the Fiji Arts Council and Fiji Museum have been supporting our
work and we're very grateful for their support," said Mr Mausio.

Mr Mausio is also a passionate volunteer artist who has worked on murals at the Saint Giles Hospital, Suva,
with patients from 2009 to 2010.

He also worked with children under Save the Children Fiji at the Wainibuku Hart for a new playground last
year.

"Working on the mural in St Giles made me realise first- hand the power and influence that art has," he
said.

He's also part of a group of artists that showcased their art work at Leleuvia Island Resort called Waisiliva.

Currently he is working on a project based on the Rotuman culture and heritage and paying tribute to
Rotuman legends.

He attributes his art passion to his wife, family, and friends who have supported him on his journey.
He acknowledged the influence of people like Anare Somumu, Irami Buli, Waqa Vuidreketi, Mason Lee,
Collin Philip, Letila Mitchell, John Apted, Larry Thomas, and Alifereti Malai, amongst others.

His advice to other budding young artists out there is to believe in themselves, be true to who they are and
to always be honest.

Edited by Rusiate Mataika
---