From Fijitimes Online (15 September 2009)
Mixture of traditions
by Samantha Rina
SONNY Sofe is a mixture of traditions. And this is exactly how he tries to portray his art work: a mixture of Fijian, Samoan and Rotuman cultures.
Despite not having any Fijian origin, Sonny says he calls Fiji home because it is his country of birth.
"My dad is a Samoan and mum's from Rotuma and I was born in Fiji but raised in Samoa. But for the last five years I have been living in Fiji," he said.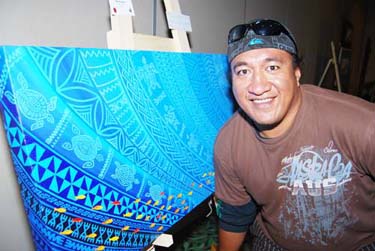 Sonny Sofe with one of his artworks
After completing his secondary education in Samoa, Sonny entered the employment industry as a graphic artist.
"I worked there for six years then decided to come back to Fiji. When I came back, I got myself involved in fine art. I worked on paintings and sculptures and then I began studying graphic designing at the Fiji Institute of Technology," he said.
After completing his studies, he worked for a few years for a construction company to work full-time as an artist.
"The problem of being an artist who is employed full-time is that I did not have my freedom and time to do my own work. I had to do what others wanted me to do," he said.
Sonny said he finally came to a decision to leave his job with the construction company and concentrate all his efforts and attention on art.
That was a year ago and today he has reaped the benefits of that choice.
"I was fortunate to have been brought up in an environment with three different cultures. There was Samoan, Rotuman and Fijian aspects of life that I was brought up around and I worked towards creating something beyond the ordinary art associated with the three cultures," he said.
Because he now works in Fiji, Sonny said he preferred to use local materials such as the masi, balabala and sandstone to design and sculpture his ideas.
"I never studied art but for anyone who has a passion for art, you will find that you are naturally driven to keep doing it because it is what you enjoy doing the most," he said.
He said he tries to get away from every other artist does when it comes to the three cultures his work revolves around.
"I am more into legends and myths and I believe the public want to see something new; something that is eye-catching and that is what I want to do. I want to bring out the elements in these societies that we are proud to be part of," he said.
At present, Sonny has set his sights on reviving Rotuman artwork. "There is a lot as far as Samoa and Fiji are concerned when it comes to art.
"But Rotuman artwork has waned over the decades and there is a need to revive it. I am working on some research of Rotuma which will take me towards my goal," he said.
He said most Rotuman art forms had become lost mainly because people had lost interest in it and not bothered about it.
"I hope to work closely with the Fiji Arts Council, who I hear are doing some work to that extent. Rotuma has some unique patterns of its own and I would love to be amongst those who will revive its tradition through art."
---