Sorpapelu Tipo Fatiaki was born in 1982, the son of Rev. Irava Fatiaki and Maria Fatiaki and the youngest of three sisters and two brothers. He was born in the village of Lopta in Rotuma.
He has always been passionate about dancing and joined the Oceania Dance Theatre in 2001, where he developed his talent under the tutelage of Allan Alo, the renowned Samoan choreograher.
Sorpapelu has toured internationally and throughout the Pacific region for dance conferences, workshops and collaboration with other dance groups. He has worked with international choreograhers such as Richard Digoue from the Niyan Dance Company in New Caledonia; Cathy Livermore, Head Tutor with the Contemporary Dance programme at Whitireia Performing Arts (Welligton); Nirmala Madhava, chief choreographer at the Prabhath Academy for Music & Performing Arts (India); Selina Vada and Lucy (Australia); and Indra Utama, dance director of the Academy of Music and Dance in Padang Panjang, Western Sumatra (Indonesia).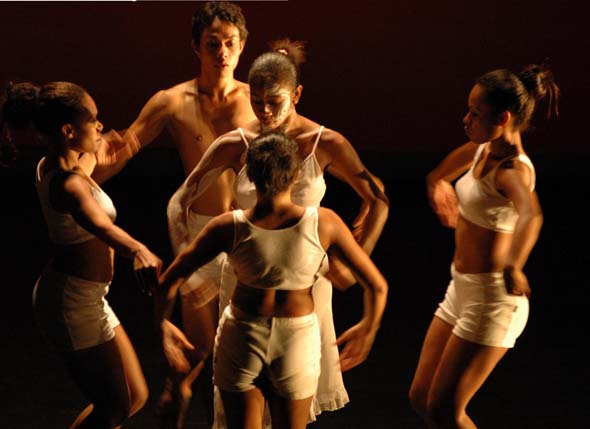 Sorpapelu (in back) dancing with four women
Sorpapelu has also taught at Veiuto Primary School preparing the students for the annual Tadra-Kahani stage competition (junior category), which they have won four years in a row. In 2007 he will be replacing Alan Alo at Monfort Boys Town, winners in the senior category, where he will introduce dance performances of "The Prodigal Son"or "Le' Fesau Ta," his latest masterpiece.
The production fuses traditional with contemporary dance styles, with an operatic musical setting featuring my Sorpapelu's own singing.
In his own words, "Dancing makes me feel more alive and my spirit is always uplifted whenever I dance."
His future plans include going to Brisbane to study dance.
---
From U.S.P. Website (January 2010)
Sorpapelu Tipo Fatiaki
Oinafa, Rotuma, Fiji Islands
Choreographer/Professional Dancer/Costume Designer
Studying toward a Diploma in Youth Development Work

 "Dance is a beautiful expression of who I am as it allows me to know my feminine self more". Sorpapelu is no stranger to the arts scene in Fiji and the region having choreographed for a number of dance groups in the Pacific and collaborating with local and international choreographers. Sorpapelu loves classical music and uses this genre as a source of inspiration to choreograph just about anything. In May 2008, he scooped the award for Best Contemporary Solo at the "Fiji Dance Competition" held in Suva and the following month, Sorpapelu represented Fiji as the only contemporary soloist at the "Dreaming Festival" in Brisbane-Australia. Pelu as he is better known by his colleagues, co-choreographed for the contemporary category that represented Fiji to the "10th South Pacific Arts Festival" held in Amerika Samoa. In 2005, Pelu toured with the ODT to Wellington-New Zealand for the "Dance Moves Conference" at the Tepapa Museum. In 2003 and 2004, he played the lead role in one Allan Alo's Dance productions titled "Tatau" (Samoan Traditional Tattooing). Sorpapelu created his original debut dance production titled "Le' Fesau'ta- The Prodigal Son" in 2007 held at USP. He has also conducted outreach programs for youths who have taken an initiative to form dance groups in the western territory of Viti Levu namely "Maurea Dance Group" and "Tafaga Entertainment Group" conducting dance workshops. Pelu taught winning schools for the "Tadra-Kahani" (annual school dance competitions) like Monfort Boys Town and Veiuto Primary School taking home awards for Best Choreography, Best Costume and Best Set Design to name a few. Mr. Fatiaki has travelled with the ODT to South Africa for the ACP Summit in Johannesburg in 2002 and China for the "1st Asia-Pacific Youth Arts Festival" in Shenzhen. "I hope to inspire youth to continue to be real and to be honest in what you do as artists' especially as it serves to strengthen and build communities".
---
From Fiji Times Online (23 April 2010)
Freedom in dance
by Irene Manueli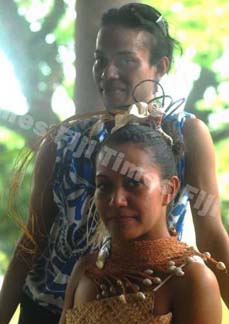 Sorpapelu stands behind fellow dancer, Katalina Fotofili who models one of his exotic necklaces which fuses magimagi and seashells
Sorpapelu Fatiaki is disarmingly humble and talented.
He is one of the familiar faces of Oceania Dance Company Fiji's leading contemporary dance ensemble that operates from the University of the South Pacific's arts program.
Regarded highly among his artistic peers, his repertoire which includes the creation and direction of his very own dance production (Le' Fesau'ta-The Prodigal Son), is impressive to say the least.
It is a reflection of his passion, dedication and perserverance to his art, particularly given the challenging environment our artists struggle in.
He joined the program nine years ago.
In the first few years, he juggled it with finding paid employment.
After several years, it dawned on him that he was the "only Rotuman contemporary dancer" and that he should instead be concentrating on the blessings he already had.
Aside from entertaining, he has helped in youth programmes, in which he shared some disciplines of dance.
Aside from fulfilling the artistics cravings in him, Sorpapelu has found dance to be a healer.
It has helped him discover his "authentic self".
For years he had struggled with his feminine side.
Dance, he said, helped him find the solid grounding he needed to be comfortable with who he is.
"It's the freedom to be anyone and anything on stage," he adds.
"The freedom of expression through dance."
Sorpapelu has toured several countries to showcase his art, and next week he travels with the dance company to China for the World Expo where they will share some of the unique Pacific island magic.
Expo 2010 in Shanghai is a grand gathering of the world's cultures. It's expected to be a rigorous tour as they are scheduled to dance five 20-minute segments every day for the entire month that they're there.
Yet, there's no obvious anxiety with Sorpapelu.
There's instead a regal calmness as he speaks of the upcoming task.
As expected, rehearsals have become more demanding. They usually begin early and after a noon break, continue until about 11pm.
Sorpapelu admits to being fastidious in his work. He can't help it, he confessed.
His diligence is visible in the intricate detail of his costumes and accompanying accessories. All nine costume sets for their tour are his creations.
The elegant unique necklace modelled in the adjacent picture is a symphony of magimagi and seashells; even the headpiece is of beautiful showmanship.
It's all part of the Oceania group's strategy to get their audience 'WOW-ing' about Fiji and the Pacific Islands.
"We want them to go 'wow' and leave knowing that we, the people of the Pacific, are beautiful and talented people," he said.
Sorpapelu is confident in his skills and plans to design fashion in the near future.
"I'd really love to do that and one day I'd want to have my very own label," he said.
However, his busy dance schedule means he has to shelve that for the moment.
"One thing at a time," he said. "So that when I do something, I do it thoroughly well."
---