From Fijilive (21 April 2006)
Take a bow, Fred Susau
by Amelia Vunileba
Time to go ... Fred Mua Susau has been a civil servant all his life and its is time to take a break
SELF discipline, perseverance and sacrifice are values all working people should have to succeed in life.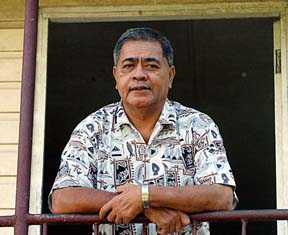 Fred Susau
That is the belief of 59-year-old Fred Mua Susau who says they helped him in his 38 years of working for the civil service.
Fred is due to officially retire from the Ministry of Provincial Development in August, when he turns 60.
But he has a lot of leave owed to him and decided to go on pre-retirement leave two weeks ago.
He has to be the longest serving Rotuman in the service, literally and practically because he was born at the Ahau government station on the island of Rotuma in 1946 to Etika and Tausia Susau.
He is the second eldest of seven brothers and one sister.
"My father was a police constable.
"We grew up in a government compound and I started my education at Motusa Primary School," he said.
"In 1958, my father got sick and we moved back to Lopta and I continued at Malhaha Primary School.
"From there I went on to Rotuma High School.
"When I finished high school, I went to Navuso Agricultural School where I studied for three years and attained a Diploma in Tropical Agriculture and Animal Husbandry," he said.
The following year, Fred entered his first year of employment in the civil service when he became a supervisor with the Ministry of Commerce, Industries and Co-operative.
"My first posting was to Labasa in May 1968 and that is where I met my wife Emma (nee Lestro).
"We were married on December 23 of that year," he said.
"It was an eventful year for me because I got my first job and got a wife as well," he laughed.
The couple have four daughters and a son.
Two were born in Labasa and three in Savusavu.
Fred says when he started working for the Co-operative department, it was thriving because it had just started in 1946 and people were really into it.
"It was mainly consumer marketing.
"What happened then was that people would sell their produce to the Co-op and since I started in the Northern Division, most of the villagers were involved."
He said some of the people he worked with included Sakeasi Butadroka, Ratu Joji Bukarau, Sakenasa Rokotunidau and Tikoti Rodan.
"These people were basically pioneers of the Co-operative department and it was good to have worked with such people," he said.
However, Fred says that while the Co-operative started out with a bang it was sad to see that most Co-op shops around the country gradually lost business and became defunct.
Several factors led to the Co-op's demise which are still being rued today.
"Looking back at its history, in Labasa, I can say that when development was happening, most of the villagers took their produce directly to the big outlets such as Punjas."
He said when that happened, the Co-operative department's supply of cash dropped and made it quite difficult to buy produce.
For the 20 years he spent with the department, 16 years was spent on Vanua Levu and it started in Labasa, Taveuni, Savusavu, back to Labasa and Taveuni before he left for Nadroga in 1987.
"I like Savusavu and Taveuni because they are beautiful places and things are different and my wife's family live there," he said.
"Nadroga was different and the Co-op went inland and the thrift and credit Co-operative was started," said Fred.
"There was a lot of grazing there because there was a lot of idle land.
"So what the Co-operative did was to buy freehold land through a loan, subdivide it and sell it to the members.
"The agreement was that if the members paid their loan in full, they would own the land.
"I started the Bilo Levu Co-operative and it was through the project that most of the people from Bilolevu were able to buy and own their piece of land," he said.
Fred finished from the Co-operative department in 1989 because the Public Service Commission was looking for a Rotuman to be the District Officer in Rotuma.
"While I was the DO, I presided over the magistrate's court in Rotuma for minor cases.
"I was a Class Two magistrate," he said.
"In 1992, I was posted to Levuka where I became the District Officer for Lau and Lomaiviti provinces.
"I became a Class Three magistrate which required me to sign court documents but not necessarily preside over court cases," he said.
"I spent eight years in Levuka and in January 2000, I was posted to the Eastern Division headquarters in Suva as a divisional planning officer.
"I held the post of acting Commissioner Eastern from 2002 to 2004."
When Fred finished from the Co-operative department, he was the District Officer under the Ministry of Regional Development, which is now the Ministry of Provincial Develop-ment.
"When I reached 55 years, I was still very much active but as I approached the 60-year mark, I just knew that I was slowing down a bit," he said.
Fred and his wife live in their family home at Delainavesi.
Their five children are married and live their own lives with their children.
"We have three grandchildren, two granddaughters and one grandson," he said with a gleam in the eye that only a grandad or mum does when they talk about their charges.
Fred plans to take a year of rest before he looks around for something to do to keep him moving on in life, albeit at retirement pace.
After 38 years of working for the government Fred has done his bit as a civil servant.
His contribution to progress through trying times is a measure of his diligence as a worker.
Such quality in a man warrants nothing less than a medal in recognition of his service to the people, his country and God.
---