From Fijitimes Online (2 December 2008)
Jone Tanu: A man for all students
By Geraldine Panapasa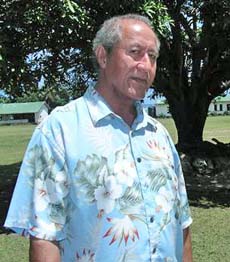 Experienced ... Jone Tanu, principal of Rotuma High School
HAVING the interests of students at heart is the driving force behind Jone Tanu's success as principal of Rotuma High School.
The 57-year-old teacher was born in Rotuma and brought up in the district of Pepjei.
The youngest of six children, Tanu wanted to study law but switched to the humble profession of teaching.
He has been a teacher for 35 years, a career span which has made the man dedicated to empowering the minds of his young charges.
"I was the kind to follow my friends and I was thinking of taking up law," he said.
"However, I am happy with the profession I am in today."
Tanu attended primary school at Christ the King School at Sumi then he went up to Form Four at St Michael's College at Upu which closed in 1967.
From Upu, he went to Ovalau where he continued his secondary education at St John's College in Cawaci.
From Cawaci, he crossed to Ba where he completed his Form Seven studies at Xavier College.
After secondary school, Jone moved on to complete a Bachelor of Arts degree, majoring in geography and history at the University of the South Pacific in Suva.
He then later completed a post-graduate certificate in education and was posted to Vunimono High School at Nausori where he was assistant headteacher.
From Nausori, Tanu was posted to Queen Victoria School in Tailevu then to Suva Grammar School, Lami Fijian and Nasinu Secondary School. from Nasinu, he was transferred to work at the Ministry of Education's curriculum development unit which was based at Nasese.
"From the CDU, I was posted to Ratu Sukuna Memorial School then I went back to USP in 1987 to do my Masters.
"I had wanted to resign to concentrate and complete my Masters but they told me I could only resign if I had payed back my bond.
"So I had to teach for another two years and in 1989, I came to Rotuma to be principal of the high school.
"I stayed on until 1994 when I went to the Fiji College of Advanced Education in Nasinu as head of the school of social science."
Tanu returned to Rotuma to take up the principal's post at Rotuma High and then went up to the highlands to Navosa Central and crossed the seas to Savusavu to St Bede's College.
He was then asked to go to his old school at Cawaci.
Not long after that, he was posted back to Rotuma.
"The school system was the greatest obstacle for me in Rotuma, especially going to schools that are poorly managed," he said.
"I am a person who never really liked office work.
"I like working in the classroom with children but as a principal, it is more administration work.
"For anyone who wants to be a teacher, you have to be very flexible in your thinking.
"You should always have the student's interests at heart and know that in your heart, when you are correcting them, it is for their own good." Tanu said most teachers were used to their own way of doing things but as for his part as principal, it was a challenge to get them to try a different approach when it came to teaching.
"If teachers are too high or above the students, it will not work out.
"You have to be young at heart to be able to relate to the students."
Under his guidance and leadership, Rotuma High School has gone through a construction makeover including much improved living quarters for the teachers, a new library and computer room as well as a new science laboratory for the students.
With his vast experience and academic qualifications, students and teachers of Rotuma High will no doubt be the wiser from his guidance.
---
From Fijitimes Online (22 August 2009)
A noble giant
AN extraordinary human being that was the recurring message from the eight people who vouched for Jone Tanumafili, the only Rotuma-based person nominated for the Pride of Fiji medal.
All eight are former students of Rotuma High School (RHS) where Master Tanu, as he is affectionately known, served as a teacher and principal for various periods.
Today, these young men and women are successful career people who want to share how blessed they feel to have had Mr Tanu as their teacher. He played a significant role in their struggle to excel, they said.
Although he is a down-to-earth man who is renowned for being fair and compassionate, he is a strict disciplinarian, they add.
"There are many students who have become successful in life due to his amazing vision and commitment as a teacher," said Viliame Gabriele.
Emi Paulo said Mr Tanu's words of wisdom and exemplary behaviour "motivates us until now". She said most of the improved facilities enjoyed by the school, like its library and computer lab, were due to Mr Tanu's initiative to relentlessly pursue assistance from the government and donor agencies .
"So far no other principal has ever driven the school to exceptional heights and recognition in terms of academic standing," remarked Katarina Taito.
"(He) understands his students, shows them respect and guides them in attaining the very best out of education; (he) always puts the needs of his students before his own," she said.
Barry Jione said he would be forever indebted because while he had given up on school and dropped out at Form 6 (first from St John's College and then Marist High), Mr Tanu did not give up on him.
"He took me back to Rotuma to complete my Form 6," he shared. "His community service is next to none!" noted Mr Jione. For instance, "he was paying the school fees for all Pepjei students at RHS".
Mr Gabriele adds that Mr Tanu has championed various issues that have all improved lives on the island. One example was when Mr Tanu intervened in a transport crisis. He secured help from the Japanese International Co-operation Agency (JICA) which resulted in their donation of two buses for the island.
Another was when the State threatened to close RHS because of it fell below the occupational and safety standards. The Rotuma Island Council then sought Mr Tanu's return as principal, said Mr Gabriele, and within six months, the notice was withdrawn.
Pasepa Emosi, who has known Mr Tanu since 1988, said: "I can write a book about the good things he has done for us Rotumans and others too."
"He motivated us students in a manner that we wanted to learn more," she said. Another student, who only wished to be identified as Jenny, said Mr Tanu was also a straight-shooter; a trait that helped motivate many, including elders, to prioritise their lives for the betterment of their families and themselves.
She adds that he has also sponsored many students to tertiary studies.
He is the sort of person who "will exhaust all resources or avenues to ensure that he has provided the best possible assistance for his students or anyone that asks for his help," she said.
"His approach is the same for every other school he has been posted to. He has always gone beyond the call of duty."
Ms Paulo remarked that his simple lifestyle has also been an important lesson for their people on the island.
"In his home, (there's) no furniture, no TV etc...(he) does this to show that they should accept what they have and to make use of all the resources that they have, (and that) without money they can survive," she explained.
"The people in the community did not accept that at first, but today Mr Tanu's District (Pepjei) shows positive results and is among the outstanding districts."
Mr Tanu could not be reached for an interview.
See an interview with Jone Tanu by Walter Aitu in the Rotuman Language on YouTube
Also listen to an interview with Jone recorded in 1990 by Alan Howard (audio only)
---