'Ahau Nostalgia
(Dedicated to past, present and future residents)
By Maniue, Harieta & Sylvia Vilsoni (14th Aug, 2007, Al Ain, United Arab Emirates)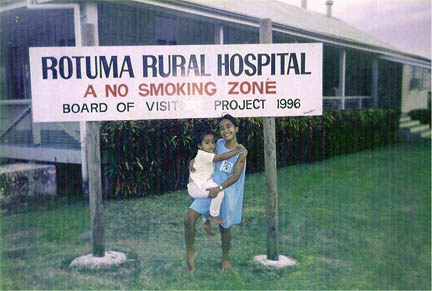 Sylvia & Harieta Vilsoni, 'Ahau 1998
We share our 'Ahau nostalgia;
vivid memories flash by everyday
we grin and smile at one another
for 'Ahau was once our temporary home
and a fantastic place to stay.
We miss those styrofoam float rides
on placid Jolmea vai
alas, the blinking coral bleach
has now encroached big time
turning the fragile laje into rubbery lime.
Those sermonettes expounded from the pulpit
are so fondly rewound;
Hosanna! Palm Sunday! A feast!
Our children's congregation
was so blessed 'n' filled with bliss
That lone hifau tree on the cliff edge
shaded the chapel on many hot Sundays;
to fight boredom we'd look to the east
ahhh, panoramic Mt. Sarafui on Uea
awesome sight in the shimmering light.
That spacious D.O.'s bungalow,
its front porch, a sea viewer's delight;
its architectural lines
simplistic but picturesque;
the colonialists did build with insight.
The Commissioner's Wharf (uaf 'on Pure)
located downhill:
an anchorage, a swimming spot, a haven;
we'd risk a growling and take an unsupervised dip
in its shady waters in the Saturday heat.
That smoke-free zone of a hospital,
sturdy Oregon wood and all-round verandah;
its hundred-plus years of existence
should be celebrated
by history buffs and its jolly staff
The fao trees
on the boundary line
low branches heavy with pregnant fruit
easy targets for our after-school gang;
we'd scan, plan then direct a makeshift 'aleo
to nip the bunch oozing the strongest fruity tang.

The rickety pavilion
built for that Centenary do in '81
now a meeting lot with a hopscotch spot
marked on its floorboards;
we've carved our initials deep in its grains
to withstand the stains of time.
That relic of a canon
beside the D. O.'s flagstaff facing the sea;
we'd imagine how it would have been
had a brigantine with a flapping Jolly Roger
appeared on the scene.
We love to rummage through old albums
peer through the historical contents
of long-ago shots and close-up pics
of 'Ahau Government Station days
where carefree childhood memories
never fade, they just get replayed!
'Ahau Sunday School, Palm Sunday 2000
---