TWENTY-FOURTH WEDDING ANNIVERSARY (16/12/82-16/12/06)
By Maniue Vilsoni (written on 16/12/06 in Al Ain, Abu Dhabi, United Arab Emirates)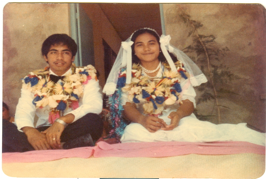 Wedding day (16/12/82) in Pephaua, Malha'a, Rotuma.


Perched on a yard of silk,
atop a fine apei,
with the doorway in the background,
you smiled!
Your hands,
gently placed on covered knees
showed untangled fingers
at symbolic ease.

Your ring (misplaced long ago)
did not sparkle
in the shadow of the house and fern
but still you smiled
and the white ribbons of your hairdo
framed that smile!
Your garland,
crafted from selected flora
held firm around your bosom,
It generously made way
for the lily-white pearls,
that decorated your neckline
which propped your smile.
There we were,
Bride (pride) and Groom (doom)
sitting side by side,
in matrimonial attire
with trails of 'xmas coloured paper
bridging
that slightest crack of a shy divide.
We leaned inwards,
drawn to one another
by
some centripetal force,
chemistry,
and
conjugal rights.
Bonding, aye!
camera-ready and steady,
body language comfortable,
the smiles demure (not artificial),
ever-ready:
- to face the vagaries of marriage
- squash the bouts of doubts
- please the in-laws
- reconcile two strong personalities
- protect the crankiness of marriage
- jumpstart ovulation
- give NO blooming space to doom-sayers
AND
- re-KIN-dle the flames of September romance.
BLOODY HARD WORK, eH?
BUT you managed a birth of a smile
AND SWITched-ON HOPE!
My ring was more showy (later, lost on the rugby field),
my cheap-line watch froze in time and date
my borrowed black bow tie
figure-headed
the traditional garland's seven stars
which were painstakingly woven in place
to mark my:
status,
manhood,
resourcefulness,
destiny,
fate!
Toooo-DAYyyy, TWENnnn-Tttyy FOUR yeeeeARS LA - TER,
you
slept
right through
our
Ann-Ni-Ver-Sa-Ryyy!
faTIGue and the winTER cold
took their toll
you missed my re-mi-NIS-CING!
of the exxxx-act time
TWO DECADES and FOUR ago
of wedding bells
and wedding vows
and time frozen moments
of sitting on a finely woven mat
staring point-blank at the camera lens,
thinking:
"where will I be in 20 + 4 yeeeeears?"

TOoo-dayyy,
I found the answer staring back at me
in AL AMERIYA,
AL JIMI.
ABU DHABI,
U! A! E!
- I Ordered the kids NOT to wake you
for bed rest
was what YOU needed
to recharge those Flo-Nightingale batteries
TO HEAD
the
Tawam Hospital
Eee - Rrr
night
shift
team.
"Shuk-ran!"
Wedding Day jive (16/12/82).
24 years later in Al Quasis, Dubai, United Arab Emirates, 2006.
27 years later: Vika, Sylvia, Harieta, Manu at Dubai Airport 2009

Vika – our Florence Nightingale – from Ahau Hospital to the United Arab Emirates.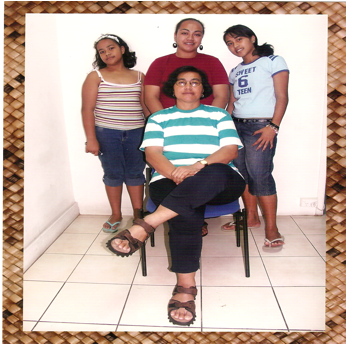 Sylvia, Moira, Harieta & Vika: Suva, 2006
---
---