---
Episode 3: Getting Settled
The first couple of weeks I was in Rotuma were quite eventful and gave me a good introduction to the island, the people, and the culture. It was during the Christmas holidays (mane'a) and there was a lot going on. The very evening I arrived, on 17 December, my family (Sakimi, Seferosa, and Akeneta) took me to Motusa School for the end of the year ceremonies. The children performed dances and skits and I was greatly impressed with their enthusiasm, although I noted in my journal that their facial expressions were quite subdued.
Throwing the tika #156
On Saturday, 19 September, a tika competition was held in Itu'muta, right outside our house in Salosa. It was a big event, pitting the eastern side of the island (Fag'uta, Noa'tau & Oinafa) against the western side (Malhaha, Itu'ti'u & Itu'muta), and all the chiefs attended. That was my first chance to meet many of the teachers. The western side won the morning round, after which a feast was served. It was my first opportunity to see a real Rotuman feast and I was truly impressed. Right after lunch it started raining, so the afternoon competition was cancelled. Tika is a dart-throwing competition, in which the men from one side throw reeds with hardwood tips as far as they can, skipping them along the road. Then the next team throws their darts and tries to surpass the best throws of the other team. Everybody seemed to have a good time and there was a lot of friendly banter and teasing between the two sides.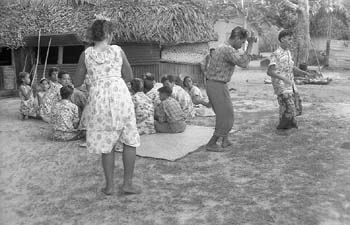 Dancing at a fara #108
A couple of nights later was my first introduction to fara, the custom during the Christmas holidays when young people go from village to village and perform dances in exchange for food and drink. A group came to our house and the first thing I heard was guitar music, after which they started to sing. We came out to watch the dancing and a young woman invited me to participate, which I did, awkwardly no doubt since I didn't really know Rarotongan style dancing at the time. But it was a lot of fun. A group from another village came the following evening so we had a repeat performance. A few days later, on Christmas Day, a fara group from Itu'muta formed and invited me to go with them to Motusa. We had a blast going from house to house & I think the people got a kick out of seeing me try to dance. I made them laugh if nothing else.
Copra drying at An Saliga #100
On 23 December I went with members of the Itu'muta Co-op by launch to An Saliga, the big cave fronting Sol Roroa on the northern side of Itu'muta, facing Uea. There were no proper copra drying facilities at the time and the men from Itu'muta took their raw copra to the beach at the bottom of the cave to dry it. The beach was well protected from the weather so it was a good place for drying copra, but it was a lot of work to bring it over by launch, spread it out on mats, then bring it back after it was dried.
Father Beattie #316
My host family, being Catholic, attended midnight mass at St. Michael's in Upu and I joined them. It was a lovely service led by Father Beattie, a Marist priest from New Zealand. Father Beattie taught Forms 3 and 4 at Upu Secondary School, which was exclusively for boys. The primary school at Upu consisted of classes one, two, and three, which were taught by Sister Madeleine and Sister Elizabeth.
Father Beatie was extraordinarily kind and helpful to me, as were Sisters Madeleine & Elizabeth. I got to spend a lot of time with them because Father Beatie offered to let me use his mission house as a sanctuary where I could type up and store my journal notes. His house was screened, so there were no problems with flies and mosquitoes, and best of all, his mother in New Zealand kept sending him boxes of cookies that he shared with me at tea. We had lots of interesting discussions over tea and he filled me in on his views of Rotuman culture.
| | |
| --- | --- |
| | |
| Sister Elizabeth in class at Upu Primary #345 | Sister Madeleine with Upu netball team #442 |
The day after Christmas, Boxing Day, we went on a "picnic" to the sacred island of Hatana. My journal entry for that day tells the story:
As long as I live I will never forget today! [Soon after we got up] a group of people, headed by . . . Wilson Inia arrived and had breakfast on banana leaves . . .

We went by truck to Maftoa where a launch & punt were waiting offshore. In order to get to the punt we had to walk across the reef carrying our goods in water up to our waist at times. It seemed like quite an effort at the time but I didn't realize what was ahead.

We started out and went around the west end of the island to Losa, where we picked up a group of men and two outrigger canoes, one large one and one two-man canoe. The men from Losa are experts getting ashore at Hatana, which is surrounded by a fringing reef. Most of the people in our party had never been there before.

It was about an hour's trip over to the island, and when we finally got there I realized what was in store for us.. I had been told that we would have to swim ashore, and I thought it would be a normal kind of swim, but no; the waves were huge and came crashing down on the coral reef. For someone like myself, trying to get ashore on my own would have been sheer suicide. Fortunately, the men from Losa really knew their stuff.

On the punt approaching Hatana #147

There were two ways to get to shore. One was to swim to a large rock, allowing oneself to be washed up by a breaker, and then walking across the reef through the breakers to a wall of coral, where one was safe from the pounding waves. The other way was to be taken by outrigger to the point where the waves broke; then one was supposed to walk across the reef through the breakers. The men from Losa were there to give assistance.

I chose the second alternative. I jumped out of the canoe, but the sharp coral cut into my tender feet [how I regretted at that moment that I had worn shoes all my life!]. The first breaker sent me under for what seemed like an eternity, but two of the men from Losa were there to help me and I managed to reach safety again after a couple more swampings. But I was still not ashore yet--only to a rock on the opposite side of the lagoon. I had to wade another couple of hundred yards before reaching our destination. When I finally got to shore I found I was bleeding in about five different places.

The island of Hatana is quite lovely and we spent a pleasant afternoon swimming in the lagoon, drinking coconuts, and sharing a minor feast. When the tide went down again we prepared to leave. The men from Losa decided that it would be best if I went in the big outrigger over the reef to the punt. Actually, we had to cross two reefs, the first surrounding the lagoon and the second the outer reef surrounding the atoll. We made it over the first reef after a bit of dousing and a lot of work by the Losa men. The canoe was half full of water by the time we were ready to start across the second reef, and a couple of gigantic breakers finished the job, sinking the canoe with all my gear. After the Losa men uprighted the canoe and bailed it out I got back in and was steered expertly through the huge breakers out to the boats, and safety.
On the following morning, Sunday 27 December, I attended the Methodist Church Service in Itu'muta and was invited to the feast (tauriga) for the visiting preacher afterwards. During this time on Rotuma relations between the Catholics and Methodists were not very good. People still recalled the "religious wars" of 1873 and 1878 and neither side participated in the kato'aga (ceremonial affairs) of the other. I was determined not to favor either side, and to stay on good terms with both, so I alternated between attending Catholic masses and Methodist services.
I spent the following week getting organized and getting to know the people in Itu'muta. A dance competition between Lopo and Maftoa was held on Monday evening (29 December) that was judged by Gagaj Ravak, the district chief. I danced for Lopo, which may be the reason we lost (although Ravak thanked me for trying). On New Year's Eve I went with Amai and Akeneta to Barney Garrett's quonset-hut movie theater in Motusa, where we saw "Demetrius and the Gladiators," and the next night we all went up to Maftoa for a rematch of the Lopo vs. Maftoa dance competition. This time Lopo did better, but before Maftoa had a chance to complete their dances it started to rain very hard. That ended the competition, but not the dancing. Both sides joined in and danced in the pouring rain, laughing and joking until everyone was throroughly soaked.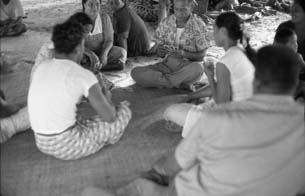 Playing lono at my mamasa #114
The following day was my mamasa, which was attended by the D.O. (Fred Ieli), Wilson and Elisapeti Inia, Father Beattie, and Brother Mamao Managreve, among others. Before the feast began Mamao taught me to play lono. All together about 75 people were there; Sakimi said he did his best to keep it secret because if he didn't, a lot more people would have come and we would have had to feed them all. In the evening Father Maguire came by to invite me to lunch at Sumi on the following day.
The next morning Father Maguire came by and picked me up and took me to Sumi. On the way we picked up Father Kitolelei at Upu. After a wonderful lunch we went up to Sumi School where there was a ping-pong table and we played a few games. Father Maguire took me home via Pepjei, Noa'tau, Oinafa & Malhaha and we stopped in several villages where we were served tan mi'a (fruit punch) or coconut milk. We also stopped at the swimming hole at Fuli'u. By the time I got home I was overwhelmed by the beauty of the island and the generosity of the Rotuman people.
| | |
| --- | --- |
| | |
| Father Kitolelei at Sumi Church Organ #429 | Father Maguire #372 |