The Inaugural Wilson Inia Day
18 August 2011
The inaugural Wilson Inia Day was celebrated on Thursday 18th August, 2011. This important day marked the acknowledging of the founder of the school, Mr Wilson Fagmanua Inia. It was quite fitting that the famous proverb created by Wilson Inia "Hathat se puku ka ha'ha' se pupu" was the theme for the day. Literally translated "Read books and pull weeds." In other words, "while one studies books in the house, one should also get outside to pull weeds and garden." The implication here is, that to be a well-balanced person one should not only have academic learning but practical manual skills as well.
Mr Perry Gabriel, the current school principal and an old scholar, initiated the idea which was unanimously supported by the staff and students of Rotuma High School. Significantly, the endorsement of the idea from the Council of Rotuma brought momentum to this occasion.
To assist the school, the Inia family funded a memorial plaque, the extension of new school stage and the sulus for the dancers.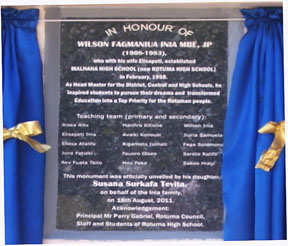 Wilson Inia Memorial Plaque
As the day and the news of the occasion spread, the event gained more support from old scholars and the people of Rotuma here and abroad.
Highlights of the Day
Devotion

Message from the PS

The Devotion was led by Mr Petero Pene, the HOD - Social Science

The Principal, Mr Perry Gabriel read a message from the Permanent Secretary of Education, Dr Brij Lal

Chief Guest

It was quite fitting that the Chief Guest was none other
than the daughter of Wilson Inia, Mrs Susana Tevita
---