News from the Rotuman Association of Melbourne (Newsletter received 29 August, 1997)
The Association will be holding a combination sausage sizzle and kati on 6 September at Richmond.The cost of the sausage sizzle will be $5 per adult with the proceeds going towards the cost of making leis for the dinner dance to be held on 18 October. There will also be a general meeting on 6 September during which a new vice-president will be elected. Committee members for the dinner dance include: Kapi Patresio, Torike Sanerive, Chris O'Meagher, Kijiana Mikhael, Sue Kelly, Neil O'Meagher and Michael Smith. Entertainment will comprise traditional Rotuman dancing and the South Pacific Soul Sisters.
At the committee meeting held on 19 July it was decided to involve the Rotuman youth in a more active role with the association. Younger members were asked to contact the Secretary regarding their interest in forming a youth committee. This committee would ultimately be responsible to the Executive Committee but they would be responsible for organising and running their own affairs.
The Rotuman Association has been formally invited to participate in the Fijian community's Fiji Day celebrations to be held at Edinburgh Gardens, Fitzroy on 11 October. The committee has accepted this offer and will be setting up a Rotuman stall and participating in the sporting events.
---
From Yvonne Aitu in Hawai'i (29 August 1997)
Aloha!! My field trip to California this past July was a huge success for those of us who represented Brigham Young University Hawaii Campus at the Phi Beta Lambda Conference which was held at the Anaheim Convention Center in Anaheim, California. Approximately 3500 college students attended from universities around the US. There were about 25 categories altogether in which students could compete (one category per student.) Our Korean student, Junhyon Park, placed second in the category of Job Interview; another student, Sean Petty, placed eighth in Human Resource Management and three of us placed in the top fifteen for computer applications and software, business management and accounting I, all ranked at National levels. The written part of the test was to answer a 100 questions in half hour to 45 minutes! A couple of big name companies were there to pick up resumes and do mini interviews: Coca Cola; IBM; Microsoft; Apple and AT&T to name a few. Park and I were able to qualify for an interview with Coca Cola for the position of systems management within one of their departments; we're still waiting for a reply. :) I was elected by our contingent to represent the state of Hawaii on stage during the first general session and was given the opportunity to answer a few questions about how our chapter was doing. You should've heard everyone yell Aloha!! :) It was all very exciting! And we also attended several workshops, the Dodgers (baseball) game, and got free passes to Disneyland! It was a great experience! All in all the trip was an eye opener for us about the business world--that we should take advantage of all the opportunities out there and make the most of our college life, and not settle for anything less!
---
From Victor Narsimalu in Hawai'i (28 August, 1997)
Noa'ia Mauri,
Ni Hau Ma!! Well I am back with some of the choicest experiences encountered while in China. The handover program of Hong Kong to the mother land was the highlight of this decade. The millions of people who came from all over to witness this historical event were amazed at the serenity of the whole thing. We were honoured to be part of this event and to march in celebration in the main streets.
After the handover we went back to Shenzen. We performed Polynesian dances at the biggest cultural parks in the country. We also attended school studying ancient and contemporary history of China. Learning the language was a requirement for the class so we got some exposure to Mandarin. This was a tremendously successful trip and the experience of a lifetime. I suggest that Rotuman students in academic programs take the opportunity to tarvel and study abroad; it is a greater education experiencing the realities of places than just reading about them in books.
---
From Marlon Isimeli in Suva (25 August, 1997)
Miss Hibiscus 1997 is Letila Mitchell, daughter of Dr. Rosemary and Dr. Robin Mitchell, who was sponsored by Pacifica Communications. Nelsin Mue Bentley, sponsored by Ministry of Health, was named Miss Charity. Two other Rotuman contestants were Rachael Marie Susau (Miss Morris Hedstrom) and Mereana Kitione (Miss Radio Fiji), the daughter of Eileen and the late Hanfiro Kitione (cousin of Dr. Mitchell). Mereana studied in Australia at Charles Sturt University (Bathurst Campus) for 3 years before returning to Fiji in January 1996. She has been working with Radio Fiji since.
Letila thanked all those who worked with her, starting with her sponsors, her family, her dance group and supporting dance group from USP. She also thanked the Rotuman Community (Malhaha raised funds and distributed them amongst the Rotuman contestants.)
Nelsin was crowned Miss Charity for raising more than twenty thousand of the approximately seventy thousand dollars that was raised collectively.
Letila's float also won three of the four prizes for floats! Her float had an outrigger canoe on it, with six rowers, including Fred Atalifo and Murray Isimeli (part of the "muscle men" group, for those who know them). Letila's seat was on a raised platform in between the outriggers. Located in the front of the outrigger was an "island" with 6 Rarotogan drummers from USP, providing the rhythm for the rowers and for Letila herself as she entertained the crowd with her graceful dancing. Her supporting dance group marched beside the float, keeping the crowd entertained.
All in all, it was a proud day for those who helped and supported her, and a good day for all Rotumans around Suva.
If you would like to congratulate Letila personally, her email address is rmitchell@is.com.fj
---
From Elizabeth Benz in Sydney (August 1997)
Elizabeth has kindly sent us newspaper clippings concerning her husband, Karl, who passed away on May 2, 1997, at the age of 62. The following are some excerpts from the newspaper accounts:
Karl Benz, known throughout the North Shore as the Typewriter Doctor, was a dedicated charity worker and successful businessman....Mr Benz trained as a typewriter technician in Austria and Switzerland before migrating to Australia aged 21....In 1957, while a patient in Prince Henry Hospital, he met a trainee nurse, Elizabeth Gibson, who came from the South Pacific island of Rotuma. They were married at the Wesley Mission when she finished her training in 1960 and later worked there as volunteers....[Mr Benz] embraced the concept of the extended family of Rotumans and their home was always open to visitors and those needing help. His family raised money to build a science block for Rotuma High School. Mr Benz adjusted keys on 12 typewriters which he gave to the Rotuman community leaders so they could type documents in their own language. In 1994 his eldest son, Eric, 26, collapsed and died of a heart attack after surfing at Freshwater beach. Together with Neutral Bay Rotary and local businesses the family raised $20,000 to establish the Eric Benz Fund to run free coronary pulmonary resuscitation (CPR) courses. The classes are still attracting strong support.
As a young man Mr Benz was a champion downhill skier and won titles in Austria and Australia. He was buried alongside his son and is survived by his wife and two other sons, Andre and Anton.
---
From Alan Howard in Hawai'i (August 26, 1997)
On Saturday, August 9th, the Rotuman community in Hawai'i celebrated two marriages.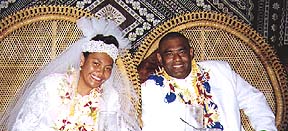 Mervina and Api at reception
Mervina Sheffet married Api Tora from Fiji. Mervina's mother Kiji is the daughter of Gagaj Maraf Solomone and Akanisi Samuela (deceased); Mervina's father, Tifere, is the son of Fursau and Meseini Sheffet. The marriage took place in the morning at the Mormon temple in La'ie and was followed by a reception in an adjacent hall.
Eddie Kamae serenading Vili and Jeannette at sunrise wedding
Vilsoni Hereniko married Jeannette Paulson on the same day at sunrise on the beach at Kuli'ou'ou Beach Park. Their reception was from 9:30 pm to midnight following the premiere of Vili's new play, Fine Dancing, which stars Rena Owen of the film, Once Were Warriors. The play has been well received by Honolulu audiences and well reviewed. Vili and the cast have beein invited to present the play in Guam during October.
---
From Jane (Jieni) Howard in Pohnpei, Micronesia (5 August 1997)
Greetings from Pohnpei (Federated States of Micronesia) - Aus noa'ia. It is very pleasant and refreshing to be in the Pacific once again and we are enjoying the peace, tranquility and the 'heat'.
On my way here (Pohnpei) I got off at Kosrae (one of the islands/states of the FSM group) to see Katie. She is from Hapmak, daughter of Maragfo'ou. She was waiting for me at the airport with a bag of oranges and some lime which I brought home with me (travelling from Honolulu to Guam, passengers can get off and stretch their legs at all stops except in Johnston Atoll and Kwajelein - US military bases). I understand there are some Kosraeans who trace their ancestry back to Rotuma. I hope to return to Kosrae to see Katie and learn more of our 'relatives'.
Another Rotuman living here in Pohnpei - name is Rosarina - she is from Lopta (her mother is from Lopta). She is the daughter of Rigamoto from Noa'tau. Rosarina is a nurse married to Doctor David. Doctor David was a student at Fiji School of Medicine in the 60's. Rosarina and her husband came to look for us when she heard another Rotuman has arrived in the islands. They brought some fish and fekei (Pohnpei style). I am very touched by her kindness.
In Chuuk they make the fekei ulu the same way we do - fun kakap ma tuk but they did not cook any lolo for this particular occasion although I was told they do the same as a sweet.
Hanisiof.. Jane Howard
---
The following extract from the Fiji Daily Post Newspaper dated Monday, 4 August 1997 was submitted by Marlon Isimeli from Suva.
Govts Help Upgrade High School
A special flight by a Royal New Zealand Air Force Hercules landed building material and 1700 textbooks on the island of Rotuma to upgrade one of its local high schools. The equipment, a joint effort of the govern-ments of New Zealand, United States of America and Fiji, reached the college at Malhaha on Thursday (31 July 1997).
The building materials were supplied by the Fiji government. The US government donated 1500 textbooks, and New Zealand donated 200 textbooks and provided the Hercules C130EH to carry the materials.
College principal John Tanu said there was a shortage of text books at the school and the new supply was greatly appreciated by the people of Rotuma. "At the rate the building materials have been flown in, we believe the four new classrooms will be used in term three," Mr. Tanu said. "The generosity of the New Zealand and US governments have removed the legacy that our isolation is a mental barrier to the education of our children."
The delivery of supplies was led by Defense Commander Owen Hanley of the NZ Embassy and Lt. Col. Richard LeVan of the US Embassy. Mr. Hanley said the New Zealand offer to help came when Ambassador Susan Blumhardt visited the school two weeks ago.
The building materials that were flown over were to help build a four classroom block to replace the old building which was condemned by health inspectors late last year. Industrial Arts teacher Tausie Fasala said: "The old building was about to crumble because it was built with old material and processed coral for concrete." He said the foundation of the new building was laid on June 11 by school chairman Visanti Makrava. Mr. LeVan had said the textbooks included subjects like history, mathematics, social science, and music to name a few.
---
From Alan Howard in Hawai'i (August 3, 1997)
The Rotuman Association of Hawai'i has been enjoying visits from relatives: Jeff and Matilda Chun and their three children from Pago Pago (Matilda is the sister of Maria (Matlena) Dumas, daughter of Gagaj Kona' of Savlei); Vamarasi Pensamino from Lautoka (Va is the sister of Vilsoni Hereniko) and Vili's son Daniel from Newcastle, England were here to attend the wedding.
We are all looking forward to our planned campout over Labor Day weekend (August 29-September 1) at Malaekahana Beach Park. While there we will elect a new president of our Association since our current president, Munue Tavo and his wife Phyllis, have moved to Anchorage, Alaska. The Association is extremely grateful to Munue and Phyllis for all they have done for the Association; we will miss them dearly. We wish them godspeed and hope they get many chances to return to Hawai'i.
---
From John Bennett in Levuka (August 1, 1997)
Economically Rotuma is at a low point now, but the Bulou Ni Ceva is obliged to make a monthly run under its licensing agreement so at least people can travel back and forth to Fiji regularly. The large Hercules aircraft has made two runs to Rotuma during the past three weeks. One flight was to take dignitaries for the day and the other was to take building materials and equipment for repairing a school and the hospital. Naturally it was filled to the ceiling with people and foodstuffs going in both directions.