---
From Fiji Government Source (20 May 2013)
After a thrre-year absence, a team of medical officials from CWM hospital, led by General Manager Ned Taito, have completed a tour of Rotuma. The team treated dental, eye and heart disease cases. They also conducted medical checkups of students at Rotuma High School and Malhaha Primary where they checked for rheumatic heart diseases in children between the ages of 5 to 15 years old.
---
From Fiji Broadcasting Corporation (20 May 2013)
The people of Rotuma have been told that government wants their island to be developed.

The Permanent Secretary to the Prime Minister's Office Lt. Col. Pio Tikoduadua says there are still some things that need to be worked on, for the benefit of the people.

"You will understand of the efforts by your government today in particular the Prime Minister to develop as much as he can within his capacity the potentials that are here in Rotuma, you have seen it and you have experienced it".

Tikoduadua says government assistance to the island is always on a catch up basis due to its location.

"Rotuma is a difficult island to reach, it is a difficult island to support".

Tikoduadua says the development of Rotuma will only be a success if the island has consistent shipping service.

He was chief guest at the Rotuma Day celebrations on the island last week.
---
From Fiji Times Online (19 May 2013)
Advice for young at yearly crop show
by Ana Madigibuli
THE Rotuman community in Nausori say they see their annual root crop show as an event that will give each farmer a chance to showcase their root crops while also giving farmers a chance to impart farming advice to younger people.
The Nausori Rotuman Farmers Association has been running the show for the last three years and progress has always been the outcome.
Association spokesman Mesulame Tiu said many Rotuman farmers look forward to the annual event as they hoped to win the year's overall prize.
Mr Tiu said during the root crop show, the farmers always hoped to break the Rotuma Island Day celebration overall points record.
"The show is all about giving the younger generation a feel of what Rotuman culture is all about, particularly through how we use our farming skills to farm yam, dalo, banana and sugar cane," he said.
"Now young people are taking part and we appreciate the efforts they have made in farming their own root crops."
He said a lot of people tend to forget the importance of growing their own food and relied on ready-made food items.
"This show not only stresses the importance of Rotumans growing their own produce but also feeding their family with what they have produced in the year," Mr Tiu said.
"We intend to share as much knowledge and skills with the younger generation, so this annual event can be maintained."
---
From Fiji Broadcasting Corporation (19 May 2013)
Rotuma calls for constant shipping services

by Apisalome Coka
The people of Rotuma are calling on government to look into shipping services to the island. They told FBC News, this is an urgent request as they're facing problems with their supplies of processed food.
No'atau villager Kava Memaufa says, the most important item on the island is fuel, and without adequate shipping service, services on the island collapse.
"The fuel is something that is really needed because the first priority is the hospital, if the fuel run short the hospital can't work because there's no power, the second is the school children, if the fuel runs short the children will have to walk to school and the third is water, people really need the water, if there's no power then no water".
Commissioner Eastern Lt. Col. Netani Rika says the government is aware of the problem.
"I won't deny the fact that this is the problem issue in Rotuma, it's not only in Rotuma but the whole Eastern Division, we need vessels."
The government is working on getting another boat to help with shipping services to outer islands.
Meanwhile, the MV Sandy leaves for Rotuma tomorrow.
---
From Fiji Broadcasting Corporation (15 May 2013)
Trade and shipping services in Rotuma to be improved

Trade and Shipping services topped discussions during the Rotuma Council meeting yesterday.
Damage to the Oinafa jetty has also been identified as a major hinderance to trade faced by people on the island.
Apisalome Coka is in Rotuma and files this report:
The Rotuma Export and Marketing Limited is working towards expanding its services. Executive Chaiman hiang Yee Foarete says they are now holding trades with Tuvalu on a quarterly basis and have also signed an agreement wityh the Agro marketoing authority providing them with dalo and cassava.
Foarete while speaking during the council meeting says they are undergoing business with five other private importers. He says one of the main issues that is affecting the Rotuma-Tuvalu trade is the shipping servivces.
Another issue raised is the Oinafa jetty. It should at least meet the minimum international standard as it is now a port of entry.
Meanwhile the government delegation needs to complete their task today by mid-day before departing Rotuma onboard MV Iloilovatu at 4pm this afternnon and expected to arrive in Suva on Friday.
---
From Fiji Broadcasting Corporation (15 May 2013)
Rotuma shipping services to top meeting agenda

Shipping services to the island of Rotuma is one of the main issues that will be discussed during the Provincial Development Board meeting next week.
The people of Rotuma have raised concerns that the lack of shipping services is affecting all aspects of their livelihood.
Another issue that will be discussed in the meeting is the call from the people for the Rotuma Decree and the Rotuma Lands Decree 2013 to be taken back to them for consultations before it is promulgated.
I-taukei Desk Editor Apisalome Coka is in Rotuma and files this report:
The Provincial Development Board will meet in Suva next week to discuss issues that were brought up during the Rotuma Council Meeting yesterday. The Commissioner Eastern Lieutenant Colonel Netani Rika says all concerns raised by the council and the people here will be discussed during the provincial development board meeting. Speaking to FBC News he says government is already working to improve shipping services to the Eastern division including Rotuma.
He admits this has been an ongoing problem not only in Rotuma but also throughout the maritime zone.
Meanwhile, health officials work to complete all their surgeries before the government delegation depart for Suva onboard the MV Iloilovatu at 4 this afternoon.
The government delegation is expected to be in Suva on Friday.
---
From Fern Fapiano Secretary, Seven Stars Rotuma Association (15 May 2013)
Aitu Lelei 'e te' ne ava Gagaj Aitu noa'ia
Noa'ia 'e mauri,
'E fạ' ne President ta Mereana Emose-Gibson ma members ne Seven Stars of Rotuma Association, gou fạ'iof puk te'is la 'uạ'uạ'ạkia te' ne 'ạus Gagaj Jaujiạ ne 'ạmis 'ih, ma te' ne ö'ö', hensạsiạg, kainag tutu ne leum ma teag'esea 'e laloag ne teran ta ne a'sokoa katoag Rotuam ta – May 11th, 2013''e Santa Rosa, California. Noa'ia 'e tȧr ne 'ih te te', noa'ia 'e hanisit se Aitu ma 'ạus po ma leum ma na hạiasoag.
Te'is as on iris Jaujiạ ne 'ih ma po ma leum se katoag ta:
Moeava Osotonu (Paptea)​​-US​Army
John Osotonu (Paptea)​​-US​Marine Corps
Tom Tolo (Lopta/Motusa)​​​-US​Marine Corps
Margaret Asuega (Tuakoi)​​-US​Air Force
Jonathan Murphy (Oinafa/Noatau/Hapmak)​-US​Air Force
Sarai Pearl Alataua (Paptea)​​-US​Marine Corps
Gagaj Aitu la ạlạlum'ȧk te' ne 'ạus tutu atakoa.
––––––––––––––––––––

Greetings. On behalf of the Seven Stars of Rotuma Association, I would like to extend my heartfelt gratitude to our distinguished guests, beloved families, and dear friends, who joined us in celebrating Rotuma Day on 11th May, 2013, at the Finley Community Center, on West College Avenue, in Santa Rosa, California.
This year's occasion marked the 21st birthday of the Seven Stars of Rotuma Association, and acknowledged our dedicated Rotuman men and women (active/honorably discharged/retired) for distinguished service in the United States military.
Noa'ia 'e garue:
Moeava Osotonu (Paptea), U.S. Army Ranger Airborne
John Osotonu (Paptea), U.S. Marine Chaser
Tom Tolo (Lopta/Motusa), U.S. Marine Staff Sergeant
Margaret Asuega (Tuakoi), U.S. Air Force Staff Sergeant
Jonathan Murphy (Hapmak), U.S. Air Force Captain
Sarai Pearl Alataua (Paptea), U.S. Marine Corporal
We are proud of your achievements! Thank you for gracing the occasion with your presence.
To the First Samoan Congregational Christian Church, Santa Rosa - Faafetai Lava for your love and support to the Rotuman Community.
To the Fijian Community in Santa Rosa, vinaka vakalevu for your support!
To our families who travelled from near and as far as Fiji, noa'ia 'e hanisi!
To the band, Island Fusion, thank you for the groovy tunes and for keeping the floor occupied.
Indeed, it was a glorious day of blessed fellowship, great fun, and hearty feasting as we reminisced and remembered our beautiful and beloved Rotuma in dance, song, and food. We were truly 'home'!
May God bless you and keep you safe always. (Photos)
Noa'ia!
---
From Fiji Broadcasting Corporation (13 May 2013)
Rotuma Day celebrations today

Report by: Apisalome Coka
Rotuma Day will be celebrated on the island today with a strong government delegation expected to attend the ceremony.
Permanent Secretary in the Prime Minister's Office Colonel Pio Tikoduadua will be the chief guest.
Apisalome Coka reports from Rotuma.
"On May 13, 1831, the island of Rotuma was ceded to Great Britain. Today, 132 years later, the people here still celebrate the historical moment with Rotuma Day celebrations.
The Permanent Secretary in the Prime Minister's office Colonel Pio Tikoduadua in a short while will arrive on board the Naval boat 'MV Kiro' to be chief guest at today's celebrations.
The Rotuma Police led by Inspector Semi Waqavonovono and representatives of the Rotuma Islands Council will escort Colonel Pio from the Oinafa Jetty to the deed of cession site at Lea'hava where celebrations will begin.
The "Plant a Million Trees Campaign" will be launched at Atapisi.
He will then make his way to the Ahau Government Station accompanied by 2000 people on the island including government officials in celebrating the 132nd Rotuma Day.
Meanwhile the various government ministries and departments that are part of the delegation will be carrying out their various tasks.
The 30 member medical team led by CWM hospital Manager Ned Taito will be carrying out free service program for the people of Rotuma."
---
From Fiji Government Ministry of Education (7 May 2013)
Government Team to Be Part of Rotuma Day Celebrations
The Prime Minister's Office permanent secretary, Lt. Col Pio Tikoduadua will be chief guest at this year's Rotuma Day celebration on the remote island.
Rotuma Day is celebrated on May 13 by Rotumans everywhere, especially back home.
It is always a wonderful time for Rotumans to get together and celebrate in style the island cession to the United Kingdom in 1881.
Government recognises the importance of this remote island as a dependant of Fiji.  Every year a Government delegation from various ministries take the opportunity to visit the island and update themselves with the various works their government departments are doing on the island.
On Wednesday morning an advance party of government officials will be departing Suva for Rotuma to attend this unique celebration.
This year, for the first time, the chief guest will visit the original site of the deed of cession at Lihava where the Gagaj Maraf will read the deed of session in Rotuman.
On the same day the chief guest will then launch the one million tree planting program at Atapisi.
Lt. Col Tikoduadua and government officials will be accorded the traditional welcoming ceremony and feast called "mamasa".
The chief guest will also take time to visit the various stalls of the seven districts with their display of cultural items and root crops, especially yams.
Lt. Col Tikoduadua will also host a talanoa session with the people of Rotuma at Oinafa Village hall.
Officers from Fiji Development Bank, and the Fiji National Provident Fund will also be part of the team for Rotuma.
Education officers from the Ministry of Education are part of the advance team doing external school review inspection on all island schools.
Education permanent secretary, Dr Brij Lal will be going to Rotuma to open the new Form Seven for Rotuma High School.
---
From The Jet Newspaper (7 May 2013)
Government Team to be part of Rotuma Day Celebrations - The Prime Minister's Office permanent secretary, Lt. Col Pio Tikoduadua will be chief guest at this year's Rotuma Day celebration on the remote island. Rotuma Day is celebrated on May 13 by Rotumans everywhere, especially back home.
---
From Radio New Zealand International (7 May 2013
Rotuma poised to help Tuvalu over food security
Fiji's furthest flung island Rotuma is poised to start exporting food and water to Tuvalu and other countries in the northern Pacific.
Rotuma is closer to Tuvalu than to Suva and those behind the initiative say Rotuma's wide range of produce could take the place of more expensive imports from Australia and New Zealand.
The Executive Chairman of the Rotuma Export and Marketing Company, Hiagi Foraete, says Rotuma produces root crops, fruit and other vegetables as well as spring water.
He says the eighteen hour boat ride would ensure fresh produce to the low-lying atoll which has limited food-producing potential and suffers in times of drought.
"I think we have the advantage of closeness which we can sell to them, not only at a lower price, but the freshness and the quality of the produce that Tuvalu will get from Rotuma."
Hiagi Foraete says Rotuma is also looking at exporting to Nauru, Kiribati and the Federated States of Micronesia.
News Content © Radio New Zealand International PO Box 123, Wellington, New Zealand
---
From Fiji Broadcasting Corporation (5 May 2013)
Rotumans showcase their planting talent
Report by: Epeli Tukaiwasa
Taken from/By: FBC
The Rotuman community in Suva held their annual Yam and Taro competition yesterday.

The display was held at Raiwaqa in Suva and the turnout was impressive by any standards.

Event organisor's spokesperson Paserio Samisoni says while this is a fun event, it also helps pass down skills used for generations and keeps traditions alive.

"Its just something to encourage the Rotuman to plant, you will be suprise to see that all the yams are from Laucala Beach, Namadi, Vatuwaqa and a couple from Raiwaqa and Raiwai".

Some of the yams will be shared amongst the competitors while the rest will be donated to the needy.
---
From Fiji Times Online (5 May 2013)
Ravai steals the show with 138kg yam
by Mere Naleba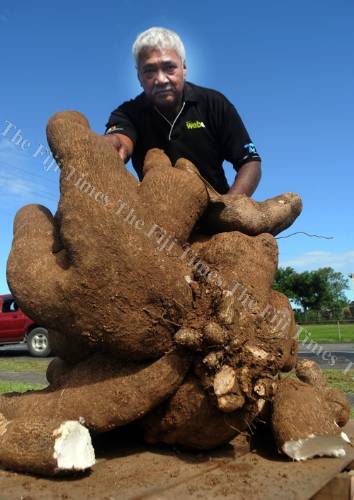 John Ravai poses with his 138kg yam during the Fiji Rotuman Association yam and taro show in Raiwaqa, Suva yesterday.

Picture: Jonacani Lalakobau
REAL men live by the sweat of their brow.
These were the words of John Ravai, a Rotuman farmer whose yam weighing 138kg won first place in the yam and taro show organised by the Fiji-Rotuman Association yesterday.
The 57-year-old retired Telecommunications worker said after his retirement three years ago, he decided to toil the land and was able to support his family with the produce from his farm.
Mr Ravai said he started preparing for the annual agriculture show last year, carefully selecting a nice shady place at his Laucala Beach home to plant his winning yam.
"I am asking all people from Rotuma living in Fiji, to come forward and be part of this show. It's a nice way to learn and share farming techniques and advice," he said.
The seven districts in Rotuma were represented by Rotumans staying on the mainland. Pepjei District, where Mr Ravai hails from, has set a new record in the yams category this year.
"My message to all my fellow kinsmen is let's go back to farming. And to youths, life will continue to be a struggle so let's use the land."
He said the giant yam took about nine months to grow.
"Part of the discussion is to sell the yams with the prices up to the owner. But I will not sell this yam. This is for Mother's Sunday," he said with a smile.
---
From Fiji Times Online (30 April 2013)
Islands low on supplies

by Tevita Vuibau

PEOPLE living in outer islands continue to face a shortage of basic food items and fuel as disruptions plague inter-island shipping services.
When contacted by The Fiji Times yesterday, villagers on Rotuma and on islands in the Lau Group attributed these shortages to the lack of shipping services.
Cicia villager Epeli Draunidalo said villagers were forced to go without rice, flour and sugar after supplies on the island ran out.
"It has been like this for a few weeks, the boat is supposed to come to the island once a month but there have been no services for over a month now," Mr Draunidalo said.
Tovu villager Tevita Ravunivadra echoed Mr Draunidalo's sentiments, saying the shortage of basic food items was compounded by the shortage of fuel.
"Because there is a shortage of fuel, people are finding it difficult to take their boats out to fish, there is no diesel in the store and only those who have spare stores are able to go out," Mr Ravunivadra said.
He said people managed to survive by living off the land, harvesting crops to put food on their tables.
Ministry of Transport permanent secretary Commander Francis Kean said they were making efforts to address the needs of the islanders.
Mr Ravunivadra said the last boat came to the island on March 15.
"So it's been more than a month without supplies and the village store is empty."
Meanwhile, the fuel shortage in Rotuma is causing problems for the island's water supply. The island last received a shipment of fuel and food items in March.
Lopta villager Rejieli Panapasa said pumps on the island were run by generators and water pumps had to be turned off because of fuel shortage.
"They had to shut off the pumps. Right now, people are relying on the water from their water tanks to get by," Ms Panapasa said.
"We are also running short of basic food items such as rice and while we do not rely completely on these items, we still need them to supplement the food on the island."
However, hope is just beyond the horizon for the islands, with government and inter-island shipping agencies already resuming operations. MV Lady Sandy operator Durga Prasad said his vessel was back in business.
"We will leave on Wednesday to service the yasayasa Moala and lower Southern Lau and we will service upper Southern Lau next week," Mr Prasad said.
Cdr Kean said two extra vessels were provided by the Government Shipping Service to enable private shipping companies to meet demand under the Fiji Shipping Franchise Scheme.
In response to questions sent last week, Cdr Kean said the Iloiloivatu and the Rogovoka were being used to meet demand in outer islands.
He said the Iloiloivatu had already serviced northern Lau and upper Southern Lau and would service the yasayasa Moala and lower Southern Lau next month.
He also stated the Rogovoka was undergoing repairs but would service Kadavu and Rotuma once it was cleared to sail.
Cdr Kean said shipping was disrupted because of a number of factors but the government had acted decisively in response.
"A lot of these issues are beyond our control. Some of the vessels have had mechanical problems and the Lau Trader suffered a fire on board," Cdr Kean said.
"There have also been issues with delayed payments to the operators but 70 per cent of the outstanding invoices have now been cleared. The rest will be paid when the owners provide us with the necessary documentation."
---
Note from Pam Nataniela in Tarsua, Rotuma (30 April 2013)
Greetings from Rotuma where for around 1 month, all shops are empty (except for an odd jar of jam or bottle of cordial) and from last week Thursday, (April 25) there has been no running water (fuel is finished), and this will continue till a boat comes, which is sheduled to leave May 8 (gov't boat) to arrive on time for the Rotuma day festivities.
Sorry for asking, but I wonder who is jumping to celebrate? This is about the time I expect many to come up with such lines as, "Oh, you live right by the sea, and you must have a garden in the bush!" of which both are true, but a fact which, coupled with unpredictable weather and tide, doesn't afford us regularity of accessibility, and while we certainly haven't starved, many are really, seriously struggling. This is where the elderly and those with large families are really challenged!

---
(26 April 2013) Aviana Airways has announced plans to launch domestic air services in Fiji in July 2013, including service to Rotuma. It will use the brand name of "Inter Island Airways (Fiji) Limited." Its base of operations will be at Suva Nausori International Airport.
Inter Island Airways (Fiji) Limited plans to operate an initial fleet of four (4) Dornier 228-212 (18-seats) aircraft and (1) Dornier 328 Turbo Prop (30-seats) from its main base in Suva, and from Nadi in early 2013 to and from the following destinations:
Labasa, Savusavu, Taveuni, Kadavu, Rotuma.
Let us hope that competition will help to improve air services to Rotuma!
---
From Fiji Times Online (21 April 2013)
Letters to the Editor: letters@fijitimes.com.fj
Rotuma air services
I READ somewhere on the web the wonderful slogan for our domestic airline Pacific Sun 'Best value under the Sun'.
Pacific Sun management and bosses are urged to treat their patrons and the islanders of Rotuma with more dignity and be more responsible and more sympathetic in the caring manner you run your air services from Fiji to Rotuma.
On Friday April 19, 2013, at least 12 passengers left their homes as early as 12.30am from Suva and made confirmed holiday plans from as far as Hawaii to visit their exotic, incomparable island paradise.
A traditional island welcome was organised on the island to welcome the arrival of a new member of a family.
A lot of preparation went into welcoming a kainaga who now makes his return to the island after 30 long years. Not far behind was a father who excitedly looked forward to meeting up with his daughter and niece with friends from Fiji.
And he is going back after 28 years since his school days. A group of five were greatly anticipated by their friends and brothers in Rotuma.
One should have been at the Nadi International Airport to see the smiling beaming faces braving the cool morning, happily queued up among the group with baggages prepared with much love and care for their island kinsfolk.
And then we got the best value under the sun. Of the 12 but maybe more passengers (too dejected to count) that turned up and had called Pacific Sun a day earlier and were confirmed booked to fly were shot by the sacrificial lamb behind the counter when they said they would only take four passengers.
Months of preparation and anticipation, fares paid at least two months in advance of $632 one way at least Pacific Sun got the best value on bank interests under the sun.
We urge Pacific Sun please, to do justice to your air services to Rotuma.
With the many economic investments going into Rotuma, you need to allow a wider neck for your bottle. Investors and peoples' time is important and patrons plan their holidays and events months and months well in advance.
Help the island grow its economy and have in place a regular, reliable and trustworthy service.
Should a flight get cancelled because of bad weather or over booked cargo, can you consider running a supplementary flight for people as soon as possible if not on the same day?
The people of Rotuma support Pacific Sun well by putting up with airfares that can take them two return trips to overseas destinations.
One of our nieces travelled to Rotuma three weeks ago and the same incident was experienced at the Nadi International Airport. She was called three times to go to the airport with three cancellations. We understand this is an ongoing problem with Pacific Sun and their flight to Rotuma. We too want the 'Best value under the sun' for Rotuma air service.
Allen Lockington
Nadi
See Rotuman Forum for responses to this posting
---
From Fiji Times Online (14 April 2013)
Island restocks cattle supply
by Maciu Malo

THE Council of Rotuma has invested more than $20,000 in the purchase of 48 cattle from the government.
Council chairman Tarterani Rigamoto said the continuous slaughter of cattle for feasts had reduced the number of livestock on the island over the past years.
Mr Rigamoto said the cattle would be distributed to the seven districts on the island for breeding purposes.
"We have seen a reduction in cattle over the previous years and this is the main reason for investing $23,845 in purchasing 48 cattle from Viti Levu," he said.
"The cattle will be distributed to the seven districts in Rotuma where they will be bred.
"Most cattle have been slaughtered for magiti (feast) purposes and this is the reason why we are purchasing more cattle," said Mr Rigamoto.
Agriculture commercial undertaking officer in-charge of the marketing of livestock Ulaiasi Tadulala said the demand for the cattle in Rotuma was high.
"In fact, the shipment was supposed to happen but the lack of transportation prevented an earlier shipment.
"Seven of these cattle will be used for magiti while the rest will be bred for food security," he said.
The cattle were shipped to Rotuma yesterday.
---
From Fiji Broadcasting Corporation (3 April 2013)
Seaview shipping stops servicing Lau and Rotuma

Report by Apisalome Coka
Seaview Shipping has stopped services to Lau and Rotuma until it is paid subsidies owed for the last five months.
Lau hasn't had any services for two months after the MV Sandy suffered mechanical problems.
Vessel owner Durga Prasad is now refusing to sail the franchise route until they're paid about $185,000.
The major issue is that we cannot move the vessel at the moment since last 5 months we have not been paid from government under the franchise scheme.
Prasad says his boat the MV Lady Sandy is having mechanical problems and they need money to get back on the water.
Permanent Secretary for Transport, Francis Kean has assured that the payment will be made in the next few days.
I want to re assure my good friend Durga that he'll receive his money we beg his patience and understanding due to the fact there are processes and systems that we need to follow, there is a dire need to improve in this area.
Until all the issues are sorted – the MV Sandy will remain berthed in the Suva Harbour.
---
From Alan Howard and Jan Rensel (2 April 2013)
It has been brought to our attention by George Liga that Gagaj Mora' of Pepjei died during the Christmas holidays. George attended the funeral and was impressed with the ceremonies, which included the la' ne 'itu, he 'atua, he'ȧk koua, and fakpej ne kav ta. The men performed a ki when the body of the late chief was brought into the district hall.
The new title for the fa 'es 'itu'u of Pepjei is Gagaj Mou. The title holder is Semesi married to Luisa. Their son Roderick is a police officer at Ahau govt station. George was told that it was the Turag clan's turn to choose a chief but for some unknown reason didn't, so the Mou clan were asked to install a chief.
Comment by Ms. Waleen M George-Philip
---