From Fiji Times (26 September 2022)
Community outreach – Akbar: Program ensures no Fijian left behind in achieving SDGs
By Meri Radinibaravi
The Rights, Empowerment and Cohesion (REACH) program has reached a total of 158 districts and 1376 communities across Fiji since its inception in 2015.
This, according to Women, Children and Poverty Alleviation minister Rosy Akbar, after a successful REACH mission in seven districts in Rotuma.
She said she was grateful to the United Nations Development Programme (UNDP) and the government of Japan for working closing with the ministry in supporting the REACH program.
"I would also like to acknowledge the passion and commitment of the REACH team to serve the people of Rotuma with much-needed service on the island.
"The program, which started in 2015, conducts awareness raising social, economic and legal rights enshrined in the Constitution of the Republic of Fiji, provides access to the services associated with the rights and also strengthens institutional capacity to deliver these services."
Ms Akbar said since the Government endorsed the Sustainable Development Goals (SDGs), it had ensured no Fijian was left behind in the path of achieving the SDGs.
The REACH team that was part of the mobile services in Rotuma included the Department of Social Welfare, Department of Women, Poverty Monitoring Unit, Spinal Injury Association, Empower Pacific, Fiji Revenue and Customs Service (FRCS), Fiji National Provident Fund (FNPF) among other government ministries and departments.
---
From Fiji Times (26 September 2022)
Parker hopes for change
By Arieta Vakasukawaqa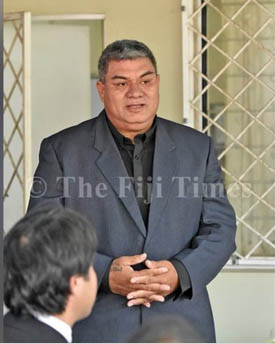 National Federation Party provisional candidate Felix Parker. Picture: FILE
Being a school dropout did not deter Felix Parker from pursuing a career in politics.
He is a provisional candidate for the National Federation Party (NFP) for the 2022 General Election.
Mr Parker said he was inspired to join NFP because of parliamentarians like Lenora Qereqeretabua, Pio Tikoduadua and party leader Professor Biman Prasad.
"I admire the courage they have to challenge Government whenever they feel the system is not right because that is the type of person I am, I question when I feel something is not right," he said.
He attributed his success to his wife, Antoinette Parker, for pushing him to further his education which resulted in him graduating with a degree in Human Resources and Law from the University of the South Pacific in 2018.
"I dropped out of school when I was at Rotuma High School and then went to complete studies at Monfort Boys' Town where I managed to sit for my Fiji Junior Certificate Examination (FJCE)," Mr Parker said.
He managed to attain a motor mechanic trade qualification from Monfort Boys' Town and got his first job as a mechanic at a prominent car dealership.
"I am a tradesperson by profession and I thank the brothers and teachers at Monfort Boys' Town for molding me to be the person I am today.
"No one ever believed that one day I would graduate with a university degree and I thank my wife for her support and for always holding it down for us during challenging times."
Mr Parker was born in Tavua and spent his childhood in Vatukoula before moving to Natokowaqa in Lautoka where he attended St Thomas Primary School before moving to be with his maternal grandmother, Mariana Ross, in Motusa, Rotuma.
"I also attribute my success to Fesaitu Fesala, my grandmother's husband from No'atau Village in Rotuma for showing me unconditional love and not treating me different when I was not his biological grandson."
He lived in Rotuma from 1985 to 1988. Mr Parker said he met his biological father, who is Samoan, for the first time when he was 37.
"The day I met my dad, it was one of the best days of my life and it also changed me too."
During a recent visit to Rotuma, he said a lot had changed on the island compared to when he was there decades ago.
"The island of Rotuma is not what it used to be.
"When I went there a few weeks ago, I noticed a lot of incomplete government projects and the people are suffering.
"I hope people will vote for change and that is the decision we will leave to the people to make during the upcoming general elections.
"Before you cast that vote, think about the future of your children." Mr Parker currently oversees a homeless shelter run by Catholic Church charity arm St Vincent De Paul and he also owns a construction company.
---
From Fiji Sun (19 September 2022)
Rotuman Chief Calls For Govt Land Commission On Island
'We want the locals who are with us to have a say and not those who are overseas.'
by josefa babitu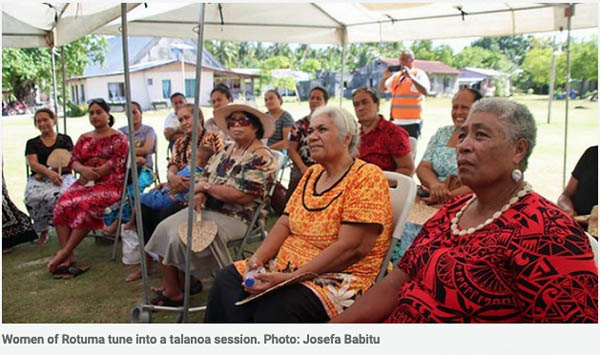 People on the island of Rotuma are calling for a Land Commission to be set up by the Government so disputes can be handled accordingly.
Paramount chief, Gagaj Maraf, said land disputes were a big issue on the island. He said the Government's Lands Commission would have more knowledge regarding land and its ways of handling without causing any harm to anyone.
Under the Rotuma Lands Act 1959, the Rotuma Lands Commission is in charge of dealing with land disputes.
In his opinion, Itumuta district chief, Mr Manav, said it was important for the Government to take its services to the island so that any issue regarding the island could be handled fairly.
He said they wanted landowners on the island to be decision makers for anything regarding land.
"We want the locals who are with us to have a say and not those who are overseas," he said.
"Most of them do not know the legality surrounding land and how disputes should be handled."
Permanent Secretary for Lands and Minerals Resources Raijeli Taga said they were open for discussions with the people of Rotuma. Currently, the ministry does not have a say in any land disputes.
"The ministry has always directed any grieving party to refer their land disputes to the District Officer Rotuma for further liaisons with the Rotuma Lands Commission," she said.
"The ministry is only liable for the leases secured on the island and will be accountable should there be any breaches of lease conditions or other estate matters relating to the lease."
There are nine leases on the island that are issued to the state.
Ms Taga said the ministry was responsible for the reassessment of these leases and ensuring that lease conditions were not breached.
"The trustees of the leases can also request that the reassessments are done by the Valuation Division and this work is done without any charge," she said.
---
From Fiji Sun (17 September 2022)
REACH Team Urged To Maintain Network As Rotuma Mission Ends
"There are over 20 Government and non-government agencies and organisations that have travelled on this trip, you all have been friends in the past two weeks. Maintain this network."
by Josefa Babitu
Maintain your network, says Selai Korovusere. The Ministry of Women, Children and Poverty Alleviation director made the comment at the last meeting of the Rights, Empowerment and Cohesion (REACH) project recently.
It marked the end of its mission on the island of Rotuma over the past two weeks. She was chief guest for the REACH mission on the island.
"I will retire from being a civil servant next year and if there is one thing that I can advise you on, it would be to continue to build your network," she said.
"There are over 20 Government and non-government agencies and organisations that have travelled on this trip, you all have been friends in the past two weeks. Maintain this network."
She said moments spent on the island had impacted more than 50 people who were part of the team.
"Like I said during my closing speech, the moments we all experienced there is something and that what you do with it will determine your way forward," she said.
The REACH project is an empowerment initiative by the Ministry of Women, Children and Poverty Alleviation in partnership with the United Nations Development Programme (UNDP), funded by the Government of Japan.
UNDP's REACH co-ordinator, Salesi Savu, said the mission was a success.
"Each and every stakeholder here made an impact. Thank you for your service on the island. We believe we have made an impact," he said.
---
From Asia Pacific Report (16 September 2022)
Love of social work propels Rotuma's Rachael Mario into local elections
By Sri Krishnamurthi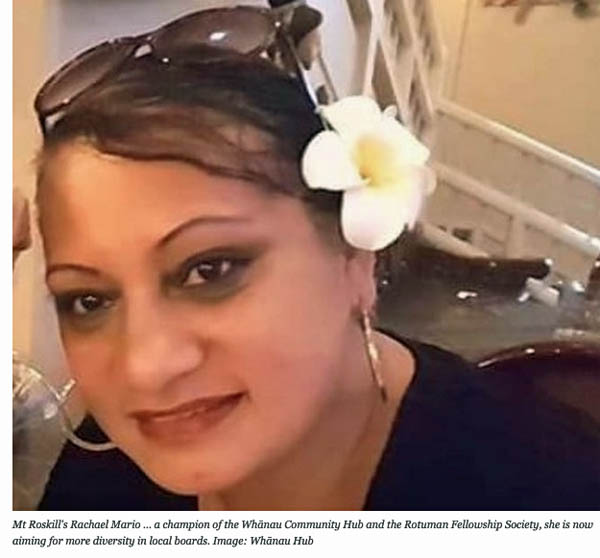 Rachael Mario isn't just any woman, she is special in that she hails from the idyllic South Pacific island of Rotuma.
And it is her love for social work which she hopes will propel her and her Roskill Community Voice and City Vision team onto the Mt Roskill board.
It is also the first time a Pasifika person has decided to stand for the Puketapapa Local Board in Mt Roskill, in the current Auckland local government elections that began today.
Having lived in Tāmaki Makaurau Auckland for 33 years has given her a perspective on social justice and diversity for Auckland.
Much of that comes from time spent at the Whānau Community Hub in the Auckland suburb of Mt Roskill where her and her team do a sterling job in running different programmes for the good folk of Roskill.
For instance, every first Wednesday of the month they host a free seniors lunch, and it not just for Rotumans but for the diverse group of seniors who reside in Mt Roskill and who yearn for company and a "good old talanoa".
Quite apart from that, Mario and her team would be out delivering groceries to the needy, or holding health and well-being, financial literacy and language classes for children.
Community doubles
That the community doubles as the Rotuman-Fijian Centre is a testament to her 30+ plus years of marriage to Auckland Fiji human rights advocate Nik Naidu and former journalist, who she met in Fiji when he was a budding radio personality at FM96 in Suva.
When you first meet Rachael Mario she greets you with big smile and utters charming Noa'ia (the Rotuman language greeting) and then she inquires about you with an inquisitive mind just to see how things are going for you.
As Mario explains, the Hub isn't just for Rotumans but is used by a plethora of other groups, including the Moana-Pasifika Seniors. It is also home to the recently formed Asia-Pacific Media Network (APMN), which publishes the Pacific Journalism Review at the behest of founder Professor David Robie.
With such a diverse bunch using the Whānau Community Hub it is small wonder that Mario would branch out and try to incorporate more diversity in her already busy lifestyle.
That is why the chair of the Auckland Rotuman Fellowship Inc. is now standing for her local Puketapapa Local Board in Mt Roskill.
But that has not been without social injustice challenges that her community has faced for many years.
Lack of language funding
Included in those is the housing crisis in Auckland but much closer to her heart was the lack of funding provided to Rotuman language programmes which was given a cold shoulder by local boards.
"The biggest challenge, which isn't fair, is the discrimination against the Rotuman Community. The Ministry of Pacific Peoples choose to run a different language week against our community-led Rotuman language week programme," she says.
Other issues she lists are climate change and the environment which she says are huge for Auckland and wider New Zealand.

What also occupies her mind is the city centre, economic and cultural development, better outcomes for Māori, wastewater and storm water, transport and parks and communities.
In a nutshell, Rachael Mario is all things to all communities.

---
From Fiji Sun (16 September 2022)
Cokes Silver Medallist Drowns In Rotuma
Family members of Rotuma High School's (RHS) first Coca-Cola Games medallist, Daniel Mario Savea, are still in shock after a picnic outing turned tragic on Saturday near Islepi, Juju District, in Rotuma.

by Josefa Babitu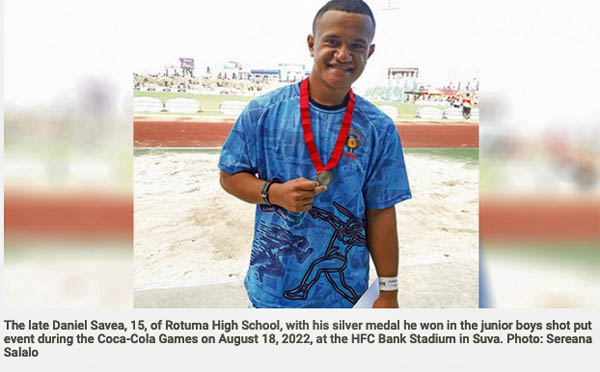 Family members of Rotuma High School's (RHS) first Coca-Cola Games medallist, Daniel Mario Savea, are still in shock after a picnic outing turned tragic on Saturday near Islepi, Juju District, in Rotuma.
It is alleged that Daniel, 15, drowned while trying to save other children from drowning at the pic­nic spot.
He was found dead by Police on Monday.
The teenager had won a silver medal in the junior boys shot put event in August during his second Coca-Cola Games outing at the HFC Bank Stadium in Suva.
He also qualified for the Coke Games in 2020, but the Games was called off because of COVID-19. He was part of the then RHS team that was stranded in Suva during the lockdown.
Father, Joseph Savea, 45, said all hope for their future law enforce­ment officer would not see the light of day.
"Daniel was an introvert who would normally stay home and mind his business. He had all his life planned out," Savea said emotionally.
"But God has other plans for my boy. Take me instead of my promising boy. It is just too painful to even think about it."
Reeling in sorrow, Savea said they had just celebrated his medal win two weeks ago on the island.
"On Saturday morning (last week), he gave me his medal and all the money given to him from his Coca-Cola Games trip and he said for me to keep it for a very long time," he said.
"I did not know what he meant, but I refused to keep it because it was his hard work that earned him all that."
Recalling those last moments with his son, Savea said Daniel had asked him if he could accompany his fellow youth to the picnic. He agreed to it, adding it was rare for Daniel to go on social events.
"Daniel never goes to youth-organised events. He would normally stay home and be in his own world," Savea said.
"It came as a shock to me and I thought he was moving out of his comfort zone."
Last Thursday, Savea opened three Voluntary Accounts for Minor Members with the Fiji National Provident Fund for all his children.
FNPF staff members were on the island as part of the Rights, Em­powerment and Cohesion (REACH) project that missioned there.
"I thought I was going to be depositing money for three accounts, but unfortunately it will be only two accounts from now. It pains me a lot to think about it and the run around we had to do on that day," he said.
"Going through this, there's only one thing I could say and that is to love your children dearly."
Daniel is survived by his parents and two other siblings.
Police spokesperson Ana Naisoro confirmed a post-mortem examination will be conducted today at the Rotuma sub-divisional Hospital to confirm the cause of death.
---
From Fiji Broadcasting Corp (14 September 2022)
Body of medalist recovered in Rotuma
By Praneeta Prakash
Police have recovered the body of the 15-year-old student who went missing on Saturday while swimming in Rotuma.
The student was swimming in waters near Solkope Island, Kalvaka in Rotuma.
According to Police, the student reportedly swam across to Solkope Island with other friends but did not make it back, allegedly due to strong current.
FBC news understands that he was one of the medalists at the Fiji Finals last month.
---
From Fiji Times (12 September 2022)
Search for missing student continues in Rotuma waters
By Talebula Kate
The search continues today for a student who went missing on Saturday while swimming in waters near Solkope Island, Kalvaka, Rotuma.
Police spokesperson Ana Naisoro said the 15-year-old victim with other friends reportedly swam across to Solkope Island, but did not make it back allegedly due to the strong current.
"Attempts made to rescue him proved futile," Ms Naisoro said.
"Search efforts conducted since Saturday have been unsuccessful, and will continue today."
---
From Fiji Sun (11 September 2022)
No Regrets For Kumari, Tells Of The 'Peaceful Life'
Veena Kumari has never regretted living on the island of Rotuma for the past 15 years.
by josefa babitu
Veena Kumari has never regretted living on the island of Rotuma for the past 15 years.
She is married to Fai Okostino from Motusa Village in the district of Itutiu and they have been together for 35 years
"Life is in Rotuma, I have never regretted moving here because getting food and other things is so simple," she said.
"I don't have to walk long distances and even spend the whole day looking for what we can eat because everything is just outside our house."
The duo were together in Suva when Mr Okostino worked at the then Daily Post and Ms Kumari at a garment factory.
"I'm from Baulevu and we were used to the city life when growing up and even working. Island life was something new that I had to adapt to," she said.
"When I first came here, I did not know what to do because it was totally a new environment.
"I would spend most of the day crying because village life was something for me to learn but the villagers here started coming to me and were helped me in many ways.
"I can now say that I'm accustomed to everything here on the island."
Ms Kumari has seven siblings who are all overseas.
The last time she met them was in 2017.
She described island life in Rotuma a rewarding journey for her family.
---
From Fiji Broadcasting Corp (8 September 2022)
Rotuma community receives assistive devices
By Shania Shayal Prasad
Over twenty assistive devices including walkers, elbow crutches, and walking canes were handed over to persons with disabilities in the Rotuma Community.
This as the Ministry of Women, Children & Poverty Alleviation in partnership with the United Nations Development Programme is coordinating a 2 weeks REACH program in Rotuma from 29th August to 9th September 2022.
Permanent Secretary for Women, Children and Poverty Alleviation and the Chairperson of the National Council for Persons with Disabilities Jennifer Poole says the REACH program provides a supporting mechanism for persons with disabilities to access critical knowledge and awareness.
She adds it also allows immediate on-site access to services related to social, economic, and legal issues.
The REACH program known as the "Rights, Empowerment and Cohesion" is a mobile-based service with the goal of making efficient and timely services a reality for rural and urban communities.
It also promotes the Fijian Government's vision of "Inclusive Socio-economic Development" ensuring that no Fijian is left behind.
This Project is funded by the Government of Japan.
---
From Fiji Sun (4 September 2022)
Hare Soko Can Now Access FNPF Savings In Rotuma
Hare Soko could not withdraw his Fiji National Provident Fund savings because he did not have a bank account where it could be deposited.

by josefa babitu
Hare Soko could not with­draw his Fiji National Provident Fund savings because he did not have a bank account where it could be deposited.
Travelling to Fiji from Rotuma would cost him hundreds of dollars by boat and even thousands by plane.
With irregularities in shipping services, he had lost hope of enjoying his retirement money.
However, that changed when the Rights, Empowerment and Cohesion (REACH) project team visited his village.
The team included more than 10 organisations that were on the island to offer Government and non-government services to the people of Rotuma.
Many people said it was a relief having to not think of travelling to Fiji to attend to their queries.
Mr Soko opened his new bank account with the Bank of the South Pacific.
Mr Soko worked in a fishing vessel his entire life and retired a few years ago. He is now 56 years old.
"Today I got to hold my bank card today and I'm so happy about it. We use the BSP bank here to withdraw money and I look forward to receiving what I had worked hard for during my working days, he said.
He said the FNPF would facilitate the transfer when they get back to Fiji.
---
From Fiji Sun (4 September 2022)
Rotuma Is Paradise: Tausia Tells Of Isolated Life
Lusiana Tausia of Matuku in Lau says Rotuma is a piece of paradise.

by josefa babitu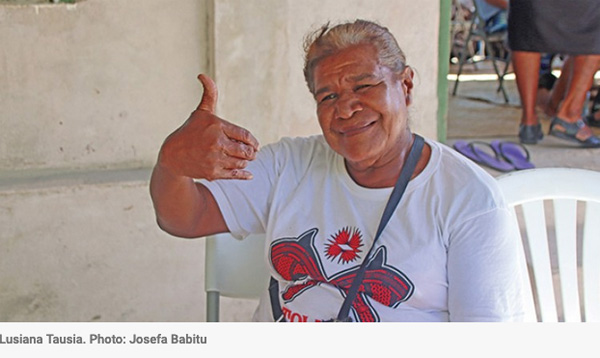 Lusiana Tausia of Matuku in Lau says Rotuma is a piece of paradise.
She has been living on the island for more than 15 years after she got married to a man from Oinafa Village.
Ms Tausia discovered that the island was rich in untapped resources the moment she set foot there in 2007.
She is 61 years old and her husband is 41 years old. Their house is built by the beach.
"I'm from Lau and we are well known for our fishing habits. I was shocked when I came to know about how easy life here is," Ms Tausia said.
"Crops and vegetables grow easily on the island and we don't really have to cultivate the land like we do in Fiji in order to safely grow crops." She said Rotuma was better isolated.
She made the comment after a recent tension erupted between people on the island and Fiji in turning what she calls a piece of paradise into a tourism attraction site.
"Rotuma should be left the way it is now," she said.
"We do not get much outside influence here because we prefer our own way of living. What has changed is the increase in processed food in our stores."
Paramount chief of Rotuma, Gagaj Maraf, echoed similar sentiments and said it was important the cultures and way of life be kept the same.
"It should promote peace and security," he said.
---
From Asia Pacific Report (2 September 2022)
Rotuman social justice advocate puts key bid for Roskill Community Voice
By Laurens Ikinia
"Noa'ia 'e" is a greeting people hear when you meet anyone from the island of Rotuma in Fiji or when they visit the Whānau Community Hub in Auckland's Mount Roskill.
This doubles as the Rotuman-Fijian Community Centre.
It is run by Rachel Mario and her team for a whole host of purposes — a range of different programmes and activities.
On any day they could be delivering grocery parcels, health and wellbeing classes, or training community elders (Wednesdays), language and financial literacy classes for children (Saturdays), and leadership training,
You name it and they're probably doing it.
Mario says the centre hasn't only been hosting the Rotuman whānau, but it's also a "home" for other stakeholders such as Asia Pacific Media Network, government agencies, and faith communities.
As chair of the Auckland Rotuman Fellowship Group Inc., Mario now wants to throw in her leadership hat for the local board.
Standing for Puketāpapa

So she is standing for the Roskill Community Voice team for Puketāpapa Local Board (Mount Roskill).
She loves doing social work and hopes that she and her team will be elected in the October election — and she vows to keep working hard to be the voice of the wider, diverse community in Mount Roskill.
Apart from running the busy programmes at the centre for her Rotuman community and other whānau, Mario has been advocating about issues of social injustice that her community has been facing for years.
Some of these issues include the housing crisis and alleged discrimination on distribution over resources for the Rotuman Language Week celebrations.
"The biggest challenge, which isn't fair, is the discrimination against us, the Rotuman community. In the Ministry of Pacific Peoples, they want to run a rival language week up against ours," she says.
"We started in 2018. In 2019, because they didn't want to list our language week, they didn't want to list anything we do regarding our endangered indigenous language.
In response to a question from Tagata Pasifika about the allegations of discrimination faced by Mario's group, the Minister of the Pacific Peoples Aupito William Sio denied this, saying he was disappointed to hear about it.
Successful programme

However, in spite of the challenges, the Auckland Rotuman Fellowship Group successfully ran the language programme in May.
Other issues include the cultural identity of children born from intercultural marriages. However, the Auckland Rotuman Fellowship Group has embraced all children who have Rotuman blood.
TeRito Peyroux, a member of Rotuman Congregation at Kingsland Methodist Church, says that for those who could not speak Rotuman, "we are who we are, it's much bigger than our language fluency."
"It is about our sense of belonging and the people that are nurturing and supporting and being with us. For me, that means that having the privilege of celebrating language and culture in this foreign land makes me very humble," she says.
Tupou Tee Kamoe, who is also one of the executive members of the Auckland Rotuman Fellowship Group, cites a quote from Green MP Teanau Tuiono that he had made in his maiden speech in Parliament which she has adapted for bicultural Rotumans:
"People often ask me, 'am I half Rotuman, half Pacific', and I say 'na bro, I am not half anything, I am whole, if anything I am double — if I was a beer I would be double brown, if I was a flavour at the dairy, I would be twice as nice at only half the price."
---
From Fiji Times (22 August 2022)
Fatiaki focuses on health care
By Luke Nacei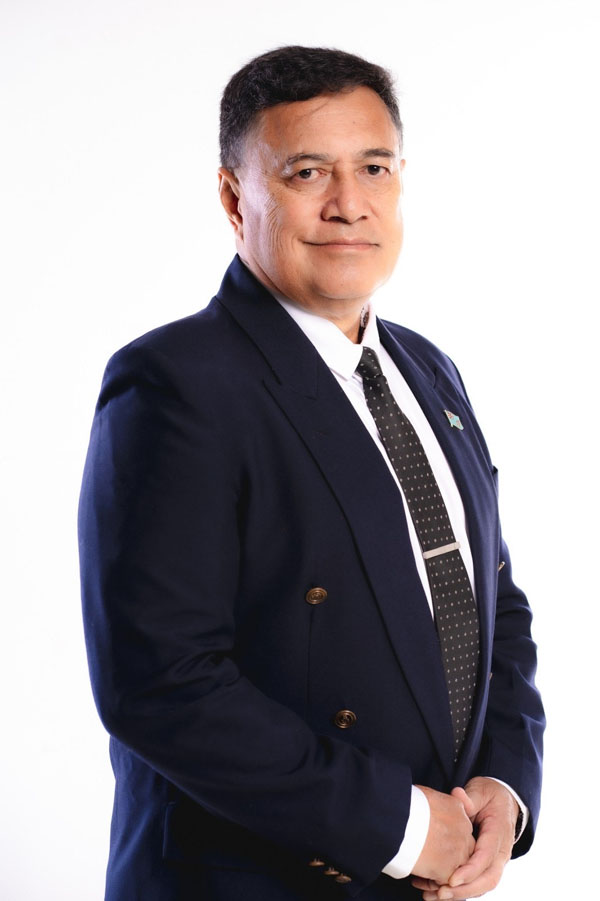 Dr. John Fatiaki. Picture Supplied

Renowned physician Dr John Fatiaki believes the Fijian people deserve a health system that provides them with the best possible care.

And that is one of the main reasons he will contest the 2022 General Election under the National Federation Party banner.

The former Rotuman senator has been heavily involved in issues involving his island home and believes he has the full support of his people going into the upcoming polls.

Being a doctor all his life, Dr Fatiaki has a fair understanding of the health system and the needs in Fiji.

He said those in the health system had a very challenging task in trying to deliver services and were trying to do their best with what they had.

"We will be blind and dishonest if we think our health system is good," he said.

"I know that when I worked in the hospital 35 to 40 years ago CWM (Colonial War Memorial Hospital) was a better place, Lautoka Hospital was brand new in 1970 and that is 40 years ago, and it has only gone downhill from there.

"I don't want to blame anybody but the reality is that we can't leave those things to be like that always, I think our younger people and those who live in Fiji deserve better."

Dr Faitaki said on a national level his contribution would be focused on re-looking and realigning the health system.

He said contesting under the NFP banner was a no-brainer.

"NFP historically has been there from the beginning, they have been continuously in the Opposition.

"This party really truly represents all ethnic groups and all religious groups."

Dr Fatiaki is a medical practitioner and managing director of the Epworth Clinic and the Epworth Diagnostic Centre in central Suva.

He is one of seven children, born and raised on the beautiful island of Rotuma before travelling to Fiji at the age of six for further education.

He attended the Marist schools in Suva and went on to complete his secondary education at Natabua High School in Lautoka.

After a year at the University of the South Pacific, Dr Faitaki travelled on a Commonwealth Scholarship and Fellowship Plan Award to study medicine in Australia and graduated as a doctor in 1984.

He served briefly in the government health services in Suva and Rotuma before establishing a private medical practice in central Suva in 1987 operating as the Epworth Clinic.

The clinic has been in continuous service for more than 30 years with an impeccable reputation for professionalism and excellence.

He is a keen educator and has been an honorary senior lecturer and external examiner at both medical schools in Fiji and was a Commissioner on the Fiji Higher Education Commission.

As a parent, Dr Fatiaki has been very actively involved in his children's education and has served as a past president of the St Anne's and St Joseph's Secondary School's Parents, Teachers and Friends Associations.

He is the former president of the Fiji College of General Practitioners and was honoured with a life membership of the Fiji Medical Association in 2016 and has served on many statutory, corporate and government boards throughout the years.

Residing alternately in Fiji and Rotuma, Dr Fatiaki has been very actively involved in Rotuman affairs over the past two decades as an advisor to the council of Rotuma.

He is a reserve army officer and a keen sporting shooter and is an inaugural and life member of the Fiji Shooting Association.

Trying his hand briefly at acting, he made his mark in Professor Vilsoni Hereniko's highly acclaimed movie The Land Has Eyes as the main villain, and his love for nature and the outdoors has made him an avid fisherman, camper and hiker.

Dr Fatiaki is a practising Roman Catholic, is married to Sineva and has eight adult children and eight grandchildren.

Dr Fatiaki believes that it is time for a change and that new ideas and people are needed.
---
From Radio New Zealand (22 August 2022)
Rotuma police receive human rights training
Police officers in Rotuma have received training to improve human rights standards on the island.
The training is specifically designed to talk to the needs of various issues that are faced on the Island to ensure that police officers are better equipped and informed to safeguard the rights of community members.
Director of Summary Prosecution, Fisi Tausia Nasario, said as a member of the police force and a son of Rotuma, he was proud to open the workshop and its focus on modernising policing techniques through a whole-of-community approach.
The first day of the interactive training concentrated on topics such as use of force, video recorded interviews, and the rights of suspects in detention.
The second day concentrated on strengthening knowledge towards how police communicate and handle all matters related to sexual and gender-based violence in Rotuma.
It is part of greater initiative of ensuring that all officers follow the same processes and procedures to protect the rights of all survivors.
---
Extracted From Fiji Times (21 August 2022)
Three women strong
By John Mitchell
Three friends and young inspirational women lawyers with a combined work experience of more than 30 years in the Office of the Director of Public Prosecutions (ODPP) officially opened their law firm on Friday.
SLS Legal partners (from left) Shirley Tivao , Lavenia Bogitini and Susan Serukai.
Picture: SUPPLIED/VISION PIX FIJI
Explain a bit about yourself
Shirley: I am from Motusa, Rotuma. I graduated from the University of the South Pacific (USP) in 2013, and was admitted to the bar in 2014. I started my career with Neel Shivam Lawyers in 2014 before joining the ODPP in 2015. I will be joining the Fiji National University (FNU) teaching Criminal Law and Evidence Law this year.
What was your family upbringing like?
Shirley: I was raised by my mother, Emily Tivao, who was an absolute hero. She has been my number one supporter and has always been there for me. Much of my success is attributed to her support, and guidance. Coming from humble beginnings from the small island of Rotuma we didn't have much but my mother ensured that I had all I needed to succeed and become the person I am today.
Why did you choose law as a career?
Shirley: My grandfather, Tivao Fapiano, told me from a young age that I would become a lawyer and the idea stuck. The real question was what kind of lawyer was I going to become? I always had an interest in criminal defence work, and when the opportunity arose to work in the ODPP, it was godsent. "The best criminal defence lawyers are former prosecutors" is what one famed local judge told me, and I agree. What made you decide to join the private sector after many years in government? We are thankful for the experiences that the ODPP provided, however, there are limitations within the area of law we practiced while in government service. We found ourselves wanting to branch out and expand our expertise within other areas of the law.
How do you relax or spend your spare time?
Shirley: When I'm not working I spend most of my time with my three beautiful children, Savea, Nonu, and Rosanna. I enjoy taking trips with my family around Fiji, although we are a small island nation there many adventures to enjoy be had within our beautiful waters. I also enjoy spending time with my husband Julian Yuen.
What does SLS have to offer . . ?
We are three young ambitious native women of Fiji with the heart to help and the patience to listen. We all have very different upbringings, perspectives, and experiences, which when combined create greater insight and understanding for our individual clients' needs. Although there is much to learn from the senior counsels and more seasoned law firms, our goal is to create a more personable, relatable, and compassionate experience when dealing with our firm.
Any special message to young women and girls?
Our message to all young people wanting to peruse their dreams is, your current situation doesn't decide your destiny. It's okay to feel tired, stressed, angry or sad but do not let that momentary emotion deter you from your dreams. It doesn't matter whether your parents are farmers or business owners your success depends on you. Nothing good ever comes easily. Continue to say your prayers, be grateful for the unanswered prayers, disappointments, and failures. They prepare you well for your best comebacks.
Any last words?
If you want to pursue a career in law, do so because you want to, or something drives you to. Enjoy the journey, it is a long and arduous road so it helps to make friends along the way, you never know because you might open a law firm with them.
---