From Fijivillage (14 November 2023)

Rotuma currently experiencing heavy rain and strong winds as TC Mal approaches Fiji

By Iliana Biutu
Rotuma is currently experiencing heavy rain and strong winds as Tropical Cyclone Mal approaches the Fiji group.
Rotuma High School Principal, Liku Tuapati has told fijivillage News that everyone is indoors and they have put up cyclone shutters.
She says they have also stored food and water to sustain them during the cyclone.
Tuapati says the Rotuma Island DISMAC team has informed the villagers about the cyclone reaching the Fiji Group today and they have closed off their Post Office.
She says they are also experiencing weak internet connection.
---
From Pacific Media Network (7 November 2023)
New Centre for Pacific Languages CE aiming to level up Pacific languages
The recently appointed Fesaitu Solomone, who helped found PMN Rotuma and ran for the Tāmaki electorate will push further to support Pacific languages.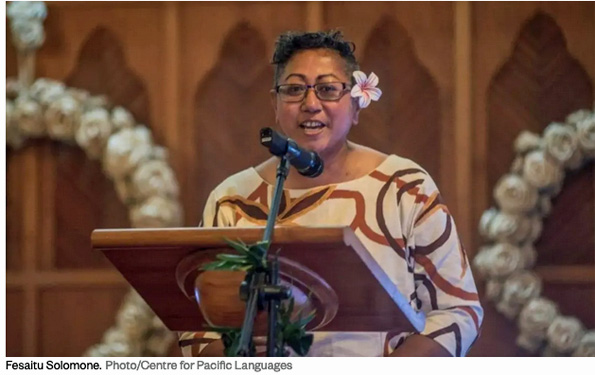 New Centre for Pacific Languages CE aiming to level up Pacific languages
The recently appointed Fesaitu Solomone, who helped found PMN Rotuma and ran for the Tāmaki electorate will push further to support Pacific languages.
The new head of the Centre for Pacific Languages (CPL) aims to elevate Pacific languages.
Multimedia specialist and Rotuman language tutor Fesaitu Solomone says her goal aligns with why she accepted her current position.
"Back in 2006 when I first came, I recognised the [Rotuman] language needed a lot of support here in Aotearoa," Solomone says.
She says growing up in the Rotuman culture and speaking the language drives her, especially knowing what would be lost if Pacific languages declined into extinction.
"Hence my passion and what I believe is needed to support the work of taking our Pasifika languages to the next level," she says.
Fesaitu was also vital in establishing PMN Rotuma and recently ran for Labour in the Tāmaki electorate securing up to 9,000 votes.
Solomone says they will continue to beef up the Pacific language courses to support the Pacific diaspora in Aotearoa.
"We've got the PNG and Solomon language added for next year so it's something to look at," Solomone says.
"We have another two languages added in the language week line-up under the Ministry."
Solomone acknowledged the many pioneers who put in the work for over forty years since CPL was founded in 1978, formerly known as the Pacific Island Education Resource Centre (PIERC Education).
"It started in the city in Herne Bay," she says.
"We have to pay tribute to a lot of those giants in our community who set up and had a vision to carry our Pasifika languages."
With a shift in government coming soon, Solomone says their strategy is to build relations and continue to advocate for Pacific languages.
She acknowledged the Ministry for Pacific People's work in laying down the foundation so far.
"The former minister, honourable Aupito William Sio has done great work in setting that platform for our Pasifika people. Then handed it off to the honourable Barbara Edmonds."
"There's more work to be done. That's why what I'm coming in to do is the next phase for CPL is a real whole outlook.
"It's a different pathway we're going to take."
---
From Australian Broadcasting Company (17 October 2023)
Pacific culture highlighted in landmark exhibition at major Australian museum
By Dubravka Voloder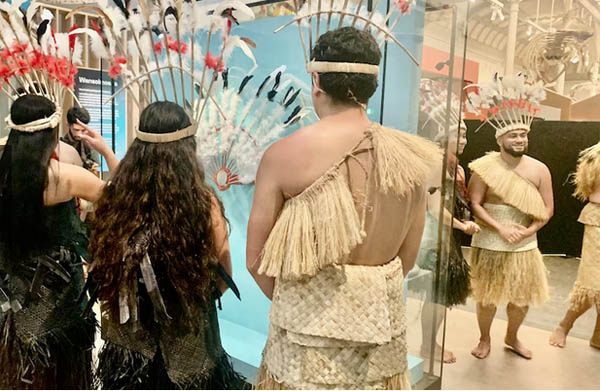 At the opening of the Wansolmoana exhibit in Sydney
A Tokelauan vaka, a Rotuma suru headdress and a Fijian chiefly ceremonial costume are some of the works in a new Pacific exhibition at the Australian museum in Sydney.
Curated by Pacific Islanders, 'Wansolmoana', or one salt ocean, aims to celebrate culture, and highlight issues like the impacts of climate change and historical wrong-doings.
The exhibition will be permanent, but the objects will change over time.
Lead curator Melissa Malu says it's been a moving experience to be involved in.
"It's the first time that a group of all Pacific staff, plus Pacific contributors, have come together to feed into it and build it up from the bottom sort of up.
"It's been moving and all of our contributors, what they've told us is, Melissa, if you didn't have this project, a lot of our practices would have died," she said.

---
From Department of the Prime Minister and Cabinet (29 September 2023)
The King's Birthday and Coronation Honours List 2023 - Citations for Members of the New Zealand Order of Merit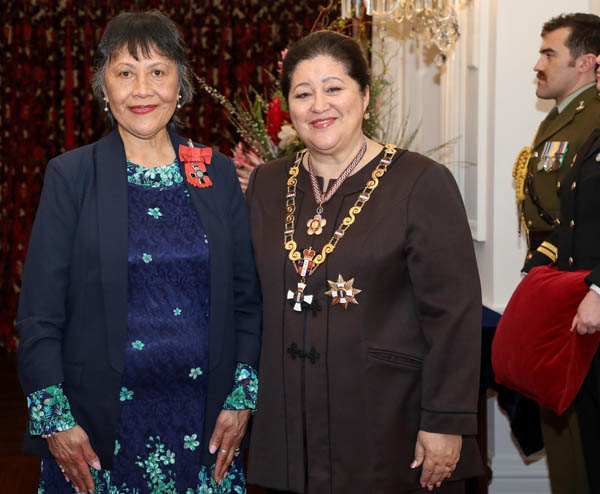 Ofa Dewes with Governor General of New Zealand, Her Excellency Dame Cindy Kiro after receiving the insignia as Member of the New Zealand Order of Merit for services to health and the Pacific community. The ceremony took place at Government House in Wellington on 26 September 2003, 3 p.m.
---
From Fiji Times (28 September 2023)
Calls to reserve seats for females
By Pauliasi Mateboto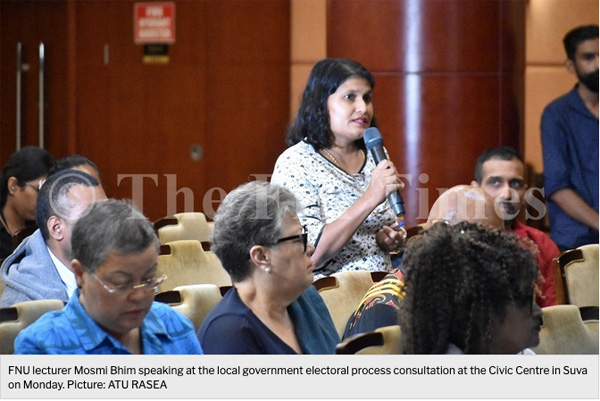 Calls have been made for the reservation of female seats during the municipal elections.

During the Local Government Electoral Process public consultations, FNU lecturer Mosmi Bhim said it was time to change the statistics in Fiji and allow for more female representation in positions of power and decision-making.

Ms Bhim said Fiji had one of the lowest numbers in the world in terms of women representation at only 9 per cent.

She said it was time to shift that statistics and follow in the footsteps of India, which recently passed a Bill for the reservation of seats for women, especially for marginalised societies, in its Parliament.

"We all know that the reason women are not standing in elections is because they bear the disproportionally high rate of care responsibilities in the house and it is for those reasons that women are not coming forward to stand in elections," Ms Bhim said, adding that reservations be made for minority groups such as Rotumans.

"With regards to reservation, I still stand by my point that for some groups, there needs to be reservations made," Ms Bhim added.

"For example, Rotumans are an indigenous group, and they comprise a very small amount of our population. The people need to get some form of reservation for very small minority groups."

Ms Bhim's submission was supported by Shiva Maharaj, who said as the world embarks on the journey in the new era of the empowerment of women, Fiji must do the same.

However, while opposing the views put forward by the pair, Josaia Gonewai of the Social Democratic Liberal Party (SODELPA), said that in the past women preferred to vote for male candidates, therefore the proposal wouldn't advance the representation of women.

Mr Gonewai said in a democracy it was normal to allow individuals to vote for their choice of candidates, regardless of gender.

He urged NGOs and civil society organisations to create more advocacy in the area if they want more women represented.
---
From Stuff (12 September 2023)
Rotumans want better services and the government promises to deliver
---