From Elisapeti Inia on Rotuma (November 1997)
On Wednesday, 19 November, the Red Cross Branch in Rotuma met at Pepjei Hall for a meeting and a breakup lunch. The Pepjei members prepared a lot of delicious food for morning tea. Our Rotuma Representative to the Fiji Red Cross annual meeting at Suva on 8th November (Kaurasi Fesaitu of Oinafa) came back bringing us good news--that Rotuma annual report of Red Cross activities is Number One in all Fiji.
Last Saturday morning, 15 November, a Juju boy of eighteen named Andrew, the son of Fiu and Mapenata, was found lying under a breadfruit tree at Saukama, dead by suicide. He hung himself by his long-sleeved shirt. He was drunk.
On 8 November we had a Na te at Savlei. We sent an invitation to Motusa circuit, both Catholics and Methodists, and collected $1600. With expenses deducted $1300 was left over for the building of our new church. The old walls are down and formed a good foundation for the new one. The blocks (1000) are here already. We need cement, iron rods and the roof.
The Motusa Methodist Church Circuit is no longer a part of Rotuma Division. The Church leaders of Motusa Circuit wanted to become a Division of their own, so that we no longer are a part of the Rotuma Division (which no longer exists). As a result, Faguta, which was part of Motusa Division, renounced their rights and joined the Oinafa Circuit, so Motusa Division is made up of Itumuta and Itu'ti'u only, whereas the others belong to the Oinafa Circuit.
---
From Honolulu Star-Bulletin (30 November 1997)
Oregon State junior Inoke Breckterfield [son of Pasepa and David Breckterfield]...was picked as a second-team defensive end [in the Pac 10], moving up from honorable mention last season. He was the only player from the 3-8 Beavers named to the first two all-conference teams.
Breckterfield led Oregon State in quarterback sacks (8), other tackles for lost yardage (13 for 70 yards), fumbles caused (3) and quarterback hurries (3). He had a total of 62 tackles and also broke up two passes and blocked a kick.
Oregon State rolls all of the defensive statistics into a point total. Breckterfield's team high 331 defensive points is the ninth best single-season total in Beaver history. He ranks sixth in the school's career points list and needs 278 next season to be the all-time Oregon state leader.
Breckterfield finished the season with his best game statistically, against Oregon: eight unassisted tackles, four tackles for 27 lost yards, two quarterback sacks for 19 yards and a QB hurry.
Breckterfield is already penciled in for the 1999 Hula Bowl
---
From Honolulu Star-Bulletin (10 November 1997)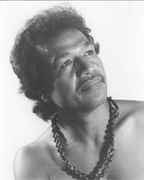 Vilsoni Hereniko
Playwright Vilsoni Hereniko and poet Joseph Stanton are the recipients of the 1997 Elliott Cades Awards for literature. The two will be honored Nov. 20 at an event including a 7 p.m. reception and 8 p.m. reading at the Honolulu Academy of Arts, sponsored by the Hawaii Literary Arts Council. Admission is $3. Tickets will be on sale at the door.
The awards, created in 1986 by Charlotte and Russell Cades, recognize two writers each year.
Hereniko was chosen for having produced "a significant body of work of exceptional quality." He is a native of the tiny island of Rotuma in the South Pacific, an associate professor at the University of Hawaii's Center for Pacific Island Studies and author of five full length plays and 10 one act productions. His latest work, "Fine Dancing," was produced in an outdoor format on Magic Island earlier this year.
---
From Marlon Isimeli in Suva (5 November 1997)
Gagaj Tua' of Malhaha passed away peacefully on the island on the evening of Tuesday 4th November 1997.He was 77 years old.
Gagaj Tua' was the Faufisi of the district of Malhaha and for a long time one of the surviving traditional leaders on the island. He was highly respected by his people, and was a most effective leader who could resolve disputes and differences with the skill of a leader much disciplined in the essence of Rotuman traditional diplomacy. He was a member of the Rotuma Island Council, an excellent orator, a traditional wrestler of some note, and above all a man much loved and esteemed by Rotumans on the island.
As his body was carried shoulder high to the "Saoniu" cemetery in Malhaha, the men in traditional dress chanted the "ki", signifying the passing of a high Chief of the island.
He will be much missed in Malhaha and the district elders would do well to respect the memory of one who had devoted his life to the people in the Rotuman way, by emulating the excellent example he had set.
---
From Mark Fesaitu Vaurasi in Wellington (3 November 1997)
The members of the the NZ Rotuman Fellowship (Inc) Society [NO - it's not a church group as the name might suggest; rather a mixture of Methodists, Catholics, Anglicans and others] gathered at the Tongariro College, Turangi, for its annual Labour Weekend meeting. The Wellington Group were the hosts for the weekend, and we owe our thanks to Tiu and Huru Bristow for arranging the venue.
The Wellington Group's convoy of cars arrived on Friday in Turangi at approximately 5.00 pm (4 hours travel). We quickly rehearsed our songs in preparation for the Maori welcome/challenge at the college "marae." However, we were pleasantly surprised to learn that the Maori elders and owners of the marae had already accepted us as "Tangata Whenua" (People of the Land/Area) and therefore a Maori welcome was not required. What a pity, because some of us were looking forward to the customary Maori "hongi" (rubbing of noses). Nonetheless, we had tea and settled in for the night awaiting the arrival of the Auckland Group. They arrived at approximately 11.30 p.m.
On Saturday we had taumaka practice specifically for the Rotuman Tour in December 1998/January 1999, ably led by our two purotus, Tivaknoa Kaitu'u and Ravai Shaw. This was followed by a trip up to Mount Ruapehu to the Whakapapa Ski fields. We returned late in the afternoon for tea. Thanks to the Bristows, Jason and Karen Vaurasi, a disco was held in the church hall which was thoroughly enjoyed by all.
On Sunday, after church service, we had our Annual General Meeting. The Executive Committee elected/reelected are: Chairperson - Fonmanu Kitione (Wellington), Assist Chair - Ravai Shaw (Wellington), Treasurer - Ravai Rennel (Auckland), Assist Treasurer -Rev Jione Langi (Auckland), Secretary - Emi Scott (Wellington), Assist Sec - Agnes Kulatea (Wellington), and the two Group Leaders from Auckland - Voi Muoror and Mark Vaurasi from Wellington.
On Monday it was time to refurbish the college marae, say farewell to one another and depart for home, having enjoyed a wonderful Labour Weekend. The next meeting will be held during Queen's Birthday in June 1998 and will be hosted by the Auckland Group.
Regarding the Rotuma Tour in December 1998/January 1999: one of the main concerns of the meeting was the Rotuman Tour. The Tour Committee consists of Arthur and Ravai Shaw (Wellington), Patricia Strickland (Auckland), and Mark Vaurasi (Wellington). Further details of the Tour will be announced once details of the contact people are finalised. It is envisaged that we will have contacts from Hawaii, Australia, UK, USA, Fiji, Rotuma, etc. for those who wish to join us. As an aside, I have made contact with the Blue Lagoons Cruises about the "Tui Tai" and am awaiting confirmation. We plan to arrive in Nadi no later than 14 December 1998 and sail that evening, or first thing on 15 December 1998. We plan to depart Rotuma on 4 January 1999.
If you would like to help us out with our Tour arrangements please contact me at the address below:
Mark Fesaitu Vaurasi

19 Tararua Street

Upper Hutt

Wellington

NEW ZEALAND

Ph (work) (04 area code) 527 5004

(home) (04) 527 9645

facsimile: (04) 527 5084

---
From Marie Dickinson in Sydney (3 November 1997)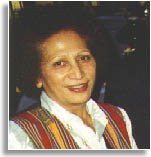 Marie Dickinson
Marie is going to New Zealand on 6 November for a 3 week visit. She will fly to Wellington and attend Susau Strickland's Induction as Vice President of the Methodist Church on Saturday, 11 November. Marie will spend a week in Wellington with old friends and then travel up to Napier for a week with her brother, Fonmanu Kitione, who has recently been reelected chairman of the New Zealand Rotuman Fellowship. She will be in Napier when her niece, Lisa Kitione, Fonmanu & Kerry's daughter, will celebrate her 21st birthday (on Saturday 22 November). Marie's sister, Seini, will be coming from Fiji for Lisa's 21st birthday party, so it will be something of a family reunion.
I recently talked to Reverend Marseu and his wife, Emily Vaurasi. They are doing well indeed in Rylstone, so well in fact that the people out there want him to stay on for another year.
Etika, son of Kaurasi & the late Lavenia (Rev.Taito's nephew) is in Sydney for a month's study with the Australian Army Camp at Hollsworthy, NSW. He spoke at Wesley Rotuman Church last Sunday. He had all of us laughing. He is a fine and well presented young man.
Melissa Williams graduates from Charles Sturt University, Albury, on 2 December. Melissa represented the international students from Charles Sturt University at this year's International Students Conference in Perth. In the past the graduation was held the following year. Most overseas students never return for their graduation because of the expensive airfares. This is the first year they are holding the graduation ceremony and farewelling the international students at the end of their studies. We are giving Melissa a thanksgiving dinner at home on Saturday 6 December to celebrate her graduation and her 21st Birthday. Rev. Taito, Rev. Marseu, and Tui Mani will conduct a short thanksgiving service, then everyone can swim, eat, and catch up with one another. After three years away, Melissa will return for good to Fiji on 14 December to her overjoyed mother (cousin Raukafona) who is planning a big surprise party. Some surprise! Already my two sisters and other women relatives are busy making mats for Melissa's homecoming.
---
Posted on the Message Board (3 November 1997)
Konrad Alexander 17, son of Walter and Christine Alexander now of Brisbane Aust., has been selected to tour England and Europe playing soccer.He will be leaving in November after his graduation from Wavell Heights School in Brisbane.