From Dave Saunders, Assistant Epidemiologist, Ministry of Health, Fiji (30 December 1997)
Colonial War Memorial Hospital in Suva reports having admitted 31 clinically-suspected cases of dengue fever since December 18, with 3 to 4 new cases admitted per day in the last week. An undetermined number of these cases have been suspected as Dengue Haemorrhagic Fever [DHF]. There have been 3 deaths so far, suspected as due to DHF. All three died within three to five days of the onset of illness, and two days of admission, and all three were adults between 25 and 40 years of age. One death was due to intracranial hemorrhage, one to generalised profuse bleeding, and one still hasn't been ruled out as septicaemia. Overall, cases admitted so far have ranged in age from 14 to 55 years, with an average age of 28 years. Many less serious cases of unclassified viral illness suspected as dengue have been reported as being seen in the general outpatient and accident and emergency departments. There has been a distinct rise in overall numbers of patients seen in both departments. CWM Hospital is the major referral hospital in Fiji, serving the capital and surrounding areas with a population of roughly 250,000.
To date, none of the admitted cases have been confirmed serologically as dengue, and the dengue virus serotypes for these cases obviously are still unknown. Cases have been identified by low blood platelet counts, and platelet infusions have been given to patients to prevent haemorrhagic complications. The Consultant Physician in the medical wards reported highly variable results with platelet infusions - some patients with very high platelet counts were reported as bleeding, and others with very low platelet counts had no bleeding at all.
At least 11 admitted cases reside in Suva city, with the remainder admitted from suburban and rural areas around Suva. These cases were officially reported to the Ministry yesterday (Monday), though increased dengue cases had been seen since late November. Further, Lautoka Hospital on the opposite side of the main island reported seeing at least 7 suspected cases in November based on fevers combined with low platelet counts. None were serologically confirmed as dengue according to the Welcome Virus Lab in Suva. It is presumed that the samples from this recent outbreak report have been sent to the WHO Collaborating Centre in Brisbane, Australia for confirmation.
There have been 12 serologically confirmed cases since July, with 5 in November, and 1 reported in December. At least one of these samples was identified as dengue 2 virus. However, confirmatory testing has not been systematic throughout that time, with several of the dengue positives discovered through testing samples that had been sent to the national virus lab for influenza / respiratory virus studies. There may have been a far greater number of asymptomatic and clinically presenting cases in that time that went unreported and / or undiagnosed.
The public has been advised of the situation, and warned to take measures to avoid mosquito bites including destroying breeding sites, wearing protective clothing, using mosquito repellents and insecticides. However, it is feared that the measures will be too little, too late, despite increased efforts by the Ministry in the past year to mobilise breeding source reduction campaigns, participation in a regional vector-borne disease project. [There is concern] that the outbreak will accelerate with more deaths and widespread morbidity in the coming weeks.
---
From Honolulu, Hawai'i (18 December 1997)
The Rotuman Association of Hawai'i (TEFUI) held our annual Christmas party on Saturday, 13 December, at the recreation center of the submarine base at Pearl Harbor. The event was well attended and as always there was lots of food, drink and merriment. We sang Rotuman songs, danced (fara style) and exchanged gifts. We also got to swim in the pool and relax in the hot tub.
The party marked some important entries and exits for the club. Attending were John and Harietta Bennett, who have recently moved to Honolulu along with their three daughters, Leilani, Kimberly and Hannah. We welcome them as new members and look forward to their participation in our activities.

Yvonne Aitu
Also attending after her graduation that morning from Brigham Young University-Hawai'i was Yvonne Aitu, who left for Fiji the next evening. Yvonne, who graduated with a Bachelor of Science degree in computer science, has accepted a teaching position at the Fiji Latter Day Saints Technical College. She will teach computer science to Forms 1 through 7 and will also do computer support work for the school. Just prior to graduation Yvonne was one of twenty-five students who received a Recognition Scholarship based on her academic performance. We will miss her ever-cheerful presence but are pleased that she will be able to help bring Fiji's students into the computer age.
Leaving on the same plane to Fiji were Maria and Paul Dumas and their daughter, Nicole. They are on their way to Rotuma to attend the höt'ak hafu of Maria's mother, who died last December.
All the members of the TEFUI Club wish Rotumans everywhere a kesmas lelei ma fau fo'ou 'oaf'ofa!
---
From Fiji Times Lifestyle Section (16 December 1997)
Writer spreads word of dance
By Leba Harrison
POLYNESIAN tradition is entwined with dance in all aspects of the word, the fluid movements of the hands, feet and hips tell stories that astound those who watch.
A writer originally from Rotuma in Fiji is spreading the word of dance in the Pacific Islands, its cultural meaning and its importance to its people in their every day lives to the rest of the western world.
He is also attaining outstanding recognition for it.
This acclaimed writer and playwright is Dr Vilsoni Hereniko who now lives in Honolulu, Hawaii.
He is an associate professor at the centre for Pacific island studies at the University of Hawaii at Manoa.
Dr Hereniko recently won the prestigious Elliot Cades Award for Literature.
Two awards founded in 1986 by Charlotte and Russell Cades are presented each year by the Hawaii Literary Arts Council to writers of poetry, drama, fiction or literary nonfiction.
This year Dr Hereniko was the recipient of the "writer who has published a significant body of work of exceptional quality".
Dr Hereniko has written heaps of plays, academic books, children's books/stories, short stories, editorial work, articles and essays.
His plays include Fine Dancing which Dr Hereniko is currently rewriting for a screen play for a feature film.
Fine Dancing will be a millon dollar full length motion picture when it is completed.
The story is about Rani, a mother of two and her desire for a life away from her abusive husband and claustrophobic marriage.
After she makes her escape she meets up with Hina, the Moon goddess at a beach on Magic Island.
Hina helps Rani to heal through the magic of dance.
Her husband, who in the meantime has had an affair with Alexis, an exotic dancer and cross dresser, discovers Rani dancing with Hina one night out on his motorcycle and tries to make amends for his abusive and wayward ways.
With the Moon goddess' help, and a spectacular polynesian Moon dance, the three are able to see the dawn of a new era at the conclusion of the play.
The play was performed at a beach on Magic Island in Honolulu around sunset and also at Guam in Micronesia.
Rena Owen from the award winning film Once were Warriors portrayed Hina the Moon goddess.
Dr Hereniko said they were looking for a location to shoot the film and Fiji was being considered for this.
Dr Hereniko aged 43 lived on the island of Rotuma until the age of 16.
Ha than moved to Suva to attend Queen Victoria School. From there he went on to the University of the South Pacific as an undergraduate.
He returned to QVS to teach English and history before graduate studies carried him halfway around the world to England.
There, Dr Hereniko got his masters degree from the University of Newcastle in 1982.
He returned to the University of the South Pacific where he taught Pacific literature and began his career as a playwright.
He completed his doctorate in 1992 at USP although he left the previous year to join the faculty of the Center for Pacific Islands studies at the University of Hawaii.
Dr Hereniko began writing seriously as an undergraduate student at the University of the South Pacific in the mid 70s.
He was one of the students in Albert Wendt's first writing class at USP.
Although he has won many other awards, he said the Elliot Cades award surprised him.
"This award surprised me as I have been in Hawaii only six years and there are so many good writers here," he said.
"This is the first time the award has been won by a Pacific Islander.
"I feel the award is an indication that Pacific literature, literature written by indigenous Pacific Islanders, is now finally recognised here in Hawaii.
"When I arrived in 1991, Pacific literature meant writing by white Americans about the Pacific but that has now changed, and the works of indigenous writers such as Albert Wendt and Epeli Hau'ofa are now a feature of the literary scene in Hawaii," he said.
Dr Hereniko said one of his greatest sources of inspiration is Rotuma where he grew up with his 10 siblings.
"When I was growing up in Rotuma, my parents made a point of telling their children stories about the island, the so called myths and legends,
"Though they have now passed away I still feel they are my muse, my inspiration,
"Rotuman culture and my family have been the main sources for my stories, most of which are set in Fiji,
"Only my latest play is set in Hawaii," he said.
Dr Hereniko married for the second time in August this year to Jeannette Paulson the founding director of the Hawaii International Film festival
He has a 13 year old son who lives in England and visits him every year, as well as family who still live in Lautoka and Rotuma.
---
From Jone Kamoe Hereniko in Vatukoula (16 December 1997)
A mamasa was held in Vatukoula recently for Andie & Fesaitu, visiting from Newark, California, and their two-year old daughter, Raelyn. Andie is a daughter of late Faga Konousi (from Noa'tau), who is a brother of the late Master Avaiki Konousi. Faga worked in the Cooperatives Department in Suva, Lau, Labasa, Levuka, Rakikraki and Lautoka. He married a Tongan girl named Latai. After Faga passed away, in early 80s, Latai and their children migrated to America. In 1993, Andie came back to Fiji to visit her kainaga in Vatukoula; that's where she met Fesaitu, son of Alisi (from Motusa) and Tifare (from Pepjei). Andie and Fesaitu got married in 1994 and left Vatukoula for the U.S.A. They came back for a two week's holiday, visiting all their kainaga.
---
From Peace Corps Volunteer, Chris Sloffer (on Rotuma) via his mom, Nancy Sloffer (9 December 1997)
On November 28th the dispensary was opened in Malhaha. The Doctor advised that it was the finest dispensary he has seen in all of the islands.
---
From Fiji Times Weekend Entertainment (6 December 1997)
Convert takes new step
By Leba Harrison
MUSLIMS all over the country are set to get a surprise because former lead singer of the Rootstrata reggae band, Freddy Fesaitu, now a muslim convert known as Omar Bin Abdullah is planning to release a new CD single.
For muslims, music is not a necessity in fact in some circles, it is considered an evil. Mr Abdullah even forsook all music by severing ties with his reggae band Rootstrata and music in general.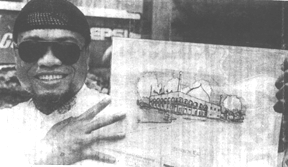 Omar Bin Abdullah, formerly known as Freddy Fesaitu, with the plan for the Rotuman mosque.
Music is discouraged under Islam because it is associated with wine, women and drugs. It is only limited to a certain type of drum which is played on occasions like Eid, weddings and at births.
Muslims are permitted to sing but should not be immoral. It is believed that because singers are idolised they will distract people from worshipping Allah.
In addition it is believed that music interferes with concentration when praying and therefore the person reciting the prayers may not fully understand what they are saying.
Mr Abdullah although previously denouncing music and it's presence in his life has now decided to produce the CD single after finding there was a prophet and also a flute player who sung about Islam--not sex and drugs usually associated with music.
The song is a modern Roots Reggae Rhythm combined with Arab harmony and should be released into the market before New Years Day.
Mr Abdullah said, "The move came after the need to establish, for the first time in history, a Mussalla or Prayer House on the Island of Rotuma,
"It also signifies the arrival of Islam to the shores of Rotuma," he said.
Mr Abdullah said he had collected all the necessary documents pertaining to the Association's Project on the island.
The project includes the establishment of a Madressa or school for Rotumans who want to study Islam on the island.
"The entire project is expected to cost at least half a million dollars and we hope that sales from the CD Single here and overseas should in God's will enable us to achieve our target," he said.
---
Posted on the Message Board by Marseu Viki Bob Tuxson (3 December 1997)
It has been our privilege to have our two children who represented Fiji in basketball at the National Level go abroad and continue playing in the USA in high school.
Currently Teri Evelyn Tuxson (17) is attending high school in Texas and playing varsity ball there. We have noticed by surfing the net that Hiagi Wesley's son Mikeli (19) has achieved far greater success by playing for BYU in Utah.
We are wondering how many young people of Rotuman origin are playing representative sports abroad;-who are they, what sport are they playing, and where are they living?
A Note from Alan & Jan: Marseu asks a good question. If anyone out there knows of Rotumans who have excelled in athletics, or any field, please send us pertinent information so we can share it with the international Rotuman community. Such accomplishments are a matter of pride for Rotumans everywhere so please don't feel shy about identifying people.