From David Saunders, Ministry of Health, Suva (30 March 1998)
Dengue Fever continues to circulate in Fiji, with more than 1,300 suspected cases reported in the last two weeks. Nearly 200 people have been hospitalised since March 10, mostly in the Northern Division, and in the outer islands of Kadavu and Lakeba. Fortunately, there were no deaths reported to the Ministry of Health during March, and the death toll remains at 11.
In the Northern Division, Labasa Hospital reported a rise in cases in the past week, with at least 12 admissions, and 40 suspected cases. A special Dengue clinic has been set up in anticipation of a rise in cases. No reports have been received from the rest of the Northern Division in the last two weeks.
Case reports in Kadavu have nearly doubled in the last two weeks, with more than 7.5% of the population affected to date, up from 3.9% two weeks ago. More than 200 persons have been hospitalised in the outer islands of the Eastern Division since the epidemic began, and nearly 3% of the population has been affected.
Cases continue to be reported from most areas of the country, particularly Suva, Tailevu, Naitasiri, and Rewa. While case reports appear to have declined in the Western Division in recent weeks, there were still at least 40 admissions and more than 200 suspected cases reported in the last two weeks.
The public was reminded to continue to protect itself from mosquito bites, to destroy places where mosquitos may breed (including standing water around human dwellings), and to seek medical treatment for fevers lasting longer than three days. The public was also advised that there have been at least two reported deaths due to leptospirosis, which can often be confused with Dengue Fever, but unlike Dengue, requires treatment with antibiotics.
Table 1. Patients presenting at Ministry of Health Facilities with clinically suspected Dengue Fever since 22 December 1997, as of 25 March 1998, including hospital admissions, attack rates (per 1000 population), trends in weekly case loads, and total percentage of cases by Medical Divisions.
| | | | | | |
| --- | --- | --- | --- | --- | --- |
| Division | Outpatients | Admissions | Population | Attack rate | % of Total Cases |
| Central | 16,313 | 540 | 297,255 | 56.7 | 75.7% |
| Western | 2,697 | 423 | 322,341 | 9.7 | 14.0% |
| Northern | 721 | 196 | 153,805 | 6.0 | 4.1% |
| Eastern | 1163 | 215 | 48,746 | 28.3 | 6.2% |
| Fiji Total | 20,894 | 1,374 | 822,147 | 27.1 | 100.0% |
---
From Mark Vaurasi in Wellington (31 March 1998)
Our Group held a meeting on 21 Mar 98 at Aggie and Kit's place. It was pleasing to see Fesaitu Owen from Palmerston North (2 hrs drive) attend. We were later joined by Gabriel Penjueli and friend for lunch. The sad news was that Itu recently lost her father (Taito) who died in Fiji a week ago. Fonmanu Kitione, who normally attends our meetings (4 hrs drive from Napier to Wellington), was unable to attend due to family commitments. Emi & Chris Scott Family (1 hr drive from Masterton to Wellington) were also unable to attend due to their daughter's birthday celebration.
As a result the meeting was attended by the local Wellington residents. Nonetheless we hear that Sue and Sef Mua Family (from Palmerston North), Napier and Masterton families, will attend our next meeting scheduled for Saturday 4 Apr 98. This meeting will be held at Mark Vaurasi's place starting at 11.00 am.
Last weekend, Friday 27 - Sunday 29, the executive committee members from Wellington--Aggie, Fon, Mark, Ravai and Arthur (Rotuma Tour Committee member) Shaw--traveled to the Turangi Army Leave centre for the "NZRF (Ass)" executive committee meeting. Unfortunately, only one executive member from the Auckland Group (Group Leader Voi Muaror) attended. Ravai Rennel and Rev Langi were unable to attend due to work commitments. The executive committee of the NZ Rotuman Fellowship (Ass) Society unanimously agreed to cancel the proposed tour to Rotuma in December 1998. The main reasons for the cancellation were the lack of financial commitment and uncertainty by members coupled with the uncertainty of the Rotuman Methodist Church situation in Rotuma. The Tour Committee will cancel all arrangements in due course.
The executive committee however, suggested the possibility of a future tour to Australia. Members were asked to canvas their Group members and bring this matter up for discussion at the next AGM.
Family News
Birthdays: congratulations to Kirsty Henderson on 28 Feb (13 years old); Ane Scott celebrated her 21st birthday on 21 March and Lana Vaurasi her 17th on 25 March.

Overseas Trips: Arthur Shaw to Washington DC in February, then to Melbourne in March; Ravai Shaw to Melbourne and Sydney; Itu Owen to Fiji in March and Sydney Viki has just returned from Fiji. Other members are taking advantage of the cheap fares offered by Air Pacific and will be in Fiji April - May.

Education: Ron Scott is in his 4th year at Massey University, Lisa Kitione and Kafoa are in their 4th year at Victoria University. Ane Scott is in her 1st year at Palmerston North Teachers' College. Lena Kulatea is in her 1st year at Hutt Valley Polytechnic. Susana Scott and Lana Vaurasi are in their most important year at College ( 7th form). Tony Tuatoko recently completed his diploma at Wellington Polytechnic and Craig Vaurasi completed his Advanced Certificate in Computer Studies at the Central Institute of Technology. As a part time student, Mark Vaurasi also graduated with double diplomas in Business and Management.

Entertainment: congratulations to Ravai Henderson and Glonaida (Torika and Rahul's daughter) who both won their school's talent quest. They performed a Rotuman Hula dance - thanks to their tutor Ravai Shaw.

Sports: We may have a possible 'black caps' (NZ Cricket team) member in the making. Fintan (Aggie and Kit's son) has consistently been awarded the player of the day award, week in and week out. Fintan's team won their age group competition. Congratulations also to Jason Vaurasi who has also played consistently for the Airforce Rugby League Team. Richard Mua is also a very capable and dedicated karate student.

Work (Tour of Duty): Major Tausie Tarsau is currently in Papua New Guinea with the NZ Army Peace Monitoring Team. It is envisaged that he will return to Wellington in April 1998.
---
From Rev Jione Langi in Auckland (30 March 1998)
The Auckland Rotuman Fellowship had its monthly meeting two weekends ago in the chairman's home--Voi and Doreen Muaror. Everyone is keen to go to Rotuma this coming Christmas. The group had a good "taumaka." The executive committee met this past weekend in Turangi to look at the tour proposals, because the "Tuitai" boat charter has to be confirmed soon.
---
From Hawai'i (29 March 1998)
The Kailua Sun Press, a local newspaper on O'ahu, recently included an article featuring a Tefui Club taumaka at Kailua Beach Park, including several photographs. The club has been practising for the upcoming wedding of Tifäre Sosefo to Nani Keanu (April 11). Unfortunately the reporter didn't get his facts right. He described Rotuma as "an independent island north of Fuji." That would put it somewhere north of Japan!!! Brrrr!
---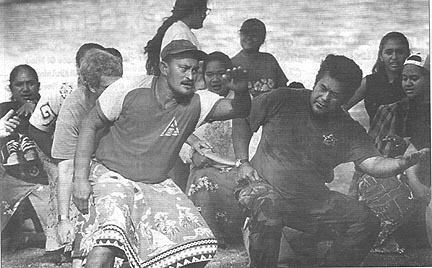 | | | | |
| --- | --- | --- | --- |
| Luisa Manueli | Marseu Nataniela | Akerio Afasio | |
---
From Antoine N'Yeurt in Tahiti (25 March 1998)
Elizabeth K. Inia and Mere Nakaora are representing Rotuma at the fifth Polynesian Languages Forum in Pirae, Tahiti. Aside from Rotuma (the smallest delegation), there are delegations from all over Polynesia, including Rapa Nui (Easter Island), Marquesas, Austral Islands, Cook Islands, among others. Delegates are working on various issues concerning the teaching, transmission, and preservation of native Polynesian tongues in the modern nations of the Pacific.
Antoine reports that Elisapeti and Mere very much like Tahitian songs and dances, and want to learn some of them to use in fara back home! They return to Fiji on Monday, 30 March. Elisapeti planted a tree on the university campus, as did a member from each delegation.
Antoine also said that some of his Tahitian friends who study 'Reo Maohi' (Polynesian languages) were amazed to hear Elisapeti speak Rotuman at the opening of the forum, as it sounded very 'exotic' to them. It appears Rotuman is really a unique language. He said that a friend of his from Bora Bora confired that in one of their legends their ancestors knew about the island of Rotuma ("Lotuma"), from which they believe they originated.
---
From Marlon Isimeli in Suva (23 March 1998)
Frank Atu made history on Saturday night, 21 March, after beating Wasiki Ligaloa by a T.K.O at the National Gymnasium, making him the first Rotuman to win the Fiji Boxing Council Heavyweight title. Ligaloa started the fight with some powerful punches, whilst Atu bided time and toyed with his opponent. In the end it was the lack of fitness that saw Ligaloa drop his guard and Atu cash in with some powerful jabs. Ligaloa withered away under Atu's consistent attack and Atu dominated the 6th and 7th rounds, increasing the pace. Ligaloa's corner threw in the towel after the 9th round when Atu opened an old injury to the nose after connecting with some powerful jabs.
"Nothing is impossible with GOD and I thank him for giving me the wisdom and the strength to win tonight," said Atu. He said there were a few areas that need to be touched up before taking on Peter Kinseller for the vacant Oceania Boxing Association cruiser-weight title.
---
From Sefo A. Titifanua in Nanaimo, Canada (13 March 1998)
'Amis famor Rotuam ne noh 'e Canada (British Columbia, Alberta) maWashington State (USA) 'ua'ua'akiof se te' ne 'aus Rotuam ofraut 'e laloag ne ran te'. Te ne 'ofat se 'amisa la hat rogrog ne mou se 'os kainag Rotuam ta 'e ut tutu ne 'aus nohoe, ka tape'ma se 'os kainag 'e Fiti ma 'os hanue ta Rotuma.
'Otomis kautauna'ige te te'isi 'on asa "HUGAG'ESEA CLUB," ma 'otomis han puer ta le 'ALITI (le' 'on Tivao ma Ragafuata, Motusa);' On haiasoag ta le' Marie (Furivai ma Ioana, Juju); han fa' pukta Tupou (Hare ma Sauhani, Lopta); han mata' selen ta Makereta (Alfie ma Fanefau Bently, Motusa). 'Amis ne mou se kautaun'iag te le Luise (Marseu ma Nanise, Motusa) ma 'on vavan ta, Homer (Alfie & Fanefau) ma 'on haina, Kamoe Fatiaki (Motusa/Malhaha) ma 'on haina, Konosi ('Aisake ma Raumue, Fapufa) ma 'on haina, Tiu (Marie ma Sova, Motusa) ma 'on haina, Suakvae (le' 'on Varorie, Pepjei) ma 'on haina, 'Erone ('Aisea ma Tupou, Malhaha) ma 'on haina, (Suakvae ma 'Erone noh 'e Washington State), Saga'itu (Tusevaka ma 'Akosite, Juju), 'Aknese (ma'piag 'on Taria, Juju) ma 'on vavan ta, Marie (Konosi ma Sara, Noatau) ma 'on vavan ta, Saunoa (mapiag 'on Sipili ma Avaiki, Saolei) ma 'on haina, La'riri' 'on Rigamoto Wasile (Lopta) ma 'oris o'hon ta, Rocky ma Saverine (Juju/Motusa), 'Emi, 'on vavan ta ma 'on o'fa ta Fereti Samson (Motusa) ma 'otomis o'hon rua le Katarine (Pepjei) ma 'on vavan ta, Vama-rasi (Motusa) ma 'on vavan ta ma 'otou haina Betty ('Eliesa ma 'Emeli Panapasa, Noa'tau/Itu'muta) ma gou le' Sosefo ('Aisea ma Tupou, Malhaha).
'Otomis kato'agat 'e Me la re 'e Vancouver 'e ran saghul ma on ta (16th May). 'Amis tautau mak la po la re ta 'otomis hafat se kato'ag ta. Tiket ne 'amis tog'aki $20.00 la 'ate ma mak. Vavan 'on 'Aknese, Anil ma 'oria le' fa heta tae la jaua 'otomis mak ta. 'Amis la re koua ma re fekei (fakakai). Kota la fau mumuet la 'amis la tog'ak tiket se famor 'e taf ta la leum se 'otomis so' te'.
There are quite a number of Fiji people in Vancouver and a good majority of them have never seen a Rotuman cultural dance before. So, to all you Rotumans around the world, fear not, for as long as there is Malhaha person here, there will be a spectacular presentation that night. "Kal la' ma 'ut."
Well, before I conclude, our President would like to extend an invitation to any Rotumans around the world that would like to witness the real hafabut can't go to Fiji or Rotuma, to attend ours in Vancouver, B.C. Canada.
A prayer from me to you;
God Grant Me the Serenity,
To Accept the Things I Cannot Change,
The Courage to Change the Things I Can,
And the Wisdom to Know the Difference.
Hanisiof ma fu'uamus, Sefo A. Titifanua
Note: The Hugag'esea Club was formed in January 1993, so we could get together and talk about how much we missed the Island. Our first Chairman, Rigamoto Wasile, passed away in March 1995. He was Hiagi Wesley's older brother.
(29 March update) Our next taumaka will be held in Richmond at Makereta & Jack's home on the 12th of April. The 200 tickets printed for our function have been sold. About half of the tickets were spoken for before they were printed. It is very exciting to get this much support from the Fiji community in Vancouver.
---
From Fiji Times (Wednesday, 11 March 1998), under the headline, "Proud day for Rotuman cable guy." The story was written by John Kamea:

AMOI Sokimi never thought that his life at sea would one day put him in the limelight.

He vividly remembers his days when he first joined the Cable Ship Retriever as a deck boy. At that time working on a ship, even though it was back breaking, was the only way to earn a living. And he took it boldly and stood up to the challenge.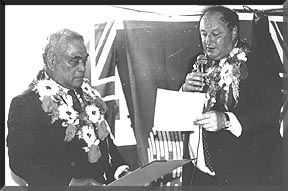 Congratulations...Amoi Sokimi receives his award from British High Commissioner Michael Dibben
For four years Sokimi worked in Suva on the CS Retriever before he was transferred to the Hawaii-based CS Edward Wilshaw. In 1965 he moved to the CS Cable Enterprise. By this time he had been promoted to able seaman. Later, he was promoted to the position as mate.
"When I first started, I really used to miss my family. But later on, I got used to life at sea," Sokimi said.
Last week, Sokimi was awarded the MBE (Member of the British Empire) award by Queen Elizabeth in her 1997 birthday honours list. The awards ceremony took place on board the CS Pacific Guardian at the Kings Wharf.
"I'm overwhelmed by the fact that my work has been recognised, especially by the head of the Commonwealth, the Queen," the proud Itu'muta man said. "I believe my perseverance over the years has paid off. And I'd like to thank my family, friends, God and my employer for their outstanding support.
Sokimi's citation reads: "Amoi is a giant among men, and a credit to his nation and to his family. His love for rugby and Chinese food to matched by his love for work and we (Cable and Wireless Marine Limited) are thankful to him for his long and loyal service to the company so far."
Sokimi admits that he faced few hardships while working for Cable & Wireless. "Nothing at all, except for taking advantage of all the benefits that came my way," be said.
In 1984 the CS Pacific Guardian took up station In Suva. Sokimi was posted to the ship for four years and passed on his considerable skill and knowledge before being requested to repeat the exercise on the CS Sir Eric Sharp when she was commissioned in 1988. In early 1989 while based in Middlesbrough, he considered returning to his home Island to retire from cable ships. Then came Flexservice Three (now Fu Lai), and the advent of a new stern working concept.
Sokimi has, since that time, spent the major part of his life working on installation operations, earning a reputation as the key man on the deck, and "the man to have" when something difficult needed to be achieved.
"His presence, wise counsel and strong personality have carried him, and many others, through many highly successful operations across the world," his citation reads.
Among the great things that Sokimi has achieved are his two children--a son and daughter--who live in Australia. His son was among guests on board the CS Pacific Guardian to witness Sokimi receive his award. Sokimi hopes to retire soon but it appears he might have to continue his life on ships for a few more years.
"I had asked for a retirement but my employers think that I should continue," he said. "After all the things they've done for me, I think the last thing I'll do is to disappoint them."
He is about to start work on the CS Nexus as part of the installation team for the Japan Information Highway - one of the most challenging and biggest cable installation projects Cable & Wireless has ever undertaken.
---
From Ian Osborne in England (10 March 1998)
A baby son was born to Ian and Sia Osborne on Wednesday 25th February. He weighed 3.4 kg and is named Patrick. Ian writes that Sia is well and enjoying the company of her sister, Rejeili who is with them for a few months from Fiji.
---
From Suva, Fiji (8 March 1998)
Air Fiji and Sunflower Airlines, have increased fares by 7.5 percent. The increase, approved by the Air Transport Licensing Authority, is a result of a 20 percent devaluation of the Fiji dollar. The airlines said the devaluation has increased fuel, insurance, and engine maintenance costs.