From Hawaii (12 April 1998)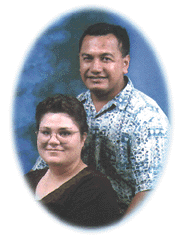 Nani Keanu and Tifäre Sosefo
Yesterday, on 11 April, 1998, in Hau'ula, Hawai'i, Tifäre Urakmata Sosefo and Caroline Nalani (Nani) Keanu were married in a ceremony conducted by George Kaluhi'okalani, a Mormon Bishop and husband of Manao, daughter of Mereone Yee. Entertainment was provided by Mervina and Api Tora singing a variety of island and pop songs, and by the Tefui Club (Rotuman Association of Hawai'i) which danced a hafa in honor of the newlyweds. The performance culminated several weeks of practice and was greatly appreciated by the guests. Vilsoni Hereniko and Mereone Yee gave speeches on behalf of the Rotuman community. The event represented a wedding between the Hawaiian and Rotuman communities as well. The wedding feast was fantastic, including Hawaiian and Rotuman delicacies (kalua pig, poi, taro, laulau, lomi salmon, chicken long rice, several varieties of raw fish and crab, fekei, 'ikou, curried chicken, rice, and of course, wedding cake). Everyone had a wonderful time and we wish the happy couple a long and fruitful life together. We only wish that more of you Rotumans out there could have been here for the event.
---
Tefui Dancers at Tifare's Wedding
---
From Sanimeli Maraf in Rotuma (1 April 1998)
The Chinese Embassy in Suva gave $30,000 to help Rotuma get a new bus. The wharf at Oinafa needs a ramp to make it easier for rolling vehicles on and off so the PWD will have to build the ramp soon.
Two archivists came from Fiji to Rotuma to collect the Minutes of Rotuma Council meetings. Every fifteen years they come over to collect materials. They brought four volumes of Rotuma Council Minutes from the past as a gift to the Council.
The copra price is now $600 a ton (dried); previously it was $400. The increase is the result of competition between Punja & Sons and Fiji Copra Trading, owned by Wong Brothers.
The Methodist Conference in July, scheduled to take place in Malhaha, is not yet confirmed because the Motusa circuit has separated from the Oinafa circuit and may not take part in the celebration.
The radio-telephone will soon be reconnected in Noa'tau for the use of people in that district. Because of a land dispute in Oinafa, telephone lines were not dug through to Noa'tau, so the satellite dish is not available to them. Deposits made by people in Noa'tau will be withdrawn.
The Rotuma Day celebration this year will be for two days at Ahau. There will be sports competitions and each district will perform a hafa for entertainment. The ladies will display their handicrafts, with prizes given at the end of the second day.
There is a new doctor on Rotuma. Dr. Eric Rafai is the son of Dr. Aisea Rafai of Suva. The Fijian doctor who served for the past few years on Rotuma, Dr. Temo Kitione, and his wife Salote, have moved to Lakeba Hospital. Mrs. Kitione was the Rotuma Health Inspector.
The Hospital Board hopes to install a solar plant for the hospital. Members of the Board are: Mrs. Sanimeli Maraf, Chairperson (Noa'tau); Kafoa Inea (Juju); Aliti Furivai (Pepjei); Hanuarani Atalifo (Oinafa); Makereta Bentley Konrote (Malhaha); Kava Williame (Itu'ti'u); and Nina Uajini (Itu'muta). The first quarterly meeting is on 6 April when the Board welcomes Dr. Rafai.
---
Also from Rotuma (1 April 1998)
We have heard from several sources that the conflict in Oinafa has been resolved after several years of strife. Word is that Gagaj Sakman, who had been given the pure by Gagaj Kausiriaf, went faksoro (hen rauifi) to Gagaj Poar and subsequently relinquished his title. People in Oinafa village are now attending the same church and according to one of our sources, "everybody in Oinafa looks so friendly nowadays."