From Rev Jione Langi in Auckland (23 September 1998)
The following are excerpts from the Auckland Rotuman Fellowship Newsletter: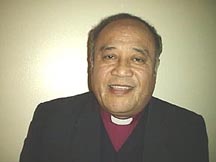 Reverend Jione Langi
Susau, Voi and I have returned from the Fiji and Rotuman Methodist Church Annual Conference held in Suva from the 14th-28th of August. It was an exciting two weeks where more than seven hundred choirs from all over Fiji took part in the Choir Festival. There were Sunday School, Youth and Adult choirs as well as Trios, Quartets, Female and Male Voice choirs too. Furnival Park in Toorak was a heavenly arena for one whole week hosting this marvellous choir festival. As the choirs sang and presented their gifts of money to the Conference, the 33 divisions busied themselves selling their handicrafts and food to help the Conference fund-raising bazaar.
At the end of the singing week and celebration, the total amount of money donated to help the Conference run its programme for the next connexional year was over $700,000. The people of the island of Koro in the Lomaiviti group opened the week of festivities with a donation of $160,000. The Women's Fellowship of our Conference closed the celebrations with a donation of $71,000. Marvellous efforts by all the church members and true sacrificial giving. The church is growing from strength to strength. This year, sixteen ministers were ordained and received into full connexion whilst 23 will be graduating in November and will take their first appointment in January. One of the 23 is our first Rotuman woman minister. She is Vivalesi Panapasa, daughter of the late Jotama Panapasa of Malhaha and Makereta of Noa'tau. Jotama was the son of Kunusi and Motofaga.
Following are names of all the Rotuman ministers in active service or undertaking further study.
| | | |
| --- | --- | --- |
| 1) | Rev. 'Aiveni Fatiaki | Superintendent - Rotuma |
| 2) | Rev. Raki Tigarea | Oinafa Circuit - Rotuma |
| 3) | Rev. Samuela Isimeli | Motusa Circuit - Rotuma |
| 4) | Rev. Atalifo Faktaufon | Churchward Chape - Suva |
| 5) | Rev. Voi Taukave | Wesley Circuit - Suva |
| 6) | Rev. Irava Fatiaki | Lautoka Circuit - Lautoka |
| 7) | Rev. Fesaitu Marseu | Rylstone Parish, NSW - Australia |
| 8) | Rev. Jione Langi | Auckland Rotuman Fellowship - NZ |
| 9) | Rev. Mataere Muaror | Pacific Theological College - Suva |
| 10) | Rev. Emotama Pene | Uniting Church Theological College - Sydney |
Ravai Rennel is doing his second year theological training here at St John's College in a home-setting programme. We hope he will graduate at the end of 1999. He and Ripeka accepted the call to be trained as the local Presbyter for the Rotuman people in Auckland. This role will be fully realised on February 1st of 1999 when my term as your minister ends. Please remember us in your prayers. The time has come for our family to start packing up and to get things ready for the handing over of the leadership role of our Fellowship to Ravai and Ripeka.
The Conference appointed us to be the Superintendent minister of the Rotuma Division from January 1999. We are very happy to go to our beautiful Rotuma but sad we are going to leave [Auckland]. However, we know that you will be giving all your best to help Ravai and Ripeka in looking after this little coconut tree so it can grow bigger and bear fruit abundantly.
We (Susau Strickland, Voi Muaror, and I) bring greetings to you from our relatives and friends in Fiji (Suva, Lautoka, Nadi, Vatukoula and Levuka) as well as from Rotuma. It was good to have aunty Susau representing our Methodist Church of New Zealand to the 'Bose ko Viti' this year. We are proud of her and want to thank God for such an honour and privilege. Voi has gone to two Conference meetings (1997 & 1998) and I'm sure he will bring a lot of experience and help to our young Fellowship.
Let me remind leaders and members of our District groupings that our 'NATE NE ITU'U' will be on the fourth Sunday in November (29th). It will also be our last combined service with the two Fijian Congregations for 1998.
Lastly, I was assured that our Rotuman Bible will be ready by Christmas time. Please keep on praying for the printer in Hong Kong to have our Bible ready soon because our people everywhere are crying to have their own Rotuman Bible for so long.
---
From Suva (22 September 1998)
We are happy to report that two new publications on Rotuma have just been published by Institute of Pacific Studies at USP. The republication of C.M. Churchward's Rotuman Grammar and Dictionary, with an English-->Rotuman Word List (prepared by Elizabeth K. Inia, Sophie Arntsen, Hans Schmidt, Alan Howard and Jan Rensel) is now available. Also available is Faeag 'es Fuaga (Rotuman Proverbs) compiled by Elizabeth K. Inia. The books will be launched in Suva on 29 September at USP. Minister Paul Manueli will preside over the proceedings.
---
From Itu Taito in Sydney (22 September 1998)
The "Variety Concert 98" which was held on the 22nd of August went very well. The items included action choruses from the Drummoyne Rotuman Youth Group and a solo performance by Teriki Smith, original compositions by guest pianists and performances by the Canterbury Fijian Parish Youth, which was organised by the Rev Veitinia Waqabaca.
Other items included a guest soloist who sang pieces from Andrew Lloyd Webber's works, the 'Aeatos' which was led by John Metusela and George Vasea, and a combined women's group called "Fragrance of the Night" performed three traditional dances (choreographed by Fred Pene) with Rarotongan influence.
It was also great to see that all the Saturday taumaka at our place paid off big time with the Wesley Youth Dancers. The group performed one item which was choreographed by Deana Ufiamorat with music chosen from Rarotongan/Maori influence. The boys wore colourful bula shirts and the girls dressed in costumes and tefui designed and made by Ritie Gibson. Soni Ufiamorat recited a poem by Isimeli Metusela and my band 'Noble Rot' performed some of our original alternative acoustic compositions.
Rev Sydney Taito did the hard job of looking after the administrative side of booking rooms and sound men etc., and he assures us that even though he was in Darwin he was thinking of us. But it all ran well in the end with no major hiccups. Aisea MC'd the whole event and made sure everything went smoothly or at least 'appeared' to.
And all families provided a great spread for fine fellowship and afternoon tea after the concert. All who were invloved had a great time on the day and we managed to raise a sum total of $2,800 for Wesley Mission SpringFair.
---
From Fiji Times (22 September 1998)
Varea Best Fiji Athelete
Weightlifter Rupeni Varea was selected as the best performer of the Fiji contingent at the Commonwealth Games in Kuala Lumpur, Malaysia. This followed his fifth overall placing in the 85kg class ahead of New Zealander James Swann with a total lift of 310 kg.
Chef de Mission John May said Varea had set a standard that every athelete should follow in preparation for any international meet.
"It has been a good Games for us in terms of learning. Certainly we have to change our training programme based from two to three years," said May.
"Varea's achievement shows his committment and we need the support of the community, employers and governement if we need to be in the top half of the competition."
The Fiji team officials didn't waste after the games and got straight into a post moterm of the games.
"Basically we looked at our weaknesses, strengths, and opportunities."
He said they made and analysis and found that Fiji was placed in the bottom half in atheletics,cycling, and badminton.
---
From Rev Jione Langi in Auckland (21 September 1998)
At the Methodist Conference held last month in Fiji, Reverend Langi was assigned as Superintendent Minister for the Rotuma Division, beginning in January 1999. He will be stationed at Noa'tau. Rev 'Aiveni Fatiaki will take over the Oinafa Circuit and Rev Samuela Isimeli will stay on at the Motusa Circuit. Rev Raki Tigarea and his wife Rutagrere have been posted to the Young People's Department in Davuilevu Training Centre near Nausori.
The proposed splitting of the Methodist Church on the island into two divisions did not come up for discussion, so the structure will remain as in the past, with one superintendent minister and two circuit ministers (one for the Oinafa Circuit, the other for the Motusa Circuit).
The Auckland and Wellington branches of the New Zealand Rotuman Fellowship are busily preparing for the Labour weekend get together in Pukekohe, Auckland (Oct 23-26). The kato'aga will be a celebration of Reverend Langi's ministry in New Zealand; the taumaka is going full-swing in both Auckland and Wellington.
---
From Bournemouth, England (20 September 1998)
Congratulations to Viane Amato-Ali and Fred Atalifo. Viane has completed his doctoral dissertation and will be returning to Suva where he will work for the Town Planning Department. Bournemouth University did a student profile on Viane for their postgraduate prospectus for next academic year. They also included him in a promotional video for the university.
Fred Atalifo has been awarded a Chevening Scholarship from the British Council for this year. It has been quite a while since Rotumans have been awarded this scholarship and now two have received awards in consecutive years.
An article in the Fiji Times (21 September) provides the following information on Fred Atalifo's award:
Fred Atalifo is one of two Fiji citizen recipients of the Chevening Scholarship given by the British High Commision. Mr. Atalifo, FINTEL's commercial and marketing research officer, will study for a master's degree in operational telecommunications at the University of Coventry and Cable and Wireless College in England.

A spokesman for the High Commision said a key element of the programme is the inclusion of leading experts around the world who will share their experiences.

The other recipient is a manager in the finance division of the Fiji Development Bank who will pursue a masteris in business administration at the Unversity of Nottingham.
---
From Bruce Tizard-Varcoe in England (14 September 1998)
The newly formed "Pacific Islanders Rugby Football Club, London" kicked off their first match in style on Saturday 12 September with a 50-22 win over accounting firm Andersen Consulting' at Rosslyn Park Rugby Club, South London where both teams are based.Twenty-four players turned up to play for the Islanders team which included Tongans, Papua New Guineans, a Samoan, Fijians and myself, Rotuma's representative (Co-founder, Secretary and Player for the club).
The open-style of 'island rugby' was adopted from start to finish (which our Kiwi, American and English reps. thoroughly enjoyed) with some stunning tries' scored in both halves of the match. (It was a joy to watch and take part in, as our first training session together as a team only took place half an hour before the match!)
Amongst the guests was the Fiji High Commissioner to London, Mr. Filimone Jitoko, and Catherine Barton-Smith from Cable & Wireless (our kit sponsor). Rotuma's other representative, who took part in training and recently played for our Touch Rugby Team' is Delai Morris, son of Phil Morris and grandson of Nikola Morris from Motusa.
---
Report on archaeological investigation of Rotuma (10 September 1998)
During a six-week period in 1996, Thegn Ladefoged of Auckland University and his student Jonathan Wall conducted archaeological research on Rotuma, with the goal of finding an early site to shed light on early Rotuman prehistory. For a summary of their research findings click here.
---
From Fiji Times (10 September 1998)
Bill Gives Rotuma Autonomy
The Rotuma Act passed yesterday in Senate will give greater autonomy to the island's council.
Senator Filipe Bole said the Rotuma Act makes a special provision for a government of Rotuma and the Rotumans.
He said while the Council of Rotuma could make regulations they needed to be approved by a resolution of Parliament in the past.
"This indicates that all Rotuman regulations are considered by Parliment before becoming law." he said.
Senator Bole said new provisions in the bill meant the Minister concerned could approve the regulations made by the council instead of Parliament.
He said that under the Bill, Rotuman regulations required the approval of the minister instead of Parliament.
"That is also in line with the regulations made by the Banaban Settlement Act, and the by-laws made by the local councils under the Local Government Act which already states the approval of the minisers," he said.
Senator Bole said the Act allowed the Council to make regulations relating to peace, order, and governance and was to be obeyed by all members of the Rotuman community in the island after it was approved.
The Act imposes penalties for breach of regulations through imprisonment for a term not exceeding four months and a fine not exceeding $100.
"However, due to changing times and increasing level of crime, the Bill brings up to date the power to impose penalties in the Rotuma regulations. So clause 2(b) provides a harsher penalty which extends imprisonment term to 12 months and a fine to $2000," Bole said.
---
From Ravai Shaw in Wellington (8 September 1998)
It is with great sadness and regret that we announce the death of Taukave Mua, son of Afrete and Fotfiri Mua, Namadi Heights, Suva. Taukave died early Sunday morning (6/9/98 Fiji time) and the funeral was held on Tuesday, (8/9/98). Churchward Chapel was filled to capacity with kainaga and friends who came from around Fiji and abroad to pay their last tributes. Taukave was 41 years old. We extend our condolences to his mother, brothers, sisters and kainaga.
---
From Hawai'i (7 September 1998)
The Tefui Club has been quite active recently.
Mona Morris sold fekei for the Tefui Club at the Laie Foodfest on 8 August and raised $264 (after expenses) for the Club's visit to Rotuma in the year 2000. The Club was invited to dance at next year's Food-fest.
Henry Morris was elected Club treasurer to replace Pasepa Breckterfield, who has served in that capacity since the Club was formed. Our hearty thanks to Pasepa for her dedication and hard work. Jan Rensel and Louisa Manueli will manage the Club's Rotuma 2000 fund.
The Tefui Club danced a tautoga at a fundraiser for the Ho'omaika'i Hula Studio held on 29 August, 1998. The Studio is run by Shona Lam Ho, a close friend of Maxine Nataniela, wife of Marseu Nataniela, Club President.
We enjoyed a campout at Malaekahana over the Labor Day weekend, September 4-7. In addition to fresh salmon (cooked in coconut cream) brought by Phyllis Tavo from Alaska, we also had fekei 'ulu, prepared by our own crew. The Club used the occasion for a taumaka, in preparation for a performance to be held at the Polynesian Cultural Center on Fiji Day, 10 October.
Congratulations to Hilarie Morris who was admitted to Kamehameha Schools as a freshman in the Class of 2002.
---
From Marlon Isimeli in Suva (7 September 1998)
On the 5th of September, Suva Rugby Union Captain Fred Pasirio Atalifo scored the biggest try of his life, and the one that mattered the most, when he married sweetheart and former Miss Hibiscus 1997, Letila Mitchell. Fred is the son of Dr Fiu and Sapeta Atalifo and Letila is the eldest daughter of Drs Robin and Rosemary Mitchell. The function was held at the Pacific Harbour Hotel, and started early in the afternoon with the Rotuman soko performed, followed by the service. Family and friends had an enjoyable time at the function, with the celebrations lasting throughout the night into the early hours.
The couple leave for England at the end of the month as Fred commences studies for his master's degree in Engineering. Congratulations to Fred and Letila on their special day, and may many more blessings come your way. Best wishes for a bright future.
---
From Major-General Jioje Konrote in Lebanon (6 September 1998)
The status quo in South Lebanon has remained unchanged for the past months. A flare up in hostilities at the end of last month as a result of increased katyusha rocket attacks of Israel's northern settlements by Islamic resistance (Hizbollah) elements heightened tension to a very dangerous level in this most volatile region. A state of 'no war no peace' still exists so the stalled Israeli/Palestinian peace process has only compounded matters further.
In the wake of all these gloomy developments and uncertainty the UN Security Council had gone ahead and renewed the UNIFIL mandate for another six months. Similarly the UN Department of Peacekeeping Operations has renewed my contract for another year as well---so I am not out of a job yet. Whether or not I can retain my sanity and maintain sense of humour for the period remains to be seen, but there is one thing for certain, am losing more hair with the passage of each day.
In a previous correspondence I mentioned that commanding UNIFIL has been challenging and rewarding. In fact the responsibility of command is also wide-ranging operationally and politically.
Last week I had to don my 'political hat' and travel to Finland to address a group of Nordic politicians, UN bureaucrats, academics and senior military officers at a UN Peacekeeping Senior Management Seminar on 'The Different Roles of the Military Element in Peacekeeping Missions---The UNIFIL Experience.' The seminar was held at the Finnish Centre for Strategic Studies in Helsinki.
I departed Tel Aviv for Helsinki with my Senior Political Advisor (Mr. Timur Goksel from Turkey) on Tuesday 1st September 1998. The four and a half hour flight via Amsterdam was uneventful except for a frightening few seconds before landing at Schipol airport when the KLM 767 pilot had to abort the first attempt at landing due to zero visibility because of foggy conditions. We arrived at the Vantaa International airport in Helsinki late in the afternoon on the same day only to be greeted by the news of the Swiss Air crash in Peggy's Cove, Nova Scotia, Canada. Not a very comforting thought after our recent experience in Amsterdam's Schipol International Airport that morning.
Finland is a beautiful country and the people very friendly. I was told that there are no Rotumans in 'These neck of the woods.' The weather is probably too cold in winter.
I enjoyed my week-long visit because of my ability to re-new past acquaintances with some Nordic military officers and members of the UN Secretariat from New York and Field staff whom I had served with on previous tours of duty. During my short visit I was able to thank the Finnish Minister of Defence formally for her country's support and continued participation with UNIFIL. It also gave me an opportunity to acknowledge and thank the Finnish Defence Forces Commander (General Gustav Hagglund who was a former UNIFIL Force Commander when I was the Fijian Battalion Commander in 1986-1987) for the professional and dedicated manner in which the Finnish Contingent has continued to operate under my command.
I felt very humble and grateful to be invited to address such a forum and the praises of the participants about Fiji's active participation in conflict resolution worldwide has been most flattering.
On a personal note, my insatiable craving for Finnish smoked salmon was more than satisfied but then on reflection (with due respect to my Finnish hosts) I still prefer a 'telul tahroro ma fun papai ta.'
The return flight to Israel via Copenhagen was equally interesting. From 42,000 feet above sea level, the plains of northern Germany and Poland were so green and plush compared to the snow-capped and rugged mountainous landscape of Romania, Hungary, Bulgaria and Turkey. As I watched the countryside below disappeared beneath the Scandanavian Airline Services MD80 aircraft as the sun set to the west over the Mediterranean sea, I could not help but cast my memory back to my schooldays in Malhaha when I first learnt about the history and geography of the European Continent from Mrs. Isapeti Inia and Ms. Harieta Katafono---Rotuma seemed so far away and I wished I was home.
All too soon the flight came to an end as I was 'jolted out of my daydream' when the all too familiar lights of Tel Aviv came into view and the aircraft descended rapidly to a perfect landing at the Ben Gurion International Airport. Tight security checks through the arrival terminal by armed young Israeli guards who greeted passengers with an occasional 'SHALOM' quickly reminded me that I was back in the so called Land of Milk and Honey.
The three hour drive to the Israeli/Lebanese border enabled my Irish ADC to update me on the latest operational developments about the Israeli Defence Forces and Islamic Resistance activities in the UNIFIL area of operations. In my absence the situation was assessed to be 'relatively quiet' with the exception of the usual daily exchanges of artillery and mortar fire across the demarcation line.
Crossing the heavily fortified Israeli/Lebanese border back into Southern Lebanon and being greeted by my French Paratroop escort detail as we were cleared through the first UNIFIL military police check point confirmed that my week-long sojourn was over. Although short, it was a much welcomed break from the monotony of peacekeeping. It was my first venture outside the mission area since assuming command of UNIFIL some eleven months ago.