From Carol Tavo in Australia (28 October 1998)
Rebecca Tavo, whose father is a Rotuman from Ahau living in Port Hedland, Western Australia, was selected to play on the Australian 16's Touch Team. After a national competion in Melbourne, Rebecca was the only West Australian to be chosen and on her arrival back in her home state was told that she was the first ever female from W.A. to gain a place on a National Team.
---
From Savika Oakley in Auckland and Ravai Shaw in Wellington (26 October 1998)
The New Zealand Rotuman Fellowship Inc. Society (NZRF) met over the Labour Day weekend (from Friday 23rd - Monday 26th October) in Auckland for their annual general meeting and to bid farewell to Rev Jione Langi and his wife, Rigamoto, who will be leaving New Zealand in January for Rotuma, where Rev Langi will take up the post as Superintendent of the Methodist Church on the island.
The Auckland branch of the NZRF has been very busy over the last two months, rehearsing their dances (Wednesday evenings and Saturdays) and fundraising (selling fekei at one stage raised $510) for the kato'aga. The Auckland and Wellington people camped at Pukekohe Marae.
Pukekohe Marae is a lovely, elevated site overlooking Bombay hills. Savika Oakley organised the youngsters to help her set up the Marae on Friday. After that they spent the rest of the day making tefui using fresh scented flowers. After lunch Savika, Susau Strickland and a few other Aucklanders went to the Marae with heaps of cooked food to wait for and welcome the Wellington contingent. Fekau Langi, Voi Muaror and most of Auckland people arrived on Saturday morning with the koua.
On Saturday, the place was packed with Rotumans and their spouses and children. Besides Langi's invited guests, many Rotumans living in Auckland and Waikato areas were present. The kato'aga started with the Wellington group performing a tautoga, then the Auckland group did theirs, followed by Tongan dancing.
Three pigs were killed, and there was lots of food. People took food home with them and there was plenty of food left for dinner. The kato'aga was done in the Rotuman traditional way, with all the food cooked in the koua except for the boiled salted beef. Fekau Langi, his wife and their two daughters sat on apei and women served them their food. The meal was preceded by a kava presentation, and Rotuman chants to announce the koua (sik fono). All the chickens were cooked in the koua with the pork. There were several different fresh salads, and fresh fruits were served as dessert. Two different kinds of fekei were also prepared.
After lunch, many of the guys went outside to play touch rugby whilst indoors guitars were brought out and the fara started. It was great, and very touching, to see the old folks dancing away--a sight rarely seen these days. Savika invited the owners of the Marae (Maori elders) whom she has known for sometime and they, too, loved it all, and were even picked to dance. In the evening, we had a blend of disco and island music, ranging from contemporary to island hulas and even waltzes. Everyone, including the children, participated. There was lots of fun and laughter, and everybody had a great time. Most Aucklanders went back home to have a good sleep at the end of the day and turned up the next day, but others camped at the Marae so as not to miss out on anything. Fuata Espasio and his wife, Marianne, from Whakatane were at the camp. Fuata was the clown of the camp; everyone sat around him while he told never ending stories and shared dirty jokes late into the night.
On Sunday more new people arrived for the Sunday service and the Annual General Meeting of the Fellowship, which were held at the big hall on the Marae. The Wellington group acted as hosts for all of Sunday, including breakfast, lunch and dinner. A variety of delicious foods were prepared which everyone thoroughly enjoyed. At the meeting, officers were elected and a number of issues were discussed. The members present decided to look into buying a piece of land and having a meeting house built on it for regular Fellowship meetings. A committee consisting of four people, two from Wellington (Fonmanu Kitione & Emi Scott) and two from Auckland (Fatnefau Konrote and Savika Oakley), was set up to look into possibilities. They will look at funding sources and possible locations and send their quarterly findings to Fonmanu who will collate the information and report to both groups.
At the AGM the following people were elected office bearers for the next year. Except for Sukamanu Etika, others were re-elected to their positions.
| | |
| --- | --- |
| Chairperson: | Fonmanu Kitione |
| Vice Chairperson: | Ravai Shaw |
| Secretary: | Emi Scott |
| Assistant Secretary | Aggie Kulatea |
| Treasurer: | Ravai Rennell |
| Assistant Treasurer: | Sukamanu Etika |

The youth performed in the evening, and all joined in the singing. Much later, when many had retired to bed, others gathered in groups and chatted and sang away. Laughter could be heard till late as some elders shared their stories of the good old days in Rotuma.

On Monday morning Auckland provided breakfast. The Maori elders arrived and we gave them KOHA, sang many farewell songs, and gave speeches. Then Fuata came to the front to close the ceremony with a final dirty joke. Everyone bade farewell and Wellington members left on their eight plus hours journey home while Auckland members cleaned up the Marae and departed for home at midday. By the end of the weekend everyone was exhausted but every drop of sweat was worthwhile. As Ravai Shaw said: "We arrived home absolutely tired but contented and revitalised with our Rotumanness and "haihanisiga." Many issues were addressed, all with positive outcomes."
---
From Sanimeli Maraf on Rotuma (22 October 1998)
The Embassy of Japan in Suva has given a grant of US$19, 930 (approximately F$39,000) for upgrading the Rotuma Hospital. The money has been allocated as follows:
| | |
| --- | --- |
| Purchasing and installing a solar powered generator | F$27, 373 |
| Procurement of medical equipment | F$5,5000 |
| Computer, printer, etc. | F$3,150 |
| Installation of window screens at hospital and kitchen | F$3,000 |

The Japanese Ambassador is Mr. Jiro Kobayashi. Responsibility for the project has been given to the Ministry of Health in Suva, who will purchase and ship the required materials and supplies.

On the eve of 21 October, at approximately 5 p.m., an aircraft carrying Prince Tupou Toa, son of the King of Tonga, and his Lady-in-Waiting, landed at Rotuma airport. Also on board were two European pilots and a European couple. They were on their way to Tuvalu to negotiate a proposal concerning the Internet. After clearing customs at Nadi they took off but soon realized that it would be dark before they reached their destination, so they landed at Rotuma hoping to spend the night at a hotel! Since it was an unscheduled arrival no one was at the airport to greet them, but Visanti Makrava happened by and took them to his home in Oinafa. The next morning, prior to their departure, a mamasa was held for the Prince and his party.
---
From Honolulu, Hawaii (18 October 1998)
The Tefui Club celebrated the 50th birthdays of two of its members yesterday, David Breckterfield and Pene Antonio, with a picnic at Kailua Beach Park. The party was also a way of thanking all those who participated in the tautoga we performed last Saturday at the Polynesian Cultural Center in celebration of Fiji Day.
Tefui Club Performing at Polynesian Cultural Center
---
From Marie Howard in Brisbane (15 October 1998)
At the end of September the Fiji Rugby Union team came over to Australia for the world cup playoffs. Their last game was in Brisbane (against Tonga) and the Fiji Association hosted an island night. The Rotuman community did the catering (for 500 people). It was a very successful and tiring night (we finished about 3 am). There is another function on Saturday 17 th October (Fiji Day) which the Rotumans will be catering again--this time for 300 people.
---
From Louisa Finiasi in Suva (12 October 1998)
Final Results Of Netball And Rugby Competitions, Fiji Rotuma Sports Council
After several days of awesome competition in rugby and netball the Suva clubs demonstrated their superiority; it was an all Suva final in both sports.
During this year's tournament we saw a lot of young talent among our female players, just as many of our senior players approach retirement. The competition has shown how active these young Rotumans on Viti Levu have been during the sports season.
Most A-grade rugby players in the Suva clubs are Suva Rugby Union players. Our annual sports tournament is an eye-opener that should encourage up-coming players to join regular clubs during rugby and netball seasons.
The final results after the end of competition today are as follows:
Rugby A-Grade: Sarafui Sports Club 24, Satarua Sports Club 7 (both of Suva).

Rugby B-Grade: Ra'esea Sports Club 22, Satarua Sports Club 18 (both of Suva).

Netball A-Grade: Sarafui Sports Club won after going undefeated in their round robin with 10 points.

Netball B-Grade: Satarua Sports Club won after going undefeated in their round robin with 10 points.

Best/Fairest Female Player--Sela Fatiaki from Tieri Sports Club, Vatukola.

Best/Fairest Male Player--Suliano Romanu

Netball Golden Oldies--goes to the East team.

Overall club points from volleyball, rugby and netball goes to Sarafui Sports Club.

Best-dressed team goes to Moiro Sports Club, Lautoka
Volleyball trophies were presented today despite being played over Easter holidays.
Volleyball Men--Granville Sports Club, Nadi

Volleyball Men Runner-up --Satarua Sports Club, Suva

Volleyball Women--Sarafui Sports Club, Suva

Volleyball Women Runner-up--Moiro Sports Club, Lautoka
The Victor Rigamoto Trophy, which was donated by his wife and children for rugby, was presented to the Sarafui Rugby team, which defeated Satarua on 3 October in a competition for the trophy. The Ra'esea Sports Club, which was also eligible to participate, did not play in that event.
With a vote of thanks from the Patron of Moiro Sports Club and the President of Fiji Rotuman Sports Club, the tournament ended with all Western side clubs departing for home.
Louisa Finiasi
Public/Media Relations Officer
Fiji Rotuma Sports Council

---

From Sanimeli Maraf in Rotuma (22 September 1998)
On 18th September at Noa'tau we celebrated the installation of Gagaj Ti'u Rotuam, the title given to Etika, son of Sarote and Tafaki Manueli. It was a traditional ceremony including Päeag rua Päegat la Etike la päe sio ka on rua ne Päega la Etika la päe sin e avat ne Gagaj Maraf la niniua ia la Gagaj Ti'u Rotuam. Kainag atakoa ne asta maop (also Brother Nonu Manueli from Suva). Päega ös ma hoal'ak Eap ag rua Rotumet, 'eap ma on fauat 2 ne 3, ma 'eap riri mul alol, ma apeit rer e siliket. One kaut, puak 4, kes poatkau 5, fekei moa het, eg. moa 10 e laloag ne afat ka hir fu'ak, ma kas hufa'hatat, fekei ma fo'ou. Fakpej heta Fatiaki Motofaga. Tau kao ta young ladies all in white, wearing tit sauaf. Sik fon ta re e tauga instead of baskets (afjarao).
Mr Kwon Bung Rak, a South Korean who live in Navosai, Narere, Suva, is here to help people repair their cars, motorbikes, welding and painting, etc. Mr. Kwon has a motorbike business and repair shop in Suva. He introduced his business to Rotuma in May-June. They're using Raho's garage at Oinafa. The main building was once a copra grading shed.
On 26 September the Japanese Ambassador will come from Suva to survey the school and hospital to see what help they can give to Rotuma.
Noa'tau will soon have their telephones connected as Oinafa's digging work [for the telephone lines] will soon be finished.
---
Press Release From Louisa Finiasi in Suva (9 October 1998)
The Fiji Rotuman Sports Council is again organizing its Annual Sports Tournament during the Fiji Day Holiday in Suva commencing on Saturday, 10 October, with the finals on Monday, 12 October.
The objective of this annual event is to get all Rotuman youths, both male and female, to compete in sporting events and to share their knowledge of sports with each other. The occasion is an opportunity to meet, communicate and socialize with relatives, friends from afar, and to learn to appreciate our culture.
It is an annual event in the Fiji Rotuman Sports Council calendar. There are a total of six Rotuman clubs from all over Viti Levu who will be in Suva to compete against each other in rugby and netball competitions. The six participating clubs are:
| | |
| --- | --- |
| Tieri Sports Club | Vatukoula |
| Moiro Sports Club | Lautoka |
| Granville Sports Club | Nadi |
| Sarafui Sports Club | Suva (Defending Men's A-Grade) |
| Ra'esea Sports Club | Suva (Defending Women's A-Grade) |
| Satarua Sports Club | Suva |
The Chief Guest for the day will be Mr Susau Managreve, Principal of Marist Brothers High School and the Chairman for the Suva Rotuman Seven Districts Association. He will officially open the tournament at 7 a.m. followed by a prayer. The first game in the rugby competition, between the defending champions Sarafui and Moiro, will kickoff at 0900 hrs at the Marist Brothers High School grounds. The women's netball competition will be played at Thurston Courts.
The games will continue on Monday with the semifinals for the men's games at Albert Park and the women completing their round robin with the winner in each pool taking the top honors.
On Sunday there will be a combined church service at the Churchward Chapel, Rewa Street, for all players and the Rotuman congregation.
On Monday will be the finals and prize giving ceremony. The categories of prizes at stake during the competition are as follows:
Men's Rugby A and B grade
Best/Most Improved Male Player of the Tournament
Women's Netball A and B grade
Best/Most Improved Female Player of the Tournament
Best Dressed Team
Best Team Performance for Males and Females
For more information please contact:
Louisa Finiasi
Public/Media Relations Officer
Fiji Rotuma Sports Council
Phone: (679) 302 433/392 233
Fax: (679) 302 751
E-mail: lou@fijifvb.gov.fj
---
From the Honolulu Advertiser (8 October 1998)
The following feature story, concerning Inoke Breckterfield, son of Pasepa and David Breckterfield, appeared in this morning's newspaper under the title:
Breckterfield leads Beaver's sack attack
Former Damien star called Oregon State's best pass rusher ever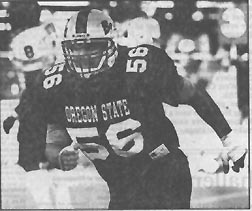 Former Damien athlete Inoke Breckterfield is Oregon State's sack master, setting a school record for career sacks with 17 1/2.
He's not a rocket-armed quarterback or a high-stepping running back, but Hawaii-grown Inoke Breckterfield keeps setting career records at Oregon State University.
Breckterfield, a 1995 Damien High graduate from Kaneohe playing defensive end, broke or tied his fourth Oregon State career record Saturday when he sacked Utah State quarterbacks twice to take the school career lead in with 171/2.
He also holds career records in quarterback hurries with 31 and tackles for losses with 461/2 and is tied for the career lead in forced fumbles with seven.
"I believe he is probably the best pass rusher who has ever played at Oregon State," said Oregon State coach Mike Riley.
He plays like "his hair is on fire," said UCLA coach Bob Toledo.
At 5 feet 11 and 249 pounds, Breckterfield "has the physical ingredients of quickness and strength and leverage that help make him a great player. Plus, he sets the standard for hustle," Riley said.
While most players get bigger in college, Breckterfield has lost 34 pounds in four years and "I'm a lot faster now," he says. His body fat is less than 8 percent.
"His motor is running at full speed from the opening whistle," to the last whistle," OSU spokesman Hal Cowan said.
"I'm having fun, especially since we have a winning record (3-2)," Breckterfield said.
A second-team all-conference selection last year, Breckterfield was called by the Sporting News "the most underrated player in the Pac-10" before this season.
He leads the conference in sacks this year with five in four games.
Breckterfield set Oregon State season records of 16 tackles for losses and 17 quarterback pressures last year when his teammates chose him as the Beavers' Most Valuable Player.
He's hoping to finish his college career in the Hula Bowl all-star game on Maui in January.
| | |
| --- | --- |
| | EXTRA POINTS: Inoke Breckterfield broke the school quarterback hurry record set by Esera Tuaolo of Waimanalo in 1987-90.... He had a career-best three sacks this season against nationally-ranked Southern California.... His relentless pressure on quarterbacks has helped Oregon State to a No. 4 ranking in NCAA pass interceptions this season with nine.... When football is over, Breckterfield wants to complete his degree in elementary education and "help kids, maybe coaching." |
---
From Nancy Mama'o in the Middle East (1 October 1998)
'IN THE FOOTSTEPS OF JESUS-A DREAM COME TRUE'
Noa'ia 'e mauri 'aus te' ne hensasiag gagaj Rotuam 'atakoa 'e ut tutu ne 'aus noho e 'e ran te.
Gou le Nancy Mama'o Andrea ('omus o'honit ma saghanit 'e 'os hanueta 'e Fag'uta, Tua'koi ma Savlei) a'hae la faeag'ak a'lukaf 'otou noh karau te 'Isireli ma Lepanoni ma sasig rua 'e Jioje ma Sarote Konrote.
O'fa te'is Jioje a'hae la ho'am gou la kel 'e hanue te'is 'e reko 'otou garue fak rotu 'e laloag ne fau his ne ofiof.
Gou 'ua'ua'ak se hanis 'on 'inos te'is Jioje ma Sarote ke a'ti' se hanis ne 'os Gagaj Aitu 'e reko ia a'vaohian ma gou po ma leum ma kel ka noh karau tape' ma 'e hanuet ne 'on le' Sau ta Jisu Karisto noh fak famor ma gargarue e.
Gou leum se hanua helav te'is ma 'oria le' han ta Lisa 'e kamatag ne hual ne August ma te'is osos la ho'iatou 'e a'ofiag ne gasav te'is.
Sarote la ho' ag'esea ma amiarua ma gou a'hae la faeag'akiof se 'aus 'otou kainag gagaj 'atakoa te ne gou kel 'e laloag ne hanue te'is (Land of Milk and Honey).
'E gasav mumue ta 'amis leuof se Upper Galilee se hanua 'atakoa ne Jisu ma 'on lelea' rak te gargarue a'fuamamau e. 'Amis kamat 'e Church of Beatitude (Sermon on the Mount) ma puof se Tabagh (tekae het ne Jisu haga e famori 'e faraoa he lima ma ia' he rua). Vah 'e tae ma kota 'amis leuof se Kapernaumi (Town of Jesus) ma sur se ri rotut ne Jisu marmarag a'fuamamau e. 'E vahiag ne 'otomis kel te ta 'e laloag ne kor te'is ma kota a'mis leuof se far ne tanut 'e Kalili ma 'a 'otomis te ianian. Tan te'is (the Kinneret 'e faeag Isirel) tan hae keleag lelei paut ma gou a'hae se rogrog ne puk ha'a ne te'is tekae het ne Jisu gargarue fuamamau ma 'on tisaipeli.
'E rua ne gasava 'amis leuof se Jerusalemi. 'Amis noh 'e hotel (Seven Arches) 'e rer ne Mount of Olives. 'E rer ne sol teis a'mis rae lelei se laloag ne hanua ha' teis Jerusalemi (Old City). Jerusalemi hanua keleag lelei paut ka ia hanua mamar pau tape' ma 'e terani te 'I 'e reko haipeluget ne rere 'e iris famor Isireli ma Palestaini. Ut ma'oi 'amis kat po ra la kel 'e reko te te'is ka 'amis po ma sur se laloag pa ta ma kel 'e Mount Zion (King David's Tomb and the Last Supper Site) ma sur tape' ma se Church of the Holy Sepulchre (Calvary and part of the Via Dalrosa - where Jesus carried his cross). 'Amis kat pora la hele' 'e Temple Mount (Wailing Wall) 'e reko ut te'is pa 'e ti' ne haipeluag ta.
'Otomis kaula'oag ta po ma hele' 'e Petlihema ma sur se (Church of Nativity) tekae het ne Jisu a'su e. Gou sur se laloag pa het ne 'ea Mary a'su Jisu ma ro'ait ma gou ou 'e ti' ne 'otou 'ofa ma 'ua'ua'aki se hanis 'on Gagaj 'Aitu se 'otou mauri.
'E fol ne gasava 'amis ho' hoi'akiof se ut ne mou se Kalili ma leuof se Nasareti 'e korot ne Jisu noho e ma 'on o'rua Josefa ma Mere (Church of Annunciation). 'Otomis kaula'oag ta rou Nasareti ma leuof se Kena, korot ne Jisu a'sok 'on re man mumueta (first miracle). Fa ha' ne ri rot ta re se 'otomis misa ma kota 'amis leuof se Lower Galilee se utut ne Jone fa papetaios te ta papetaiso e Jisu. Vah 'e tae ma 'amis jor se Mount Tabor (Mount of Transfiguration) 'e utut ne Jisu jor sin ma 'on lelea' rak te ma parofiat rua 'Elaijia ma Mosese no'ak se irisa.
'E 'on hak ne gasava 'amis leuof se Haifa ma sir se Mount Carmel (hanuet ne parofiat ta 'Elaijia fakrava e parofiat sioksiok 'on Peali) 'Amis la' tape' ma se Sisaria korot ne parofiat ta Paula gargarue a'fuamamau e.
Jioje la' garue se Beirut ma hoa' tape' ma 'amis ma kel 'e hanue te'is - Harisa - Kor rot fak Karisto ne 'eleaf se Mount Lebanon - utut ne 'ai te'is Sita ne Lepanoni. 'E 'otomis la'oag se Beirut 'amis sir 'e kor rua ne faefaeag'ak 'e puk ha'a - Taia ma Saitoni. Hanua 'atakoa 'e keleag hanis pau 'e reko te ne mane'ak 'e pelu (Lebanese Civil War and Israeli invasions of 1978 and 1982).
'E ut 'atakoa ne 'amis la' sin 'e laloag ne hanua ha' ta 'amis haipoag ma famor ma'oi pau ne leum 'e ut tutu ne ran te' (Christian pilgrims).
'E 'otou noh karaut ma 'inos te'is gou po ma hele' tape' ma 'e utut ne 'os jaujia noh garue e ma gou rae se mamar ne te ne soksok se irisa ma gou a'hae la faksor'akiof se 'aus te' ne 'otou kainag gagaj 'atakoa la figalelei ma 'is la se maomao'akia 'os jaujia 'e 'os ro'aitu 'e te' ne ava.
Garuet ne iris re 'e 'on la a'sokoag ne haia'leleiga noanoa ka mamar pau.
Jioje ma Sarote 'ih a'rua 'os la'riri' fa Rotuam ta se 'oria hanueta ma 'amis po ma haipoag ma 'ate ag'esea fak kainag 'e 'otomiar noh karau 'e te'is. 'Os lelea' fa Rotuam ne garue ma 1st Battalion Fiji Infantry Regiment 'e UNIFIL te'is:
| | |
| --- | --- |
| Maj Samisoni Inia | (Kafoa ma Savike Itumuta) |
| Capt. Shane Steven | (Wyre ma Maria Itu'tiu) |
| WO1 Feskato'a Fesa'itu | (Nofaga ma Manava Oinafa) |
| WO1 Filipe Kopure | (Filipe ma Kijiana Juju) |
| WO11 Josefa Morris | (Lui ma Keti Itu'tiu) |
| WO11 Fereti Faktaufon | (Fatiaki ma Harieta Itu'tiu) |
| Sgt. Aisake Pene | (Atalifo ma Sagaitu Noa'tau) |
| Sgt. Firipo Inia | (Tomasi ma Fagmaniue Itu'tiu) |
| Cpl. Kaitu'u Manao | (Jimione ma Tausie Itumuta) |
| Cpl. Varomue Tuatoko | (Gagaj Tinvao ma Marieta Itumuta) |
| Lcpl. Mua Ragkae | (Ragkae ma Kiji Itumuta) |
| Lcpl. Muriraki Saufo'ou | (Gagaj Saufo'ou ma Patisepa Malhaha) |
| Pte. Kapega Varea | (Tafo'ou ma Seline Itutiu) |
| Pte. Fereti Ieli | (Fereti ma Varomue Noatau) |
Gou kat po ra la hele' 'e Sainai la haipoag ma 'os lelea' fa Rotuam ne garue ma 2nd Battalion Fiji Infantry Regiment ( Multi National Force and Observers) 'e Sainai ka Jioje 'ea se gou ne iris ma'oi tape' ma.
Se te' ne 'aus 'otou kainag gagaj 'atakoa ne la po la hat 'e rogrog te'is gou a'hae la foraf 'otou hanisi ma hea'hea' lelei se 'aus 'atakoa. Gagaj 'Aitu la figalelei ma la a'alalum'ak ka mata' se 'ausa ma sai'ak 'aus 'e raksa'a ma firi ka kal se 'aus 'e 'on hanisi ma kolori la po la 'e ta teranit ka 'is la haipoag hoi'ak.
Gou 'ua'ua'ak a'ti' se Jioje ma Sarote 'e reko 'oria hanisi ma a'vaohian 'otou leugam se hanue te'is ma na jaujia ma hoa' kal'ak gou se hanua ha' ta. 'Otou noh karau te laloag ne hanue te'is ia la haiasoag ti' pau se 'otou garue fak rotu ma gou pa ho' mij pau la marag'ak te' ne te ne gou kel vah se 'os kainag ne tae 'e Fiti ma Rotuma.
Fu'omus ma hanis ne 'os Gagaj 'Aitu. May the Good Lord bless you all.