From Fiji Broadcasting Commission (28 September 1999)
Rotuma needs funds for infrastructure
A Government team has returned from the island of Rotuma with a "wish list" from the people. Assistant Agricultural Minister, Marieta Rigamoto says the team looked at unfinished projects such as roads, the wharf and ways to improve medical and educational services on the island.
Rigamoto who is Rotuma's Parliamentarian says the cost of all the work that needs to be carried out will be calculated by the respective ministries.
"That is when it is fixed will provide a lot of relief to men in Rotuma because they have to manually load and unload the ships.
So once the wharf is properly completed, work will be much easier and they will spend less time hanging around the wharf and they can go back home and do something productive either through agriculture or fishing.
If the hospital services are brought much closer to the people, it will provide them with economic relief and less expenses for medical services and its available right at their door steps," she said.
---
From Daily Post (26 September 1999)
Rotuma village goes big into producing coconut oil
ROTUMA will soon have a direct micro expelling (DEM) machine to extract coconut oil in Pepjei village. This was announced by the Assistant Minister for Agriculture, Fisheries and Forests, Marieta Rigamoto, who is touring Rotuma. She said that government is starting this project because of the large number of coconuts on the island make it economical.
"Coconut production in Lomaiviti and Lau is less than what is available on Rotuma and this means that the introduction of the DEM would be a positive move for local coconut producers," she said.
Negotiations are under way with landowners for a site for the plant and a generator to power it. Mrs Rigamoto who is the Rotuma independent candidate in parliament will brief the Rotuma Island Council on the results of her two-day tour of the island. Areas she will discuss include new methods of farming, vaccination of cattle, and seaweed farming. The District Officer Rotuma, Semisi Kauata, said this was the most productive tour ever done in Rotuma by a government team.
"I only hope the exercise will prove to be fruitful for the people of Rotuma," he said. Meanwhile, Vaurasi Veu and his two sons on Rotuma are living proof that agriculture is just as good, if not better, than salaried work. Mr Veu and his sons, aged 25 and 19, work their 10-acre farm from four in the morning until seven in the evening. They have planted 20,000 yaqona plants and almost 30,000 dalo plants. Mr Veu makes direct deposit of profits into his two sons bank accounts. They each have about $15,000 each in the bank. The three farmers have the only export licence on the island for the two commodities they produce. They claim they are better off than some office workers.
"People do not want to farm because they look at it as a dirty job, but I can assure them that we are making more than most salaried workers," Mr Veu said.
---
From Motofaga Vamarasi, Marieta Fonmanu, Leona Titifanue, and Fanny Suliano in Lebanon with General Jioje Konrote (24 September 1999)
Read the accounts of these four young Rotuman women who have spent three weeks as the guest of Jioje and Sarote Konrote in the Middle East.
---
From Sef Mua in Palmerston North, NZ (21 September 1999)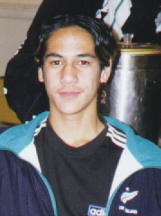 Matthew Wanoa
At the 8th Oceania Karate Championships held in Wellington (NZ) Sept 18-19, my family had the pleasure of watching Matthew Wanoa (son of Major Tausie Tarsau) star for NZ.
Against strong competition from Australia and New Caledonia, Matthew took out the gold medal in the 16 year old Male Kumite event. Later on he helped the NZ Cadet Male Kumite team beat their Australian counterparts in the teams event to win another gold medal.
Matthew is one of the most exciting young fighters to watch out for on the international scene. And with the prospect of Karate being introduced into the 2004 Olympics as a competition sport we're sure to hear more.
Also at the Oceania Champs and representing Fiji was Rigamoto Kafoa from Vatukoula. The Fiji team led by their team coach/captain Stephen Brown did not go home empty-handed, winning a bronze medal in the Senior Men's Team Kata event. Fiji is bidding to host the next Oceania Champs in 2001.
---
From Daily Post (18 September 1999)
Rigamoto leads govt team on Rotuma tour
THE Assistant Minister for Agriculture, Fisheries and Forests, Marieta Rigamoto, leaves Suva tomorrow for a tour of Rotuma. Mrs Rigamoto will be accompanied by officials from the Ministry, Public Works Department, Ministry of Health and Ministry of Regional Development. The main objectives of the visit is to review the agricultural programmes on Rotuma with the hope of establishing new projects. The two main areas on which the Agriculture Ministry will focus its attention, are the Animal Health and Production and the Fisheries sector. The team will travel on the government vessel, Tovuto. A group of Animal Health and Production officials have already left for the island and will be conducting Tuberculosis (TB) test and other services. The Fisheries Division officers will survey the island for suitable places for seaweed farming.
"We will look at projects that will provide crops that can be stored for a longer period without proper cooling facilities," Mrs Rigamoto said. She also said that they will look at the possibilities of setting up processing plants for copra and oranges to overcome transportation problem. Since this is her first tour to Rotuma as the assistant minister, Mrs Rigamoto hopes there will be a lot of discussion on development in the island.
---
From Sanimeli Maraf in Suva (7 September 1999; posted 17 September)
Sanimeli Maraf recently returned from a meeting of the World Federation of Methodist and Uniting Church Women held in Samoa. She writes:
In Samoa beautiful flowers were everywhere; women wear flowers in their hair and bright smiles on their faces. The conference was attended by 258 delegates from Papua New Guinea, 21 from Tonga, 54 from the Solomon Islands, 52 from New Zealand, 26 from Australia, 41 from Samoa, 36 from Fiji, and 4 of us from Rotuma.
The theme of the Conference was "Holy Spirit Weave the People of the Pacific Together." The South Pacific Area President is Susana Setae from Papua New Guinea. This was my first time attending such a seminar, which is held every fourth year. I believe the next one will be in New Zealand. It was a good experience and you learn to share the knowledge to "know Christ and make him known."
Samoa is a beautiful place, clean and full of beautiful flowers, the result of good soil and land which is well looked after. Banana trees are everywhere. We were showered with gifts. "May God bless them always."
---
From Vamarasi Pesamino in Lautoka (6 September 1999; posted 17 Sept)
From 17 to 24 July the Miss Bula Festival 1999 was held in Nadi. Laurel Tafo'ou, whose parents are from Pepjei and Juju, was first runner up in the competition. During the Festival's craft fair that week a number of other Rotuman ladies won prizes. First prize for sewing a girl's dress went to Finau Motofaga, while first prize for sewing an apron went to Ma'ana Ravai. First prize for artificial flower arrangement went to Maria Penesio. All three first prize winners are from the Nadi Rotuman Women's Club. These women were so delighted and ferehit sema when their names were called out. The competition is very tough because there are so many good tailors around. The organisers changed the system of judging so that numbers were given to each item instead of the names of the maker. I think this is a fairer way to judge the women's work.
The women are so pleased that I encouraged them to join the Craft Fair and mix with other women's clubs. This is giving them an opportunity to learn new things, to make new friends, and to share their work with other crafts people instead of just working alone within the Rotuman community.
---
From Matlena (Maria) Dumas in Honolulu (14 September 1999)
At the 4 September meeting of the Tefui Club, at Heeia State Park, elections were held for club officers. The results of the elections are as follows:
| | | |
| --- | --- | --- |
| Office | Outgoing Officers | New Officers |
| President | Marseu Nataniela | Tifäre Sosefo |
| Vice-President | new position | Henry Morris |
| Treasurer | Luisa Manueli | Luisa Manueli |
| Secretary | Matili Liva | Matlena (Maria) Dumas |

Words of appreciation and support were expressed by several members of the club for the out-going officers and the newly elected ones. After discussing plans for Alan Howard's retirement party (see below), it was decided that the next meeting will be held at Kailua Beach Park at 3 p.m. as usual. The Christmas party will be held on December 11 at Vili and Jeanette Hereniko's house in Kuliouou.
---
News from Fiji (14 September 1999)
Among the ministers reassigned at the Annual Methodist Conference in August: Jione Langi, who assumed the post of Superintendent of the Rotuma division in January, has been reassigned to Butt Street in Suva. He will be replaced by Fekau Vai Taukave.
It has also been agreed that Malhaha will become a separate circuit again. Earlier in the century it was a separate circuit, but was merged with the Oinafa circuit.
---
From Rowena Langi in Auckland (14 September 1999)
This year the "Losa family" got together and fund raised for the (utu tefa') conference back home. We've named the little family "Tar se rua" after the fuag ri ne rotu in Losa. The meeting is chaired by Aunty Rosa (Penjueli), treasurer Aunty Rejieli (Cullen) and me as secretary. It was a great opportunity getting together and actually finding out who's from Losa...Rotuma's paradise....no longer the ghost town!!! There are quite a few of us; the Penjueli family (Rosa, Amoe, Thomas, Aggie, Philia, George & Darlene), the Lepper family (Mary-Rose, Graeme, Christian & Akata), the Lee family (Lily & Peter), the Vai family (Jieni, Tilisa, Jioje, Georgina & Katrina), Cullen (Rejieli), Kaitu'u (Tiva & Joe), Alfred (Faga), Eason (Selina), Kitione (Lillyann), the Konrote family (Fanefau, Joyce, Colleen, Stephanie & Damian), Khan (Tina), Lagi (Voi) & Langi (Rejieli & Rowena). not only have we gotten together to fundraise for the conference but also to continue the Losa connection here in Auckland. We've also had support from our fellow kainaga throughout New Zealand (Arthur & Ravai Shaw, Gabriel & Beverly Penjueli & Fonmanu Kitione). We meet once a month (usually at the Penjueli residence) but had to miss last month's meeting due to other commitments. It's usually a get together with lunch, We meet to discuss issues concerning the group and have a bit of laughter.
We've got another get together to look forward to, the NZ Rotuman annual meeting in October which is hosted by the windy Wellingtonians!!!
---
From Daily Post (Tuesday, 14 September 1999)
Atu accepts challenge
FIJI Boxing Council (FBC) Heavyweight Champion, Frank Atu has responded to a challenge from the new overall PBWA heavyweight champion saying he's ready to knock him out again.
Atu won on a technical knockout against Mosese Kavika in the fourth round of a non-title contest in Nadi last year. And the 27 year old Rotuman says he's looking forward to a repeat performance against Kavika, 31, when the two meet for a winner-takes-all unification contest.
"Kavika will have to sign a contract promising not to throw in the towel or make false claims about injuries if he feels he is losing as he is known to do in the past," Atu said.
"That's just not fair to fans who pay good money to come and see a fight that doesn't last long.
"Fiji has been waiting for a unified FBC and PBWA title for a long time and it will be a great boost for the sport if we can bring the two titles together and see once and for all who the real champion is," Atu said.
The FBC heavyweight champion has been out of the ring for some months now and a business trip to New Zealand means he would be available for a fight in December.
However Atu cautioned the event would have to be handled more professionally than recent promotions. Atu's concern comes after some fans who attended the recent PBWA events claiming sloppy handling of bouts by referees and no shows of some fighters.
He has pointed out Pradeep Shandil as one of the promoters capable of promoting the unification fight but it had to be under the auspices of the FBC and has to be carefully managed.
"The fight will be sanctioned through the FBC, which is the internationally recognised body that can be relied to use certified referees and abide by the international boxing rules," Atu said. The boxer also warned promoters to stop supplying reporters with false information to help sensationalise their own events.
---
From Antoine N'Yeurt in Suva (13 September 1999)
Next month there is a possibility I may go to the island for a week, with a govt team that will look into the problem of coral overtaking the fishing holes on the reef. Apparently one species (Pavona decussata) is suddenly "blooming" and creating a pavement-like surface on the reefs at Ahau, Hapmak and other places, spreading fast and raising much concern. This is an unprecedented event and is well worth investigating.
---
From Alan Howard in Honolulu (12 September 1999)
Yesterday the Tefui Club of Hawai'i honoured me by hosting a kato'aga in celebration of my retirement as Professor of Anthropology from the University of Hawai'i. It was one of the most rewarding and happiest days of my life. It was especially gratifying to have some of my dearest friends visiting Honolulu to join in the celebration, including Elisapeti Inia and Tupou Taukave from Rotuma, Ravai Shaw from Wellington, Martoa Dickinson from Sydney, and Munue and Phyllis Tavo from Alaska. Vilsoni Hereniko acted as Master of Ceremonies for the event which began in traditional Rotuman fashion with Elisapeti and Mereone Yee preparing a päega for me (and Jan, my wife) to sit on. Elisapeti acted as my mafua and Akerio Afasio announced the koua and kava and recited a fakpej he composed for the occasion. After these rituals were completed the Tefui Club danced a tautoga for the approximately 70 invited guests, mostly from the university community. It was a wonderful, spirited performance, and the audience enjoyed it immensely. The dancing was followed by speeches from university colleagues and Mrs Inia, and Jan read extracts from a collection of letters and email messages sent by former students and colleagues saying some very moving things about the effects I have had on their lives and careers. I responded to the speeches with one of my own, thanking the people for coming, the TefuiClub for all the hard work they did in preparing for the party, and a reflection on how fortunate I have been over the years, especially in having the opportunity to go to Rotuma when I was young and in all the wonderful, loving relationships my wife and I have formed with Rotumans over the years. The speeches were followed by a Rotuman feast of koua pig, taro, and fekei, supplemented by curried chicken, fish, mixed vegetables, salad and cake. During dessert music was provided by the Green Isles String Band featuring Jan as lead singer and the Nataniela family rounded out the entertainment with hulas performed by Maxine and Marseu, and their daughters, Resina and Marie.
After the guests left, and we'd cleaned up, some Tefui Club members hung around, and with Matlena Dumas playing the guitar, had a fara under the stars. For a photo montage of the party click here .
I apologize for posting such personal news on this website, and for the following posting by Martoa Dickinson, but she insisted and I don't want to be a poor host and deny her request. Se fek!
---
From Martoa Dickinson in Honolulu, 10 September 1999
Aloha Noa'ia 'e mauri from Hawai'i.
Some of us just arrived last night for Professor Alan Howard's retirement party tomorrow, which will be hosted by the "Tefui Club" of Hawai'i. They will perform a traditional Rotuman ceremony honoring Alan and will dance a tautoga. They will also provide a Rotuman feast.
Ravai Shaw (Wellington NZ), Mrs. Tupou Taukave (Rotuma), and myself arrived in Honolulu at almost midnight last night. Great to see ö'hön ta Elisapeti Inia (Rotuma), Alan, and Jan with tefui at the airport to welcome us to Honolulu.
There are quite a lot of congratulations, thank you, and well wishes messages already arrrived for Alan's celebration tomorrow, but I have chosen these two for our website. One is from Fekau Marseu & Emily in Rylstone NSW Australia; and one from Fekau Emotama Pene and Fereti Pene, Sydney NSW-- a Fakpeje dedicated to Alan, with ö'hön ta Elisapeti and my translation into English.
Dear Alan,
It is my joy to write this letter and to extend to you our thanks and congratulations for the wonderful work done over m any years. I am sure that I say this with the support of the Rotuman communities everywhere in the world. We all know the amount of help which you gave and continue to give towards Rotuma and its people. We sincerely hope that your retirement will be a restful one and at the same time a very rewarding one too. We pray God's blessings upon the future and your plans towards those years. May you have a wonderful time of Rotuman celebrations and we only wish we could be there. Martoa comes with all our greetings! She will bring you and Jan up-to-date stories of the happenings in Australia.
Again, thank you very much for all that you continue to do for all of us. We will hear from Martoa or from the internet of your time together. Please pass on our good wishes and hanisi to all who will celebrate together with you in Hawaii. Our love and thanks also to Jan. Fu'uomus ma hanis ne 'os 'Aitu. 'Amiar hanisiof, Fesaitu ma Emily Marseu
'Äe ö'fa hanis airet se 'amis famör Rotuma,
'E 'ou huagru'epoa, sol'akia se 'otomis 'aipoa,
Ta hoas peni'i'is noho roa,
La 'e avat ne la piri e rau pan keleag lelei ne hosa
Ka mouen ta hual ma'at ne täla po la fuer'akia,
La ar ma ne 'otomis 'ai poa Rotuma,
Fakim kikia 'e 'ai hu titi' ne fup 'e ufa ma ufaga,
Koaf se hefu ta poa a'ahelav la ma'upu e ara ne lagi,
Asa ne Rotuma 'äe ne a'a pen'i'isi
Ninia 'äe la Sau Alan, turo' kalog 'otomis ö'fa hanisi.
Alalum'akiof 'äe ma 'ou han gagaj ta Jan.
Hanis ti'uof, Fred/Tama

You are a real father to all of us Rotumans.
Your perserverance truly mingles with our fragrant flowers as
an everlasting sweet-smelling flower.
When it is time for the colourful petals of that flower to wither,
There remains a seed, matured enough for reproduction,
an impact on our sweet-smelling flower, Rotuma,
picked from the tall trees growing inland as well as along the beach,
the fragrance of which reaches up to the stars and the atmosphere.
You have surely scented the name of Rotuma.
Installing you as King Alan, excuse us Sir,
May our loving Father bless you and your wife Jan.
With much love, Fred and Tama
---
From Daily Post (8 September 1999)
HIGH Court Judge Daniel Fatiaki has been appointed chairman of a three-member Study Commission on Corruption.
The Commission will scrutinise the laws relating to bribery and corruption in the public and private sector.
The Study Commission will specifically look at: the need to maintain public confidence in the integrity of government and commercial and business dealings; the adequacy or otherwise of present powers of investigation and rules of evidence to deal withthis problem; the possible need for the establishment of a new independent body to deal with corruption enquiries and prosecutions; and to inquire into fraud and related matters.
Prime Minister Mahendra Chaudhry said the appointment underscored the government's will to introduce measures necessary for good governance based on democracy and the highest ethical values of integrity.
"In this instance it was an undertaking to ensure that we have a Government that rigourously observes the highest standards of integrity and that we build a society in Fiji that is based on the ethical values of honesty, transparency and accountability," he added.
Mr Chaudhry said that Mr Justice Fatiaki is being appointed in recognition of his extensive background as a prosecutor, private practitioner and over 10 years of experience at the High Court Bench.
---
From Honolulu (3 September 1999)
Yesterday, at the East-West Center on the campus of the University of Hawai'i, Elizabeth Inia talked to a packed classroom on the subject of "Preserving Indigenous Knowledge." Students from two classes in Hawaiian Studies and Professor Vilsoni Hereniko's class in Pacific Drama and Literature attended, as well as a number of scholars with an interest in the Pacific Islands. The talk was jointly sponsored by the Center for Pacific Islands Studies at the University of Hawai'i and the Pacific Islands Development Program of the East-West Center. Vilsoni Hereniko introduced Mrs Inia, who gave an historical account of the formation of Rotuman culture through the influences of successive waves of immigrants (Samoans, Tongans, Gilbertese, Maori, Europeans), each of whom contributed to the resultant unique mix. She underscored the importance of preserving the language, which she described as a blueprint for culture, and recounted her efforts to introduce Rotuman language materials into the schools in Fiji. Mrs Inia lamented the "missing generation" of Rotumans who have emigrated away and lost touch with their culture. She expressed the hope that modern technology, in the form of the internet and email, will help to bring these people back in touch with their language and cultural roots. The audience was enraptured by Mrs Inia's performance. They went away with a new knowledge of Rotuman culture and a better understanding about why it is important to make every effort to preserve indigenous knowledge before it is lost.
---
From ECOWOMAN, July 1999 edition
Interview with Fiji's First Female Agricultural Officer - Hon. Marieta Rigamoto
While Fiji's first female agricultural officer continues her pioneering through to the highest corridors of power, ECOWOMAN posed some questions to the 6-month old Assistant Minister of Agriculture, Fisheries and Forests about her groundbreaking days as the "less-than-welcome" first woman Agricultural Officer to be trained and employed in her professional capacity at the Fiji Ministry of Agriculture. Ms Rigamoto is s quick to acknowledge the major role of rural women in n agriculture and fisheries. Women are in these areas because it was the main means by which their families were fed and nurtured.
She saw ECOWOMAN having a role in high-lighting issues that could be brought to the notice of ministries for lightening the burden on women.
Here are excerpts from our talk with Ms Rigamoto:
What is the role of women in agriculture generally?
Traditionally women in Fiji are involved a lot in agricultural work. They are involved in cultivation, food gathering as well as fishing simply because they have to provide meals for their families. This has been their role in the past but has not been recognised as part of agricultural production until perhaps in the early 80s when people started to realise that the contribution of women to agriculture was quite substantial.
What were the main factors that contributed to the changed perception of the role of women in agriculture?
I believe it is due to a lot of women's groups trying to help the rural women. In the process we tried to analyse how they spent their time and find ways of improving life conditions for them. We found that a lot of their time is spent on fetching and preparing food as well as collecting firewood.
Is the Department of Agriculture focussing work on women farmers? fishers? gatherers?
Yes, we try to bring the farming of food for subsistence use closer to the home. We have also been providing vegetable seedlings which are easier to grow within their own vicinity.
Being the first female student at the Fiji School of Agriculture, how are women accepted in the field? Do farmer sand fishers accept their advice and help as readily as that of male field officers?
I went into agricultural training in 1963 as the first woman student in the Fiji College of Agriculture. In completing my three-year training I was granted a three year scholarship by the US government for a further studies. By the time I got back (three years later) to Fiji the Ministry had not worked out what to do with me. Because it was a male dominated area, placing me proved to be a problem. Eventually I was posted to extension division. Being a woman, I had some difficulty being accepted not only by the farmers but my collegues. It took time to get adjusted. The farmers were not very keen on accepting advice from a woman and a young one at that. Those were some of the barriers. However, I was advantaged in other aspects. When visiting farming communities I could talk with the women. This usually generated curiosity and interest from their husbands who would eventually join in.
What are some issues that you would discuss with the women at the time?
In fact, at the time, I was not really interested in the women. I was more interested in getting my message to the farmers and going through the women was an avenue of getting through to the farmers. Hence, issues I would discuss with the women would include: what is being planted, what food is being used subsistently and, who decides what to grow as well as how the income is spent, I found that a lot of decisions were arrived at with the woman's input, usually the wife, although it is not publicly acknowledged,
What professional roles are available to women in agricultural pursuits, both practical and administrative? ?
Well, I think since the early eighties we have a more even playing field. More professional women in agriculture are now working in areas previously reserved for men. We now have women in extension services, women in research division, we also have women in the policy analysis division.
Are women fieldworkers today easily accepted?
Oh! Yes. Farmers have accepted women and our collegues have accepted us. We've made sure that they know we are here to stay and the sooner they accept us the better it is for all of us.
What can ECOWOMAN do to help in the work with women in agriculture?
I guess ECOWOMAN can bring to the attention of the Ministry certain issues that need to be looked at and we could work together on them. The Ministry is here to serve and if a particular problem concerning agriculture is brought to our attention then we will have to find a way of working together with the agency that is trying to help to solve the problem. And if we find certain issues that need the contribution of ECOWOMAN then we will definitely seek your contribution.
ECOWOMAN seeks to network with women and men interested in the yoke-breaking, burden-lightening work of taking the innovations of science and technology to the doors of rural women and other women whose main preoccupation is to feed and clothe their families. The idea is to lighten their household duties to the point where they can carry them out efficiently and still have time left over to engage in small income-generating activities which contribute to the main preoccupation of women: that of giving their best for the betterment of their families.