From Sanimeli Maraf in Rotuma (14 October 1999; posted 22 October)
The Rotuma Hospital Board of Visitors has scheduled an Island Night on 21 December 1999 to be held at Kalvaka Beach Hall. Tickets are $20 a partner, which includes supper and entertainment (a floor show, music by the Sari'i String Band of Kalvaka, etc). Time is from 7 pm till midnight. The purpose of the event is to raise money to buy furniture for the hospital. Printed Sulus and T-shirts will be sold ($12 each) with a pattern inscribed with "ROTUMA 2000" showing a sunrise in the background. If you 're going to be on Rotuma at the time, or wish to reserve a sulu and/or T-shirt, contact Sanimeli Maraf (PO Box 28, Rotuma, FIJI; tel. 891-336).
Reverend Jione Langi and Gagaj Maraf are in Suva for the launching of the new Rotuman Bible on 16 October 1999.
A kato'aga will be held on 5 January 2000 celebrating the new millenium. According to the District Officer, Acting Chairman for the Council of Rotuma, each district will perform as follows:
| | |
| --- | --- |
| Noa'tau | Tautoag Fa |
| Oinafa | Ri Jaujau |
| Malhaha | Tautoag Hani |
| Itu'ti'u | Hafa |
| Pepjei | Mak Pak ta |
| Juju | Kaloa |
| Itu'muta | Mak ne 'Atmotu |

---

From Daily Post (22 October 1999)
Free at last!
AN elated Visanti Makrava walked out of the High Court a free man yesterday.
High Court Judge Peter Surman cleared him of all charges in connection with the collapse of the then National Bank of Fiji. Mr Makrava, the former chief manager of the bank, had been charged with four counts of corruption.
The assessors found him not guilty on all counts. "Oh it's such a relief. All the pressure and stress I had to endure for nothing is finally gone," a happy Mr Makrava said. The case had been in court for four years.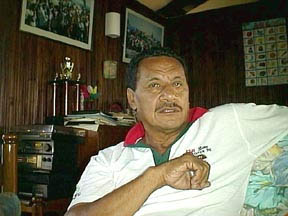 Visanti Makrava
Justice Surman concluded the case on Tuesday and gave his ruling after defence lawyer, Gangae Shankar and state lawyer Robert Shuster handed in their preliminary submissions.
"Having given careful consideration to the matter, aided by the various helpful submissions by the counsels, I have come to the conclusion that there are no special circumstances in these instances," Justice Surman said.
Mr Makrava was charged for alleged official corruption, larceny by servant, fraudulent conversion and embezzlement while he was NBF's chief manager in 1994.
He was alleged to have corruptly received the sum of $50,000 as benefit for approving a $400,000 bank loan for a company called Bula Piscatorial Limited.
The defence put forward by Mr Makrava was that the $50,000 referred to was part of a loan from a Mr Lovell, of the company. Mr Makrava said he loaned the money to buy a piece of land in Rotuma.
According to Judge Surman, the assessors must either have accepted the explanation above or have been unsure about the allegations.
In a statement to police that was presented in court by the prosecution, Mr Makrava had explained that there was an additional sum of $70,000 received from solicitors Sherani & Company which when added to the $50,000 received from Mr Lovell, made it $120,000.
The assessors were satisfied with the explanation and acquitted Mr Makrava on the charge.
"Majority of the assessors must have been satisfied with the explanation, or at least unsure that there were any sinister connotations on the allegations made," Justice Surman said.
Now that he has been cleared, Mr Makrava said he is happy and relieved but at the same time had lost thousands of dollars in the case. "All I can say is I am relieved that the case is over but it has cost me a lot of money.
"In legal fees alone, I have spent about $20,000 to $30,000 not counting the travelling costs for every trip to Suva from Rotuma whenever the trial or legal papers were needed to be done.
"I have suffered a lot of stress and pressure, all for nothing" Mr Makrava said.
He said he has been publicly humiliated and since the case started, his family has been very concerned and worried about him. "Right now they will be wondering about me, whether I am in jail of not.
"They have been very much affected by all that's happening," Mr Makrava said. Mr Makrava will fly back to Rotuma today where he resides.
He indicated that he will be seeking compensation for his loss.
---
From Fijilive (20 October 1999)
Excerpts of Marieta Rigamoto's interview with The Review
---
From Martoa Dickinson in Sydney (20 October 1999)
The Rotuman Language Workshop (RLW) has finished for another year (5th year). We finished for the year with a special dinner at Alan Walker College on Saturday 9th October and it was so great to have Rev Fesaiteu and Mrs Emily Marseu and also Hiagi Motofaga from the Divine Mission as our special guests, along with 24 students from Alan Walker College attending a counseling course. Mrs Kava Fonmoa and Rev F Marseu spoke and gave us encouragement to go on for another year. The students thanked us (the Rotuman Community) for including them in the dinner.
As chairperson for the RLW I'm very proud of our families that continued to attend. And my thanks must go to our teachers, Rev Emotama Pene and Mrs Kava Fonmoa, and also to Rev Marseu for his continuous support. On behalf of the RLW we wish everyone a happy Christmas and a blessed and peaceful New Year.
We wish Rev Marseu and his good wife Emily all the very best in their new posting "up north."
---
From Judy O'Donnell in Sydney (20 October 1999)
Judy O'Donnell is a work mate of Martoa (Marie) Dickinson at the S. Antonio Nursing Home in Sydney.
On 20 September this year, Marie extended an invitation to our staff to join in a Rotuman "Island Night" at a nearby bowling club & about 15 of us were able to go. And what a night it was. After polishing off the delicious buffet we were entertained by the Rotuman "Lalavi Band." I must tell you that Tama (Rev Emotama Pene) & his band had the entire place jumping & jiving for a few hours. And all for the bargain price of $20.
It was one of those nights when everyone was sorry to have to leave & we're all waiting for the next invite. Unfortunately the "Lalavi Band" isn't doing another public performance until next year. Don't leave it too long Tama!! The group was excellent & it was a pleasure to be amongst such a wonderful crowd of people. Everyone was so welcoming of we non-Rotumans & the fun & fellowship shared was really appreciated by us all. Some of us even attempted to learn some islander dancing techniques but we just don't seen to have the same rhythm!! A big thank you to everyone involved in the organisation of the evening & particularly to the musicians & singers for such fabulous entertainment. We await the next one eagerly.
---
From Fiji Broadcasting Corporation (20 October 1999)
Gen Konrote to retire: RFMF
The Republic of Fiji Military Forces has denied that the immediate past commander of the United Nations Interim Force in Lebanon UNIFIL, Major General George Konrote is back with the RFMF.
A notice in last Friday's Government Gazette says General Konrote is being reactivated into the regular force.
According to an army officer contacted by Radio Fiji, the publication was news to him. He says General Konrote has been posted to the reserve of officers.
The Government printer, Pio Tikoisuva could not be reached for comment as to how the notice on Konrote came to be in the gazette. The General has just completed his stint as commander of the UNIF in Lebanon and will go into retirement shortly.
---
From Fiji Broadcasting Corporation (20 October 1999)
Court to decide Makrava's fate
The Suva High Court is expected to deliver a ruling today deciding whether a further criminal charge against the former NBF Chief, Visanti Makrava should go on trial.
Makrava's lawyer, GP Shankar said yesterday afternoon that he had applied to the court to stop the trial from proceeding because his client had been tried for the same cases relating to the National Bank saga.
Shankar says if the trial goes ahead it will be an abuse of the court process. The Ba based lawyer says Makrava had been acquitted on the NBF cases against him and that the alleged transactions are the same.
The state will reply to Shankar's application for stay in proceedings today. Makrava is facing charges of official corruption. He's alleged to have defrauded $70,000 from a company AWT International which was kept in the trust account of a law firm.
Makrava is jointly charged with Suva lawyer, Ramesh Patel.
---
From Daily Post (Monday, 11 October 1999)
Rotumans converage on Sugar City for celebrations
ROTUMANS from all over Fiji and Rotuma came together in an annual sporting event that marked a chance to show their sporting prowess but more importantly to meet the long-lost relatives, friends and fellow islanders.
This Fiji Day weekend is earmarked for the last decade for the annual sports event for Rotumans. This year two teams from Rotuma were able to attend the tournament giving players from the island a taste of competitive sports.
The Rotuman Sports Council, on Saturday, welcomed the two teams and hope that the teams' participation will turn into an annual event.
However, the question of financial capability of the teams may be a deterring factor to such an achievement. Saturday proved to be a day filled with fun and activity with each team showing that competitive spirit in the hope of whisking one of the 16 trophies up for grabs in this tournament.
Sports played include volleyball, netball and rugby. Four new trophies were donated by Petueli Atalifo, a well-known bodybuilder, now residing in Sydney, Australia.
The four trophies will be personalised collections as winners get to keep them. The awards include Shooter of the Tournament, Most Outstanding Netball Player, 1999's Outstanding Forward Player/Backline Player.
Senior officials were at the games on Saturday as well as retired sports personalities. They found the tournament to be an avenue for improving sports in the community and introducing the finer details to youngsters in the community.
This year's event was encompassed by young players from each team with the idea to mould them into prominent sportspeople, but ultimately to get them interested in the social aspects of creating new friendships with youngsters of other districts.
Lautoka Rotuman Sports Club, Mairo hosted the event and organised a special evening for the visiting teams at the South Seas Club, with an Island Night Theme. Yesterday's programme included a thanksgiving service at Tilak High School, which was followed by a buffet lunch, hosted by the Mairo Club and the Lautoka Rotuman Community, comprising the seven districts.
---
From Yvonne Aitu in Suva (11 October 1999)
Some results from Rotuma Sports Day in Lautoka
A Teams Winner

Men: Ra'esea
Women: Lautoka

B Teams Winner

Men: Motusa
Women: Rotuma (splendid performance)
---

From Sanimeli Maraf in Rotuma (25 September 1999; posted 14 October)
On Monday, 20th September, the Government boat Tovuta anchored at Oinafa wharf bringing 50 officials representing different fields. Our Assistant Minister for Agriculture, Mrs Marieta Rigamoto, brought them. They inspected the main and feeder roads, the wharf and surveyed the seawalls at Oinafa, Pepjei, and Tuakoi. They examined the preschool and hospital, and assessed the status of animals and plants on the island.
The hospital medical team included Dr. Lo Alefaio (Divisional Medical Officer), Sister Lepper (Assistant Director of Nursing), Sister Rusieli Taukei (Divisional Health Sister, Eastern), Simione Radakua (Health Inspector for Eastern Division), Vandana Naidu (Environmental Officer), and Andrew Pene (Planning Architecture Officer for Rotuma Hospital).
The Rotuma Hospital Board of Visitors, together with the District Health workers, the hospital staff, and Dr Eric Rafai had lunch together with the visiting medical team after a lengthy meeting on Thursday. It was good to meet them in person. On Friday at the Council meeting, Dr. Alefaio made her recommendations for the hospital, including extensions of the dental, laboratory, and x-ray facilities. She also recommended an expansion of the District Health Nurse's room to accommodate mothers with their children visiting during 'clinic days', moving the kitchen closer to the hospital, providing more storage and laundry space, and many other alterations. Dr Alefaio asked the Hospital Board members to stand again for three more years to carry on the good work already done at the hospital.
MV Tovuta left at 6 pm Friday, 24 September, loaded with oso. The new government has new ideas and has made promises that are yet to be carried out for Rotuma, but we have confidence in Mrs Rigamoto and we thank them for coming to help our island and the taukeis.
On Friday's flight, 24 September, Dr Narain, an eye specialist from Suva arrived. Within an hour of his arrival he started to work on patients and will work through the weekend if needed; he's here for a week.
On the eastern side of Rotuma we have Mr Rupeti Mani with his bakery, supplying most of us. At Malhaha, Mr Kafoa Olsen supplies the western side of Rotuma (80 cents a loaf, hand-made so it tastes even better than the machine-made loaves).
---
From Daily Post (5 October 1999)
Lautoka to Host Rotumans
THE Fiji Rotuman Sports Council will celebrate the last Fiji Day holiday of this millennium, with a sports tournament hosted by the Mairo Sports Club of Lautoka.
Six clubs will participate in the tournament including the Rotuma Island representative team and Motusa Sports club.
The other clubs are Tieri Sports Club(Vatukoula), Mairo (Lautoka), Granville Club(Nadi) and from the capital are Sarafui, Ra'esea and Satarua.
The tournament will be held at the Churchill Park grounds two and three for rugby matches whereas the netball will played at the multipurpose courts.
---
(4 October 1999) Major-General Jioje Konrote has completed his assignment as Commanding Officer of the UNIFIL forces in Lebanon and has returned to Fiji. On his way home, General Konrote and his wife Sarote made a surprise visit to kainaga in Sydney, where he attended the first Catholic Mass performed entirely in Rotuman. Below is a report from Martoa Dickinson about the events:
"What a wonderful surprise it was for our Catholic relatives and friends to have George and Sarote share their first combined Rotuman Mass. We were disappointed we missed the actual mass but were privileged to share lunch and catch up with them all.
Everyone was so happy! The Mass singing (in Rotuman) went very well according to their 'Amnaki ma Roaitu se Gagaja'. We felt very honored to share their joy. I was glad that George and Sarote could be part of the wonderful day.
There was a good turn out of the Rotuman Catholic community in Sydney...and the lunch included 'koua' taro, pork, puatkau, fekei, salad, seafood salad, chicken etc. Dessert was strawberry cheesecake, blueberry cheesecake, plain cheesecake, coffee, tea, milo with french pastries, donuts, lamingtons, etc,etc.
The Konrotes and I left to attended the 3 p.m. Rotuman service at Wesley. Fekau Sydney Taito gave time during the service for George to give a speech. During afternoon tea following the service, the congregation again asked to hear from George.
I asked George for news for the website, and he gave me a copy of The Jerusalem Post which has a front page story about his retirement."
Here is a typed excerpt:
UNIFIL Chief Not Replaced (30/8/99) by David Rudge
No replacement has been named for UNIFIL commander Mj.-Gen. J. Konrote, who officially leaves his post today....Konrote, from Fiji, completed six tours of duty with UNIFIL, starting as a Captain and finally as Commander of the 4500 strong force. He has already made a series of farewell visits to Israel...and to Lebanon, where he was presented with the Order of the Cedars by President Emile Lahoud. A multinational farewell parade is to be held at UNIFIL's headquarters this morning.