From Savika Oakley in Auckland (3 February 2000)
The Auckland Rotuman group had their breakup at Maraetai beach (picnic and lunch). People played cards, swam, ate, joked, played guitar and we all had a good time. Visitors at that time were Marieta Pene (Suva), Mani Howard (Suva) who came for the Ellerslie flower show and stayed for Christmas. Filipe Nakaora was here in Auckland for few months working at Auckland airport (as an aircraft engineer). Also the Pacific Guardian ship was in Auckland. We had our Auckland Rotuman Fellowship meeting during our picnic and Fatnefau Konrote was elected Chairman. Other officers elected were:
Assistant Chairman: Toma Vaurasi
Secretary: Lillian Kitione
Assistant Secretary: Thomas Vaurasi (JR)
Treasurer: Darlene Penjueli,
Assistant Treasurer: Savika Oakley.
After the election of members we discussed the fara for Christmas eve.
The Auckland group had the prayer meeting breakup a week before Christmas at our house. The children decorated our house on 1st December as they do every year. After the prayers, we ate, sang and danced.
The Christmas Eve fara started at 11 p.m. and went right up to Christmas morning, finishing at 5.30 a.m. with a cuppa tea at the Varausi family home. The boys from the Pacific Guardian joined us, making a huge fara. Everybody had a lot of fun. After Christmas lunch, as we were preparing to have a rest after a hard night, there came a fara (Vaurasi family). They sang, danced, ate, lay down and rested, then sang and danced again. My kids were amazed at the thick residue of kefkefu'on on people's shoulders and heads. Well everyone did have a lot of fun.
The New Years Party was held at our house with a barbeque and dance. The party started at 6.00 p.m., and barbeque started at 7 p.m. Food was displayed at the table so everyone danced, ate, drank, danced, ate, etc.--it was a good way to unwind and enter the New Millennium. At midnight we lit fire crackers and sang 'happy birthday' to Amoe Penjueli. It was good to have the Penjueli family with us; everyone had a good time.
Next morning we ate, danced, walked around the farm, came back, ate, danced--what a cycle! On 2 January when everyone departed, I was able to have a good rest and catch up with sleep.
At present we the Auckland and Waikato group have joined together to perform a hafa for Ravai Rennel, who will be inducted on 12 February to be Minister for the Rotumans in Auckland. The Rotuman boys from the Pacific Guardian ship contributed some of the songs which they will sing and they'll play their guitars. There will be lots of food and dancing after the church service. Ravai's mother and aunty Marieta Pene arrived on 1 February for the function. We also have Aliti Mekatoa (Lautoka) with her daughter here in Auckland. She contributes a lot in making the tefui for the function and cooking puri.
---
From Suva (2 February 2000)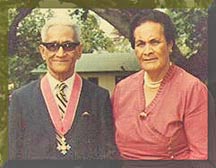 Josefa and Jiuria Rigamoto after receiving the C.B.E. Medal in 1982
We were greatly saddened to learn of the death of Josefa Rigamoto yesterday morning. Born in 1907, theson of Gagaj Tokaniua, district chief of Oinafa, Josefa Rigamoto was educated at Queen Victoria School in Fiji. He was the first Rotuman to enter Government Service in Fiji, starting work with the Native Lands Commission in 1924. When the Native Land Trust Board was formed in 1940, he was offered the post of senior draughtsman. After World War II broke out, Rigamoto joined the Fiji Military Forces and led a small Rotuman contingent that served as stretcher-bearers in the Solomon Islands.
He was awarded the Military Medal--a British medal awarded to non-commisioned officers and men of the Army for 'acts of bravery'. In 1946 he was appointed district officer on Rotuma, the first non-European to serve in that capacity. He spent three terms as district officer, returning in 1947 and 1964.
Rigamoto received the M.B.E (Member of the British Empire) from the Queen at Buckingham Palace in 1967 and in 1982 received the C.B.E (Commander of the British Empire) from the Queen a ceremony that took place in Fiji.
So valuable was Rigamoto to the Native Land Trust Board that he was repeatedly persuaded not to retire until 1990, when he was 83 years old.
| | | |
| --- | --- | --- |
| | | Uncle Josef, as we knew him, was a long-time friend and dear to our hearts. I (Alan) first met him in 1959 on my way to Rotuma. and was privileged to have him and son Walter visit me in Hawai'i on their way to England in 1967. Our friendship deepened over the years, and Jan and I never failed to visit him when in Fiji. He was a man of the utmost integrity--a rare man who should be long remembered and honoured by Rotumans everywhere. |
| Josefa Rigamoto (1907-2000) | | See eulogy given by Colonel Paul Manueli at Rigamoto's funeral |