From Fiji Times (31 January 2000, posted 30 April)
Rotumans plan for future
Members of the Rotuman
Nadi branch Etike Eliesa (left),
Aliti Wiliame and
Fatiaki Panapasa at the meeting
Rotumans living in Nadi have set out priorities on the education of their children on traditional customs.
The Rotuman Association's Nadi branch annual general meeting heard that customs and traditions need to be taught to the younger generation for their future.
The association's newly elected president, Varea Susau, said some of their children do not even know simple traditions like weaving a basket from coconut leaves.
"We need to keep these traditions alive otherwise the children will not carry on," Mr Susau said.
The meeting, attended by close to 60 people, decided that the association be open to those whose father or mother, or even grandparents, are Rotuman.
He said a membership drive would be done but the meeting decided that no levy be charged on anyone wanting to join the association.
"We have also started planning for the Rotuma Day Celebrations which will be held in May and hope to have something good prepared for those living here in Nadi," he said.
Mr Susau said unlike other bigger districts like Suva and Lautoka where the Rotuman community were divided into their districts, Nadi had only one association because of the small number residing there.
---
From Daily Post (20 January 2000, posted 30 April)
Maria chooses life as a nun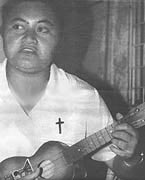 Maria Pene who has chosen to spend her life serving others.
Photo: Tevita Rabonu
Maria Pene has chosen a way of life that is a 'real struggle' but she believes she's made the right choice.
At the age of 24, Marie is studying to become a nun and has been doing so for the past three years.
She lives at the convent in Waimanu Road in Suva that is run by the Sisters of St Joseph of Cluny.
Marie, was brought up in Lami before her family shifted to Nasova but her family now lives in Rotuma.
"I first decided to become a nun mainly out of curiosity while I was a student here at St Joseph's," said Marie.
Marie, did her primary education at St Anne's Primary School and her secondary education at St Joseph's Secondary.
She is the eldest of four children, her father is a retired police officer and now lives in Rotuma with her mother.
"My choice came as a surprise to my mum and dad when I first told them in 1998 that I wanted to become a nun. At that time I was working for Gurkha Eden and Associates," Marie explained.
But according to Marie, it too her a long time before she was sure becoming a nun was what she wanted to do.
"I used to enjoy my partying like anybody else, but I always found there was something missing inside me, like an empty feeling. I was never really satisfied," she said.
She said her contact with the sisters through her youth group at the Sacred Heart Cathedral in Suva helped her to find what she had been looking for.
The Sisters of St Joseph of Cluny are a teaching order who work in kindergartens, primary and secondary schools but they also do a lot of social work. The order was founded in France by Anne-Marie Javouhey, a young girl in her twenties, her three sisters were among its first members.
World-wide, there are now about 3500 members of the Roman Catholic society known as the Sisters of St Joseph of Cluny.
Back in Fiji, young Marie will be taking her first major step to becoming a nun by making her 'profession of faith' next month.
She explained that this is when she will take her first vows dedicating her life to serving others through her work as a sister of Cluny.
"I'm not really sure if I want to become a teacher but the society leaves it up to the individual to decide depending on where their talents lie," Marie said.
Marie explained she still keeps in touch with her friends but that now it is different from before she joined the sisters.
"I have to be a lot more disciplined, it's like trying to get my priorities straight. I still go out to movies and all when I'm with my family but I don't suggest it, if I am asked then I go along," said Marie.
"Nightclubs are completely out of the question though," she added.
She said she has had a lot of support from her family and her parents keep in touch with her through letters and phone calls.
"For young people thinking of following the same path, I would advise you to talk about it with people whom you trust, tell them about what you want to become," Marie said.
She added that becoming a sister, brother or priest is not something a person can just think about today and then do tomorrow.
"You need to have a lot of questions in your mind about why you are making this choice, some join already knowing what they want, others find out while they are here," said Marie.
Sister Allison Macalister has been guiding Marie through her last three years and said the door is always open for Marie if she feels that becoming a nun is not what God has called her to do.
Note: Vamarasi Hereniko writes that Marie Pene is the daughter of Tarosila and Pene, the policeman in charge of the police station in Rotuma. He is from Noa'tau. Tarosila is a daughter of Pasepa and Aropio from Pepjei. This couple has a son, Petero, who is studying to become a priest with the Columban Fathers Society.
---
From Yvonne Aitu in Suva (26 April 2000)
Maniue Vilsoni is here in Suva with a team of three students: Moira Vilsoni (daughter of Maniue and Vika of Upu and Solmena, Malhaha via Ahau), Moriki Tigarea (son of Sukamanu and Aneseini Tigarea of Else'e Malhaha and Peter Albert (son of Ratu Jone and Mere of Samoa, Motusa). The team arrived on Saturday April 22nd from Rotuma.
The three students competed this morning at Fiji National Stadium in Laucala in the Maritime (Island) Zone Games, which is a combination of track and field events that predetermines who qualifies for the Coca Cola Games. The Coca-Cola Games (to be held on April 28th -29th at Fiji National Stadium) are the yearly athletic events for high school students throughout Fiji.
Moriki's events are the 100m and 200m dash; Peter's events are also the 100m and 200m dash; Moira's events are the Shot Put and Discus throws
The results were as follows:
Intermediate Boys 100m: 1st Place: Moriki Tigarea
Intermediate Boys 200m: 1st Place: Moriki Tigarea
Junior Boys 100m: 2nd Place: Peter Albert
Junior Boys 200m: 1st Place: Peter Albert
Moira Vilisoni qualified directly for the Coca-Cola Games as there were no other competitors in her events.
There were a total of five high schools competing, including: Koro Island High School, Rotuma High School , Gau Island, Adi Maopa High School from Lakeba Island, and Vunisea High School from Kadavu.
---
From Torike Sanerive in Melbourne (4 April 2000, posted 20 April)
On 10 December 1999 the Pacific Islands Community held a dinner for the older persons in the Pacific and some Aussies and VIPs from the government, etc. Our community and Fijian friends helped me cater the event. It was successful and people enjoyed our food.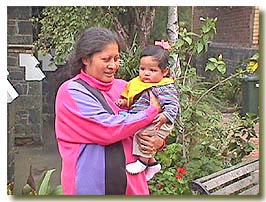 Torike & grandchild (Tobias)
Two weeks ago Kapi [Kapieni Patresio] and I were guests of Hiagi & Perau, two young boys from Juju and Pepjei who are in Melbourne studying to be Catholic priests at Box Hill. We were very happy to meet them along with other Pacific islanders, Asians, and people from other parts of the world. We attended mass on17 March 2000, St Patrick's Day, and were very surprised to find that the Rotuman boys were playing guitars at the mass for some of the songs. It was a lovely dinner and we sat and talked in Rotuman for about two hours. This Saturday 8 April 2000 we are having dinner with Perau and Hiagi at the home of Rev. Chris Mineilly and Eseta (his Fijian wife) at E. Doncaster. Also invited is Mr Miller who was their teacher in Fiji.
On 6 May 2000 the Rotuman Association of Melbourne is having a joint dinner dance with the Fiji Australia Association to celebrate Rotuma's Cession Day. We cater our own dinners; the menu for the night is a mixture of Indo-Fijian and Island--roast pork, roast beef, curry lamb andcurry chicken, taro, puri, rice, kokoda, 'ikou poatkau, and salads, fruits, and fekei (fakakai). Wish you all the best and also all Rotumans around the globe.
---
From Fijilive (20 April 2000)
Rotuman despair
SHIP owners operating in Rotuma have expressed their disappointment on the new wharf that was constructed in late 1998. Manager of Kadavu Shipping Apakuki Kurusiga said the wharf was too high for ships to unload.
"It has been difficult for our Bulou ni Ceva because all this time, we've had to unload from the side. Minister for Works and Energy Shiu Sharan Sharma said $900,000 was spent by the previous government to build the wharf.
"But all that money has been a waste because now it will have to be smashed down and re-built," said a disappointed Sosefo, a concerned Rotuman.
"That was a short-cut job," he said. Mr Sharma said they are planning on maintaining the wharf which is going to cost them around $600,000.
He refused to elaborate whether they were going to smash it down but added that engineers were working on the best way to repair it.
"My Permanent Secretary is having a meeting with the Minister for Regional Development and discussions on the matter are underway.
"But the work on the bridge is definitely going to start next month. All the machines will be taken there earlier in the month after the end of the hurricane season in April," Mr Sharma said.
---
From Martoa Dickinson in Sydney (19 April 2000)
The Divine World Missionaries, Australia Province, celebrated the first religious profession (first vows) of Hiagi Motofaga on the 25th March 2000 at Epping NSW.
The 11 a.m. mass was well attended by the Rotuman Community. Some of the Rotuman young people took part in the service. It was such a moving service from start to finish. The cover of the programme included the following wonderful verse, chosen by Hiagi.
The Lord is my shepherd and I want to follow
Wherever he leads me, wherever he goes
Over the mountains, by the waters and by the ways,
Valleys and highways he's waiting for me.
I want to meet him there to lay myself down in his love.
The Lord is my shepherd and I want to follow
Wherever he leads me, wherever he goes.
Presentation of the constitutions of the Society of the Divine was given to Hiagi after his vows by Reverend Father Provincial, the Novice Master with the following words: "Hiagi, receive the constitutions of the society of the divine word. These will give you direction in your personal growth, and in your life of service as a divine word missionary. Embrace them with a cheerful heart and follow them with fidelity, for the glory of the Triune God to the Father, Son and Holy Spirit, be glory now and forever."
Then Hiagi spoke, "I thank God, who makes all things possible. I have been truly blessed." Hiagi extended his gratitude and acknowledgement to his grandmother who came all the way from Rotuma and his Aunty from Fiji who came especially to be with him for the celebration, also to Sakaria and the Catholic Community in Sydney for their support.(I add appreciation to Alan and Jan who connected Hiagi to us Rotumans in Sydney) The Rotumans sang the final song for the service. Okaristia Ha Pau.
A Rotuman feast followed after with koua called out he'ak. Hiagi was provided a päega (special seat with mats and apei) which he sat on while the koua was called. The young Rotumans danced on the lawn entertaining Hiagi's guests. A wonderful day indeed.
---
From Sanimeli Maraf in Rotuma (2 April 2000, posted 13 April 2000)
Yesterday Fereti Susau brought a team of officials from Suva to look at the wharf and the road around Rotuma. The wharf is going to be extended and the ramp extended so that bigger ships can come in. They also looked for a way to keep the current from sweeping sand through under the wharf so it doesn't build up on one side. Fereti Susau is the Divisional Planning Officer for the Eastern Division. He is a cousin to our Assistant Minister of Agriculture, Marieta Rigamoto. We are thankful for all the help we get from our kainaga in Fiji and abroad.
On March 27th a celebration was held at Fesi, Noa'tau. A mamasa was held for the police launch, the FPB Haua, a 21 ft, 60 horse power, boat. Sgt. Pene is the police officer here in Rotuma. His parents are Firipo & Rigamoto of Fesi; his wife's name is Tarosila. Their daughter, Marie, is a Sister of St. Joseph in the Catholic Church. She's going to New Zealand soon. There will be two police posts in Rotuma, one at Pepjei and the other at Oinafa. When all the building is completed the launch "Haua" will be kept at Oinafa Bay.
Noa'tau district is busy trying to get their community hall finished for the opening two-day ceremony in December. Kainaga from Suva, Vatukoula, and Lautoka will be coming to open the hall. There will also be a men's agricultural show and lots of merrymaking activities.
---
From Fijilive (Thursday, 13 April 2000)
Rotuma health hope
THE government plans to upgrade the hospital in Rotuma and it should get under way by next year according to the minister for Health.
Dr Isimeli Cokanasiga made the statement while responding to questions from the member for Rotuma,Lau and Taveuni- Ratu Naiqama Lalabalavu.
Ratu Naiqama had asked Dr Cokanasiga what his ministry has planned for the renovations and upgrading to and the improvement to health services in Rotuma.
Dr Cokansiga told the house the ministry would be extending Rotuma Hospital's dental department, x-ray room, laboratory, operating theatre, maternal and child health clinic and the kitchen.
According to Dr Cokanasiga, architects from the PWD had visited the island and were already working on preliminary drawings. Members heard that this upgrading was a priority project for the ministry for Health in 2001.
Reportedly, there are also plans for the ministry to replace the ambulance which the Red Cross took back to Suva after serving the island for some time.
---
New Rotuma website (4 April 2000)
A new Rotuman website, operated by Taraivina Rae-Costello, an associate of David Korem and member of the Dominion of Melchizedek (DOM), has made its appearance on the Internet and can be accessed at http://www.Rotuma.org The website includes a news page, an interactive message board, and a chat room.
Recent visitors to the DOM website were interested to see that Rotuma is now listed as a "dependency" of the Dominion.
---
From Elisapeti Inia in Rotuma (21 March 2000, posted 1 April 2000)
The Bulou ni Ceva arrived on 9th March and left on the 15th; it stayed at the Hapmafau anchorage most of the time because of bad weather. Some of the cargo was unloaded at Motusa, but unfortunately both punts' engines were out of order and paddles had to be used. Luckily the weather improved on the last two days and the boad sailed to Oinafa to unload the rest of the cargo and load her with copra (not much because a barge came a few weeks before and took all of Ian Croker's dried copra and some of the cooperatives' copra as well. The boat left Rotuma at 10 a.m. on Wednesday the 15th and arrived in Suva at 3 a.m. Friday morning.
The date for the Methodist Conference, in Losa this year, has been set for 15 July.