From Alan and Jan in Honolulu (25 February 2001)
We have just returned from attending a conference in Miami, Florida, and took the opportunity to visit with three Rotuman families there. We were picked up at Miami airport by Harieta Guthrie who took us to her home in Miami for lunch, after which she, her husband Ian and sons Dane (age 14) and Christopher (age 12) drove us up to Tivaknoa (Ieli) and Dick Sievinen's home in Stuart, Florida, where we were joined by Tiva's brother Alfereti and his wife Jieni. We had a great time together and a great meal prepared by Tiva & Jieni, including 'ikou and fekei.
Harieta Guthrie teaches third grade at Kenwood Elementary School in Miami, and husband Ian, who is originally from Jamaica in the Caribbean, is a systems analyst. Their eldest son Sean (age 21) will be graduating from Boston College in May. He has one more year of eligibility there on his football scholarship and intends to go on for a Master's Degree. Sean plays defensive end and recently came to Hawai'i where Boston College played in the Aloha Bowl.
Tiva and Dick have been living in Stuart since 1973. They have a son, Eric (age 29), who is living in Provo, Utah, with his wife Linsey and daughter Wilomina. They manage a Brigham Young University student apartment complex there and Eric works part-time at an Ace Hardware store as manager of the electrical department. Their daughter, Mari (age 18), is attending Indian River Community College not far from Stuart as well as completing her final year of high school in a unique program that allows her to finish a year of college before finishing high school. Mari is majoring in business management at IRCC and made the dean's list last semester.
Alfereti and Jieni came to Stuart in 1984. Alfereti works as a plumber for a construction firm and Jieni works as a supervisor for Braille International. Jieni arranged for us to have a behind-the-scenes tour and we were fascinated to learn all that goes into producing books in Braille! Their son Hiagi (age 29) is currently visiting relatives in Brisbane, Australia, and daughter Akata (age 25) and son Freddy (age 21) are with them in Stuart. Akata has a son, Aisea (age 15 months).
See the photo montage of the Florida gang.
---
From Sanimeli Maraf in Rotuma (8 February 2001, posted 25 February)
Everything seems quit now that all our Christmas holiday makers have gone and we're back to our slow pace. We read with much interest Mark Vaurasi's news from Darwin on 8 November last year. Rotumans are all over the world. May God bless you all wherever you are. Alalum! And I would also like to congratulate Bernadette Ramafono at Sandhurst, England. I am sure you will pass with flying colours because you are from Itu'muta. Faiaksea.
On 27 January 2001 Malhaha installed a new district chief, Gagaj Fatafes Tarsau Etika. Hof'akiag ne as fikitua ma joliag ne niu heta se ia. The installation was performed by Gagaj Maraf. It isn't usual for a faufisi to become gagaj 'es itu'u, but it so happened that it was Gagaj Fikitue's kainaga's turn to take the title. Let us hope Malhaha district will prosper this year and always. Etika is the son of Vamarasi Tamalesi and Sukamanu Elaisa. His brother is Petero Sermana of One Tree Hill in Auckland. They are half-brothers of mine.
On 29 January 2001 a development team from the Rotuma Council visited Noa'tau district. The group included the new District Officer, Mr Luke Moroivalu; the Chairman of the Rotuma Council; the Police Sergeant, Health Inspector, and Post Office Manager; representatives from Telecom, Mobil Oil, PWD, Electricity, Water Supply, Airport, Road Transport, Agriculture, and the weatherman (an Indian guy). The Women's Welfare Coordinator was Moira Vafo'ou and the primary school teacher was Sarote Hanfakaga. Members of the development team explained their professional roles and answered questions. It was a lesson for all of us to learn and to understand a few things about how they might help to develop the island.
Dr Rafai has not yet been replaced, so Dr Taukave is acting Medical Officer until a replacement arrives.
The air service to Rotuma is now called SunAir, as a result of the merger of Sunflower Air with Fiji Air. The air fare has now gone up to F$330 one way, so most people prefer to go by boat if they're not in a hurry. The Cagi Mai Ba is clean, air conditioned, and fast. The fares are F$140 and F$95. All the cargo is stored in containers, which is good. On its visit last week it brought a new bus for the island.
The Bulou ni Ceva arrives today for the copra, etc., so transport is getting better if you want to take oso to Fiji, or cars, etc.
---
From Teresia Teaiwa in New Zealand (25 February 2001)
Fiji's latest music sensation, "Black Rose" has released an album called "Voices of Nature" with one track of a Rotuman medley titled "'Aus Noaia" amidst a great selection of synthesized versions of old Fijian chants.
And rumour has it that Daniel Rae Costello has just come out with a CD of all Rotuman tracks.
Ngaire Fuata Coley has recently joined Tagata Pasifika as Production Manager. Tagata Pasifika (Pacific People) is TVNZ's Pacific Islands half-hour magazine in English covering communities in Aotearoa. Seven major island communities are the target audience. Ngaire has worked for TVNZ since 1988 and has presented the show from time to time for four years.
---
From Alan and Jan in Honolulu (25 February 2001)
While we away we received, courtesy of Tomasi Sumasafu, the second issue of Noa'ia Rotuma (dated Thursday, 8th February, 2001). The issue includes the following articles:
Manu väe ut se Marist
Theresa - a'es'ao'ak a'lelei talen ne 'os Gagaj Aitu na se ia -
Ö'Ö' ne Lau hü; vahia 'umef rua 'e fau fo'ou te'
Sal vas tanu - holholiag hete'is la vaohian 'e kisi?
Henry Gibson la haiasoag la Rotuma la fu, ia 'esea he
'Inia 'ua'ua'akiof se gagaj Markao
Fau 38 ma kota 'Apao hü' hoi'ak se Rotuma
Tauna'it ne la 'ut'akia nohnoh 'on famor Rotuma
Hän mumuet ne po 'on läesin ne mou se sal 'on 'ahai fere
Maka...te ne a'furmaria huga
Hune'el keleag lelei ne 'os 'atmota 'e Rotuma
Fekau 'Isimeli tär he' te 'on Gagaj Aitu
Misau fe'en ma po 'on ip he rua
Mias Rotuam mumuet ne a'sok 'e Nadi
Rotume te Nadi hilia Susau la 'oris gagaj puer ta
Noa'tau ma Itu'muta a'sok 'oris tauna' ne hula 'e Suva
Höt'äk haf 'on Josefa Rigamoto
Kemueli kat 'oaf re se tor ava
There are plenty of black & white photos accompanying the articles.
---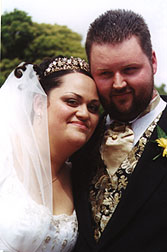 Rejieli & Duncan
From Janice Atalifo in Ballarat, Australia (2 February 2001)
On 14 January 2001 Rejieli Paulo, whose reputation as an opera singer is on the rise in Australia, married Duncan Shepherd. For the event her mother, Irene, secretly organised a traditional Rotuman tautoga in honour of her father, Ieli, who was killed in an industrial accident in 1995.
The groom sang "It had to be you," adding to the more professional entertainment. A reception was appropriately held at an Italian restraurant in Camberwell. Even the 37C heat could not dampen the joy of the occasion.
---
From Harieta and John Bennett, just back from Rotuma (1 February 2001)
Five boats visited Rotuma over Christmas (Bolou Ni Ceva, Island Navigator, Cagi Mai Ba, and two Gov't. vessels) and Sunair made daily flights to Rotuma until the fuel for the back run in Rotuma ran out. There may have been as many as 800-1000 visitors over the fara season.
There were a number of höt'ak hafu's (eg.- Vamarasi Gibson, Mesulama, Tivaknoa Merutu, Billy at Malhaha, Fakiaki Lu at Motusa). Sadly, a number of people passed away over Christmas and New Year including: Gagaj Tuipeua - Malhaha, Gagaj Tigarea - Losa, Itu'tiu, Gagaj Tivao - Hapmafau, Marseu - Itu'muta, Kamoe, Tuakoi, and Fanefau - Ahau.
There were two weddings including Akaka & Sorpapelu's son Willie from Lopta who married a part-Rotuman girl from Australia [see photo], and Akata and Fonman's daughter Maggie who married an American from Boston, who works in Suva [see photos]. The Itu'muta Band performed at the Motusa wedding and the han mane'ak su was Akata from Saolei.
Mojito and Mata have continued to improve and develop their lodging facility at Motusa that includes the Barfly Tavern. The most recent development has been the construction of a new ri fak Rotuma using local materials. It's a cheerful place to stay and the hospitality is second to none.
Raki Tigarea (Losa) was installed as Tigarea following the death of his father.
---
Gagaj Markao of Itu'tiu and son Mariko at their kava plantation in Tuakoi
Katuagtau (Kunusi Pene) was installed as as a fa es hoaga (toko) at Maftoa [see photo]. The installation was followed by a splendid feast.
While on Rotuma Harieta and John Bennett convened several informal meetings with various members of the Rotuman community including Gagaj Markao, Isapeti Inia, and sub-chiefs of Itu'tiu to encourage planting of kava as a potential cash crop to augment the present income from copra. They visited a number of productive plantations and discussed plant propogation methods as well as processing techniques for the future sale of kava. John and Harieta would like to see kava becomes a significant income earner for Rotumans interested in participating. They have an established market and would like to see Rotuman farmers benefit from this by cultivating their rich soil. For more information on John Bennett's kava operation in Hawai'i, click here.