From Bruce Tizard-Varcoe in England (31 May 2001)
Simpson Skippers and Scores for England!
Nigel Simpson, son of Tupou ('Tippy') and Ian Simpson and brother of Alona, was made Captain of the England Rugby Sevens Squad for the 'London Sevens' (27th & 28th May).
On the first day of the competition, England topped their pool by beating Samoa 22-19, Wales 19-0 and West Indies 36-5.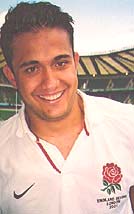 Nigel Simpson at the London Sevens
At Twickenham stadium the next day, England narrowly lost to Fiji in the Quarter-Finals 14-12, one of the try scorers being Nigel. Out of the 'cup competiton', England were now competing for the second-tier 'plate competition'. England faced Argentina in the semi-final and once again Nigel scored a try, leading his team to a 33-14 win and into the final where they met South Africa.
Despite his huge disappointment in the loss to Fiji, which his team could have won, Nigel managed to find time to meet up with the small Rotuman contingent amongst the Pacific Islanders Rugby club crowd in the stands. This seemed to pick him up for victory against Argentina and despite the words from Fereti Atalifo, "Come on Rotuma!" (to which Nigel gave a broad smile and a look into the stands), South Africa went on to win the 'plate competition final' 31-7.
The final tournament of the IRB World Sevens Series, is in Cardiff, Wales and begins on Saturday 2nd June, ending the following day, after which will provide Nigel some much needed rest from jetting around the world with the England team. "I've been living out of a suitcase for the past two or so months!"
---
From Mereana Emose in Palo Alto, California (25 May 2001)
Rotuma Day Celebration from California
…..and so you've heard about our soiree? Yes, indeed! The Seven Stars of Rotuma Club in the California Bay Area (named for the seven districts of Rotuma) hosted a Rotuma Day celebration on Saturday, May 12th, 2001. This year's party was held at Kings Center in San Mateo, California, and was attended by relatives and friends from Fiji, the US mainland, and Hawai'i.
The party began at 6:00 p.m. with a welcoming speech by Supa Susau, the club's chair. Ostonu Moeava was our master of ceremonies and Fekau Muahea'he'a (from Chicago) was our spiritual leader for the evening. After a sevusevu from the Raiwaqa Rugby Club, our guests had the pleasure of hearing first hand Rotuma's anthem "Atumotu helava la kele," followed by the tautoga. Emeli Hay was the purotu and she did an excellent job composing songs for the kato'aga. The men, women and children were a delight to watch; especially those dancing for the first time. I must say that I was proud to see our Rotuman and non-Rotuman children and friends in the Bay Area learn our cultural dances (tautoga) and perform them well.
The entertainment for the evening also included Samoan, Maori, Tahitian, and Banaban dances, (yep! we do have a newly formed Kiribati group in the Bay Area!), a Fijian meke by the Raiwaqa Rugby Club, Samoan again! and Rotuman dances. The performances were well received by all (selene 'on taktak fir'aki 'igke 'ea te mea'me`at).
The tela'a (menu) included hat rua, 'a'ana, kumara, parusame, poat kau, kare moa ma kare sipi, tan mami, keke ma te mafa, and last but not least, finger licking fekei 'a'ana! Vaurasi, Varea and Margaret were the dedicated helpers in the kitchen who kept the food tables well stocked.
The ever popular "Fatumava" band serenaded the crowd and there was dancing for the duration of the evening.
Members of the Seven Stars of Rotuma Club
Petero ma Makereta Rigamoto
Ostonu ma Betty Moeava
Supa ma Margaret Susau
Bill ma Emily Hay
Eliki ma Matofili Delai
Arone ma Leslie Samuela
Bruce ma Aitu Richmond
Joe ma Lilly Crocker
Joel ma Mereana Gibson
Mika Taito
(families included)
'Ua'ua 'ak se te' ne hensasiag, kainag ma kaumaneag (extend our sincere thanks and appreciation to all friends and relatives) who came from near and far and helped make this day special. We hope that you and yours will join us again next year.
Alalumu ma hea'hea' lelei se 'aus atakoa!
See photos
---
From Fiji Times (22 May 2001)
The Lio' 'On Famor Rotuma Party (LOFRP) has not decided on the Fijian political party it would join. Party President, Sukamanu Pene said there were so many parties to choose from and the party needed to thoroughly discuss the issue before committing itself.
He said the party had an annual general meeting at the weekend to discuss elections campaign strategies.
"We have asked for aspiring candidates to apply before the end of June when a selection committee will sit to decide who will represent the party during the elections," Mr Pene said.
---
From Aisea Mua, back from the San Francisco Bay Area (20 May 2001)
Like their kith and kin across the globe, the San Francisco Bay Area Rotuman community celebrated Rotuma Day on 12 May. This year the event was held in San Mateo, which is centrally located and offers very fine facilities.
The Seven Stars Club hosted the largest crowd yet in their annual celebrations of Rotuma Day, and they hosted it splendidly. The organization, and especially the haihanisiga, were unmatched. Flowing all night was my all-time favorite beverage, yaqona ni viti, kao ta 'oan pau ko aferet.
A welcome address by leader of the Rotuman community, Supa Susau, opened the festivities.
The most outstanding feature of the celebration (some would say the second most outstanding, with numero uno being the fekei), was the individual items performed by the families from the Bay Area and beyond. They were all superb and well received by the appreciative audience. And while each person had their favorite item, including one lady acting as han mane'ak su who hilariously tried to make off with one of the dancers in the maka, I liked them all. They were well rehearsed and showed a diversity of talent. Kua la na kana...come again.
The Seven Stars also featured a mak Rotuma, minus a sua. But when taken in the context of the number of dances iris ne kota la mak mumueris, ka kat fäeag Rotuam ra, well over 50%, and the beauty of the women, that is nothing at all. Nothing. It is a reality that is faced by all Rotuman communities away from the heartland.
The food was plentiful and included hat ti' rua, fekei, parisama, 'a'ana, poat kau, kare moa ma kau, te mafa ma'oi, kao 'ona, tan mami, and plain agua.
Ensuring that the food was plentiful and well supplied were Vaurasi and Varea (Supa's older brother and the leader of the Rotuman community in Nadi), Margaret Susau, Betty Ostonu and her sister. Alas, the delicious fekei disappeared by half time. In Rotuma, and perhaps in Fiji as a whole, this variety of fekei (mara ma 'a'ana) would not have been described as delicious, and it very definitely would not have been "kalas baito" by half time. But it was, and so for next year make 16 extra large te pasi, multiplied by two, in a separate koua at Pittburgh or Vallejo, and also include fupagmasi on the menu, as it is the secret to a well-rounded meal (efe) and smile.
To Supa and Margaret Susau, and the families of the Rotuman fraternity in the Bay Area, gracias, fa'afetai lava, vinaka vakalevu, faiaksea 'e hanisi mon mafut se 'omus sasiag heta le.
---
From Alan Howard & Jan Rensel in Honolulu (19 May 2001)
On Thursday, 17 May, Vilsoni Hereniko's new play, Love 3 Times, premiered at Kumu Kahua Theater in downtown Honolulu. It played to an enthusiastic full house and is scheduled for several performances a week for the next month. The play is in two acts, the first taking place on Rotuma, the second in Honolulu. As described by the director, Megan Evans:
This play is about a family. The kind of family more and more of us are a part of. A transnational family. Family was hard even when parents didn't divorce, when grandparents lived in the same town, when kids stayed in the same country. Now we live more and more like branches of an urban banyan tree--our roots dangling in the air, too distracted to make it to the soil below. But we still try to love our families. We connect be e-mail instead of over the kitchen table. We try to live a year's worth of relationship in a five-week summer vacation. And sometimes, as in this story, one of us succeeds. One of us makes a parent proud, earns a son's respect, rekindles a lover's adoration. One of us finds the soil.
In a preperformance article published in the Honolulu Advertiser on 11 May, Derek Paiva wrote the following about the play and its author:
Local playwright Vilsoni Hereniko, is audibly taken by surprise when at the beginning of a telephone conversation about his latest work for the stage, "Love 3 Times," this writer asks why he decided to compose a serious drama Suddenly, notes must be shared.
On my press release: A 40-year-old Honolulan returns to the island of Rotuma, near Fiji, where he grew up, bringing along his Caucasian wife and teenage son from a previous marriage. He deals with many difficulties, including his son's rebellious ways and insensitivity to local culture, his wife's feelings of neglect, and the ghost of his dead father, who chides him for disobedience and failing to raise his son properly.
On Hereniko's publicity paperwork: A charming comedy in which a Pacific immigrant filmmaker living in Honolulu involuntarily imports the pesky ghost of his father on a return visit from his home island of Rotuma. He finds the ghost's presence more hindrance than help in resolving relationships with has haole wife and precocious 15-year-old son from a previous marriage
"Now which one sounds better to you?" asks Hereniko, exuding a hearty guffaw. I kind of like the one I read to you a lot better, don't you?" We agree, and all is well again.
Hereniko's "Love 3 Times" premieres for a month-long run at downtown's Kumu Kahua Theatre Thursday, under the direction of University of Hawai'i-Manoa Asian theater Ph.D. candidate Megan Evans.
Hereniko, a native of Rotuma like "Love's" befuddled protagonist, has completed more than 15 plays since he first began writing them as a college student in 1975. Now 47 and living on 0'ahu full time, Hereniko confesses to a career-long love of documenting the challenges and joys of cross-cultural relationships.
In fact, some of the situations in "Love's" story are loosely drawn from Hereniko's real-fife trials and tribulations with his son, now living in England.
"Over the years, I've wanted him to be brought up the way I was brought up by my father," says Hereniko. 'With very traditional Pacific values of generosity, being part of a group... the kind of things that matter to island people. But when I take him to Rotuma, he is so out of place that he's like a fish out of water."
Hereniko says the play's title refers to the three loves in the protagonist's life: his wife, his son and his dead father. "He's constantly trying to juggle these three competing and often conflicting kinds of love because everyone wants a bit of him," says Hereniko. Just don't ask him how autobiographical "Love" really is.
"All writers draw from their own life experiences. The story is, of course, separate. But that's one of the wonderful things about being able to use your imagination," he says.
---
From Fijilive (15 May 2001)
Rotuma export talks
THE people of Rotuma can look forward to exporting their farm produce to neighbouring island countries in the not too distant future. This was revealed by the former Minister of Home Affairs Colonel Paul Manueli when opening the Rotuma Agriculture Show in Ahau as the island yesterday celebrated Rotuma Day.
Rotuma is known for its abundant stock of root-crops and fruits and while admiring the gigantic yams and taro on show, Mr Manueli said he was optimistic that the Ministry of Agriculture would help farmers on the island export their produce which were often left to rot in the fields because of shipping problems that had been prevalent for this far flung island.
"I welcome the negotiations being undertaken by the Ministry of Agriculture with our neighbouring islands for the export of our root-crops," he said. "This will greatly boost the earning power of the people in the island as we expect to be exporting 122 tonnes of root-crops per year."
The island is bustling with activities with the Women's Show and the primary schools athletic competition were also underway at the Ahau Government Station Grounds yesterday.
---
From Fijilive (15 May 2001)
Rotuma welcomes vice president
VICE President Ratu Jope Seniloli was yesterday welcomed on the island of Rotuma by the chiefs and their people before the celebration of Rotuma Day which starts today.
Ratu Jope was first accorded the "Sua Ki" the traditional Rotuman ceremony of welcome followed by another the "Mamag Forau" at the Ahau Government station. Chairman of the Rotuma Island Council Chairman Visanti Makrava in his welcome speech assured the Vice president that Rotumans have always been loyal citizens of Fiji.
Mr Makrava said Rotumans had made a small but useful contribution to the development of Fiji and would continue their support of government since the people of Rotuma fully supported their chiefs and council. He said that the council would continue to ask Government for improvments in shipping and air service, roads, medical facilities, schools water supply and the construction of sea walls.
He [the vice president] said he was encouraged to see that the islanders still practiced their time-tested culture, which was something he too would like to see his own people do. The men of Oinafa performed the "sua ki" - a ceremony similar to the Fijian Vatanitawake. It involves the men dressed in loincloth and chanting traditional songs while carrying the visitor on specially prepared seats. The ceremony is accorded to visitors of very significant status.
---
From Antoine N'Yeurt in Suva (13 May 2001)
Today's celebration for Rotuma Day was quite a success, with many people attending and the chief guest, Prime Minister Laisenia Qarase. All seven districts performed dances and total money raised was over 10,000 dollars, with a $4000 donation by the PM. The food was excellent, too-- so well prepared and served.
Prime Minister Laisenia Qarase dancing with the Itu'muta group
For additional photos of the Rotuma Day celebration in Suva click here
---
From Fijilive (13 May 2001)
Rotumans collect cash
Rotumans collected $14,000 in yesterday events of the Rotuma Day at the National Gymnasium in Suva. The celebration, which had the theme Reconciliation and National Unity was attended by over 2000 Rotumans from around Fiji.
Chief guest at the celebration was Caretaker Prime Minister, Laisenia Qarase who gave $4000 from his pocket.
In his speech he commended the Rotumans for managing to preserve a way of life and a way of looking at the world. "You have retained traditions, language and love which represent the very essence of being Rotuman.
Similarly, the Fijians hold fast to the more and ethos of their indigenous culture." Both races he said, owe it to their heritage and the world at large to protect their species.
The celebration is an annual event in commemoration of their ancestors who decided to be governed as part of the British Empire's colony of Fiji 120 years ago. The island of Rotuma has seven districts, Noa'tau, Oinafa, Itu'ti'u, Malhaha, Juju, Pepjei and Itu'muta. Districts take turns in hosting the celebration. Chairman of the Suva seven districts committee and Noa'tau district in Suva, Fuata Faktaufon, said his distict hosted this year's celebration.
"The celebration is the most significant one because the caretaker prime minister was present and this is the first time a non-Rotuman is attending the occasion," he said.
"Yes, it was indeed a success!" Mr Qarase also said that although Rotumans have a distinctive identity, they share with Fijians certain characteristics found among other ethnic groups in the Oceania region. The most important of these, he said is the social structure of the hierarchical system at the top of which are the chiefs.
"To the Fijians and Rotumans, the chiefs are a symbol of our culture and being. They represent continuity, tradition, social unity and order. Take them away or lessen them and we are adrift; we would lose one of the central elements of our identity."
He added one of the defining features of our societies is the communal ethic, obligation of working as a group for the betterment of all and the desire to share with others.
"There is a place for this in modern Fiji and the workings of the economy."
Mr Qarase said this would only operate fully well if those employed in the urban areas mobilise to assist people back in the village.
---
From Alan Howard in Honolulu (13 May 2001)
| | |
| --- | --- |
| On Saturday, 12 May, Inoke Breckterfield, son of Pasepa and David Breckterfield, was married to Carol Hatcher at Kailua Methodist Church, in Kailua, Hawai'i. A reception was held for the couple at Kualoa Ranch. | |
| | Carol and Inoke Breckterfield |
---
From Fijilive (13 May 2001)
Rotuma given three seats
The Great Council of Chiefs, at its recent meeting decided unanimously to have three Rotuma representatives to the council.
Caretaker Prime Minister, Laisenia Qarase said so while opening yesterday's Rotuma Day celebrations at Suva's National Gymnasium.
This opportunity he said, will give Rotuma the same representative status in the GCC as the fourteen Fijian provinces.
"For my own part, I have made sure that Rotuma is also embraced and covered by the blueprint and the 20-year development plan for Fijians and Rotumans."
Mr Qarase said this would lift the level and scope of participation of both Fijians and Rotumans in the economic and social life of the country. "In the ultimate, through good education, individual and collective initiative and hard work, our success lies in our own hands, and many of you who are here today (yesterday) are outstanding examples of this success."
Politically, he said Fiji is in crisis as we confront the truth of living in a culturally diverse society and in seeking the best way in avoiding a repeat of last year's violence.
Mr Qarase said the present divisions among the Fijians are not good for the vanua and the country and they are certainly bad in the political sense. He said the community would have to work hard in order to bring about unity and that there are many reasons for this fragmentation. "But it can be done and I hope I can contribute to this in my own way.
The chiefs, and what they symbolise will be critical for this reconciliation." Mr Qarase added the representation and participation of Rotuma in the GCC recognises the close relationship between the communities and the shared acceptance of traditional authority.
Meanwhile, there was some misunderstanding about media admittance into the Gymnasium yesterday morning. The Sunday Post team was finally allowed in later in the day after being held up for some time. However, when the chairman of the Suva Seven Districts Committee, Fuata Faktaufon was informed, he said he was not aware of it.
---
From Sydney (10 May 2001)
The Suva Itu'muta Association is hosting a fund-raising Dinner and Dance here in Sydney. The details are as follows:
Date: Saturday, 25 August 2001
Time: 6.00pm-12.30am
Venue: Ryde Civic Hall
Blaxland Road
Top Ryde
Cost: A$35.00
Dress: Smart Casual
An invitation is extended to all Rotumans and friends. BYO, and come along and enjoy a succulent island buffet. Dance the night away with the ever popular and well-loved Fiji band, "Kabani."
To avoid disappointment, reserve your tickets now by emailing your name, address and the number of tickets you require to islandnite@itumuta.com
Ticket reservations can also be taken over the phone on 61-2-8784-4053.
To guarantee your booking, or if you'd like to give a donation, send your cheque or money order today to Suva Itu'muta Association Inc., PO Box 437, Broadway NSW 2007, Sydney, Australia. (All cheques/money orders to be in Australian dollars and made payable to S. Pene.)
All proceeds will go towards the further development of Itu'muta Village in Rotuma.
---
From Sanimeli Maraf (17 April 2001, posted 6 May)
We had Easter camp at Malhaha this year; it was attended by 140 people, young and old. Next year Noa'tau district will host it and Itu'muta has already booked the event for 2003.

Tiu Malo
Mr Tiu Malo is here in Rotuma visiting districts, discussing their problems, and giving advice. He represents the Rotuman community in Suva to the Reconciliation Unity Council in Fiji.
Our Rotuma Day celebration this year will be for three days as we are having visitors coming from Fiji. The programme is as follows:
First Day
Arriving by boat on the morning of 14 May is Ratu Jobe Semiloti, Assistant President of Fiji, together with the Police Band. Oinafa District will perform the ki. The party then goes to Ahau for the mamasa. During the break Ratu Semiloti will tour the government station, including the hospital and weather office. The Malhaha High School will perform the hafa. Ratu Semiloti will be hosted by Malhaha District, and the welcome service will be at 8 p.m. in Malhaha.
Second Day
In the morning Gagaj Maraf will give a welcoming speech and the Noa'tau district will perform a traditional tautoga. The agricultural and ladies handicraft shows, and the school children's athletic competitions will be held. The district officer will host a cocktail party at 8 p.m. at his residence.
Third Day
Prize-giving ceremonies for all competitions. Performance by the Police Band (which will be performing all three days).
Fourth Day
Visitors leave for Fiji.
---
From Fijivillage (3 May 2001)
Newly appointed Supervisor of Election to draft budget for elections
The newly appointed Supervisor of Election Walter Rigamoto's biggest task ahead of him is the drafting of a budget for the August general election.
Rigamoto says he will have to liaise with the four Divisional Commissioners regarding the budget. He says the Commissioners have sent in their draft to the Central Office. Once he's discussed with them, a finalised budget will then be complied and then submitted to the Central Government for approval.
Its understood the election will cost around $8m to $9m of which $3m has already been allocated.
---
From Fijivillage (3 May 2001)
Police hunt for local musician
The hunt continues for local musician, Freddy Fesaitu who is allegedly connected with an American visa scam. Fesaitu went into hiding after appearing in court in early February.
The amount involved in the scam is about $100,000. Meanwhile police have not ruled out the possibility that Fesaitu may have left the country. Interpol assistance may be sought if he is not located.