From Lavenia Emberson-Hickling in Wellington (28 June 2001)
It is with great sadness that I announce the death of my mother Maserina Akanisi Emberson who passed away peacefully on Wednesday, 13 June 2001 at the Wellington Hospital, NZ. Maserina was the youngest daughter of Vikatorie Fesaitu and Sumasofu Visoni of Mal' sa' a, Pep' ha' ua, Malhaha, Rotuma.
Maserina is survived by her children: Edwina, Rosie, Roger, Torika, Freddy, Lavenia, and Moses as well as Janet, Tupou and Emily, her brother Gagaj Terotum, sister Vafo'ou, their children and the children of her late sister Kiji Solval, other family and friends of this wonderful and caring woman.
After a short battle with cancer, our mother went to meet her Jesus quietly leaving us all to grieve the loss of a familiar face and voice comforted only in the knowledge and faith that one day we shall meet again in a better place. Prayer services, led by Rev Dr Lynne Frith, were held for my mother at the Lychgate Funeral Home before my sister Torika and I took our mother back home to Fiji. This service was attended by various members of the the Wellington Fijian and Rotuman Community, VUW staff, family and friends.
In Lautoka she lay at Va and Eroni Antonio's home and as were her last wishes, she was buried with her mother at the Tavakubu cemetrey in Lautoka. If there is such a thing as a perfect funeral, my mother had one--from the ceremony and procedure followed to dig my grandmother's grave to the thanking of the helpers at the funeral, all went without a hitch and all commented about how well organised things were and how we had made our dear beloved mother proud.
Now we are left to face reality that this loving mummy, nanna, aunty, sister and friend has gone, we are all comforted by the fact that my mother's final wishes are followed through and we were able to say our earthly goodbyes until we meet again. How lucky we were to be given that opportunity and I thank God for that.
The Fornmal family acknowledgement follows but in the meantime, please accept this as my thank you on behalf of the family for all those who came to visit mummy and who helped so much at the funeral both here in Wellington as well as in Suva and Lautoka. Thank you very much all and God Bless and Keep you Safe always.
---
From Fiji Times (27 June 2001)
Joe to defend women's title
Sylvia Joe will defend the 2001 Fiji Amateur Women's Golf Open at the Fiji Golf club from July 19-21 in a bid to make the Fiji team to the Mini South Pacific Games in Norfolk Island in December.
The Open is a trial for the mini games and is compulsory for all squad members to attend.
Women's Golf Fiji announced that the sponsors for the prestigious event included Westpac, Air Pacific and Mobil Oil.
The Open is the only women's event to be played over 54 holes.
Entry is open to all women golfers affiliated to a recognised golf club and the only restriction being a maximum handicap of 40.
The field will be made up of three handicap divisions that will depend on the final numbers.
WGF recently aligned itself to Women's Golf Australia and was delighted that former executive member Helen O'Connor of Tasmania has entered.
Entries have been received from other players in Australia, New Zealand and the Solomon Islands.
---
From Fiji Times (25 June 2001)
Party claims majority support
The Lio' On Famor Party is the official party for Rotumans because it was endorsed by the island's seven high chiefs and the Suva-based Rotuma Seven Districts Committee.
This was confirmed by party spokesman Hae Rigamoto yesterday.
[Note: In a personal communication Visanti Makrava, Chairman of the Rotuma Council, categorically denied this statement. He says that the Council has endorsed no party and no candidate.]
"The formation of the party was endorsed by the seven district chiefs who are still staunch supporters of the party," said Mr Rigamoto.
He said upon the party's request, the chiefs informed Rotumans on the island of the party's interests and urged those interested to apply to contest the elections under the party's banner.
On the party's candidate, Mr Rigamoto said the selection committee should announce it next month.
Several applications have been received but have yet to be scrutinised, he said.
The party is discussing whether to incorporate the requirement that the selected candidate donates $4000 of his own into the campaign funds.
On financial assistance from the Suva-based Rotuma Seven Districts Committee, Mr Rigamoto said the party was unlikely to seek more funds from the committee.
The party has successfully sought donations of $10,000 in 1999 and $2000 in February this year.
This was cause for concern for may people, particularly from the districts of Noatau and Malhaha.
Committee chairman Fuata Fakraufon confirmed that since February, the committee had not received any requests for further assistance.
"Our next meeting is in September and as that is after the elections, I doubt there will be more requests," he said.
Mr Fakraufon said Suva's Noatau and Malhaha communities had opposed the $2000 donation in February because the remaining districts had voted in support of it.
Meanwhile, the motion for the party to be independent of the Rotuma Council of Chiefs, like the Great Council of Chiefs did with the Soqosoqo ne Vakavulewa ni Taukei party, has yet to be put to the floor, he said.
---
From Daily Post (22 June 2001)
Lead by example, civil servants told
Civil servants in Rotuma are asked to lead by example and be role models to the community.
The District Officer Rotuma Luke Moroivalu speaking from Rotuma to the Daily Post yesterday said that he had stressed to the civil servants on the island to adhere to the Code of Conduct set out by the Public Service Commission.
"This is nothing new as the Code of Conduct had already been in place but some civil servants tend to ignore it," Mr Moroivalu said.
He said that the response from civil servants was very good and he had received calls of appreciation from the community.
One of the things the civil servants are doing now with the support of the Rotuma Council is to visit villages.
According to Mr Moroivalu the visit to villages had motivated the villagers to improved village sanitation. Cleanliness competition had been organised by villagers and it also applied to their plantations.
When Rotuma was ceded to Great Britain in 1881, one of the things the chiefs on the island agreed upon was to make Rotuma the best place to live in.
And for this to happen they put in place an act on sanitation and the visit to the villages had prompted the villagers to uplift th standard of their living and also cleaning their own environment.
For civil servants there is no consumption of grog in offices during working hours.
The DO Rotuma said his office was working closely with the Rotuma Island Council with regards to the development works on the island.
"Our good relationship and close consultation had really helped in our developmental work," Mr Moroivalu said.
Commenting on the crime on the island, the District Officer said it's almost crime free.
"We live happily and we have no fear walking alone at night."
On drugs, Mr Morivalu confirmed that there was no drug related cases and this made Rotuma a safer place to live in.
Mr Morivalu rose through the ranks within the Regional Development Ministry.
---
From Fiji Times (19 June 2001)
Medical student gains from observing forum
THE old and the new came together to learn and update their skills at the Fiji College of General Practitioners meeting held over the weekend.
Lavenia, Inoke, 23, was one of eight students from the Fiji School of Medicine who were invited to observe the proceedings. And she said the experience had. been extremely beneficial.
"We're just here to observe and note the problems experienced by general practitioners," she said.
"One of the most interesting sessions was the one on kidney stones and also the session on men's health and prostate cancer."
Ms Inoke is a fifth year student at FSM and plans to specialise in paediatrics when she pursues further training.
"It's a real challenge for me to practise what I preach. I also think that FSM, given the limited resources it has, is doing a fine job in preparing students for the medical field she said.
Dr Mua
Dr Tukaha Mua, who has been in the medical field for over 40 years said the weekend was important because it was just part of ongoing education for doctors.
"I think one of the highlights was one of the keynote speaker who was someone I taught while I was lecturing at FSM. It shows that what goes around, comes around," he said.
The college seminar began on Saturday and ended yesterday.
---
From Fiji Times letters to the editor (19 June 2001)
Could someone please tell me when the dress code for women changed, particularly for joyous occasions like the celebration of Rotuma Day on May 13 at the National Gymnasium?
I came to the occasion full of happiness because I knew I would be meeting old friends and relatives. But that was cut short when my fellow district friends and relatives were dancing.
I had wanted to join in and spray perfume on them as is part of our custom. But I was stopped by a woman from the host district who told me I could not join in because I was wearing long trousers.
Is this an insult to women who like to wear comfortable clothes to suit the occasion?
I would not have been wearing trousers if I was invited to sit with our gagaj hale but I chose to wear something casual because I knew the event was meant for merrymaking.
I also wore trousers because I know how the seats in the gym are. We have to climb a couple of stairs to grab a seat on the cold cement.
It's very unusual when we think we are in the year 2001 and a new century, yet some people still have the ideas of the last century or the one before that.
I know where their thinking was coming from but if we are to mix informal events with formal ones then we might as well sing hymns rather than have some tautoga.
We live in a free, multi- racial society and I do not judge people by what-they wear, especially women, or how they look.
And also I believe the dress code is not in our 1997 Constitution nor in our upcoming one.
Anyway, thank you the host district. Everything was very nice except for the dress code.
I would have worn a dress or a hafaliu if it was forewarned.
Fuata Rupeni
Suva
---
From Fiji Times (17 June 2001)
Tribute to Rotuma
By Ruci Mafi
Fire in the Womb a feature movie to be filmed on Rotuma early next month is a tribute to families for the achievements and the successes of life.
Fiji is mentioned only after the girl dedicates herself to winning a scholarship that will bring her here to study.
So based on how a girl is inspired by a myth of the first inhabitant of Rotuma the movie also highlights the need to maintain identity and culture.
A feature movie of empowerment, Fire in the Womb portrays Rotuma in a way never before witnessed .
This is a story of how a young girl whose determination to clear her father's name is achieved through identification with two powerful women: One in myth and the other in reality.
However, director Vilsoni Hereniko prefers to explain the movie as how a young girl found power and her culture in an attempt to protect her father and her family's reputation.
Today, Rotuma is preparing for the movie that is to be shot early next month.
The star of Fire in the Womb is Viki a young girl who fought to save her father, Hapati.
Hapati, who is the protagonist of the movie recognised that Viki had certain artistic and intellectual gifts, and nurtures these abilities even though they live in a society where practical day-to-day living is the order of the day.
He inspired his daughter through the story of the warrior woman who fought for her child's survival on the island centuries ago on Rotuma.
Viki listens to the story of the woman warrior and is inspired by the woman warrior's inner strengths and her intelligence.
Directed by Hereniko, a literature and theatre professor, the movie is a tribute to his family who fought and worked long and hard to ensure that he succeeded in life.
"Because we are so caught up in making it to the top of our field we don't make time to stop and listen to the "ocean rumble" inside us, that little voice is always there, reminding us of a time when what we valued most were human values such as honesty and equality," he said. But back to Fire in the Womb, the ritual clown, whose origin harkens back to the warrior woman, compels Viki to look to her culture to prove her father's innocence and reclaim her family's dignity.
Hapati has been accused of stealing from a rich neighbour.
And with the western style court ruled by a British judge who knows nothing of the Rotuman language and a corrupt interpreter all does not augur well with Hapati who faces a heavy fine causing much difficulties and harsh realities.
A mistranslated version of Hapati's testimony resulted in a punishment that caused much heartache for the girl with so much promise.
"When Viki's overworked and sickly father dies, Viki is devastated. She feels extreme guilt, that perhaps she has caused her father's premature death because of her demands on his time and energy," he said.
Viki realises that she had lost an advocate for further education.
Devastated by the death of Hapati, Viki flees to the jungle, builds a makeshift shelter in a pigsty and in a dream appears the woman-warrior riding on a strong wind.
Later, she dresses herself in red leaves and long vines after smearing her hair and face with her blood.
The climax of the feature is when she spears a pig during a skirmish with village men.
Brought before the island's chief, the British judge and the court interpreter during the interview for the overseas scholarship, Viki exposes the interpreter's deliberate mistranslation.
Highlighting the wisdom of the woman warrior, Viki says that the "land has eyes and teeth" and the truth will undoubtedly prevail.
She successfully defends herself and wins the scholarship to Fiji. The interpreter gets a crooked tooth and Hapati's name is cleared.
On her way to Fiji, she realises she was the only woman on board and that she had chosen to "set adrift to an unknown world alone".
Mr Hereniko explains that Viki dedicates herself to clear her father's name which is her conscious objective.
"Ultimately, however, what Viki really wants is to prove that she's worthy of her father's love and sacrifice and that he had not died in vain," he said,
Mr Hereniko said his objective for telling the story was to remind listeners "never to forget who they are or where they come from."
"Sometimes when we have achieved a certain level of comfort and privilege, we forget those who have helped us to achieve a certain level of comfort."
Mr Hereniko said that people even lose touch with basic core of values of honesty, decency, generosity and justice in their plight for success.
"We are so busy making money, plotting to acquire more status or Power, trying to master the new technologies or position ourselves at the cutting-edge of the latest scientific discoveries in our field.
"Because we are so caught up in making it to the top of our field we don't make time to stop and listen to the "ocean rumble" inside us, that little voice that is always there, reminding us of a time when we valued most were human values such as honesty, justice and equality," he said.
The story, according to Hereniko, hopes to be truthful, factual and spiritual as can be.
---
From Daily Post (27-28 April 2001, posted 28 June)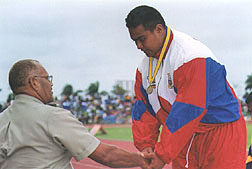 Shaun Kemueli receiving gold medal
Marist Brother's High School duo Shaun Kemueli and William Young were instrumental in the school's lead in the medal tally...
Kemueli set a new record in the intermediate discus with a throw of 50.01 metres, dethroning Sikipo Fihaki who had set the record of 46.41 m for Suva Grammar School in 1998.
An excited Kemueli said it was an unbelievable experience for him and he was proud of his achievement.
---
From Sanimeli Maraf in Rotuma (22 May 2001, posted 3 June)
Today we have the District Officer, the DPO Eastern, Fereti Susau, and Firipo Nakaoro as visitors. They are here to explain again to the people how the election and voting operates, as we were told that there were 600 invalid ballots incorrectly marked during the last election.
Last Friday, 18 May, a special flight came to Rotuma for the Constitution Review Commission. Professor Asesela Ravuvu is the chairman, and he was accompanied by Adi Lidia Cakobau, Bill Sobie, Vunibobo, Dr Buchanan, and Tevita Vekalalabure. The Council had prepared our submission to the CRC. One of our main requests is to clarify the definition of a "Rotuman." We are also asking for two seats in both the upper and lower houses of Parliament, and much more.
On this side of the island they met at the new Noa'tau community hall. Our Sunday service yesterday was conducted by the District Officer. Mr Luke Moroivalu passed on to us lolomas of the Assistant President, Ratu Jobe Seniloli. They told us how much they enjoyed the celebration; everything turned out well and they thanked everyone in Rotuma who participated.
We thanked the Fiji Police Jazz Band for their performances as we don't have that sort of band here in Rotuma. Everyone enjoyed their music very much, especially the Bossanova at the cocktail party at Ahau on Tuesday evening. The Hapmak youths put on a lovely show and served a lovely supper for the evening. The weather was fine for the evening and the party was held under the lioplipo tree at Ahau.
The three-day Rotuma Day celebration was fortunate to be blessed with fine weather. The Noa'tau people danced during a cloudy period so it wasn't too hot; they received a lot of praise, and Gagaj Maraf was very pleased with the performance. During the first day the Malhaha Primary School children danced and people who saw it said they were very good.
Here are the words to the Noa'tau group's performance:
Mak taktak ta
Fuifui ne maf hanue ta
fal tit ma leumea
Gagaj Maraf ma on kaumakag ta
kel'akia 'otomis ofa se äea ko Gagaj
Sua (eseahet)
Ut ma tuk ne os atmot te'
Täe ke e is ne hua'i e
Sap la mou haihanisiga
Rotuma la rog kal'akie
Tiap hi
(1)

Hanis uanmafu te huga
Täe e 'os temamfua
Ahäe la noa'ia Rotuma
La mou se Pertania
(2)

Fuifui te' fo'am se tariag sau ta
Hoamea tit het, Gagaj hanis la ion'akoa
Ruerue kat fakag, Gagaj hanis ma la rot'akia
Ion'akia karau Egake la api roa
Tiap Forau
(1)

Teran te faimea se saghül ma liam ne hual te'
'Omus hansasiag ne maf hanua la surumea
La haipoag la a'sokoa 'os katoag te'
Haipoag se is la ua'ua'akia. Noa'ia

(chorus)

Ua'ua'aki se Ratu Jobe Seniloli
Police Jazz Band ta ne ha'umea
Ma a'lamlam ne 'os katoag te'

(2)

Gagaj Maraf, Kausiriaf ma Gagaj Markao
Fatafes, Titofag, Mora'a ma Gagaj Osias
Chairman ne Council aus Noa'ia, ahäe la a'sokoa
Ta katoag a'helav, la a'häe'akia
Rotuma na se Pertania
(chorus)

13th of May 1881 Hanis ma se mao'akia
Teis teranit ne is la a'häe'akia
Matin ta fut e lihava, la aier'akia
Rotuma mou se sau han ta Queen Vikatoria
Oilei...Rotuma noh fürmaria
(3)

Rak'akimea e 'os taunai fakgagaj te
Vice Presiden ta la noh se Gagaj Niumfag
Police Jazz Band ta la 'e Oinafa
Mak fak hanua la mou se mafhanua
Balabalaba, Oiave, Balabalaba, Oiave......

(chorus)

Sokaoan katoagat la is la a'häe'akia
Hundred and twentieth anniversary
Na'ag ne Rotuma se ranrani
A'sok e i'i se Gagaj ne Rotuam i'i