From Pacific Islands Report (31 July 2001)
In a letter to the editor Derek Elmer, of the Swedish Polynesian Friendship Society, disusses the plight of Tuvalu in the light of global warming. He states:
"Obviously the future must look grim to the peoples of Tuvalu but it is up to the world to see that these islanders are not forced to leave their country. The thought of Pacific Islanders being forced to abandon their country to live on a housing estate on the outskirts of Brisbane or Auckland is saddening. The culture of the Pacific Islands is not a static culture, it grows and adapts to the changes around it. However the solidarity between people, the humor and, dare I say it, the happiness of the islanders is not something that can be recreated in a housing estate. The islanders might take a long hard look at the Westerners they meet and ask themselves if these people are truly happy despite all their possessions."
He goes on to suggest trade with Rotuma as one possible remedy to the problem of food shortages:
"Obviously in the future Tuvalu will have to import more foodstuffs. Perhaps, if Fiji would allow it, trading could take place between Rotuma and Tuvalu. At the moment Rotuma is not a recognized trading port and produce has to go first to Suva before being exported."
[Note: On our recent trip to Rotuma we were heartened to learn that plans are underway to make Rotuma a trading port so that foodstuffs can be shipped directly to Tuvalu and Kiribati without having to go through Fiji. This would obviously be of great benefit to the farmers on Rotuma.]
---
From Fiji Times (31 July 2001)
Islanders' calls cost $1 a minute
by Matelita Ragogo.
Costs of $1 a minute for telephone calls have caused uproar on Rotuma.
And the benefits of the blueprint were questioned by one of the seven district chiefs after he was given only 12 litres of weedkiller for the whole village.
A Lio 'On Famor Rotuma party campaign team that held five meetings for seven districts during a week-long programme said the people they met were also unaware of the numerous benefits and assistance available.
For June alone, there were 250 disconnections on the island because of the high costs, which the party says must be subsidised by the State.
Team spokesman Hae Rigamoto said he was shocked when the women expressed disbelief that there were other non-governmental organizations apart from the Soqosoqo Vakamarama that offered more and better opportunities for further training or workshops that could enhance village-level developments for them.
"We intend to set up a radio station on the island for their entertainment but more importantly for information dissemination on areas like agriculture," Mr. Rigamoto said.
" The excuse we always hear is that the island is too far, that is not our fault but is the Government's responsibility to ensure the people have access to essential services at a cost they can afford."
"What they were given was a machine to squeeze oil from copra but they were not provided with a market. Now there are barrels of coconut oil without a market."
---
From George & Lillian Pene in Sydney (27 July 2001)
A new website (http://www.itumuta.com) based in Sydney has been created that is dedicated to stories, news, photos, etc. concerning the district of Itu'muta. It is a beautifully designed bilingual site featuring items in both Rotuman and English.
---
From Daily Post via Fijilive (22 July 2001)
Celebrating the Malhaha way
It was a day of celebration, dancing and meeting up with old friends at the annual Malhaha Day for hundreds of Rotumans around the country yesterday.
It was also time for people who live in Suva and those from the island to bring each other up to date. Malhaha is one of the bigger [districts] in Rotuma and has three [villages] namely, Elsee, Pephaua, Elsio.

John Tevita
"For us this is the only time we meet throughout the whole year," yesterday's master of ceremony John Tevita said.
"People from as far as Rotuma, Tavua, Vatukoula, Lautoka and Nadi are all here today for the occasion. "It is also a time where we re-establish our roots and culture."
Participation in the singing and dancing by the young and the old was something which really stood out.
Deposed assistant minister Marieta Rigamoto was the chief guest. Also at the function was the high chief of Malhaha, Gagaj Fatafes and other sub chiefs.
Also present was High Court Judge Danieli Fatiaki who is also from Malahaha.
The day started with a church service followed by cultural items and a feast fit for a king. At least 1500 people attended the function.
---
From Fijilive (20 July 2001)
Rotuma in need of development
The island of Rotuma needs a radio station to better distribute information vital to development says aspiring politician Tiu Livino.
Forty seven-year-old Mr Livino says this is only one of the pressing needs on the island.
Mr Livino who has a colourful employment and education record, says islanders can't tune in to the Fiji Broadcasting Corporation (FBC) network.
"The reception is very bad. The only radio we get is Radio Tuvalu," Mr Tivino said.
"We need a Rotuman radio station. At the moment people get information by word of mouth or village meetings. If we had a radio station it could communicate all Government plans, developments, projects, news and music all in the Rotuman dialect."
He said education, health and unemployment are also high on his agenda.
"Except for the teachers, police officers, nurses, doctors and other civil servants, every one else on the island is unemployed.
"What we need to do is set up small industries and projects that will earn the islanders some money and this will improve their standard of living."
Another concern is the high telephone charges.
"Over the few weeks we've had 250 telephones disconnected because people can't afford it. The rates are something like 45 cents a minute."
Rotumans in Fiji, he said need a Rotuma Centre.
"The centre is to cater for needs and the affairs of the Rotuman people, like cultural programmes, handicrafts, language and other educational things. This will give us a sense of identity."
Mr Livino will travel to Rotuma next week and to other parts of Fiji to talk to supporters.
"My constituency is unique and very different, because it also involves the whole of Fiji. I will have to travel the country and meet all the Rotumans.
"If they are in the Yasawas or in the interior, I will have to travel there."
He is married with five children and was appointed by the Lio'on Famor Rotuma Party or Voice of the Rotuman People Party to contest the Rotuma Communal Seat.
---
From Fiji Times (17 July 2001)
The Lio 'On Famor Rotuma Party has endorsed administration and human resources manager Tiu Livino as its candidate for the Rotuma communal seat.
Mr. Livino who resigned last month from the Secretariat of the South Pacific, to pursue a political career, was unanimously was endorsed through a secret ballot.
A vote was taken after the two candidates were interviewed by party executives last Saturday.
"I believe the time is right for me to enter politics for the betterment of our people," he said yesterday.
Mr. Livino, originally of 'Ut'utu, Noa'tau, has had more than 20 years of experience working for regional organisations like the Forum Secretariat and SPC and felt that his regional experience would be of great value if he were to be the Rotuman community's representative in Parliament.
He believes the party concept was better because it meant many people were involved in decision making it was not a situation of one "doing whatever they wanted".
The party was originally formed before the 1999 elections. Its campaign on the island is scheduled to begin this weekend. A revised manifesto is being drafted and is scheduled to be launched in two weeks.
Despite the recent government trip to the island to donate $100 000.00 worth of farming implements, spokesman Hae Rigamoto said the party remained confident of victory.
"As a party our policy is not to criticise things that affect our people positively; many think it is an election gimmick but if a lot of our people have benefited then very good," he said.
However, Mr. Rigamoto said Rotumans should have been properly advised of the scheme from the start so that they could have applied. Without any direct reference to assistant agriculture minister Marieta Rigamoto, he said " a true leader would have ensured the Rotuman community was aware of the available opportunities, particularly within her ministry.
In 1999, the party lost by 30 votes and 688 votes were invalid. Educating its electorate on how to vote is high on the party's agenda.
---
From Fijivillage (13 July 2001)
Rotuma council object to retired doctor
So close but yet so far. Thats the best way to describe the situation with the doctor shortage at the Rotuma hospital. Apparently the Health Ministry's plans to post a doctor to the island was objected by the Council.
Currently the Hospital has 18 employees including the Nurse Practitioner. When the need arises the service of Doctor Taukave a General Practitioner is sought. On an average there are about seven to ten patients
Permanent Secretary, Luke Rokovada says they did not like the idea that their new doctor was retired. Instead, Rotuma Hospital has the services of a nurse practitioner.
Its understood Gau also has the same problem - one nurse and no doctor. Rokovada says its has been this way since last year when landowners claims the ministry was not up to date with their rent. Its understood that they were mistaken.
---
From Fijilive (11 July 2001)
Battle royal for Rotuma seat
A battle royal is shaping up for the Rotuma Council Seat in the August general election.
The contest is likely to be a three-way battle between the Soqosoqo ni Vakavulewa ni Taukei (SVT), the newly formed Soqosoqo Duavata ni Lewenivanua (SDL) and the only registered Rotuman political party Lio "on Famor Rotuma.
Reports from Rotuma said supporters of the three parties were already campaigning among the seven districts in Rotuma.
This week, the SDL campaign took on another gear with the arrival of Caretaker Prime Minister and president of the SDL Laisenia Qarase.
Although Mr Qarase is in Rotuma in his capacity as Prime Minister and minister responsible for Rotuma, reports from the island SDL supporters were jubilant in that his presence had help their campaign.
Yesterday Mr Qarase met with the Rotuma Council of Chiefs and discussed how government can help develop the island further.
Although the SDL has yet to announce its candidate for the Rotuma seat it's understood that current Assistant Minister for Agriculture, Marieta Rigamoto is likely to get the nod.
Mrs Rigamoto is in Rotuma with Mr Qarase.
Similarly the SVT is also looking for a candidate to contest the Rotuman Council Seat.
It's understood that approaches had been made to the chairman of the Rotuma Council, Visanti Makrava to stand on the SVT ticket.
However, Mr Makrava has yet to make his views know. But the tide could be well against the former National Bank chief because of his involvement in the NBF scandal.
But, the Lio 'On Famor Rotuma's campaign appears to be gathering momentum as well.
Party founder Hay Rigamoto announced yesterday that his party will be announcing its candidate for the Rotuma seat on Saturday.
"We have received quite a number of applications from interested Rotumans," he said.
However, he declined to give any other details.
But sources within the Rotuman community said the seat is likely to go to budding politician Tiu Lilino.
While Mr Lilino is an unknown quantity, party sources said the party wants to go for youth, dedicated service and a neck for hard work.
Mr Lilino previously worked with the Forum Secretariat and the South Pacific Commission.
---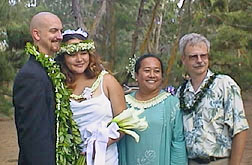 Charlie, Nicole, Maria & Paul
From Alan & Jan in Honolulu (9 July 2001)
On Saturday, 7 July, the Rotuman community in Hawai'i celebrated the marriage of Nicole Dumas, daughter of Maria (Matlena) and Paul Dumas to Charles Buckingham at St. George's Catholic Church in Waimanalo. A reception was held at Sea Life Park where the Rotuman group presented the bride and groom with an apei, titi, and osi and danced a tautoga in their honor. The event was attended by kainaga from Australia, New Zealand, Samoa, and Fiji as well.
---
From Fiji Times (10 July 2001) via Fijivillage
$0.1m to woo island voters
By Irene Manueli
Caretaker Prime Minister Laisenia Qarase's delegation to Rotuma will arrive on the island today with about $100,000 worth of farming implements.
The farming equipment, which include basic tools, fertiliser and grass cutters, is being provided through the farming assistance scheme. This was revealed by Assistant Minister for Agriculture Marieta Rigamoto.
The trip and the agricultural assistance for the island have drawn criticism from various political parties who continue to question Mr Qarase's abuse of office.
The Soqosoqo ni Vakavulewa ni Taukei Party, National Federation Party and United Generals Party said despite their criticism, Mr Qarase forged ahead with whatever he wanted to do, so it was "up to the people'' to decide in the elections.
"He (Qarase) appears to have no conscience and really all we can do is to leave it to the people to decide in the elections,'' said UGP spokesman Bruce Rounds.
The Lio On Former Rotuma party did not wish to comment on the trip yesterday. The party will select its candidate on Saturday. So far only Mrs Rigamoto and the party's candidate are known to be contesting for the Rotuma seat.
Meanwhile, responding to earlier reports that the farming assistance scheme was being abused, the ministry said if it were true, it could only be a small number of cases which were normally expected of any project.
Agriculture permanent secretary Peniasi Kunatuba said the scheme was strictly administered and applications were checked by at least four different government officials before they were forwarded to the vetting committee based at headquarters.
He said the ministry welcomed information of any abuse and would immediately investigate to ensure loopholes were sealed.
The scheme, which was allocated $3 million, is part of the interim administration's affirmative action for indigenous Fijians and Rotumans to help them utilise their resources for maximum benefit.
So far between $2 to $2.25million has been utilised and have been allocated mainly to villagers of Naitasiri, Rewa and Tailevu.
Precedence was given to these areas because they had largely made up the crowd of agitators in Parliament last year.
"We thought we should give the initial concentration there,'' said Agriculture Minister Apisai Tora.
---
From Fijivillage (9 July 2001)
Island trip under attack
By Sainimili Lewa
THE Government has refused to disclose the cost of a one-week visit to Rotuma by Prime Minister Laisenia Qarase. Mr Qarase left yesterday for Rotuma on the government vessel with his private secretary, bodyguard and about 20 officials from various ministries.
It is his first trip to Rotuma almost a year after he was appointed prime minister. Mr Qarase said he was invited by the Rabi Island Council to inspect and assess development projects on the island. The trip was condemned as an obvious election campaign by political parties who said Mr Qarase was losing the respect of the public.
But the permanent secretary in Mr Qarase's office, Jioji Kotobalavu, justified the trip, saying Rotuma was under the prime minister's portfolio.
"Critics can say what they like. It is a matter of courtesy that Mr Qarase is visiting Rotuma, with his term as caretaker prime minister nearing its end,'' he said.
Mr Kotobalavu said the visit was handled by the Marine Department and he did not know if Mr Qarase and his team would eat and sleep on the boat or on the island.
The charged $12,000 last year when the Constitution Review Commission wanted to charter it to Rotuma. New Labour Unity Party leader Dr Tupeni Baba said Mr Qarase's concern now was to become the new leader. "He should have taken the trip last year the trip is absolutely unnecessary. I hope he doesn't give away public funds for some imaginative project,'' Dr Baba quipped.
Fijian Association Party leader Adi Kuini Speed said the trip was a vote-getting exercise.
"The use of government officials and taxpayers' money is disgraceful but Mr Qarase does not seem to have a conscience on that,'' Adi Kuini said.
---
Alan & Jan's report on their recent visit to Rotuma (3 July 2001)
---
From Rejieli Flexman in Rotuma (21 June 2001, posted 3 July)
The Wesley Church at Wesley Mission Centre, Sydney, held a service of Thanksgiving on Sunday, 10 June at 1:30 p.m. on the occasion of the 25th Anniversary of the Rotuman Congregation. Rotumans participating in the service included: Rejieli Flexman, Divuki Atalifo, Marie Dickinson, Deaconness Olovia Nataniela, Rev Sydney Taito, Rev Jione Langi, Hani Amoe, Amoe McCarthy, Rejieli Mani, Elizabeth Benz, Hifa Flexman and Siri Taito.
Reverend Dr Gordon Moyes, Superintendent of the Mission, wrote the following in honour of the occasion:
Today we celebrate with our Rotuman Congregation, 25 years of their being a congregation and worshipping God in Wesley Mission. The Island of Rotuma, near the equator some 500 kilometres north of Fiji, has produced some outstanding people and great Christian leaders. Their presence in Wesley Mission has been a constantly enjoyable one, and their persistent support of all of Wesley Mission activities can put to shame most other congregations. Of all the people who have come to this land and who have developed ethnic communities in our midst, the Rotumans are the people who have integrated the easiest and best.
Wesley Mission has wanted to thank the Rotuman people for all their commitment to Sydney. For twenty-three years Beverley and I have celebrated Christmas with the Rotumans who have responded by giving me a large cheque every year to help Australian children in need. I thought it was time we reciprocated. So we asked Mrs. Rejieli Flexman to return to her homeland, consult with the leadership of the island and return with a suggestion of what we could do to mark our friendship. The decision of the community was that they needed a library and community centre for their young people to increase their education. I undertook to raise the money to finish the building. Thanks to generous members of our congregations we raised $75,000, which is enough to cover the project.
The two coups in Fiji meant that the arrival of our work party, which was to travel through Fiji, had to be postponed. Today we will set aside and dedicate the 16 workers who will build the library. Some of these come from our congregations', including the Rotuman congregation, and others come from viewers of our TRA television program. The service is at 1:30 pm and I hope that you will come. Jeff Pope is the leader of this special project and Jeff is to be congratulated on all of the arrangements so far. Tomorrow our team flies out and they will return for a big celebration on 22nd July at 7 pm. We will probably have a combined service with the Rotuman Congregation that night and a congregational tea to welcome everyone home, and to watch their videos! Pray for the success of our work party, and give thanks to God that so many have been involved in sponsoring and working and supporting this important work.