From Elisapeti Inia in Suva (28 August 2001)
What we have come for is over. During the first week of our arrival in Suva, the 13th to 19th, we (our little choir of Motusa Circuit, 34 in number) met several times in Churchward Chapel Hall to practise our singing of mak ka' pelu and anthems. We sang our mak ka' pelu on Monday the 20th at 12:00 noon. We were in the 2nd class because of our number and we came second and won a trophy (see photos). We sang again on Tuesday night at 8:30 p.m. That was an anthem composed by Betty Sosefo. She did the wording and conducted, too. We did not win in the singing part but we won in the nate; our little choir contributed $1000. The So Levu (bazaar & singing competition) for fundraising for the Methodists from Davuilevu closed it by donating a big sum of $44,000. I collected $615 from the Rotuman Old Scholars:
Malhaha Circuit--$285
Motusa Circuit--$230
Oinafa Circuit--$100
Then on the 25th August, the 18th anniversary of Wilson's death, I collected another $120, making a total of $735. The rest of the money was from Fijians who went through the Teacher's training Institution, Lelean Memorial School, Vuli talatala, etc. I just read in our daily newspaper that the amount of money collected during the kato'aga which was held from Mon-Fri totalled $646,000!
The Churchward Chapel Choir won the first Prize in Class 1 (members from 80-100) and also the Best Conductor. Suva choir of Centenary Church came 2nd; Baker Hall, Davuilevu, 3rd.
Last Sunday afternoon we all had dinner after church (Rev. Voi Taukave was the preacher) at the Hall at 6:00 p.m. Our Motusa circuit choir was led by Jimmy Alfereti from Hapmak and Rejieli Faga of Motusa. Our conductor and composer was Betty Sosefo (from Tia).
The fa hua'i attending were:
Motusa--Faga & Annie (wife)
Itumuta--Pensemane
Losa--Kapani
Hapmak--Aisea Moeava
The fekau included the Reverend Atalifo and his wife Lia, so the Motusa circuit was left in charge of Deaconess Sa'a Metusela of Hapmafau. Sarote Fonmanu, Chris (my mapiga) and I are the Hapmafau members of this first choir that ever came from the island to sing in such a competition. Being the eldest, I am very happy for the young people's sake for them to participate, and to learn from the experience. Last year a mass choir was formed (all round Rotuma) when Mamao Konousi (Betty Sosefo's father) came to train us, but unfortunately the May Coup happened and upset everything. The Choir returns to Rotuma when the Bulou ni Ceva sails on 11th September.
Three Rotumans died since we came. On Saturday the 18th , Sarote (Dr. Konusi's wife) was buried. Yesterday, Miki of Oinafa was buried. She had been sick for some time, and Akerio (son of Mue Kerto and Munivai) will be buried on Wednesday. Last Saturday evening we celebrated Hiagi's birthday at Vatuwaqa. She is the second daughter of Fuata and Paulo. Fuata is John Tevita's sister. I made her tofua and sent it by plane for her grandmother to do the woolen fringes.
---
From Dominion Newspaper, Wellington (25 August 2001)
Bottom-drawer winner
Nick Barnett
Kirstina Henderson, as award-winner with her first published story, seems to have learnt already some key lessons for writers. [note: Kirstina is the daughter of Kautane Henderson, and grand-daughter of Mua and Tivaknoa Viki of Vatukoula.]
To begin with, the Tawa 16-year-old has learnt not to strive for effect. Her story The Burial, winner of Tandem Press's short-short story competition for writers under 18, was written for herself. All her stories are, she says.
The title wasn't hers, though. The publishers thought Snotty Noses not quite fitting, she says.
She's been writing stories for years, stowing them in her bottom drawer. But she doesn't see herself as a writer.
Away from her Tawa College classes, her time goes on sport: a waka group, and wrestling--she's a national schools' gold medal winner. And there's Pacific dancing.
"But the time comes when there are big assignments due in and pressure on --I just buckle under the pressure and throw out the assignment and do a story, because I want to." Some of her exam pressure is then eased.
She might enter more competitions, but her entries would be from that bottom drawer, not special attempts to win a prize.
Some of her stories are about a character she's created, a Samoan teenager named Sione. In her winning story, The Burial, Sione has flown to a Samoan village for his grandfather's funeral; he thinks about where he belongs and about the death.
Judge Owen Marshall praised the story as "strongly visual," leaving the reader with "a sense of being in the presence of real people."
It won from 357 stories. Girls' entries outnumbered boys four to one, says editor Graeme Lay.
"The boys tried hard but in many cases too hard," says Lay. "They often attempted action or fantasy stories which began with widespread detonations and ended apocalyptically, a difficult feat to achieve in only a page and a half of text."
Kirstina's gimmick-free story is a contrast. She says she sticks to what she knows and can identify with. She hasn't been to Samoa, but regular visits to her mother's home on Rotuma mean that the Pacific village is a familiar setting. And Kirstina thinks that perhaps her eager reading about counselling and the human mind help her enter the minds of her characters.
These understandings are a strong, wise base for a writer. But, though Kirstina has firm goals, writing isn't one.
She doesn't want to talk too much about those goals. "The secret to being boring is to say everything," she says. Which is yet another lesson for any wise writer to learn.
o 50 Short Short stories by Young New Zealanders, $19.95.
---
From Fiji Times (27 August 2001)
Rotumans claim choir award
By Josua Tuwere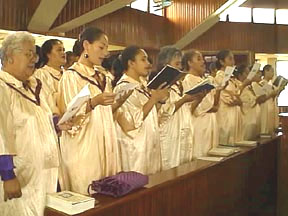 Churchward Chapel Rotuman Choir
Samuela Taukave hit the right notes again and helped the Rotuman Churchward chapel choir win its second top prize at the Methodist choir competition.
The 50-member choir not only beat other top choirs to win the Class One category but Taukave was voted best conductor.
Listening to the choir's rendition of O Jihova Na Kalou yesterday at the Rewa Street church, it was easy to see why the judges were impressed with Taukave.
The enthusiasm he has for his music showed in his expressions as he urged on the choir.
"I thanked God for helping me, especially when this is the third time conducting at Churchward," he said.
Taukave credits his success to the training he received at the University of the South Pacific through lecturer Ueta Solomona.
"We had to learn to sing in Fijian properly so we had to make sure we got the pronunciations right."
"I went to some of my Fijian friends to make sure we were not singing any of the words wrongly.
Some of them didn't even know the Fijian language and we wanted to do it properly to honor those people who had put the music together."
---
News from Sydney (26 August 2001)
The Suva Itu`muta Association Island Night which was held in Sydney last night was a huge success with over 500 guests in attendance. Its Chairman, Mr Sukamanu Pene, was presented with an international bank draft for FJD $20,000.
---
From Sanimeli Maraf in Rotuma (3 August 2001, posted 22 August)
July was a busy month for us here in Rotuma. The Prime Minister and his party arrived by boat on the 10th. A mamasa was held at the government station in Ahau at 3 p.m. Adi Senimeli Dyer met with our Rotuma Women's Club together with Mrs Marieta Rigamoto and Fesaitu Misau, plus Fijian landies from the education field. That very night at Malhaha, the high school library, which was built by the Wesley Mission team from Sydney, was opened by Deaconess Olovie. Reverends Sydney Taito and Jeff Pope and their team were also given a send-off party because some of them were leaving the next day. The Prime Minister left by plane the next day (the 11th), but the government team stayed on until the 14th making visits and campaigning. They went to the Losa Conference on the 14th and their boat left at 10 p.m. on the same day.
We also had the Lio 'On Famor Rotuma Party campaigning after Gagaj Tiu's höt'ak hafu, which was held at Itu'muta on 24 July. It was a big crowd; chartered boats and planes brought close relations and friends over for the function. Can you imagine the number of pigs and cows that were slaughtered to feed the crowd? That day, lots of apei and 'epa were also collected. It was a really nice do and everyone enjoyed themselves.
We had the Lio 'On Famor Rotuma Party at Noa'tau hall last friday, the 27th. Their candidate is Tiu Livino, a man from Ututu in Noa'tau. He worked in Suva for the South Pacific Commission at the Forum Secretariat and is now retired. On the same day Mr Livino opened his "supermarket" at the old Noa'tau RCA building at Faifaisina, Noa'tau. Gagaj Maraf opened the key and gave a speech. He explained the history of the Rotuma Co-operative that was liquidated, then became the Noa'tau Co-op Ltd., which is now standing on one foot, or if you like, one toe--on its last lap, waiting for the decision of the co-operative bosses in Suva. Gagaj Maraf advised the new managers not to give any tinau (credit) at all, not even to your family or friends, because that word--T-I-N-A-U-- will kill your business. The name of the new supermarket is "Sunrise Farmer's Co-operative." It is lovely to walk through and pick out what you need. A cylinder of gas is $33 compared to the $44 I paid at our other shop here in Noa'tau. I am glad to see this supermarket here giving competition to the post office shop at Ahau. Now I don't have to take the bus to Ahau every Friday to do my shopping. The bus fare from Noa'tau to Ahau is $2.30 one way.
On the 25th the Oinafa Circuit Conference was held at Oinafa and collected $5,323. A hearty lunch was served. Noa'tau did a hafa tautoga.
The Bulou Ni Ceva will be here on 11 August to take people to Suva for the Methodist Conference to be held from the 17th to 31st of August. We will attend the Conference this year.
My sister Violet Burns is visiting Rotuma and it was good to catch up. A big Happy Birthday to my daughter Norma Rosemary Stace-Gomes of Gisborne, South Melbourne. Mum will be thinking of you on your birthday (1 September 2001) and I hope to see you in the new year after a visit to Kelly & Maureen in Christchurch, N.Z.
Alalum, hanisiof se aus, otomis kainag ne noh e uas ta.
---
From Elisapeti Inia in Rotuma (31 July 2001, posted 22 August)
Our mass choir (Motusa circuit) will be going to join the singing competition in Fiji during the August school holidays. Our Anthem was composed by Betty, Mamao Konousi's daughter who lives at Tia near Ahau. We have choir practice at the pavilion from 4 to 7 p.m. because we need good light.
During the Losa Conference and Gagaj Tiu's höt'ak hafu there were a lot of new faces from Australia, New Zealand, and Fiji. The last chartered boat left on the 25th of July after the höt'ak hafu on the 24th. It took back 130 passengers. The Bulou Ni Ceva left Rotuma on the 24th, also a chartered plane in the afternoon of the 24th. On the 28th, Friday night, we had a Methodist Youth Fellowship meeting at Feavai and our singing (mak ka' pelu) and a dance was performed mostly by the Catholic young people. Each family here in Hapmafau provided fekei for the young people to take home after the entertainment.
---
From Fiji Times (20 August 2001)
Irava lifts way to powerlifting title
By Jeetendra Prasad
Rotuma's Iliesa Irava's massive lift of 750kg in the Open men's division saw him take out the overall title at the Fiji Drug-Free Powerlifting meet at the Rabuka Gym on Saturday.
Irava, competing against some of the best upcoming and veteran lifters, showed his class as he bettered his chance of making the national team to take part in the world championship in England next year.
"It was a tough day of competition at the gym with lifters coming from all over Fiji for the meet," association official/weightlifter Valu Ligairi said. "Irava was at his personal best and he showed the way for other lifters.
"But the competition saw a lot of veterans returning to the sport and put up an impressive show," said Valu.
---
From Fiji Times (21 August 2001)
Rotuman Guilty of Sedition: Shameem
By Josua Tuwere
A former Fiji resident is expected back in the country next month to be sentenced for sedition after the high court yesterday overturned his acquittal in the lower court.
Gagaj Rafeok Riogi, now an Australian national, will return to face sentencing for causing ill-will and hostility on Rotuma after the political crisis of last year.
He was acquitted by Chief Magistrate Salesi Temo on March 29 this year.
The court was told that Riogi breached Rotuman custom by installing Rigamoto Tonu as one of the traditional chiefs of Rotuma.
Members of the controversial Malmahau clan, whose origins have been linked to the political crisis of 1987, were responsible for installing Mr. Tonu as Gagaj Kausakmua in November last year. This caused ill-feeling among Rotuma residents and the island council.
The clan called for the independence of the island from Fiji and the declaration of the Sovereign State of Rotuma.
According to evidence, this was not supported by the majority of Rotumans and resulted in the burning of the clan's headquarters last November.
Justice Nazhat Shameem said she was surprised that Mr. Temo acquitted Riogi despite evidence that the installation of Gagaj Kausakmua was done when the Malmahau clan was "inciting hatred in the community, were disloyal and defiant to the Rotuma Council, which is the lawful source of authority in Rotuma, and were focused on the creation of a new government in Rotuma".
Justice Shameem said the clan went beyond the boundaries of "democratic dissent" by declaring Rotuma independent in July last year.
"The act therefore had far wider consequences than the expression of dissatisfaction. It purported to replace the lawful authority of Rotuma, with a rival government. It was an attack on the tranquility of Rotuma," she said.
Justice Shameem is expected to pass sentence next month after hearing submissions from the Director of Public Prosecutions.
---
From Martoa Dickinson in Sydney (20 August 2001)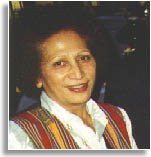 Martoa Dickinson
Let's start with Wilma Barnes 21st birthday, which we celebrated at the Auburn Bowling Club on 30 June. A special guest was none other then Torika Sanerive from Melbourne. Wilma's mother, Jiurie, left a week later to Rotuma to attend the Losa Conference and to bring her mother back to Sydney. Mapiga Vamarasi is now with us, and it is a delight to have her here.
The Malhaha News....
On saghul ne fau, itu ne Malhaha a sokkoa katoag rotu ma maka, voivoi'akia,titi'akia, ma ua ua'akia Jihova Aitu.
Saturday, 21 July 2001. We were blessed with wonderful weather. The sun was shining and it was not too hot. Gagaj ne ihum e Rotuma, gagaj Fatafes ma on hagata Emel, Gagaj Varomua Gagaj Terotum ma Gagaj Saufoou; E Fiti, Assistant Minister for Agriculture, Fisheries and Forest, Mrs. Marieta Rigamoto, Judge Daniel Fatiaki & his lovely wife Marthar ma os inos gagaja'at ne puer itu hifu e Suva ne es puer se itu hifu e Suva Fuata ma Moli. ma os gagaj es puer ne Itu ono e Suva.Os gagaj Fekau Mataere ma 'on han gagaj ta Mani, Gagaj Fekau Langi ne kamatan Katoa'ag ta ma Gagaj Fekau Samuela ne na'ia mua'ak fak ata. Ma gou ne leuof e Sydney la mak,sik malua ma na rogrog se os Rotuma Website ta. Ia ne faefae'ag e teran ta, Mr. Terotume Tevite (Master of Ceremonies) and the very best Rotuman emcee I have ever heard. Ia ne naia faeag ua'uaaki ma faeag ne haipoa'ag Mr.Jioje Konrote. Fekau Langi kamat on faega e Salamo 100. Au la oho fak oaf'oaf se Jihova ko ran te'atakoa. Au la utum ma makmakamus, Au la inea ne Jihova Aitu ia ta re is.Is la oaf ma voivoi'akies,'ua'ua'akies,Voivoiakies.
PSALM 100: "I will enter His gates with thanksgiving in my heart. I will enter His courts with praise. I will say this is the day I will say this is the day the Lord hath made. I will rejoice for He has made me glad. Fekau Langi on faega ma roaitu a'vah 'e mak (HIM) 17 KOLORI la re se 'Aitu e re. "To God be the Glory" Jioje Konrote on faega kama'at e 2 Korinita (2 Corinthians 9-15) Te lelei la is la 'ua'ua'ak se hanis 'on 'Aitu, 'e reko te'fak hanis nae ne 'Aitu na se 'isa. "Let us give thanks unto God for His unspeakable gift."
Gagaj Fatafes togia faea'ag ne 'ua'uaaki ma haipoa'aga ma na tape ma faea'ag ne faksor'aki se te'ne gagaj ne Malhaha, os temamfua afak alelei pau ROTU, ma is la af'ak te ha'ne os temamfua ROTU. Os gagaj haharagi la se maomaoakia os faea'ag Rotuam ta. Ma is la noh haihanisia'ag, ko hanisi ta kukulua os mauri. Gagaj Fekau Samuela Ûn mua'ak fak ata atia'kia Roait on sau ta Solomone.Jihova Ait on Isireli,Ait ne os temamfua, 'Ait on Gagaj Fatafes, 'Ait ontou, ma 'Ait on ou. Fekau a'vah on faega e Hiperiu 4-16. Let us be brave, then, and approach God's throne, where there is grace. There we will receive mercy and find grace to help us just when we need it. help us just when we need it.
Vahia'ag ne rotu 10.15 am Hen'akiag ne tefui. ma Mrs. Marieta Rigamoto faeag. She took us back "memory lane" so we can give back what we were so privileged to have in the past.
10.45 a.m. Mak ka'pelu ma nate Lautoka, Nadi, Vatukoula, Elsio, Pephaua ma Else'e. Nadi ta maro 'e maka. Alalum akiag ne koroa Fekau Langi.
11.45 a.m. Maka Tautoga, Lautoka. 1 p.m. ate ianian ta, sok maka e Elsio ma Pephaua Faea'ag on Gagaj Puer ne Suva Dr. Konusi, ma Ro'aitut a'vah sin kato·g ta Fekau Mataere. Sapato ta 22nd julai 2001. Rot agesea e Churchward Chapel, ma kakai Rotu pu se hall ne rotu ma amah ta, faeag ne hainoaga ma 'ua'ua'aki se hensasiag ne soloa'ag asta. Ro'ait ne amah ta Fekau Mataere. Ma Ro'aitut a'vah sin kato'ag ta Fekau Langi. It was a very wonderfully blessed weekend for me. I felt very honoured and very blessed indeed to be part of the Malhaha Day celebration this year, and I certainly will be there next year, God willing.
I would like to thank my sigoa at Nadi, Maretoa, and Suka Mani for accommodating me at the last minute and making sure I got to Suva on Friday morning. Thanks to Jioje ma Sarote, Raukaefono, Melissa & Tevite, for looking after me so well. And to all the kainaga who invited me to your homes even though I couldn't make it, I'm really sorry, but it certainly was great to see you all. A very big thank you to Dr, Konousi, Dr. Tukaha, Raukaefono, and all the Else'e people in Suva and Rotuma for catering the celebration, and to Marseu, Muaheahea, and Kiji (The sisters) for the flowers--they were beautiful.
The video tape of the celebration is on sale in Suva now.
Dr. Konusi's wife, Sarote, passed away on Thursday evening, From Thursday evening when we learnt of Sarote's passing away to now our thoughts and prayers are with you, Apao, Mue, Sermani (who left Sydney yesterday), and all the kainaga. In your loss and in your loneliness remember you are never quite alone. The Lord surrounds you with the blessed comfort of His abiding Love. Naf 'otomis hanisi se ae ma te'ne hensasiag ataoa on Sarote ma 'omus la'riri ma mamapiga. I felt very blessed to have spent July 23rd in your home with Sarote, you, and Else'e kainaga. Thank you. May God bless you and give you comfort. Hanisiof. Maretoa and Family.
---
From Fiji Times (14 August 2001, posted 15 August)
"I'm all for Rotuma, says Livino."
By Vasemaca Rarabici
The Lio 'On Famor Rotuma Party says it will not tolerate any form of corruption and will let the law take its course on those found guilty.
A guest on Radio Fiji's talkback show yesterday and party candidate for the Rotuma communal seat, Riamkau Tiu Livino was replying to a caller who questioned the party's stand on fraud and corruption.
Mr Livino is standing against Independent candidate Marieta Rigamoto.
He said Lio 'On Famor Rotuma would maintain its links with the Soqosoqo ni Vakavulewa ni Taukei Party unless the chiefs of Rotuma ruled otherwise.
Mr. Livino said the Filipe Bole-led SVT Party was formed by the Great Council of Chiefs in which Rotumans were represented by two of their own.
He was asked which Fijian Party Lio 'On Famor Rotuma would join if he made it to Parliament.
"After considering the options, we agreed with the decision to stay with the SVT because the party has a link with the Rotuman chiefs in the sense it was formed by the GCC."
Mr. Livino said he would focus on economic development on the island including transportation and communication.
He said transport and communication to and from the island had been an ongoing problem which past governments failed to address properly.
"From visits to the island, transport and communication problems are an issue the people on the island bring up all the time," Mr. Livino said.
"The problems have deteriorated and are affecting the islanders."
A caller said airfares to Rotuma were too high with only one flight per week and ships took days to arrive and if Mr. Livino was elected into Parliament what would he do.
Mr. Livino agreed the airfares ($331 one way and $662 return) were too expensive for the islanders.
He said the ship servicing the island had agreed to subsidise its fares and if elected he would discus the issues with the new government.
---
From Torina William in Wellington (15 August 2001)
Congratulations to Anthony M Fullman who is the first Fijian/Rotuman to graduate with a Master of Public Management from the Victoria University of Wellington. Anthony is the son of Lily (nee Gibson) and Michael Fullman.
---
From Fiji Times (15 August 2001)
For the past year alone, the Government spent a little over $1 million for the development of Rotumans on the island, revealed Assistant Minister Marieta Rigamoto.
The projects include:
$130,000 on the upgrading of the Ahau Government station;
$82,000 on the shoreline protection work for Oinafa District;
$32,000 for the wiring of the Malhaha High School's new generators;
$110,000 for upgrading of the island's telecommunications;
$10,000 for a coconut oil extraction machine or DME for Pepjei District;
More than $100,000 worth of farming implements through the Government's farming assistance scheme;
$100,000 for upgrading works on Rotuma's airstrip which was completed in May;
$82,000 for work on the roads;
$506,000 for the reconstruction of the Oinafa jetty; and
The establishment of a Rotuma Desk with the Agriculture Ministry.
When asked why she deserved the support of her elctorate, Mrs. Rigamoto said she believed she was "a better person" when it came to serving her community.
"I feel that I have at least proved to the people during the past year, that I can serve them well," she said.
---
From Fiji Times (7 August 2001, posted 14 August)
Rotumans Want Better Deal
The contest for the Rotuma communal seat is set to echo the 1999 experience.
In the last election, assistant minister Marieta Rigamoto (50.38%) beat Lio 'On Famor Rotuma's Kafoa Pene (49.62%) by 30 votes.
There are about 5000 voters in this constituency this year; the majority live on mainland Fiji.
As such, the parties' main campaigns will be on the mainland and it appears a lot will depend on the candidates' lead-up campaign to polling day.
A recent random survey resulted in no clear feedback from the islanders as to how the vote will go. Interestingly, there was no direct mudslinging at any of the candidates.
Voters The Fiji Times spoke to were cautious to confine their comments to issues.
While all voters say the Lio 'On Famor Rotuma party's candidate, Tiu Livino, was a "good man albeit inexperienced in politics," most questioned the thrust of the manifesto, particularly the promise to set up a Rotuman-speaking radio station to update the island with news and information.
"There are much more important things to worry about and we receive Radio Fiji pretty well here," said a voter in the island.
Some even questioned the party's make-up, saying many were unknowns who had done nothing for the Rotuman community.
"We need a candidate that is Cabinet-material because little can be achieved as a backbencher," said another voter.
Several voters were of the opinion Mrs. Rigamoto was going to win the seat again because the Rotuma Council supported her.
But Council Chairman Visanti Makrava said the council, as a matter of policy, had not and would never align itself with any political aspirant.
"The perceptions may have resulted from our liaisons with Marieta but that is only because she is with the government of the day; the council, of course, needs to work with whoever is in the Government," he said.
Senior officials on the island are split in their views. Some have predicted a clear victory for Mrs. Rigamoto, because of a range of projects she has helped establish, including an oil-extraction project in Pepjei, airport up-grading, additional shipping services, seawall construction at Oinafa to protect the shoreline, a test seaweed-farming project, and improvements to roads and telecommunications systems.
About $506,000 has been allocated for the construction of the Oinafa Jetty and work has started.
On the other hand, some have said Mrs Rigamoto created "real trouble" for herself with the distribution of the farming assistance scheme.
---
From Bruce Tizard-Varcoe in England (12 August 2001)
Susau Strickland, President and Savike Oakley, Secretary of the 'New Zealand Methodist Womens' Fellowship' and Fotfiri Taukave from Rotuma, attended the '10th World Methodist Assembly' (14th-21st July), held at Loughborough University, England. Loraine Tizard-Varcoe met the three ladies in London and caught up with the Rotuman news from New Zealand, Fiji and Rotuma.
| | |
| --- | --- |
| | |
| Savike Oakley and Susau Strickland | Fotfiri Taukave |
---
From Marie Howard in Brisbane (5 August 2001)
Perry Gabriel, a MA Visual Arts student of Griffith University (Queensland College of Arts) had a joint art exhibition at the Palace Gallery, Southbank, with fellow student Jacoba Oliver.

Perry is from 'Ut'utu, Noa'tau District of Rotuma. He teaches art at the Lautoka Teachers' College in Fiji. An AusAID scholarship has allowed him the opportunity to pursue this program.

The exhibition is part of his major project which showcased twenty paintings. The centrepiece of his exhibition is the "Fui ne Rotuma." Plain white 'masi' was sourced from Fiji and used to paint on.

The Rotuman Community of Brisbane was very supportive in fundraising and helping Perry organise his exhibition. Mr Kapieni Manueli and his wife, Akanisi Manueli, the elders of the Rotuman community, unveiled and opened the exhibition after a Rotuman hymn and a prayer. The exhibition was well attended by Rotumans, Fijians, and friends and colleagues of Perry from the university.

| | |
| --- | --- |
| | |
| Perry Gabriel | |

Congratulations to Perry on achieving a 'Distinction' for his work.

Listed below are some of Perry's work
Yalo I Viti Kei Rotuma (the Spirit of Fiji and Rotuma), 2001 acrylic and pencil on masi (bark cloth) series 1-10, 80cmx100cm
George Speight, 2000 wax and acrylic on photocopy paper mounted on board, 57cm x 114cm
Na Vale Ni So Kalou (Fijian Village Church), 2000, oil on canvas, 43cm x 51cm
Na Bula Mai Na Koro (Fijian Village Life), 2000, oil on canvas, 41cm x 51cm
Ai Tukuni Ni Niu (The Origin of the Coconut), 2000 oil on canvas, 51cm x 61cm
Furifuri Ne Ava (Changing Times), 2000 oil on canvas, 48cm x 60cm
Tagimoucia (Crying tears of Despair), 2000 oil on canvas, 80cm x 100cm
Fui Ne Rotuma (Rotuma Symbol of Identity), 2000 oil on canvas, 80cm x 100cm
Pua Helava (Beautiful Frangipani), 2000 oil on canvas, 80cm x 100cm
Haf-Moumou (Hard Rock), 2000 oil on canvas, 46cm x 60cm
Qa-Ni-Vivili (Nautilus Shell), 200 oil on canvas, 80cx m 100cm
Na Bose Vaka Turaga (Chiefly Meeting), 2000 oil on canvas, 80cm x 100cm
---
Frank Taukave receiving
Order of Fiji Medal
From Fijivillage (31 July 2001, posted 4 August)
Recipients of the Order of Fiji medals finally got their awards on Friday [3 August]. This follows postponement of the ceremony from last year following the political crisis.
One of the Recipients of the Order Fiji is former FM96 personality, Frank Taukave. He is being recognised for his bravery following a drowning incident in 1999 at Suva's King wharf.
---
From Sanimeli Maraf in Rotuma (20 July 2001, posted 3 August)
This morning at the Malhaha High School the High School Board met after a get-together morning tea party hosted by Rejieli Flexman, the remaining member of the Wesley Mission team. Rejieli is leaving Rotuma tomorrow for Fiji, then home to Sydney. It was a lovely spread put on by the staff and teachers of the high school, the Principal Jione Tanu, and Rejieli. The families who hosted the Mission members were also invited. A word of thanks goes to everyone who helped the visiting Wesley Mission team, which came all the way from Australia to build a library for the children of Rotuma High School. The High School Board had a good discussion touching into a range of matters concerning our high school, the Rotuma Council, the routine of life on the island, leadership, and much more. A big thanks goes to the principal and his staff.
The library was opened on 10 July by Deaconess Olovia of Dilkusha; she was here for the Losa Conference held on 14 July. The conference collected $15,900. The District Officer, Luke Moroivalu, has asked that next year's conference be held at Ahau.
A visiting team of government officials, including the prime minister, came before the Conference. Prime Minister Qarase and his wife left after an overnight stay, but the rest, including Marieta Rigamoto, stayed for the Conference. Mrs Rigamoto was campaigning and brought some help for the people in her professional field (agriculture). We were grateful for the help. Other promises were made for after the election in August. Lio 'on Famor Rotuma will be here next week to campaign.
In Noa'tau District theFafaisina clan is preparing to open a supermarket using the old Rotuma Cooperative Association buildings in Fafaisina, Noa'tau.