News from Tausia Alfereti in Vatukoula (31 October 2001)
This month of October was a very hectic month for us here in Vatukoula.
During the Fiji Day long weekend (6-8 October) Tieri sports club hosted the annual Fiji Rotuman Sports Day at Theodore Park. The tournament was officially opened by Mr. Semesi Kauata who was previously the District Officer in Rotuma and is now the D.O. in Tavua. Granville (Nadi) and Moiro (Lautoka) both travelled on Saturday & Monday whilst Satarua camped at the Rotuman Community Hall, Raesea camped at Arone & Susana's residence at Church Road while the Sarafui Team members stayed with their relatives and friends here in Vatukoula. Satarua won the women's netball "B" grade competition; the best and fairest player in the "B" grade also went to Satarua. Sarafui won the women's "A" grade trophy and Eleni Bovitu (Tieri) won the best and fairest player trophy. In the men's rugby, Sarafui won the "B" trophy by defeating Raesea in the final, and Tieri defeated Granville in the final to win the Batidegei trophy for the men's "A" team. The most outstanding trophies for men were donated by the Atalifo family (Moiro) and presented to Joseph (Granville); the most outstanding player among the backs and the outstanding trophy for the forward players was presented to Mafia Mika Sikuri (Tieri). Tieri was also presented the trophy for the best dressed team. The Victor Trophy, which is played for only amongst the Sarafui, Satarua and Rae'sea teams, was won by Sarafui. Sarafui also took the trophy for overall points.
Sunday (14 October) the Tieri members held a thanksgiving church service at the Vatukoula Methodist Church at 2 pm and then they were hosted to dinner at Emeli & Rigamoto Tonu's residence.
On Saturday (20 October) the Tieri members held their break-up party at the Rotuman Community Hall to celebrate the spoils they had won during the Fiji Annual Sports Day Tournament. Also to bid farewell to their Patron, Nepote Batidegei, who has moved to Suva following his retirement and to welcome their new Patron, Petero Ragogo (principal of the only high school here in Vatukoula), married to Mua Joana from Pepjei. They also held a hapagsu to all those who were injured during the tournament.
One week before the tournament the Tieri rugby team camped at the Rotuman Community Hall and held daily training sessions in the mornings and afternoons. During their camp they also held devotions before lights out and before they headed out for training in the mornings. Their theme song, which they sang before and after each match they played during the tournament was "I know the Lord will make a way for me..." It was something new to all those who came to watch the games. To see a team bind together before and after each game and to sing a church chorus apart from the warmup exercises other teams usually do before each game. This I believe has brought pride into our small Rotuman community and to top it off the boys won the most prestigious trophy. They also fulfilled a request from their outgoing Patron: that he would like to see the trophy he donated to the Fiji Rotuman Sports Council coming back to where it had originated from.
On Saturday (27 October) Gajgaj ne Koro-te-rer (Methodist church group) held a mamasa for Rigamoto & Maluise and their two grandsons, Ross and Junior, who just returned from Australia where they were visiting their uncle Motofaga (Rigamoto & Maluise's oldest son). The mamasa was held at Rigamoto & Emeli's residence.
At the moment the Rotuman Methodist groups (Koro-te-rer, Koro-te-lopo, Dolphin & Saioni) are gearing up for a church fundraising that'll be held on 8 December. Instead of having queens we'll be having kings and each group is to prepare a tit het (traditional dance) for entertainment. There will also be a na te. For those of you who know Vatukoula, I believe you can imagine each night when the different groups have their taumaka. It is like Christmas here in Vatukoula with the sounds of taumaka coming from different places in Loloma.
---
From Antoine N'Yeurt in Suva (28 October 2001)
Now that SunAir no longer flies to Rotuma, charter flights are being organized by the Sisters' Enterprises on a weekly basis (Friday). The Sisters operate out of Oinafa, where they took over the premises previously occupied by Raho. The cost of chartered flights is F$335 per person, one way, provided all seats are sold.
---
From Bruce Tizard-Varcoe in England (23 October 2001)
Peter Young, grandson of Gagaj Kauturaf, son of Joseph and Fuata and brother to Patrick, William and Gloria, successfully passed his 'Phase 1' of army training in Bassingbourn on 12th October.
The parade, again blessed by sunshine, was attended by Luisa (nee Lilino) and David Copping and Fereti Atalifo with his sister Katarina.
Peter is now into 'Phase 2' of training and upon successful completion, will join his regiment, the 'Royal Engineers'.
Also passing his 'Phase 1' training at the same parade was part-Rotuman Atu Railoa from Lautoka, whose Rotuman grandmother is from Haga in Juju.
Atu Railoa (left) and Peter Young (right)

Peter Young in uniform

Peter Young


Photos by Luisa & David Copping on day of Peter Young's Passing Out Parade
---
From Fiji (17 October 2001)
We have received news that Sun Air has stopped flying from Viti Levu to Rotuma, presumably because the route was not profitable, and that the only way to fly to and from Rotuma is to charter a flight with Air Fiji. This means that mail to the island is very irregular, and depends on boats. It will also make it difficult for those wanting to spend only a few weeks on the island over Christmas.
In response to this news we contacted Sun Air and received the following reply from Tito Daurewa, Reservation Manager.
"Sun Air no longer operates all Rotuma flights. It's not about a non-profitable market. We have the heart for the people of Rotuma & Fiji as a whole.It is the Civil Aviation Authority of Fiji Islands who have made the rules that have stopped our aircraft from serving Rotuma."
Given the seriousness of the situation, we would appreciate it if anyone having additional news would contact us as soon as possible so that we might share it with the global Rotuman community.
---
From Janice Newton in Ballarat, Australia (14 October 2001)
Rejieli Paulo won the prestigious Sun Aria singing contest in Victoria last weekend, a few days after her mother died of cancer. The funeral was yesterday.
The following article was published by the Sun Herald:
Aria win amidst grief
By ALISON BARCLAY
13 October 2001
IN the midst of a singer's greatest loss has come her greatest triumph.

On Monday, Rejieli Shepherd-Paulo lost her mother Irene after a long illness. And last night, when the young soprano won the $35,000 first prize in the Herald Sun Aria, she knew her mother had been hovering around to help her.

"I just need to say `Mum, we did it'," Shepherd-Paulo told a packed Concert Hall before breaking down in tears.

It was third time lucky for the 26-year-old from Hallam, who was an Aria finalist in 1999 and 2000.

This time she wooed the adjudicators with arias from Verdi's Otello and Cilea's Adriana Lecouvreur.

"My family and friends, I did not do this on my own tonight," Shepherd-Paulo said.

"My sister wrote me a letter this morning (in which she said) `Music is the door to our souls', and I will never forget that, because it is. Any emotion we experience, 99 per cent of us turn to music to experience happiness and everything else, and if it wasn't for music I wouldn't be here."

The newlywed plans to stay in Melbourne in the short term before travelling with her Aria scholarship.
---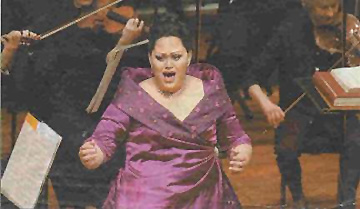 Photo from The Courier (Ballarat) Sat Oct 13, 2001. Picture by Ian Wilson
The article in the Courier read as follows:
Aria winner attributes success to her mother

Stirring performance part of Shepherd-Paulo's promise

by Fleur Morrison

Soprano Rejieli Shepherd-Paulo's win in the Herald Sun Aria last night was an emotional one.

In a tearful acceptance speech Ms Shepherd-Paulo dedicated her stirring performance to her mother, who died on Monday after a four year battle with cancer.

"I did it mum," Ms Shepherd-Paulo said when she was presented with her award.

She said that her performance had been part of a promise she made to her mother while she was sick.

"She was the one who got me here, and gave me strength on the stage. I promised her I would do it, and I have," she said.
---
From Bruce Tizard-Varcoe in England ( 9 October 2001)

Freddy Alfred
Frank ('Freddie') Alfred, son of Alfred (Pepjei) and Teresa (Malhaha) Panapasa and brother to Maria, Kaitu, Vamarasi and Marie, married English fiancé Juliet Russell in Leatherhead, Surrey on Saturday 29th August.
Attending the wedding were the Tizard-Varcoe family (Bruce was 'Best Man') and Robin Mitchell (Jnr). Messages from Frank's parents and family in Fiji were read out at the reception in the afternoon
---
From Hiagi Wesley in Salt Lake City, Utah (3 October 2001)
My wife Susan and I and our five kids just returned from a trip to Washington D.C. We flew in to Dulles Airport because National (Reagan) Airport was not yet opened. We enjoyed many of the Smithsonian Institute's museums, including the Museum of Natural History with its variety of displays. We especially enjoyed the displays from Fiji. We toured the different monuments (Abraham Lincoln Memorial, Viet Nam War Memorial, the Korean War Memorial, and Roosevelt's Memorial). We also went through the Holocaust Memorial, which was a very sad, sobering, and disturbing presentation. We saw the gaping hole on the side of the Pentagon building. We were disappointed that the White House and the George Washington Monument were closed. It was a great educational experience for us to tour the capital of the United States.
Our oldest son, Mekeli, who was the Mountain West Conference Basketball Player of the Year at Brigham Young University last year, went to Israel to play basketball but decided to leave in July, after one week, because of the volatile situation in the Middle East. He played professional basketball in France for a month, and is now in the process of finalizing his contract to play professional basketball in Italy. Our second son, Russell, is serving an LDS mission to the Philippines. He will complete his two years in early August of 2002.
Last month, our Fiji group (Fijians, Indians and Rotumans) met on 3 September and had a party. This month, besides the annual October Fiji LDS Mission Reunion with former missionaries to Fiji, our group will be celebrating Fiji Day on 13 October. We generally get together and have food and sing songs. The only other Rotumans here are my sister Sarote Tolo and her children, plus Victor Narsimulu from Wailuku and his wife (attending Brigham Young University), and Pasepa and David Breckterfield's son who lives in Salt Lake City with his wife and child. We occasionally talk to Tiva in Florida and other Rotumans who are in California. God bless....Hanisiof. Hiagi Wesley and Family.
---
2 October 2001
The Suva Itu'muta Association hosted Itu'muta Day 2001 on Saturday, 29 September at The National Gymnasium in Suva.
Itu'muta Communities from Nadi, Lautoka and Vatukoula joined the Suva Association in a day of celebration. The total amount raised was $12,171.10.
---
From Alan & Jan in Honolulu (1 October 2001)
Mausio Ralifo
Yesterday we had the pleasure of meeting Mausio Ralifo, who stopped over in Honolulu on his way to Majuro in the Marshall Islands. Mausio is employed by the University of the South Pacific in Suva as a specialist to maintain and repair photocopying equipment. He is going to the USP center in Majuro for two weeks to train personnel to do the same and to download course materials sent electronically from Fiji.
Mausio's father and mother are Nofaga and Sarote Ralifo from Noa'tau. His brother, Paul, earned an M.A. degree in Japan and is currently studying for a Ph.D. in natural products chemistry at the University of California, Santa Cruz.