Dr Eric Rafai
From Dr Eric Rafai in Suva (31 January 2002)
Since leaving Rotuma Hospital in Febraury 2001, I have been busy with work commitments and post-graduate studies at the Fiji School of Medicine. I have since moved on and am currently on assignment to Special Projects; more specifically a Fiji Non-Communicable Disease Survey [a Colloborative effort between WHO, Mensies and Fiji Govt.].
---
From Konousi Aisake in Vancouver, B.C. (26 January 2002)
Our trip to Rotuma was a remarkable one. No one wanted to come back, because we love Rotuma so much, especially Fapufa.We enjoyed it more now because the kids are much older than the last time we were there. There were lots of people visiting Fapufa every day to bathe in the cave. It's great to know that Fapufa is still number one for visitors in Rotuma. Fapufa has grown since that last time we were there. And also there is a workshop for the Fapufa women to produce handycrafts that the men sell. In the whole of Rotuma this is the only one that is working successfully.
---
From Antoine N'Yeurt in Fiji (26 January 2002)
I just came back to Suva yesterday, after a rough trip on the Govt vessel Tovuto which brought back some 66 people who were still stranded on the island. Fara season was nice. We had the pleasure of meeting Koni Aisake and family in Fapufa, and it was really enjoyable to learn about his art, and view of life. He is also a great fisherman, so we spent a lot of time out on the reef!
---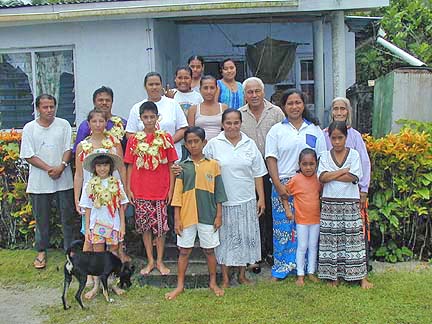 The Aisake Family in Fapufa
---
From Rina Antonio in Vatukoula (15 January 2002)
I am sending this message on behalf of my parents, Rigamoto and Maluise Antonio and family, previously of Loloma, Vatukoula. My dad, Rigamoto Antonio, retired on 31 December 2001 after having worked in the Emperor Gold Mines for 38 years. On 11 January 2002, a big farewell was held at the residence of gagaj puer ta, Rigamoto Kafoa. It was a big gathering with everyone drinking grog and dancing fara until daylight. It was also a sad occasion for my mother. Having lived in Vatukoula all her life, she will miss everyone there very much.
I would like to acknowledge the following people for their support during those memorable years at the Mining town:
Gagaj puer ne hanua: Rigamoto Kafoa ma Emeli Kafoa
Pureag ne koro terere: Jacob Pau'u and Lusia Pau'u and everyone
O'fa ta Jone Pau'u ma o'hon ta Irao Pau'u
Fa hua ne Rot Rotuam ne Vatukoula ma te ne kakai Rot atakoa
Pita, Rejieli Emosi and family, Julie Ratusau and Jennifer Albert for helping in the packing and to everyone who helped in anyway and that we did not mention.
May God richly bless you all!
---
From Sydney (6 January 2002)
According to a media release on 1 November 2001, Rejieli Shepherd-Paulo won several new awards for her singing, including the Marianne Mathy Scholarship. The release reads as follows:
Melbourne singer sweeps the pool at Mathy Awards!
"It was an exciting night at the Sydney Opera House when the Australian Singing Competition celebrated its 20th year with a gala concert for the Mathy Finals.

From 5 singers, Rejieli Shepherd-Paulo, a 26 year old soprano from Victoria, was selected as the winner of the $30,000 Marianne Mathy Scholarship. The scholarship, to assist a young singer with vocal study or career advancement, is awarded in conjunction with a number of valuable prizes including a limited edition Cherina sculpture, the Mathy.

Rejieli was also awarded several other prizes and generous cash grants bringing her winnings to an estimated value of $70,000, but then came the big surprise. She was announced as the inaugural winner of a new (and unlisted) award offering a highly valued performance scholarship at the newly established Australian Opera Studio in Perth. Known as the Gregory Yurisich Award, it is named after the Perth baritone and former Australian Opera principal, who went on to make his name on the world stage. The total endorsement by the adjudication panel and the audience of Rejieli's performance would seem to predict a similar future for this young singer who chose an aria from the Mozart opera 'Clemenza di Tito' and one of Strauss's 'Four Last Songs' for her winning performance."
According to Janice Newton, wife of Tafo'ou Atalifo in Ballarat, Rejieli will be going to London to sing at Covent Garden before moving with her husband Duncan to Perth where she will study at the new Australian Opera School.
---