From Sydney Australia (28 April 2002)
Elizabeth Benz finds a new lease of life by tripping the light fantastic
This item has been transferred to the Life Stories section of the website
---
News from The Netherlands (26 April 2002)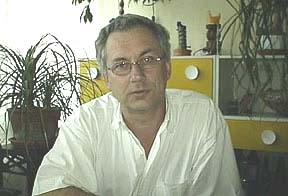 Ad Linkels at home in Tilburg, The Netherlands
It is with great sorrow that we learned of the death of Ad Linkels on 24 April of meningitis. He and his wife, Lucia, visited Rotuma in 1996 and recorded songs, chants, and familiar sounds. They produced a wonderful CD entitled Tautoga, a must-have album of Rotuman music. In 1999 they visited New Zealand and recorded songs of many ethnic groups, including Rotumans in Wellington. The song "Rotuma" appears on the CD they produced entitled Aotearoa. The Linkels also produced CDs of music from Tuvalu (Tuvalu: A Polynesian Atoll) as well as Hawai'i, Samoa, Tonga, Rapanui, and Cook Islands (Hula, Haka, Hoko!: Polynesian Dances). Ad was a meticulous scholar and did his best to make sure that the recordings he and Lucia made were representative and that the texts that accompanied them were accurate.
As Randie Fong of Kamehameha Schools in Honolulu wrote in a review of Hula, Haka, Hoko: "the Linkels' many years of dedication in the study of 'world/ethnic' music and dance, their impassioned efforts in arts education through Mundo Etnico, and the joy that shines through their work are compelling reasons to engage this unassuming yet informative look at Polynesian performing arts. . . . I found the work most valuable, especially for the many who seek to broaden their knowledge and deepen their understanding of Polynesian cultures. . . . The Linkels provide windows into 'Polynesian dance culture' that can be appreciated even by Polynesians themselves and are particularly meaningful as Polynesian cultures seek to connect with each other in contemporary times."(The Contemporary Pacific Spring 2002 14(1):286-288).
The Polynesian people, Rotumans included, have lost a great friend and benefactor. Hanisi Lucia!
---
From Elisapeti Inia in Rotuma (3 April 2002, posted 24 April)
On 17 February Dr Ane Atalifo arrived with her father, Dr Fiu Atalifo, and Jioje Konrote, who is Dr Fiu's nephew. The two men stayed until March 1st when they returned to Suva. Then the hospital started to become full of patients, day by day. The beds are no longer empty. I visited the hospital on several occasions and was able to see Dr Ane's work. Whenever people ask about our new doctor my answer is "too good!" She is such an angel. Her voice and her attitude really comfort the sick people. She has such a lovely personality, and she spends most of her time in the hospital. Sometimes I said, "Please be sure you eat to be strong."
When Easter came two couples from Itu'muta ate ogo and got very sick and were admitted to the hospital. Also a few Fijian workers from the Oinafa jetty were hospitalised from fish poisoning, and a woman from Savlei spent Easter in the hospital after being poisoned from another type of fish.
Church activities prior to Easter included a women's rally at Motusa on 7 February (women from all around Rotuma), a welcome service for Dr Ane Atalifo on 14 February, Women's World Day of Prayer at Malhaha on 1 March, MYF rally at Losa on 23 March (all Rotuma MYF), and then a quiet Easter. I translated two hymns from English and Fijian for the Savlei Catholics to sing on Easter Sunday and they sang well at Upu.
---
From Sanimeli Maraf in Rotuma (29 March 2002, posted 24 April)
Although we didn't have Easter eggs we did have hot red cross buns. Mr Jao Andrea of Juju district started up his bakery business again: $1.10 for a dozen Easter buns. We have whole meal bread, $1.48 for two small loaves (joined, unsliced), and $1.10 for a square loaf sliced for sandwiches, and scones. We still have Rupeti Mani's bakery here in Kalvaka and Kafoa Olsen's in Malhaha district is still going strong.
A big thank you to the Ministry for Works for sending three men to fix our long waiting water problem, especially in Noa'tau district. They arrived together with G/Maraf on 23 March. Both water pumps were out of order and our local boys couldn't fix the problem. The Noa'tau people had to go back to cleaning up wells, fetching well water for cooking and washing. People were washing clothes and bathing in sea pools when the tide went out. We had to boil rain water for drinking and cooking, drank coconut water every day, and made lots of tahroro. All this made us wake up and realise that Nature is great and we're to be thankful for the rain and our Creator. Everything is back to normal now, thanks to the Minister of Works, Mr Savenaca Draunidalo.
The Oinafa Wharf is slowly getting repaired. The work is being done by Fijian men and it's looking great.
Nowadays most people are living on breadfruit because the season is so heavily blessed. Funkakape is the best; lumlum, especially when the breadfruit is half ripe; totok lol funu, and lol säs--it's beautiful, it's lovely; you get to eat till it's coming out your ears!
This Saturday our men are preparing for the Losa rot fa ta, each kau rotu na te and sing hymns afterwards. The donation stays with them. It's an enjoyable day out.
---
From Rupeni Mario in Suva (24 April 2002)
Report of LäjeRotuma WWF Training of Trainers Trip to Rotuma 28th Feb- 8th Mar 2002
Noa'ia 'e mauri! On a Thursday early morning, Rotuma lurked out of the dawn shadows. It had been eight years since my return, so you can imagine the excitement of coming home after a long time. There was also anticipation of what awaited us, since this was also the first trip for LäjeRotuma since its inception!
Sid had just returned from his Christmas holidays in Rotuma, a month ago; for Anare, our Fijian volunteer, this was his first visit; Manueli, David, Lulu, Abel, Emi, and I had not been home for more than seven years, so you can imagine the spirit on M.V. Cagi Mai Ba. I woke up early morning of the last day of the journey, thinking I had heard the cocks crowing!!! When I went out to the bow the guys thought I must be nuts to think I had heard that--we still had over 30 miles to go!
The dawn lifted and an islet appeared. "There's Haua," I said to Kristal, a 10-year old boy I befriended on the boat. But he corrected me, pointing out that the first islet a boat encounters is Afgaha. We all had a good laugh at my mistake, and in his very adult and perfect Rotuman, he changed the subject by saying about the trip, "'Ahai ta lelei kat la' jau'ak ra."
A slight drizzle served to mamasa us as the boat was tried to ramp itself awkwardly onto the wharf.
On this trip the LäjeRotuma team had eight volunteers comprising three PLA (Participatory, Learning & Action Tools) Trainers and three field logistics guys including the two core group members, plus a video documentor and a volunteer to oversee the housekeeping matters of the team and the workshop. The objectives of the trip were to carry out a four-day training of youth leaders workshop at Rotuma High School and to do community outreach during its evening sessions, promoting the plans of LäjeRotuma Initiative for 2002. This workshop was funded by WWF, which also donated workshop kits. Transportation to the island was kindly assisted by Mrs Marieta Rigamoto's Office. Air Fiji also gave a 50% concession for four air tickets, allowing those needing to get back to lectures and work commitments to return in time.
Since the workshop was held at Rotuma High School, Forms 5-6 sat in on the sessions with a few teachers during recess and lunch times. This was a great opportunity to create an awareness at the school, and we hope that the students and teachers in turn will relay our concerns to their families in the communities. As you can imagine, the team had a hectic, wonderful learning experience. The three novice PLA trainers and LäjeRotuma's core members had the challenging task of disseminating the correct information, to the point of paranoia that we would say the wrong things!
In the evenings, the team divided into two groups led by Sid and me. We went out to the communities hoping to create a forum for the islanders to raise their concerns about LäjeRotuma's plans. There were times when the villagers saw us as "knowing it all," and that we already had the answers to their questions. We needed to clarify the purpose of our presence, which was to gather information. We informed them that we were on a fact-finding mission and that LäjeRotuma hoped to combine ecological theory with the community's practical knowledge of the island's natural resources to define better management plans in future.
Apart from scheduled events there were invites from women's groups. One was on Friday, 1 March, when the team went to the church service at Malhaha District, celebrating World Prayer Day by all women around the island (and the world), irrespective of their religion. The prayers were dedicated to the women of Romania. The green fig tree brooch worn by most ladies were in remembrance of the women in Romania…plant a tree, the symbol of life.
The second invitation was to the Women's International Day meet at Ahau Government Station on 8 March. Sid, Abel, Anare and I (who were planned to fly back on the late morning flight), represented LäjeRotuma to talk about its plans and the purpose of our visit. We seized the opportunity to persuade the women of Rotuma to assist LäjeRotuma. I mentioned actions for change that the women could do by using cloth bags for shopping, thus reducing the necessity of having to dispose of plastic bags.
Whilst on the island, some of the team members' family visited us at Maragte'u. To make a list of the stuff from la' asi: We had three pigs, many bundles of 'a'ana, 'af jarao mori, fo'u, niu even poat kau from Emi's, David's, and Sidney's families, not forgetting the bundles of fish from our neighbors Gagaj Tokoar and Kaurasi that made up our daily menu.
What else did we do? Well, there was the manta tow exercise, in which we took the Noa'tau high school kids on a boat ride close to the reef passage to try out the manta tow with the rest of the LäjeRotuma team, and interested the kids on a fun ride, underwater!
On the whole, the trip proved successful. The team members got to know each other a lot better and we all made new friends during the workshop and at the evening sessions. It was a learning and groundbreaking experience, where the team hopefully paved the way for the many volunteers who will continue the work.
For a summary of the ideas raised in the evening sessions and photos, click here.
---
From George Traill in Suva (16 April 2002)
The Institute of Pacific Studies at the University of the South Pacific publishes a wide range of books on the South Pacific including a few on Rotuma. Our latest book on Rotuma just came off the press a few days ago. It was edited by Aubrey L. Parke, who was district officer on Rotuma during the 1960s.

The book, Seksek 'e Hatana, is a collection of hanuju, fäeag tupu'a, and rogrogo (myths, legends and stories) as well se some fakpeje (ceremonial speeches) and sua (songs) gathered in 1964 in Rotuma. Many of the tales refer to specific places in Rotuma and its offshore islets. The islet of Hatana is central to the origin myths of Rotuma. Seksek 'e Hatana is more than a record of traditions and memoirs because it includes excerpts from an archaeologist's field notebook. This approach sets the traditions of Rotuma in an archaeological and geographical landscape, and in a context of ceremonial and tradtional activities, signs, and omens. Supernatural and semi-supernatural landscapes and associated archaeological and ethnographic information are in this book based on knowledge and explanations from Rotumans. This book records a large body of information, narratives, memoirs, and observations for future generations. Its text describes sites, linking them with the narratives. Such records provide invaluable information about the past as the people involved saw it. In turn, this information helps us to understand the present and to plan for the future.
The books sells at US$37 a copy. For more information, or to order a copy, contact the Institute at:
Fax: 330-1594
Telephone 331-3900, ext 2018 or
email me at <traill_g@usp.ac.fj>
Noa'ia
George Traill
IPS/USP
Suva
---
From Mika Taito Santa Cruz, CA. (14 April 2002)

Last Saturday (4/13/02) the Seven Stars of Rotuma held our meeting at the Chairman's home in San Francisco.

We discussed the upcoming Rotuma Day Celebrations 2002 and entertainments for that day. Rotuma day this year will be held in San Francisco on Saturday May 11th.

Our Chairman, Mr. Sopapelu Susau wishes to extend the Seven Stars of Rotuma invitations to any Rotuman living in the United States who would like to be part of the celebrations. For further information and directions please contact the Chairman on phone (415) 333-8237 or email <tieri107@earthlink.net>

Chairman ta ma kautauna'iag ne "Seven Stars of Rotuma" a'häe la naaf 'otomis hea'hea' lelei se 'os kainag Rotuam 'atakoa 'e ut tutu ne rån te.
---
Fiji Government Press Release (9 April 2002)
Konrote Gets Ready for Australia
Jioje Konrote
[General] George Konrote will leave Fiji shortly to take up his position as Fiji's High Commissioner to Australia following the acceptance of his appointment by the Australian Government.

The former Home Affairs Permanent Secretary replaces Ratu Isoa Gavidi, who returned to Fiji recently to take up his post as the Permanent Secretary for Foreign Affairs and External Trade.

Prior to joining the Home Affairs Ministry in 2000, [General] Konrote had a distinguished career with the Republic of Fiji Military Forces.

He ended his military career on a high note when he was appointed to a five-year term as Force Commander for the United Nations Interim Forces in Lebanon (UNIFIL) where he attained the rank of Brigadier-General. He is the first Fiji soldier to serve in this capacity.
---
From Arnold Jacob in Lautoka, Fiji (4 April 2002)
Over the past Easter Holidays (29/03— 01/04/02) the annual Rotuman Sports Council Volleyball tournament was held here in Lautoka. This years Volleyball tournament was unique in comparison to past. For the first time since its inception, Rotuma was represented by a men and women's team. Sigatoka, along the coral coast of Viti Levu, was also represented by a men's team.
With the inclusion of Rotuma and Sigatoka, this year's tournament was evidence that more Rotumans around the country are coming together as one in sports. The success of the tournament enabled us to meet new and old friends and relatives, and to catch up with Rotuman news from around the country and Rotuma.
The district of Hapmak represented Rotuma in the A divisions of the tournament. Gagaj Vaenuk and Gagaj Markao accompanied the team from Rotuma and were hosted at Francis & Helen Katafono's residence here in Lautoka.
Rotuma's Honorable Member of Parliament, Marieta Rigamoto, officiated the opening and with the beautiful western weather, the tournament got off to a fine start with most pool games played on Saturday. Easter Sunday was a day of rest for all teams before the games resumed on Monday.
Following are the final results of the games.
Men's A Division

Winner - Mairo (Lautoka), Runner up - Rotuma

Men's B Division

Winner - Granville (Nadi), Runner up - Tieri (Vatukoula)

Women's A Division

Winner - Rotuma, Runner up - Satarua (Suva)

Women's B Division

Winner - Mairo (Lautoka)

Best Team

Rotuma
Gagaj Markao and Gagaj Saufo'ou presented the winners trophies and officially closed the games on Monday.
Next years games are scheduled to be in Suva and it is anticipated that all clubs including Rotuma will meet again for yet another successful tournament. It was also noted from the high standard of games played that our very own volleyball tournament can be as successful as any other sports meet.
On behalf of the Mairo Club, we would like to say a big thank you to all teams that participated in this years games, especially to Gagaj Vaenuk, Gagaj Markoa, Betty, and our friends from Rotuma for making this year's games a success.
God bless our Rotuman Sports.