News from Bruce Tizard-Varcoe in England (26 August 2002) Jeannette, Vilsoni, and Daniel Hereniko were here in the U.K. last month and were invited by the Pacific Islands Society of the United Kingdom and Ireland (PISUKI), to show 25 minutes worth of movie clips of Fire in the Womb at a gathering here in London.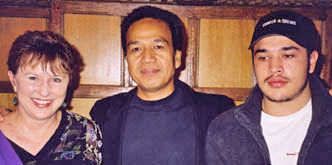 Jeannette, Vili, and Daniel Hereniko
---
From Elisapeti Inia in Suva (17 August 2002)
The Motusa Circuit choir is here for the singing competition again. Last year there were 27 of us but this year the number increased to 45. Tomorrow our choir, as well as the Churchward Chapel Choir, will sing the anthem and mak ka' pelu we have prepared for the competition next week for the congregation to hear and give their criticism. The solevu started yesterday; Ba Province opened the Fundraising Bazaar by donating $132 thousand odd, almost $133 thousand dollars. The members of our choir brought coconuts, baskets of food, mats, fans, brooms, oil, etc to sell and the money we get is for our nate.
Update 21 August: We sang our anthem last night at 11.00 p.m. It is a relief to know we have done our part to the soli (na te) We donated $300 for mak ka' pelu and $2016.00 for our anthem. Na te raurau! Now we can start roaming around Suva, some to Lautoka, etc. The return trip for the Rotuma choir will be on 7 September on Bulou ni Ceva.