From Sanimeli Maraf in Rotuma (1 October 2002, posted 18 October)
Our Rotuman Ladies Club had a workshop from 23-27 September. Beginners like me learned to prepare 'epa and sa'aga, and we started to learn how to weave. Everyone had a good time sharing what we have. Each day we started with a hymnand a minister or his wife joined us in prayer. Then an invited guest would speak on the subject we had chosen for the day, e.g., self-esteem, health, attitude counselling, personal growth, etc. before we started our workshop. I hope that we can meet monthly and hold a workshop every third month.
The Fiji Day celebration will be held on 10 October this year. There are lots of activities for the participants: sua vaka, baby show, copra cutting, basket weaving, card games (lono), volleyball, school children's sports, etc. etc.
I am going to Auckland to attend a family reunion of the descendants of William Lang and Mary Thornburn on 13 October at North Harbour Stadium Function Centre. Their daughter Annie married my great-grandfather, Alexander Gibson. I am the fourth generation along the line. Every ten years they get together. It will be nice to meet up with the many clans.
After the Auckland reunion I am off to see my new grandson, Eathan John Stace in Melbourne. I hope to be back to Rotuma during the first week of November as the Hospital Board of Visitors is having a "bring and buy" evening to raise funds. It will be held at the Pepjei Hall during mid-November.
Unfortunately the Pepjei sea wall is now spoiled. It's a shame to see that all the protected front wires were washed away. There was a heavy wave and bad weather one time about ten weeks ago. The roof of the shop opposite was lifted off as a result of the bad weather that very night, and all was ruined. There goes the F$84,000 project!
The weatherman here told us to expect dry weather around November onwards as a result of El Niño so people can plan ahead. The agricultural officer has recommened that people plant tapioka and kumara. That helps the people to prepare themselves, but who knows what will happen next? Let's hope that God will protect Rotuma.
---
From Hanuarani Atalifo in Rotuma (3 October 2002, posted 18 October)
A big thank you to Reverend Ravai Renell and the Rotuma Auckland United Church for their kind donations, which have finally arrived in Rotuma. They include: One fetal heart doppler, one suction pump, one cardiette machine, and two wheel chairs.
During the Australian High Commissioner's visit, the district officer and the Hospital Board of Visitors requested funds for a backup generator. The High Commissioner donated F$5000 toward the F$5,980 total, so the Board paid for the balance. Thanks to all of you who have donated so generously to the hospital fund for making this possible!
Dr Ane Atalifo and the hospital staff are in full swing at the hospital. They treat outpatients there and do a "medical reach out" to all the districts. The response from the villages has been very good. The doctor has been able to cut down on the number of patients who require treatment in Suva, and this has reduced the government's medical expenses for Rotuma.
---
From Ilaitia Vuki in Aldershot, England (18 October 2002)
Double Congratulations to Anthony 'Tony' Luciano for his promotion to lance corporal on 3 June of this year. He soon will be the first Rotuman from the British Army to join the Royal Air Force (on 4 December this year). Lance Corporal Luciano has been in the British Army for the past two-and-a half years. He recently passed the selection tests at the Royal Air Force Recruiting Center in Swansea, Wales. He is currently attached to the 14th Signal Regiment (Electronic- Warfare) in Brawdy, South West Wales. LCpl Luciano hails from Motusa and is the youngest son of Reijeli and Eliesa of Raiwai.
His e-mail address is anthony_luciano@hotmail.com
Lance Corporal I Vuki AGC(SPS)
7 Para Royal Horse Artillery
Aldershot, England
---
From Frank Smith in Sydney, Australia (16 October 2002)
Veteran karate exponent Moara Nonu, mother of two and daughter of Memaofa and Sokraa (Noatau/Motusa), represented Fiji at the 10th Oceania Goshin-Ryu Karate Championship, held at the Rooty Hill RSL, Sydney. The meet was organised and hosted by the Australian Karate Federation from Friday, 20 September, to Sunday, 22 September. Moara, who lives in Vesivesi Kinoya, Suva, is a seasoned campaigner. She holds a black belt 1st dan (1st degree) in Goshin Ryu - Karate since 1997, and was the first woman to achieve this award in Fiji. She is a senior member of the Fiji team and is a local coach in Fiji.
Moara is one of four Rotumans in the touring party. This dedicated group, which has included many other Rotumans over the years, organises their own fundraising with support from parents and friends in Fiji to enable them to compete in various championships in Fiji and abroad. What an amazing and commendable achievement for these Rotumans! They continue to raise funds and are looking for sponsorship of Rotuman participants for the upcoming South Pacific Games in Fiji in June 2003.
Moara made this plea: "My experience has made me more aware of the need for qualified coaches to care for and understand the athletes. Karate in Fiji would gain a lot if we can get support or sponsors for our Rotuman people. Such support would allow our athletes and coaches to learn and train in Australia, New Zealand, USA or any other country where Rotumans could billet and support/sponsor us."
The Fiji Group, and the close-knit four Rotumans, initially experienced billeting and transport problems to and from the tournament venue; however, they eventually were accommodated at the homes of Maruseu Smith (nee Pene) and Teariki Smith (grandson of the late Ufufie & Torika Mani [Noatau/Motusa]).
Moara emphasised: "My involvement in karate since 1989 has made me see a lot of things that can be changed or improved. I believe we will need support from Rotumans living abroad to enable us to participate competitively in future tournaments like the South Pacific Games and other tournaments in Fiji and abroad." Karate is a sport recognised by the International Olympic Committee.
Moara Nonu's competitive background and experience includes:
1997 Asia-Pacific - won two bronze medals as Fiji representative
1997 Oceania-Australia - won silver medal as Fiji representative
1998 NZ Open - won two bronze medals as Fiji representative
1998 Fiji Games - won two gold medals
1999 South Pacific Games won one silver and one bronze medal as Fiji representative
1999 Japan, Women's World Cup - Fiji representative participant.
2000 Provincial Games - Fiji representative participant.
2002 Oceania Sydney, Australia - Fiji representative to women's open 'Kata'
2002 Oceania Championships Sydney, Australia - Fiji representative in women's kumite.
In 2002 and beyond, Moara's immediate aspirations are to be a competent, qualified, and recognised coach, mentor, and karate sports administrator, possibly for the Fiji National team. "It has been my dream to help promote karate to a professional level and to see that karate in Fiji improves, firstly amongst the dedicated Rotumans. We then can progress nationally and internationally if given the right sponsership, opportunity, and support.
"My experiences during the three day 2002 Goshin-Ryu Karate Oceania tournament were that a lot of rules have been changed. In Fiji we were not aware of these changes, so it was difficult for our athletes to follow the changes at the tournament. I strongly believe that it affected some athletes, but we all did very well and went back home with shining medals. The Fiji Team placed fourth in the medal tally, which I believe impressed and surprised a lot of people at the championship.
"On the behalf of the Fiji Team and the four Rotuman karate athletes, namely Riagamoto Kafoa, Willie Nonu, Rigamoto Kamilo, and myself, I would like to thank our relatves and other Rotumans in Sydney, specifically the Sydney Rotuman Wesley Mission Congregation and the Lighthouse Fellowship, for their cheering, billeting, transporting, and overall moral support over the three days of the tournament. We have been very fortunate to have the Rotumans in Sydney support us, and we shall be forever grateful to them.
"Faiaksea, e hanisit se omisa." Moara Nonu
_________________
University of the South Pacific (BEd) student Willie Nonu, 22 yrs, represented Fiji at the 2002 10th Oceania Goshin-Ryu Karate Championships at the Rooty Hill RSL in Sydney, Australia. This was his first trip overseas and his first international competition, so winning a bronze medal was a personal achievement for him.
"I managed to get a bronze medal, which was not bad for my first international fight, although I realise that I could have done a lot better given proper coaching, mentoring, training, and an extra effort and commitment from me.
"This exposure was something I had never dreamt I would be doing. I took up karate four years ago with some inspiration from my elder brother, who is also a long time karate exponent, instructor, and organiser in Fiji.
"I now realise the decision to take up karate was a wise one and one I have never regretted. The sport has enabled me to exercise self-control and self discipline, and has allowed me to perfect my self-defence skills, personal growth, and development. The commitment I have made over the past four years, and my dedication to the sport, has enabled me the honour to be selected to represent Fiji in international competition.

"The trip to Sydney was exciting and I gained a lot of experience during the three-day tournament. This was my first international fight, and it was very challenging, rewarding and enlightening; it was a great learning experience for me.
"After the tournament I realised that there is a big difference between the attitudes and styles of combat of my teammates and the international players. The way their coaches treated the players was one of the reasons for their excellent performance and was something that our team can improve upon.
"This was my first trip abroad and it was an eye-opener. The pace of life and way people interacted, communication problems, not only in regards to rule changes, but with regard to almost everything in the environment, was all a new experience, as was my adjusting to the place itself.
"From sociological perspective I was amazed at the way people behave and live, and at the overall development that has taken place with Fiji people overseas compared to those in Fiji. I hve made up my mind that if given the opportunity to study, live, and develop in a place like Australia, I would surely go for it. My personal thanks to the Rotumans who supported us in Sydney.
"Faiaksea, e hanisit se omisa." Willie B Nonu
______________
Lautoka Teachers College 20 yrs old trainee primary school teacher Rigamoto Kafoa, of Vatukoula, was also a representative to the 10th Oceania Goshin-Ryu Karate Championship at Rooty Hill RSL. He competed and fought gallantly in the:
Rigamoto performed extremely well during the three-day tournament, considering the travelling, cold nights, the pace of life in Sydney, and exposure under the bright lights of the RSL.
This was Rigamoto's second international karate tournament and he felt that there was a big difference as a result of the rules changes from the first one he took part in, which was the 8th Oceania Karate Championship in Wellington, New Zealand in 1999.
"The rules of competition have changed a lot, making for a much more difficult approach now that you can only hit the middle area from the waist to the neck. In NZ in 1999, any kick or punch that hit the upper area (the face) was allowed and the competitor was awarded points. However, in the recent competition this was not allowed and the competitor was penalised for kicking high. The rules now state, 'There should be control when applying a kick or punch to the upper area.'
"My view is that any hit to the face or head (upper area) should be allowed but it should not be an excessive blow. Looking at some fights at the recent competition in Australia, there were some hits on the face and head that were not excessive but the competitor was penalised. I also felt that there were a lot of biased decisions. Even though the technique was perfect, if you hit your opponent high you had to suffer.
"My point is that in sports karate, one of the main aims is to demonstrate good technique and karate skills. Therefore, if a competitor uses a good technique but is penalised for even the slightest hit to the face or head, then the question I would like to ask is, what is the point of showing that technique? Is it just a waste of time?
"It is apparent that there may be communication and management problems within the organization in Fiji, and that pre- and post- examinations of the the Fiji team's performance need to be discussed, so that these problems can be avoided and sorted out. The rule changes need to be conveyed to competitors early, before the tours or as soon as rule changes occur.
"I really enjoyed my stay in Sydney, and I again extend my personal gratitude and thanks to Rotumans in Sydney who supported us there. My personal plea to Rotumans living abroad, in Australia, NZ, UK, USA, and other countries, is to please support and sponsor us Rotumans, in Fiji, in our efforts in this sport.
"Faiaksia, e hanisit se omisa." Rigamoto Kafoa
_______________
Team bronze medals were won by senior male (kumite) members; Timoci Naivaga, Donald Mani, Kafoa Rigamoto, Willie Nonu, and Atu Matavesi.
The total tally of medals won 1 gold, 1 silver, and 7 bronze was the highest ever by any Fiji Team in this sport.
I was concerned at the number of incidents whereby Fiji players needed medical attention for contact blows that seemingly did not bother other teams. Whilst the Fiji team looked fit, the Australian coaches are of the opinion that there maybe strength and stamina deficiencies relative to diet, lifestyle, and environment.
Post- and pre- match preparation are areas that must be improved on. I also noted a lack of basic equipment like gloves and belts; some junior players were wearing borrowed robes that were too large. The success of the Fiji team was incredible considering problems related to accommodation and billeting, which must be improved on. The need to be close to the competition venues created a financial strain on individuals.
Future sports tours need advanced planning, sponsorship, and support both in Fiji and here in Australia. Communication links need to be strengthened. The Fiji Australia Community Development Inc. here in Sydney is committed to help and develop our communities both here in Australia and in Fiji.
Frank B. Smith.
Secretary – Fiji Australia Community Development Inc.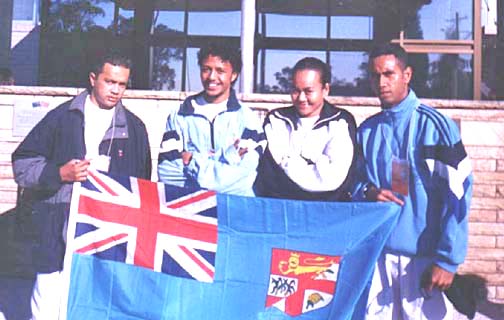 L-R: Rigamoto Kafoa, Willie Nonu, Moara Nonu, Rigamoto Kamilo
---
From Lijiana Inia in Suva (7 October 2002)
Rotuma Games 5th – 7th October 2002
The games this year were held in Suva at the Cathedral Secondary School Grounds with Ra'esea Club hosting the Games.
Clubs from Vatukoula (Tieri), Lautoka (Mairo) and Nadi (Granville) arrived in Suva on Friday for the Games.
With the Pool Games kicking off on Saturday, everything went well with the weather being favourable throughout the day.
The netball competition saw the A-Grade defending champion, Sarafui,
playing their first game against Moiro; the game went in Moiro's favour.
In rugby both Sarafui and Ra'esea shared the trophy for the A-Grade;
the winner for the B-grade was Ra'esea.
In netball, Moiro Girls took both A and B.
The overall winner for year 2002 went to Moiro Club.
Noa'ia Moiro'e huag fe'eni.
Despite the wet weather condition, everyone enjoyed the games.
Faiaksea and congrats to Freddy Crocker and the Ra'esea club for hosting this year's
Rotuma Games. Freddy is the newly elected president for the Rotuma Games and we wish you all the best in your next three years in office.