From Alan & Jan in Hawai'i (31 December 2002)
Ian Croker at his place of business in 1998
We are grieved to report the death of Ian Croker of Juju on 26 December. Ian, and his wife, Flora, were good friends; no visit to Rotuma was complete for us without visiting them. Ian was born to William (Willy) Croker and Saverina Ragafuata Kunau in December 1935. He was one of thirteen children. He married Flora Varomue of Pepjei in July 1955; they have eight children.
Ian was one of the most successful businessmen on Rotuma. His import-export business in Juju outlasted the RCA and Raho. It was always fun and informative for us to chat with Ian about the state of affairs on the island over a cup of grog or tea. We will miss him very much. Hanisi Ian, hanisi Flora, and to all their children.
---
From Daily Post (31 December 2002)
$50,000 for review of Rotuma Land Act
A sum of $50,000 will be allocated for review of the Rotuma Land Act next year said the chairman of the Rotuma Island Council, Visanti Makrava yesterday. He said a review is long overdue.
Mr Makrava said the council discussed the review two years ago. He said most of the land on Rotuma is unregistered.
"It is unregistered because most of the land belong to the clans and the community," he said.
Makrava said the most difficult situation facing Rotumans is they want to be registered through both their father's and mother's side. He says, unlike indigenous Fijians, most Rotumans are registered through their father. [sic]
A Government delegation including representatives from the Native Lands Commission will be in Rotuma some time next year to review the Act. Makrava said once the review is carried out, the amendments would be tabled in Parliament.
He is also pleased that the Government has allocated $200,000 for the welfare of the island.
---
From Fanifau Poar in Rotuma (20 December 2002, posted 29 December)
We had the kato'aga for Chief Justice Daniel Fatiaki last Wednesday, 18 December. The government boat brought Mrs Marieta Rigamoto, Mr Kubuabola, the Chief Justice and his family, and other government officials from Fiji.
Noa'tau, Itu'ti'u, Malhaha, Juju and Pepjei performed hafa. As usual in a Rotuman function there was plenty of pork and poat kau. I was unable to go but I was told it was a very good kato'aga.
Visanti Makrava is again our district representative [from Oinafa]. He has also won the chairmanship of the Rotuma Council for the next three years.
At the moment our shore at Oinafa is full of rocks. The development work of putting up a sea wall along the shore has stopped because of lack of funds. Although the rocks spoil the shore, it has the advantage of preventing more erosion of the land, otherwise I think our kitchen could have gone by now.
---
From Fiji Times (19 December 2002)
Island Rejoices for son's success
By Moira Vilsoni
Rotuma erupted in celebrations yesterday to honour the promotion of Taniela Vafoou Fatiaki to the position of Chief Justice. Celebrations at the Government Station in Ahau, Rotuma brought the island to a standstill.
Justice Fatiaki's success and appointment to the highest legal office brought great pride to his fellow islanders. In an emotional address to the seven district chiefs, Justice Fatiaki thanked the people for the honour bestowed upon him and his family.
"Today marks a significant day for our two races, the people of Rotuma and the Government of Fiji and the enormous trust that has bestowed upon me to be the Chief Justice.
"The Chief Justice is the third powerful man in the Government and I will be straightforward that once the Chief Justice makes a decision it stays," he said.
Rotuma Council chairman Visanti Makrava said: "We are very honoured to have one of our people in the judiciary department as high as the Chief Justice of Fiji and this we wish Justice Fatiaki's all the best as the Chief Justice of Fiji." Justice Fatiaki, who hails from the Noatau district, succeeded Sir Timoci Tuivaga who retired this year. Noatau is where the Gagaj Maraf, the head chief of the island, hails from.
---
Emi Elizabeth Scott passed away on December 16, 2002 suddenly at her home in Masterton, aged 49 years. Cherished wife of Christopher David Scott and much loved mother of Ane, Ron and Susana.
Emi was born November 16, 1953 in Motusa, Rotuma, Fiji, the daughter of Isireli Tue and Lijana Tonu. Emi was one of eight children.
On December 4th 1976 she married Chris Scott in Levuka, Fiji. They made their home in Cawaci, Fiji and then later moved to New Zealand where they lived in Otorohanga, then moved to Wainuiomata and then finally made their home in Masterton with her husband and three children.
Emi is survived by her husband Chris, children, Ane, Ron and Susana; sisters Vamarasi Erone, Levuka, Fiji, Ane Tora, Waila, Fiji, Fare (late) Jim, Robert and Emi, Brutus, U.S.A., Fuata (Kelepi) Rupeni, Suvavou, Fiji; brothers, Kerese (Rejieli) Solomone, Motusa, Rotuma, Tonu (Aliti) Isireli, Motusa, Rotuma. She is also survived by mother and father in-law, Ronald and Muriel Scott, Stokesley, United Kingdom and brother and sister in-law, Andrew and Jo Scott and nephews Richard and Tom Scott, Den Haag, The Netherlands, many aunts, uncles, nieces and nephews, great aunts and great uncles, family and friends.
Emi loved life and everything about it, she will be lovingly remembered as a caring and wonderful woman, whose love, support and encouragement touched the lives of everyone who knew her. Her beleif in God and her love and commitment to family and friends will never be forgotten.
Thank you for sharing her life with us.
Hanisof ma alalum Emi,
Chris, Ane, Ron and Susana.
---
From Rina Antonio in Suva (10 December 2002)
USP Graduation Ceremony—Friday 6 December 2002. I work at the University of the South Pacific and was really proud of the achievements of the following Rotuman students who graduated last Friday 6 December 2002 :
Certificate in Basic Skills in Library/Information Studies

Diploma in Tropical Agriculture

Diploma in Management Studies

Bachelor of Agriculture

Bachelor of Education

Tivaknoa Solomone
Michelle Agnes Tevita
Kafoa Sukamanu Tigarea

Bachelor of Education (Primary)

Bachelor of Science

Lorraine Saverina Nataniela
Lisa Makarita Vilsoni
Kim Tausia Wong

Bachelor of Science in Environmental Science

Lynette Cordellia Petueli

Bachelor of Arts

Jonathan Mitchell
Janelle Vonetta Montu
Darlene Talei Barbara Viliame

Postgraduate Diploma in Education

Postgraduate Diploma in Environmental Science

Postgraduate Diploma in Business Administration

Master of Arts in Development Studies

Master of Business Administration

Marieta Inia
Lucia Savea Kafoa
Fatiaki Makereta Ratuki
Congratulations to everyone and best wishes for the future.
---
From Fiji Times (9 December 2002)
Police Team Probes Island Death
By Sainimili Lewa
A Team of detectives and forensic experts are in Rotuma today investigating the death of a man outside his home in Itumuta village.
Speaking from Rotuma yesterday Police Constable, Paulino Mani said the 65-year-old lived with his son.
His body was discovered by relatives at about 6 a.m.
Detectives will try their vest to complete the post mortem today as there is no mortuary on the island.
---
From the Daily Post (9 December 2002)
Rotuma's death suspicious
Two police officers, a pathologist and other medical personnel left for Rotuma yesterday afternoon to investigate the bizarre death of a Rotuman.
The body of the 65-year-old man was found in front of his family home in Itumuta Village, about four kilometres from the Rotuma Police Station.
Acting police public relations officer Erami Raibe said the deceased's 29-year-old son found the body when he opened the door of their house yesterday morning at about 6.
He then reported the matter to police.
Corporal Raibe said one detective, a scene of crime officer, a pathologist and his staff would be conducting their investigation as soon as they reach Rotuma and "may be able to carry out the post mortem tonight (last night)".
He said police would not be able to know the motive of the death as yet. Investigation is continuing .
---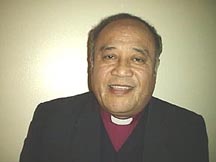 Rev Dr. Jione Langi
From Elisapeti Inia in Suva (4 December 2002)
Rev Jione Langi has been awarded an Honorary Doctor of Divinity degree so a service of thanksgiving was held last Sunday night at Churchward Chapel. It was followed by a feast provided by Rev Dr. Langi & his wife Rigamoto's relatives. It was a family service and feast but nearly all the congregation turned up.
---
From Fijitimes Online (3 December 2002)
Tomasi Kunau shows the way
This item has been transferred to the Life Stories section of the website