Monday, 9 June
We boarded the Air Pacific flight in Honolulu together with John & Harieta Bennett and Meleki Turaga. Meleki, who is Fijian, was married to Sofia, a Rotuman woman; they worked together at the Polynesian Cultural Center in Laie, Hawai'i, for many years. Meleki was returning to Fiji to visit relatives in Lautoka for the first time in many years. It was with great sadness that we learned of his death in Fiji after we returned home.
One of the flight attendants on board the flight was Betty Kamoe, a niece of Vili Hereniko, who drove us to the airport. We had a good chat with Betty during the flight, and recalled a visit in 1994 to her home in Vatukoula where she grew up.
Tuesday, 10 June
We arrived in Nadi early in the morning and took the air-conditioned UTC bus to Suva, along with John & Harieta. Usually the bus stops only three or four times, according to John, but this time it stopped at almost every little hotel in the Nadi area before setting out for Suva. We got to the Holiday Inn (formerly the Travel Lodge) in Suva around noon and took a taxi to John and Sue Tevita's home in Lacaula Beach Estates, our home-away-from-home in Suva. One of the first things we did was to phone Fiji Air to confirm our flight to Rotuma on Saturday, the 14th. However, we were told that the flight had been rescheduled for Wednesday (the next day!); it seems that Air Fiji has changed its schedule and now flies to Rotuma only on Wednesdays. This meant changing some plans and making some phone calls to let people know, but we managed.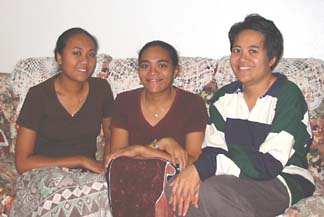 Lisa, Kafoa, and Sukafa Tevita
It was wonderful to be with the Tevita family again. Sue is now principal of the Sun Yat Sen secondary school; John is retired from the civil service, but actively participates in several Rotuman community organizations and serves an arbitrator at the small claims court; their eldest daughter Kafoa is working for a law firm but is awaiting her visa for the USA so she can join her husband, Hiagi Ieli (son of Alfred and Jieni), in Pittsburgh, Pennsylvania; Sukafa is a physician at the CWM Hospital in Suva and is taking an advanced course in internal medicine; and youngest daughter, Lisa, is at USP taking foundations. We feel honored to be hosted by such a splendid family.
Wednesday, 11 June
The flight to Rotuma left Nausori at 12:30 p.m. and arrived at Rotuma a few minutes after 2:30. On board with us were Dr Robin Mitchell and his daughter Litila. They were part of a contingent bringing the torch for the South Pacific Games, which are scheduled to begin on 28 June in Suva. For the first time since we've been flying to Rotuma we landed from the Noa'tau side of the runway. The plane stopped at the Malhaha side and let out the torch contingent, who then walked with the torch to the terminal where they were greeted by Gagaj Fatafes of Malhaha, Visanti Makrava, District Officer Luke Moroivalu, and some Rotuman youths. After being formally greeted they were brought to Ahau where the torch ceremony took place. We were greeted by Elisapeti Inia, our host in Rotuma, and were driven to Ahau by Nigel and Mere Rymes, who live in Lopta.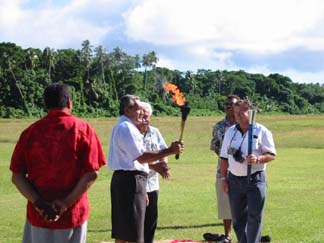 SPG torch arrives in Rotuma
The ceremony at Ahau was a delight. After the obligatory speeches, students from the high school performed dances, and lots of people got to touch the torch as it was passed around. The highlight of the event was when the mascot of the games, a giant lizard named Tau, appeared and danced and played with the children. We sat in the pavilion to watch the events and had an opportunity to greet lots of old friends: Gagaja Kausiriaf and Titofag; Rutagrere, Kaurasi & Samanunu, Kijiana & Priscilla from Oinafa; Firipo from Lopta; Gagaj Tamanao from Itu'muta; Sumasafu, the orderly at the hospital.
After the ceremony Mere Rymes drove us to Savlei, where we settled in at Elisapeti's. We had a relaxing afternoon talking with Elisapeti. Savlei now has a village generator which is on from 6 to 10 p.m., so no more reading by benzene lantern. However, the water is off from about 8 p.m. till 6 a.m., so we had to take our showers soon after dinner.
Thursday, 12 June
We went for our early morning walk to Juju, returned, took a shower and had breakfast. At 9 o'clock a truck came to take us to Hapmak where a Methodist leaders monthly meeting was being held. We got dropped of at Vamarasi Hereniko's house in Mea and spent a lovely couple of hours chatting with her.
Va walked us over to the Methodist Church hall in Salvaka where food was being prepared for the Methodist leaders from the Motusa circuit (minister, catechists, lay preachers, chiefs, and subchiefs). We arrived at about 11:30, but the leaders did not emerge from the church until 1, so we spent an hour-and-a-half sitting on the mat talking with John Inia, who was visiting from Suva, and Mesulama from Hapmak. John is the son of Marika Inia, Wilson's younger brother. He is a ship's captain and recently taught for three years at Tuvalu's Maritime Academy.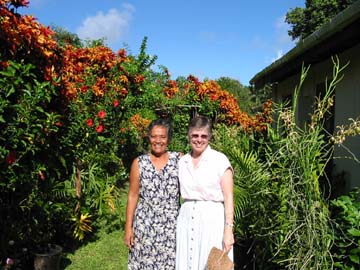 Vamarasi Hereniko & Jan
When the meeting was over lunch was served. Among those present were Gagaja Osias and Manao from Itu'muta, Gagaj Väenuk from Hapmak, Fekau Atalifo Faktaufon, and Wilson (Garsau) Epeli from Fapufa. Wilson had worked for Post & Telegraph at Ahau when I (Alan) was on Rotuma in 1960, and we were table tennis buddies at the time. We haven't seen each other since, so it was a nostalgic reunion. We also had reunions with Lia Vafo'ou and Harieta Katafono, and passed on a letter for Emily Erasito that Vili Hereniko had given us. Emily plays the role of Hanisi in Vili's film "The Land Has Eyes," which he hopes will be completed before the end of the year. We gave the letter to Emily's mother, who told us that Emily had won an oratory competition at the high school in one of three categories. Emily's talk was on the importance of preserving Rotuman culture.
On the way back home in the truck we had a good conversation with Tomasi Sumasafu, who moved to Rotuma (Lau) last year following his retirement. Tomasi was a faithful correspondent for the Rotuma website while he was in Suva, and we're hoping he'll send us news from Rotuma.
When we got back home we took a shower and had a rest under the mosquito net in Elisapeti's summer hut on the beach until Violet Gibson showed up to thank Elisapeti for baking a cake for her birthday. Violet is Sanimeli's sister and has returned from Australia to retire in Rotuma. She worked for 20 years as a legal secretary and then spent 13 years as a cook in a facility for mental patients. She's a charming person and it was fun to hear about her life experiences. Violet has built a lovely home in Malhaha near the entrance to the airport, complete with solar panels for electricity.
Friday, 13 June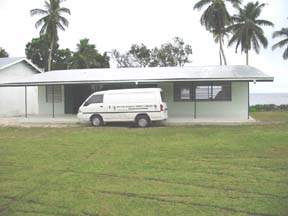 High School Library & Mobile Library
We got up at 6 a.m. and had a hurried breakfast so that we could catch the round-the-island bus with the schoolchildren to the high school in Malhaha. When we were here in 2001, the new library, donated by the United Church of Australia, was under construction. Now it is finished and a wonderful addition to the school. It is stocked with lots of books donated by the Australians. The Australians also donated a vehicle that acts as a mobile library to circulate books among the other schools on the island. The next project, about to begin, is the construction of a computer lab to house a number of computers, also donated by the Australians.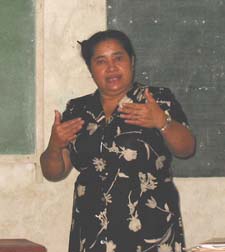 Maria Fonmanu
We talked a bit with Tipo Sagaitu, who has replaced Jione Tanu as principal of the high school (they have switched positions, with Jione taking Tipo's post in central Viti Levu). Then we went with Elisapeti to a Rotuman language workshop in one of the primary school classrooms. The workshop was organized by Mrs Retia Solomone, the Headteacher at the Malhaha District School. The facilitator, who had come over on the plane with us, was Maria Fonmanu, from the Curriculum Development Unit of the Ministry of Education. The workshop was scheduled for two days, the 13th and 17th of June. We were only able to attend on the morning of the 13th. The participants included one teacher from each of the four primary schools and three teachers from Malhaha District School. Rotuman language materials are being prepared for inclusion in the vernacular curriculum up to Form 2, and by 2005 materials for Forms 3 & 4 are expected to be implemented.
After discussing the relationship between language and values and virtues, we had an interesting session on adapting Rotuman spelling to the new technical vocabulary that has entered the language in recent years. Some examples: mouse = maus heta, keyboard = kipoto, data = täeta, disk = tiski, email = e-mel, fax machine = fäks misin, laser = leisa, etc. We had a good laugh when we got to microwave since the Rotuman spelling, maikrouäev would be pronounced maikrouäeao in Rotuman.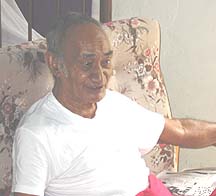 Aisea Aitu
After eating lunch with the teachers, we walked over to Aisea & Katarina Aitu's house and were invited in. Katarina has been ill for the past year following a stroke, but she seemed happy to see us. We were there for only a few minutes when Walter Aitu, Aisea and Katarina's son, showed up with his co-missionary partner, Jake Peterson. Walter grew up on Rotuma until he was nineteen; he then was away for five years before returning as a Mormon missionary. He's very excited about collecting genealogies, which allows Mormons to pray for the souls of their ancestors. A number of Rotumans have converted to Mormonism, mostly in Fiji, but several people on the island have been baptized in the faith as well. For the past few years there have been a pair of Mormon missionaries on the island, and they have apparently made a good impression by helping out families in need and by facilitating the donation of much-needed supplies to the hospital. We caught the 3 o'clock bus back to Savlei and took it easy for the rest of the afternoon and evening.
Saturday, 14 June
We got up at dawn and went for a walk toward Motusa. En route we met Gagaj Irao and exchanged greetings. On the way home, as we passed the cemetery, a truck-full of ladies arrived. They were there to put tefui on the grave of Fauoro, who had died on 9 June. He has been disabled for the past several years, unable to walk.
After showering and breakfast we went with Elisapeti to pay our respects to Fauoro's wife, Maraea. A teran lima was being held for the dead man so there were lots of people around. They invited us to have tea, but we explained that we were expected in Itu'muta, so took our leave.
Tipo Sagaitu was at the teran lima and offered to drive us to Itu'muta. We arrived at Samo Pene's house in Maftoa, where Hannah Bennett greeted us and invited us in. We had arranged with Samo to spend the night there at the invitation of the Bennetts, but they were still in Fiji, so eleven-year-old Hannah ended up as our hostess, and she did a wonderful job of it. She sat with us for over an hour telling us about her experiences in school at Malhaha (Form 1; she loves it). Hannah is very well adjusted to Rotuma and seems to be thriving there.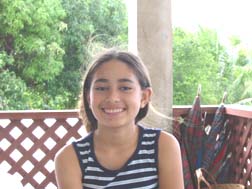 Hannah Bennett
At about 11:30 am, we headed down to Lopo to Sakimi and Sarote's house at Salosa where we had been invited for lunch. Salosa is where Alan lived for a year when he first went to Rotuma in 1959. Sakimi was two years old then; he was adopted by Akeneta, who was like a sister to Alan. So this was like going home for us. Sakimi works for PWD now and the family (four children at home, two in Suva) is thriving. Akerio's grandson came by and dropped off a bag of oranges. We asked about Kanagsau, Akerio's widow; he said she has to use a walker now.
Sakimi and Sarote asked if we could come back another day as well; we settled on lunch again the next day. It was great to spend time with such a lovely family.
We walked back to Maftoa, stopping en route to greet Vafo'ou & Lia. When we got back to Maftoa, we greeted Samo, Gagaj Katoagtau, & Aisea, Marsefo Sakimi's husband. It began raining and the wind was blowing hard, so we brought the table in from the verandah and had dinner inside with Hannah, who continued to amaze us with her self-possessed maturity. She spoke eloquently on a range of subjects, including recent movies, her trip to New York last year, Rotuman legends, more of her school experiences, etc. After dinner we read a bit and went to bed early. It was windy and cool and we were quite comfortable.
Sunday, 15 June
The weather had cleared and the sun was out, so it was a lovely, breezy, partly cloudy morning. We spent some time reading before walking down to Lopo to attend the 10 o'clock service at the Methodist Church. Gagaj Tamanao welcomed us during the service, saying that we were no strangers to Itu'muta. After the service we greeted several friends and then walked over to Salosa, where Sakimi and Sarote were preparing lunch for us. We talked about the family and reminisced about times past, then enjoyed a delightful meal together.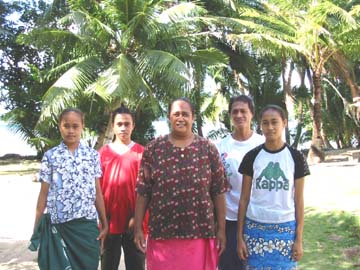 Sakimi, Sarote & children
We walked back to Maftoa where we expected to be picked up at 5 p.m. to be taken to Hapmak (via Motusa, where people were being taken to a taumaka), but the truck came early--a little before 4 pm--while we were still upstairs. We saw Elisapeti on the truck and called out, but she didn't hear us and the truck went on without us. We weren't sure what to do and had finally decided to arrange alternative transport, but the truck returned before we could do so and took us to the Hereniko's home in Mea.
When we arrived Vamarasi was cooking, so we decided to walk to Melsa'a to visit Harieta Katafono. We had a nice reunion and talked for about half-an-hour; then she walked us back to Mea, where we spent an hour or so talking with Va until dinner time. Va's brother, Fatiaki, joined us for dinner and Elisapeti, who had been at the taumaka in Motusa, arrived while we were eating to share in the meal. We all were invited to stay overnight and we enjoyed a relaxing evening before going to bed.
Monday, 16 June
Elisapeti and Fatiaki got up very early and left on the truck for another teran lima in Pepjei, this one for Lino, a young married man who disappeared while fishing on the reef. The story we heard is that he and a friend went fishing in the wee hours of the morning and he got a cramp in his leg and told his friend he couldn't swim any more. His friend went for help, but when they returned Lino was gone; all they found were his flashlight and boots. Lino is the sixth person known to have disappeared while fishing on the reef off Pepjei. People told us that it is so dangerous there because of the passage in the reef, which creates a strong current when the tide is going out. Lino was married to Jean Marie and they have four young children, so it was really a terrible tragedy.
We decided to follow Elisapeti and Fatiaki to Pepjei to pay our respects to Jean Marie and to Lino's relatives: first cousins Selina (married to Ross), Rosarina, Mua, and Sapeta, among others. Va arranged for Nicolosi, son of Gagaj Foragmantiu & Teresia, to drive us there. On the way we stopped and dropped off our things at Victor & Hanuarani Atalifo's house in Sauhata, Oinafa, where we had been invited to spend the night.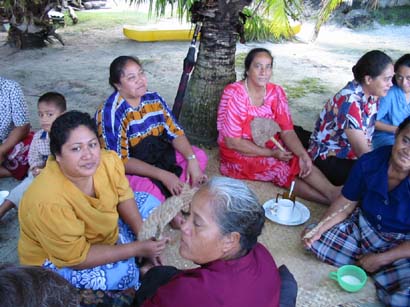 Women at teran lima in Pepjei
Nicolosi dropped us off by a house where Elisapeti and some other ladies were sitting, having morning tea. Elisapeti took us to the house where Jean Marie was sitting on a mat surrounded by supportive relatives. It brought tears to our eyes as we shared the widow's grief, knowing how difficult it was for her. After paying our respects we greeted Susau (Gagaj Titofag's wife) and Motofaga (Munue Tavo's mother) who was acting as mafua.
When we came out we met Savike (Erasito), who is married to Patrick, Ian Croker's son. She walked with us to Juju to see Flora Croker. When Flora saw us she burst into tears and so did we. It was the first time we had seen her since Ian died last Christmas, and we hugged for a long time, then talked about Ian. With Flora were Ian's brother John and his wife Torika (nee Albert), whom we met for the first time.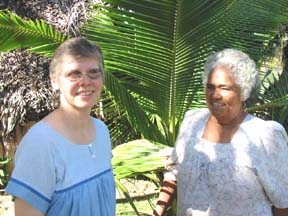 Jan with Flora Croker
We had coconuts to drink and headed back. We intended to see Selina, who had gone home to feed her baby, but her uncle, Gagaj Kauat, thought she had returned to Pepjei (as it turned out only Ross had gone back). Gagaj Kauat walked with us and told us he was the youngest of nine children of the previous Kauat, and that his family had met after the death of their father and decided the title should go to him. Back in Pepjei he introduced us to some of his brothers. We also greeted Gagaj Titofag. Kauat located Ross and we chatted with him briefly, telling him about the July memorial planned for Ad Linkels in Hawai'i (Ad and his wife, Lucia, stayed with Selina & Ross when in Rotuma in 1996 taping the sound track for Tau'toga). Ross later gave us a letter to take to Lucia.
We decided to return to Sauhata before the feast, and Nicolosi agreed to take us in his truck. We got there around noon, and Victor set up two chairs for us down by the beach facing the sea; it was a beautiful day, with a cool breeze and the sea was as intensely blue as it can get. Victor stayed and chatted with us, filling us in on what had been happening in Oinafa over the past couple of years, while Hanuarani prepared lunch.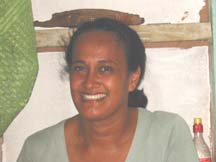 Torika Mareta
After lunch we walked to Oinafa Village to see Torika Mareta, with whom we became very close when we lived in Oinafa (on and off from 1987 to 1990) and who calls us "Mom and Dad." When we got to Oinafa we saw Kaurasi, who had just come back from fishing, and greeted her and Emotama who has a bad leg and now uses a cane (he was formerly the headmaster of Paptea Primary School). We also greeted their daughter, Samanunu, then walked to Deaconness Sa'a's house, where Torika has been staying temporarily. Torika gave us each a big, lingering hug. Her daughter Ruth, now thirteen, is disabled and unable to walk. She now has a wheelchair that was donated by the Red Cross so is able to get around much easier. Deaconess Sa'a was also there and joined in the conversation.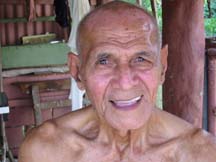 Fasiu Josefa
We spotted Vamarasi Sautiak with her grandson and went out to greet her, and also found Fasiu Josefa working in his workshop. Fasiu is now 78 years old, but looks to be in good health despite his bad leg, which restricts his mobility. A bit later Gagaj Sautiak came back from fishing and we greeted one another warmly. We took a walk with Torika down to the pier to see how it had been expanded. Torika told us that her older daughter, Petmoira, had surprised everyone by coming in tied for first in an oratory competition at school; they were amazed because Petmoira is so quiet and shy in daily interaction. This earned Petmoira a trip to Suva as part of a group, and now she has hopes of going to Tonga with a church group.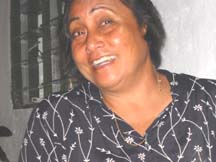 Mere Rymer
Torika walked us back to Sauhata. En route we met Taio, son of Fonmon and Lata, now a teacher. He was quite shy and giggled when we tried to talk to him. When we got to Victor and Hanuarani's we took a quick shower and come out just in time to greet the guests who had been invited to have dinner with us, including Nigel and Mere Rymes, Miriama (wife of Dr Sakio Varea, who has taken the title of Niomfag), and Akanisi (nee Varea). Nigel, who is from Australia, has worked in the Pacific, most recently in Papua New Guinea, for many years before retiring last year. He and Mere have a home in Nadi as well as on Rotuma and alternate between the two. They run a small shop out of their home in Lopta. Nigel is the first person we know of on Rotuma who has installed a satellite dish that allows him to view live television. Mere told us that one time some children came by and asked to borrow some of their videotapes, and when she told them they didn't have any the children refused to believe it. They were not aware of broadcast TV since the only television they have watched has been from videotapes. Nigel told us that Semesi David has also recently brought a satellite dish to Rotuma for his home in Lopta, but it has not yet been installed. It was a lovely evening.
Tuesday, 17 June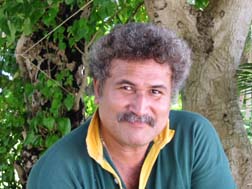 Victor Atalifo
We had a leisurely breakfast and conversation with Victor and Rani until around 11 a.m., when we arranged for transportation (the lorry from the 'Itu'itu shop in Oinafa) to Noa'tau, where we visited with Gagaj Maraf and Sanimeli. We sat on their verandah and chatted until lunch time. They told us about their misfortunes with shipping automobiles. The first incident was a few years ago when Sani was shipping the car she had brought from New Zealand to Suva for repairs. When the car was being loaded onto the boat, with one man at the wheel and another pushing it onto the ramp, the steering wheel locked and the crewman driving it didn't know how to unlock it; it ended up being pushed into Oinafa Bay—a total loss. More recently, a car they had bought in Fiji ended up the same way when a crewman mistimed the ramp alignment when attempting to unload it. Sani said that it may their destiny not to have a car on Rotuma. Gagaj Maraf is serving as the senator from Rotuma in the Fiji legislature; his term runs until 2005.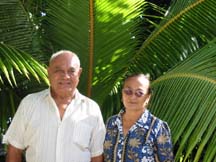 Gagaj Maraf & Sanimeli
Sani phoned around and got Gagaj Raivai to come to take us to Savlei. Her first idea is that we could go with the bread truck, but we would have had to carry our bags over to the pick-up point, and it would have taken too long. When Gagaj Raivai came, Gagaj Maraf and Sani decided to come along for the ride.
Just after we arrived back in Savlei, an invitation arrived there for us and Elisapeti to meet Dr Ane Atalifo at 8 o'clock the next morning at the hospital to dedicate a new computer Semesi David had donated, and to acknowledge our own contributions. After dinner Sarote and Sakimi arrived on their motorbike bringing an 'eap fiti for us to take to Hawai'i. They didn't stay long because they had left the children at home, but it was a chance to say goodbye. Knowing we plan to return to Rotuma in a year or two made our farewell less emotional than it might have been.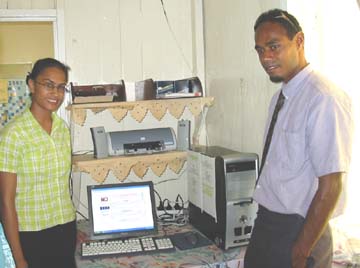 Dr Ane Atalifo & Uraia Racule with new computer
Wednesday, 18 June
We got up early, showered and had breakfast in anticipation of transportation that was supposed to pick us up at 7 a.m., but it didn't come, so we decided to catch the school bus to take us to Ahau. It came at 8 a.m. and we squeezed in with the kids and got to Ahau at 8:10. The bus costs 60 cents within a district, and 60 cents more for every district it passes through, so a ride from Savlei (Itu'ti'u) to Malhaha is $1.20, to Oinafa $1.80, and to Noa'tau $2.40. As it happened some of the other honorees weren't there yet, so we weren't really late. Attending were Firipo and Aliti (Semesi's parents, representing him), Dr Ane, Hanuarani (representing the Hospital Board of Visitors), the head nursing sister, the dentist, Sumasafu (representing Red Cross), and Uraia Racule from Fiji Telecom, who set up the computer, installed the software, and is teaching the medical personnel how to use it. The computer Semesi donated is state-of-the art, and will greatly facilitate record keeping at the hospital. Semesi also included a CD Rom disc with the latest information available on treatments for diseases and other medical conditions, various kinds of medicines available, etc. The information is updated every three months, and Semesi has promised to send updated discs to the hospital so that they can stay up-to-date. This will be a real godsend for the medical personnel on Rotuma. Before too long we hope that Rotuma will be connected to the Internet, which will make it even easier for people at the hospital to access useful information. Dr Ane asked Elisapeti to bless the computer, after which we were served morning tea.
When we got back to Savlei we showered and changed into our traveling clothes and finished packing. We had lunch at noon and Gagaj Markao came by around 1 p.m. to take us to the airport. It was a stunningly beautiful day. The lush shades of green presented by the vegetation in the bright sunshine, the azure blue of the sky, and when we were airborne, the deep blue of the ocean, were breathtaking. Rotuma truly is one of the most beautiful places on earth! We had a pleasant two-hour flight to Nausori where we were met by John and Sue, who took us back home to Laucala Beach Estates.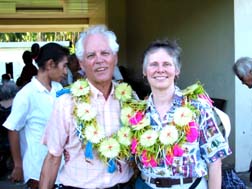 Alan & Jan at airport
All-in-all we had a wonderful week on the island. With the exception of a couple of oppressively hot days and a thunderstorm or two, the weather was lovely, with cool breezes adding to our comfort. There weren't too many flies and mosquitoes, which was a blessing. The food was really good as well. There have been many culinary innovations on the island in recent years, which have added a good deal of diversity to the modern Rotuman diet. For example, at various times we were served 'ikou with coconut cream and chili peppers, eggplant with garlic, fried fish pieces with vati and green beans, meatballs, potato salad, custard meringue pie, 'uhi pie with a cheese topping. All this was in addition to the old standards we like so much: baked a'ana and 'uhi, fish in tahroro, pineapple, bananas (raw and cooked), fava, etc., etc.
But most of all, we had the pleasure of being with many of the people we truly love; we are already looking forward to returning. Only next time we would like to stay a bit longer!
Week of 18 – 25 June in Suva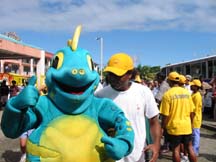 Tau, the SPG mascot
Our week in Suva was also a delight. We got to spend time with several of our old friends and made some precious new friends as well. We got to see the South Pacific Games torch arrive at the shopping center at Laucala Bay where primary school students from Sun Yat Sen School performed a variety of Chinese dances.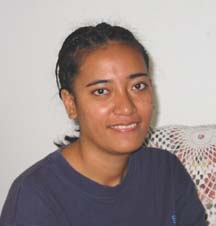 Monifa Fiu
During the week we met twice with Monifa Fiu, who is the coordinator of the LäjeRotuma Initiative. During our second visit she was accompanied by Rupeni Mario, an energy and climate change researcher. This gave us a good chance to learn more about this splendid project and to consider ways we can support it. We learned that there have been two kinds of growth that have been damaging the reefs on Rotuma, although both are called kama by the people on Rotuma. On the east end of the island the growth is a hard flat coral that replaces the productive branching coral. The other kind of kama, on the western side of the island, is a sponge-like organism that smothers the coral. Both types of kama are destroying previous habitats for fish and are therefore depleting available supplies.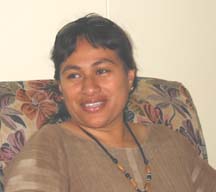 Lisa Erasito
We also met with Lisa Erasito on two occasions, once at the Fiji Museum. Lisa is Director of the National Trust, and we explored with her the possibility of developing a Rotuman exhibit at the museum. Currently there are permanent exhibits for the Fijian, Chinese, Indian, and even the Rabi communities, but nothing for Rotuma. We think this is an unfortunate omission for many reasons (Is Rotuma an integral part of Fiji or isn't it? What are Rotuman schoolchildren to think when they visit the museum--that their culture isn't important enough to warrant representation? Are foreign visitors to leave the museum without even knowing that Rotuma is part of the nation, and that Rotumans have contributed substantially to it?) We hope to persuade the museum's director to start off with at least a case displaying Rotuman artifacts, and eventually to install a Rotuman gallery that tells the story of Rotuman culture and of Rotuma's contributions to the nation. We will be seeking support from the Rotuman community in Fiji, and perhaps will seek support from foreign sources as well. We also got to meet Lisa's husband, Jioje, who serves in the Fiji Military Forces.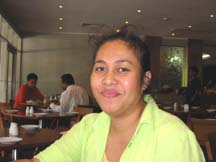 Lijiana Inia
We were glad to finally meet with Lijiana Inia, who has been our faithful Rotuma website correspondent from Suva. Liji works at the Australian High Commission, where she has done such a great job of promoting Rotuman culture that the staff has asked her to teach them to do a tautoga for the farewell party of the current High Commissioner. Lijiana Inia's younger brother, Sopapelu Fatiaki, dances with the Oceanic dance group. He is the only Rotuman in the group. He danced at World Summit in South Africa, and may go to France for further dance studies. Liji's husband, Fonmon, works in the U.S. Embassy; he joined us for a delightful buffet lunch at the Holiday Inn.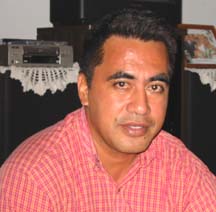 Maniue Vilsoni
On Friday evening the Tevitas invited over Kafoa Muaror, his wife Akanisi (due to give birth on the following Monday), their three children; and Maniue and Vika Vilsoni, and their daughters Harieta Janet (Jan's sigoa) and Sylvia. It was really great to catch up with these two families with whom we feel especially close. Kafoa has his own law firm and does a great deal of pro bono work for the Rotuman community, while Maniue teaches at Marist High School and Vika is a nursing sister at CWM Hospital.
On Sunday we attended the 7 a.m service at Churchward Chapel and met several old friends, including Vai and Tokoara from Sauhata, Kafoa Rigamoto, and Gagaj Kautaraf's daughter Emily, who told us that in February they had celebrated Gagaj Kautaraf's 90th birthday with a kato'aga.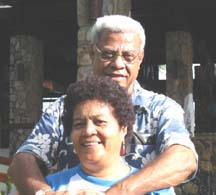 Isimeli & Betty
Later in the morning Betty Inia and her husband Isimeli drove us to the Warwick Hotel on the Coral Coast, where we had a scenic lunch overlooking the beach. It was a beautiful day and we enjoyed the drive, but most of all we enjoyed being with these two lovely people. In the evening, Timoce Tuitakali, Elisapeti's mapiga, came over. We have known Timoce since he was a youngster and it has been a joy to watch him grow into a strapping young man of exceptionally fine character. He is attending USP in order to attain his B.A. in education, and intends to return to Rotuma to teach, among other things, computer science.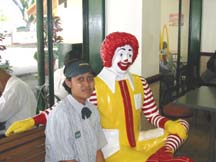 Mary Aprama & Ronald McDonald
On Tuesday we stopped in at McDonald's in downtown Suva to say hi to Sakimi and Sarote's daughter Mere, who works there. The manager there is Emeli Hiagi, from Noa'tau; we were impressed with how competently she seems to be running the place. While there we met Mua Manueli and her daughter and had a little chat. Mua is the sister of Luisa and Pasepa, both of whom live in Hawai'i.
Then, on our last evening in Suva, Marlon Isimeli and his charming wife Lita came over to spend a couple of hours with us. Marlon has been one of the most consistent contributors to the Rotuma website, for which we, and the entire global Rotuman community owe a debt of gratitude. We had a great time talking with him and Lita, who is from Kadavu.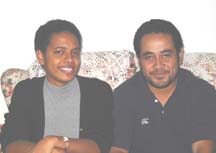 Lita & Marlon Isimeli
We left Fiji for Hawai'i on Wednesday, 25 June, and arrived home on Tuesday night. As we reflect back on our visit to Suva, what impressed us most was the remarkable competence of the younger generation of Rotumans--those in their 20s and 30s. Those we met were well-educated, articulate, thoroughly professional in their demeanor, and with a quiet self-confidence that assures success. Beyond that, they are thoughtful, caring people who have inculcated the traditional Rotuman values of generosity and serving their community. If ever there was testimony to the importance of preserving the Rotuman heritage and all that it stands for, it is these very admirable young people, who are its product. May their endeavors be forever blessed!