From Alan & Jan in Honolulu (19 February 2003)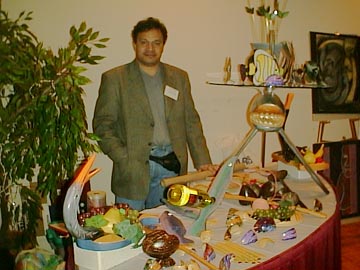 Konousi Aisake at His Art Display
We just returned from Vancouver B.C. where we were attending a conference of the Association for Social Anthropology in Oceania (ASAO). We're pleased to say that Rotuma was well represented at the conference. Konousi Aisake participated in a session on Pacific Artists in the Global Art World. He also had a display of his art work, along with other Pacific artists. Sela Panapasa, who has a Ph.D. in sociology (with a specialization in demography) from Brown University in Providence, Rhode Island, and now is at the Population Studies Center, University of Michigan, presented a paper entitled "The Demographic Structure of Grandparent Households in Fiji," in a session on Grandparenting in Contemporary Pacific Societies.
The highlight of the conference was on Friday, 14 February, when members of the Hugag'esea Club of Vancouver performed a tautoga for members of ASAO. Before a crowd of about 180 people, the club put on a brilliant performance of dances from Itu'muta (with permission of the Suva Itu'muta Association). They presented a sua, two tiap hi, and three tiap forau, followed by an assortment of Rotuman songs. The audience gave them a two-minute standing ovation and they were the talk of the conference. We must admit, it made us very proud!

Sela Panapasa
Hugag'esea Club Performing Tautoga
---
From Fiji Sun (31 December 2002, posted 19 February)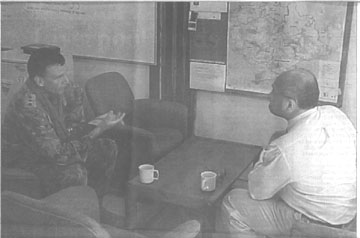 Commander SECWEST, Col Bowen (left) briefing Major General Konrote on the intended reduction of the troops.
Fiji has been advised of the intention to reduce the number of Peace Keeping Force (PKF) in East Timor, specifically at the Head Quarters Sector West (HQ SECTWEST).
The message was relayed to Fiji's High Commissioner in Canberra, Major General George Konrote, when he visited the HQ SECTWEST, which is in the middle of Suai town, this month.
A Fiji company had been based in Suai under the New Zealand battalion from December 1999.
After reviewing a Quarter Guard mounted by the Fijian Defence Platoon, Major General Konrote was briefed by the Commander SECWEST, Col Bowen of the intended reduction of PKF in SECWEST and its implications on the Fijian Contingent.
There are 36 Fijian soldiers serving in HQ SECWEST, 32 in the defence platoon and four in the HQ staff.
HQ SECWEST is responsible for security in the border districts of Covalima and Bobonaro and has under its command the Thai (THAIBATT) and Australian (AUASBATT) Battalions.
Serving under THAIBATT is a Singaporean Rifle Company and Aviation Detachment based at the Suai airport at the old Fiji Coy facilities (Nadi), while the Fiji Company which serves under AUSBATT is now based at Aidabeleten (Viseisei). HQ SECWEST is scheduled to close down in Jun 03.
The visit, the first ever by a Fiji High Commissioner to Canberra was a fitting end to the six-month deployment by Fiji Contingent No 6 who had travelled further and conducted more operations then any of the preceding five contingents.
From Civil Military Affairs assistance in Suai to long range patrols in Atabae, and justly recently in providing support to the Police in Dili during Operation Backup, the men of Foxtrot Company have in the words of the High Commissioner 'done Fiji proud'.
Speaking to the Fiji Sun from East Timor, former Republic of Fiji Military Forces spokesman, Captain Ned Taito, now the media officer with the United Nations Mission of Support at East Timor (UNIMEST), said that Major General Konrote was happy with the report given to him regarding the performance of the Fiji soldiers.
Major General Konrote also praised the work of two Fiji citizens Rupeni Biudole and Celine Nair working for the UN in Timor.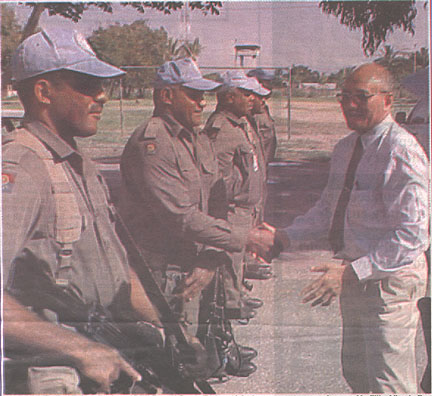 Fiji's High Commissioner to Canberra Major General George Konrote (right) inspects a quarter guard mounted by Fiji soldiers in East Timor. Maj Gen Konrote is a former Force Commander of the United Nations Interim Forces in Lebanon. He visited our soldiers in Dili serving in the United nations Mission of Support in East Timor. A state of emergency declared in the country has prompted Fiji soldiers to provide tight security for East Timor's prime minister. Some of the last 38 members of the Fiji company spent Christmas at Darwin and would return at the beginning of January.
Photos courtesy of Fiji Sun
---
From High Commissioner Jioje Konrote in Canberra, Australia (31 January 2003, posted 18 February)
A Hanuju Update: Diplomatic Life in Canberra as Fiji's High Commissioner to Australia
It is just over six months now since I presented my credentials to the Governor General of Australia, The Reverend Dr Peter Hollingworth during a brief formal ceremony at Government House on the 30th May 2002 which formalised my appointment as Fiji's High Commissioner to Australia.
As a former soldier and civil servant, I have found the work of a diplomat to be less stressful and demanding, but very interesting indeed. Conforming to diplomatic protocols and interacting with other colleagues, Australian Government officials and members of the business community has been most educational and equally challenging.
The social commitments and obligations has been very demanding as well and Sarote has kept herself very busy at times in arranging and hosting luncheons and formal dinners for visiting dignitaries and officials in reciprocation for the ones which we were invited to. I have yet to treat our guests to a traditional Rotuman feast (koua) because of a total fire ban which is still very much in force throughout the Australian Capital Territory.
We have also enjoyed the opportunity of meeting up with old friends and making new acquaintances.
On the 28th July 2002 we were invited by our Rotuman community in Sydney to a welcoming Church service which was held in the Wesley Mission Uniting Church. The service was organised by Reverend Sydney Taito (a classmate from our Malhaha Secondary school days), the Resident Chaplain for the Rotuman congregation and the elders of the other Christian Churches of inner Sydney and suburbs. We were most grateful and appreciative as the occasion enabled us to meet many of our kainaga who had left our shores so many years ago. The sermon which was delivered by Reverend Dr Gordon Moyse (the Wesley Mission Superintendant) was quite enlightening spiritually. I was very moved and deeply touched by the welcoming address which was made by the former President of the Methodist Church in Fiji and Rotuma, the Reverend Peter Davies. The traditional Rotuman feasting after the service provided us with an ideal opportunity to greet and 'compare notes' with some of our elders like 'öfata Irava and 'ö honta Annie David, Hae and Riamokoi Pene, Sapenafa and Kava Fonmoa, George and Margaret Vasea, Firikesa and Tonu Fullman, Steve and Meseini Walker, 'ö'honta Kijiana Rupeni, George & Susau Foster, Koleta Foster, and some of the Rotuman pioneers into Sydney, like mapiag hanta Fatafes (and her daughters Luise and Christine), Martoa Dickinson, Elizabeth Benz, Tua'siri Varea to name a few. We were also glad to meet my brother Aisake and his wife Akanisi and our lovely nieces Muarina, Fasina and Chantel. Our sons Emmanuel and Andrew flew up from Melbourne for the occasion and what a happy family reunion it turned out to be as well.
The Fijian Prime Minister's first official visit to Canberra during the second week of October last year was perhaps the highlight of my first six months in office. He first attended the annual Australia/Fiji Business Council meeting before proceeding to the bilateral talks with the Australian Prime Minister, the Honourable John Howard. I accompanied the Honourable Laisenia Qarase to the bilateral talks and was so moved and humbled by the frank and cordial discussions which took place between the two government leaders. In fact, I felt so honoured and indeed privileged to be representing Fiji (and Rotuma) when Prime Minister Qarase told his Australian counterpart that Australia is considered to be the most important country by his Government because of the current political, economical/trade, defence and security relations which had been established following the political upheaval of 19th May 2000. Prime Minister Qarase was the official guest of honour during our delayed Fiji Day celebrations on Tuesday 15th October in which members of the Diplomatic Cops and other guests were treated to a multi-cultural display of Indian, Polynesian (Rotuman) and Fijian dances.
At the end of October, Sarote and I spent one week in Perth during my first official state visit to Western Australia. We were so glad and thankful that we were able to meet some members of the small community of former Fiji residents who organised an informal dinner for us at the end of our official engagements. There were only three Rotumans and their families in the group, namely, Makarite (daughter of the late Kaitu'u and Manriafa of Savlei) Luisa (Sarote's elder sister) and Seline (Leo and Make's daughter from Lau, Hapmafau). I could sense that they must feel very isolated from the kainaga at times because of Perth's distance from other Australian cities and our home island of Rotuma.
In the middle of November, Sarote and I had to travel to Sydney on two occasions, as a matter of protocol to meet and farewell His Excellency The President Ratu Josefa Iloilovatu Uluivuda who came with his wife Adi Salaseini Kavunono Uluivuda on a private visit.
I returned to Canberra on the 6th December at the end of our three days official visit to the New South Wales State Government, whilst Sarote departed for Suva to attend Motofaga (daughter of Petueli Vamarasi of Makli'u Lopta and Patarsia of Pepjei) and Jacob's (son of George and Susau Foster of Sydney) wedding which was held in the Churchward Chapel, the next day.
On the 7th December, I accompanied General Peter Cosgrove the Australian Chief of Defence Force to visit our troops in East Timor who were deployed with the Australian Task Force on UN peacekeeping duties in this newly independent state. Visiting our troops on deployment in the capital Dili which was so badly damaged by fighting during East Timor's struggle for independence from Indonesia and its occupying army, brought back memories of my own experience in Lebanon and Israel. As to be expected the East Timorese Government and UN officials were full of praise for the performance of our troops who were redeployed into the capital during the recent violent demonstrations. Captain Ned Taito (son of former Fiji Police Superintendent George Taito of Malhaha) is the only Rotuman officer serving with our contingent. Fiji's modest contribution of about 200 soldiers to this UN sponsored peacekeeping operation is very important and greatly appreciated by all stakeholders.
I departed for Fiji immediately on my return from East Timor in order that I could attend the national celebrations to commemorate the final withdrawal of the 1st Battalion Fiji Infantry Regional after about 35 years of peacekeeping duties with the United nations Interim force in Lebanon (UNIFIL) which was held in Suva on the 20th December.
Sarote and I enjoyed our short stay in Suva with the rest of our family during the festive season as we were able to meet so many kainaga, particularly in Church during the Sunday services. I was most grateful to Reverend Samuela Isimeli for kindly inviting me and saghanta Nine Inoke (who was visiting with son Patrick from Calgary, Canada) to assist him during the Christmas Day service at the Churchward Chapel. I also enjoyed the discussion sessions with the Suva and Nadera Youth Fellowship groups on Friday 3rd January 2003 and would like to acknowledge and thank Ms Sani Ufiamorat, Jiare Fonmanu and Hiagi Wesele, the respective group leaders, for their efforts.
There is a small Rotuman community here in Canberra which is made up of about seven families. Some of the elders and their families are: Emeli Katafono (Immigration Officer at the High Commission), Susau (mapiag ole Petueli ma Rejieli of Lopta) and Kaire Saarikko, Seforana (eldest son of Anselmo and Lora Fatiaki) and Jane Fatiaki, Violet (Seforana's sister) and Steven Bray, Hanisevae and John Wrigglesworth, Joseph (son of Gagaj Ar'of of Motusa and Ahau) and Merina, John Michael and Gerri (son of Desmond and Ravai of Lautoka) and family. The seven districts of Rotuma are represented in this small community.
We were represented at the Fiji Day celebrations cultural display by our daughter Lisa and Violet and her sons Mathew and Mark who performed a Polynesian dance. Regrettably we did not have the numbers and purotu to perform a traditional hafa.
I would like to take this opportunity to acknowledge and thank Reverend Samuela Isimeli and members of the Churchward Chapel congregation in Suva, including Fa Hua'ta Pita Alfereti and the Namadi Rot kaunohoagta for always remembering us in their prayers. Similarly I would also like to thank Reverends Sydney Taito, Trevor Lunney and Fesaitu Marseu and members of their respective congregations for their prayers and support too.
Sarote and I would like to express our humble appreciation and gratitude to my brother Antonio and wife Erica, sister Mary-Rose and husband Graeme (Christian and Akata) for looking after our sons Emmanuel and Andrew during the period of their studies in Adelaide and Melbourne, and brother Aisake and Akanisi (Muarine, Fasina and Chantel) for'spoiling' them during their visits to Sydney. It is also very comforting and reassuring to know that back in Malhaha my sister Makereta (son Kava) and mapiaghanta Kerera Taito and members of their prayer group have been ever so vigilant and consistent in remembering us too. It will be remiss of me if I do not acknowledge and thank Michael and Sefo Makasiale, Motofaga, Marieta, Fanny and Leona and their families for being so very supportive to'ohonta Ata and our sons in our absence. Noaia'e hanisi.
In the coming months, Sarote and I will be travelling to the other Australian states on official visits as part of my diplomatic duties as Head of Mission. We are looking forward to these visits because of the opportunities of meeting more of our kainaga who had left Fiji and Rotuma and are now settled all over this very vast, diverse and fascinating country.
As we begin the year, I would like to take this opportunity to wish all our kainaga in the global Rotuman community a Very Happy, Peaceful and Prosperous 2003.
Se te'ne kainag gagaj atakoa, Noaia 'e mauri ma fu'amus ma hanis ne os Gagaj Aitu.
(J.K. Konrote)
Major General (Ret'd)
High Commissioner
---
From Pat Faktaufon in Suva (5 February 2003)
Noa'ia Gagaj atakoa! In the year 2002, the Motusa kautaunaiga in Suva was revived with the main intention of fundraising for the Itutiu kautaunaiga, Suva. However, with a positive response, members are eager to continue meeting. We collectively agreed to set objectives for our group to work towards so that something positive will result from our meetings.
These objectives are based mainly on assisting our kainaga in Motusa as a whole.
a) Motusa Primary School
Education is of utmost importance to many families on our beautiful island as this is one way to improve their standard of living. Students attending Motusa Primary School, go without a lot of luxuries that many of us take for granted.