From the Council of Rotuma (15 March 2004, posted 30 March)
ROGROG NE AVA 15.03.04
Kaugarueag ne Council of Rotuma, Chairman ta Visanti Makrava, Fekau Rev. Voi Taukave, Gagaj Kausiriaf mamas vahia Twin Cab het ne mou se Council 'e ran 19th ne Fepueri. Ag fakhanua mou se Gagaj Taimanav, rotu mou se gagaj Fekau Voi Taukave ma fäeag fak hanua Gagaj Kausiriaf ma a'sokoa 'ate ta.
Council a'häe'ak la twin cab heta la a'sokoa garue hot pöpör ma la' sal'ak ne kaugarueag ta pa 'es la re ka ta'ia 'e 'esao'ák ne pasa 'ereko susun ne lol ta ti' sirien. Tauna' ta a'vah vahia la Chairman ta täe la hoa'kia motoka te'isi.
Sur fo'oum la garue se Council 'e fau te'isi mou se Elaijie Erasito la tög'akia Tausie Ravai ne a'u'uen 'e 'on garue ta 'e kamatag ne fau te'isi.
Han haharagit mou se Tieri Viliame le' han 'on Timote ma Jiurie 'e Malhaha surum la rak garue 'e fau te'isi.
Council na 'oris lion e 'ua'ua'aki se "Pass Rate" ne Rotuma High School ta hun se lä'riri'i ne päe se Fiji Junior ma Form Six School Leaving Certificate Examination. 'Ua'ua'ak se Principal Tipo Nasario, Vice Principal Fesaitu Isimeli ma Assistant Principal William ma lelea' re rako hün se rak'akiag ne poto ma 'inea
Doctor Ane Atalifo väe ut vahia se Fiti ma la'an 'e 'ahait vah' se' ma hea'hea' lelei ne hanua, Rotuma Matanitu na se 'ia hün se fau rua ma fuma ne 'ia garue'ak 'e 'os 'atmot ta Rotuma.
Maira Vafo'ou o'honit ne puer se maj 'on haina väe ut vahia la garue 'e Fiti, tape'ma D.O. Luke Moroivalu a'sok 'ate ne hainoaga, 'ua'ua'ak ö'hön te'isi hün se 'on garue lelei.
Motusa Circuit Mass Choir a'sok tape'ma 'omoe ne hainoaga se ö'hön te'isi ma 'on lele'a. Gagaj Taimanav na fäeag ne hainoaga se ö'hön te'isi ma 'on lele'a tape'ma Gagaj Fekau Rev. Atalifo Faktaufon fäeag 'ereko garue lelel 'on ö'hön te'isi se Rotu 'ereko kaugarueag ne Motusa Circuit. Haian ne mou se "Alto" 'e kaumakag ta fäeag'ak 'oris kokono 'ereko o'honit ne haiasoag a'ti' 'e oristo heta "alto" teisi la väe utuen ma 'oris huga kokon a'ti'. Hea'hea' lelei fekau ma kaugarueag ne Motusa Circuit na se ö'hön te'isi.
Suut kota a'sok se 'e aiat ta 21:03:04 hün se Vaivao le' han gagaj 'on Kunusi ma Pasimata 'e 'Ahau 'inosoan se fa haharag ole Tafo'ou ma Rusile 'e Lau.
Gagaj Foragmantiu 'e Hapmak, Gagaj Tamanao 'e Malhaha fäeag 'ua'ua'ak kainag 'on fa haharag ta Kamai hün se 'on inosoag se le' han haharag ta.
Gagaj Markao ma 'on Toko ne mou se Itu'ti' ta tape'ma se famör ne 'atmot te'is leum ma su te'isi famör ma'oi pau.
Gagaj Tarau ma Gagaj Tigarea ho'am jau te ne Losa ma a'sorsoroa su te'isi.
Fa' hanueta haifäeagag la a'sok ma la fa' se hanhap rua kal fa' hanhap 'esea ra la fak se famör Fiti.
Chairman ta fäeag'ak 'on a'häe se Fa'esitu'u ma Mata la fäeag'ak, se lelea' mata' hanua la iris la ma'op'akia 'es ne kainaga la av ne fa' hanue ta la a'soko ka kainaga la fürmaria ka taf 'atakoa se fa' hanuet ne la a'sokoa.
Mata 'atakoa ne Itu'u fa' 'atakoa vahia hanua tutu 'atakoa ne itu'u 'e puk ne hanua ne af'ak 'e ofes 'on Gagaj Pure. Törsio kikia la 'ese ma iris ne mata' hanua la a'sokoa 'oris haifäegaga la pola vavhian garuet ne 'ea la a'soko.
Alalalum ne fau te'isi ma te' ne 'is 'atakoa. Hugag'esea la 'utmakikia se mua.
Noa'ia
Council of Rotuma
---
To see a sketch of the new central office accommodation and conference facilities that are being built for the Government of Fiji on the island of Rotuma, go to the website of Conway Architects.
---
From The Council of Rotuma (posted 26 March 2004)
The Council of Rotuma's Minutes for the meeting of 12-13 January 2004 (in the Rotuman language) are available in PDF format for downloading. Download PDF file.
---
From Fiji Government Online Portal (25 March 2004)
Cabinet will meet in Rotuma in September next year for the first time after MP Marieta Rigamoto proposed to the Rotuma Island Council last week. District officer Luke Moroivalu said the idea of hosting next year's Cabinet meeting was an opportunity that couldn't be missed. "We are thankful for the agreement made by council members in accepting the proposal and we look forward for the meeting next year," said Mr Moroivalu. He said September would be the best time for the Cabinet meeting because it would give the islanders time to prepare.
---
News from Bruce Tizard-Varcoe in England (23 March 2004)
Atama Bentley sings the blues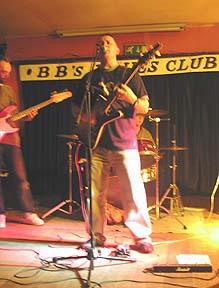 Atama Bentley, son of Jimmy and Akata, performed at the Blues Club "B.B's" (run by ex-Fleetwood Mac bass player Bob Brunning) in Colliers Wood, South London, last weekend.
Atama is the lead vocalist and lead guitarist with blues band "Men In Sheds," and those in attendance witnessed the continuation of the Bentley family musical tradition.
Remember "Alf Bentley and his Islanders?"
During the break, Atama was surprised to meet up with a small group of Rotumans and other Islanders living in the South London area who came to watch him sing and play.
Later on in the performance, Atama leant forward towards his microphone and said to the crowd "This one's for Rotuma!"
---
From Konousi Aisake in Vancouver B.C. (22 March 2004)
The Rotuma Hugagesea Association in British Columbia announces its Sleep Over Program. This program is set up:
to get together in hugagesea and hanisi
for our youngsters to know each other and to learn how to share
to find out about the link of kainaga and fuag ri
to understand that we are equal in gods eyes
to teach our youngsters the Rotuman traditional dance and language
to find out that favourite fara song that been lost for some time
to remind us no matter how fast we run in the rat race, we can only get as far as today
to sleep in the same room and share a hanuju, just like the good old days with mum and dad
to have a good laugh that keeps us healthy and wise.
We had our first sleepover on Saturday, 20 March. Glory Brown and son Russell, from New Zealand, were our guests. They loved it so much they are staying back for our next sleep over on the 8 May 2004. If any family or kainaga want to come to our sleep over please let us know.
Hanisiof,
Hugagesea
---
From Fijilive (20 March 2004)
Rotuma marijuana free
District officials in Rotuma have reported that the island is completely marijuana free.
The District Officer Rotuma Luke Moroivalu says there has been no reports about marijuana cultivation or its consumption since he took up office there than three years ago.
Moroivalu says Rotuma chiefs have issued warnings to their people against the use of the drug.
Moroivalu says that chiefly respect is still intact in Rotuma and people do comply with their decisions.
---
From Mika Taito in California (19 March 2004)
On Saturday, 28 February, The Lopta families residing in California met at the residence of 'Aitu & Bruce Richmond in Watsonville. It has been a while since our last meeting so everyone was excited.
At the meeting we discussed the request and invitation from our Lopta families in Rotuma to help out with their fundraising in December 2004. Haifaeagag te'is pa 'es la te' ne kainag gagaj 'atakoa ne la po la la' se Celebration ne la re 'e Lopta, Rotuma 'e Saturday, December 18th la leuof ag'eseaf ma Lopta 2004 Christmas Tour. Tape' ma se haisoag fak mone se Lopta ne noh 'e ut tutu ne rante'.
'Otomis han puer ta Mereana Emose Gibson 'ua'ua'ak se sasiag heta Aitu Richmond ne la' se Rotuma 'e kesmasit ne vah se' ma saea manea' ne Lopta.
'E kesmas ne fau te'is 2004, Makereta Rigamoto from Stockton California tae la saea manea' ta.
The California-Lopta folks will have a fundraising at the home of Sopapelu & Margret Susau in San Francisco on Saturday, 26 June at 2 p.m. We look forward to any Rotumans & other communities in the Bay Area for their kind support ka tape' ma se Wesley & Tolo families in The State of Utah to send their dollars.
Faiaksia ma fu 'uomus!
---
From Alan & Jan in Honolulu (18 March 2004)
The Hawai'i premiere screening of Vilsoni Hereniko's feature film, The Land Has Eyes, is scheduled as the closing night event of the 2004 Hawai'i International Film Festival (Spring Edition) on Thursday, April 8 at 8:30 p.m. at the Signature Dole Cannery Theatres in Honolulu. The film will also be given a special media screening at 7:00 p.m. on Sunday April 4th at the Honolulu Art Academy.
The film has been invited to screen in the Moscow International Film Festival (June 18 - 28) and the Brisbane International Film Festival (July 27 to August 8).
Vilsoni and Jeannette Hereniko will be taking the film for viewing on Rotuma during the week of June 2-9, 2004.
---
From Fijilive (15 March 2004)
Rotuman newspaper launched
Today sees the launch of the first bi-lingual English and Rotuman newspaper.
The monthly newspaper is called the "Tefui" which is the name of a garland unique to the island of Rotuma.
The initiative by Pacific Islands Culture and Arts Foundation will be used as a medium to raise awareness on policies and development projects within the Rotuman Community.
The founder and the Chief Executive of PICAF, Wilson Hoerder says the publications would not print stories with strong political or religious focus.
Hoerder says the publication is also a way of retaining the Rotuman language amongst the younger generation.
"Take me for example, I am born and raised in Fiji. I can speak my language but I can't write it. So there is a market niche for young Rotuman's who are being educated in Fiji for us to learn our language, learn to understand the phonetics which is very difficult. I found out that we had more problems doing up the Rotuman stories then the English ones so I hope that it is going to be a learning process for the Tefui team and maybe something for them to pick up."
---
From the family of Akata Tolo (10 March 2004)
We sadly announce the death of our beloved wife, mother, sister, mother-in-law, sister-in-law and grandmother Akata Sapeta Tolo. Akata was admitted to Rotuma hospital on March 1 and was called to the Lord on March 4, 2004. Akata was born to Sa'a (of Lau, Hapmafau) and Masie Muaror (of Su'ura, Oinafa). She spent most of her years as a Home Economics Teacher at Rotuma High School. She retired at the end of the school year in 2002. Akata is survived by her husband, Fonmanu Tolo (of Motusa), children - Maggie Smith (USA), Homa Tolo (Kadavu, Fiji) and Kamilla Tolo (Rotuma), sisters Terotume Etika (NZ), Fuata Manueli (Rotuma), Alisi Khan (USA), Mara'ana Antonio (Nadi, Fiji), Emeli Kalaam (Nadi, Fiji) and brother Homa Muaror (Suva, Fiji) and grandchildren, Hanisi Hevani Smith and Dayna Danielle Tolo.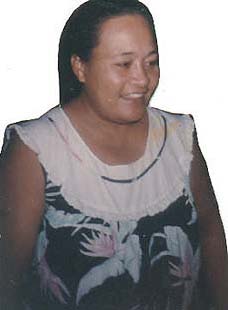 Akata Tolo
O'fa ta Fonmanu, la'riri' ta ma ma'ma'piga a'hae la 'ua'ua'ak ofrauf se te' ne o'o', kainag, hensasiag, kaumane'eag ma se te' ne lelea' 'atakoa ne 'inea o'hon ta Akata 'e avat ne ia mauri ka hele' se 'on teran al ta. Noai'a 'e hanisit se o'hon ta. 'Ua'ua'ak a'ti' se Dr Sumasafu Manueli ma 'on kaugarueag ta 'e haspet ta 'e Rotuma ne mata' se 'ohon ta 'e teran his ne 'on 'af'af ta maha. 'Otomis 'ua'ua'aki la' ofrau se te' ne 'aus 'atakoa ne hanis ma as se 'ohon ta 'e haspet ta ma te' ne 'aus 'e ut tutu ne ran te' ne 'inea ma a'hae'ak ia ma 'amis 'e ro'aitu. Tape'ma se te' ne kainag ofrau 'e Rotuma, Fiti ma ut tutu ne ran te', Fekau ma o'o' ne Motusa, Principal ma lelea' re rako ma la'riri' ne rako te Rotuma High School ma Primary 'atakoa, 'aus noa'ia 'e hanisi. 'Ua'ua'ak tape'ma se te' ne hanis 'atakoa ne reem se 'amisa 'e hanhap fak selene, tela'a, 'epa, a'vaohian ne sala, hosa, faeag hanisi ma ro'aitu. Noa'ia 'e hanis fuamamau. Kop ma noanoa se 'amisa la togia hanis uanmaf ne 'aus re vahia ka 'amis far la Gagaj 'Aitu la togia 'omus hanisi ma alalum'ak 'omus mauri.
"The Lord is my rock, my fortress and my deliverer." Psalm 18:2
Hanis ti'uof ma Alalum,
Fonmanu, Maggie, Homa ma Kamilla ma 'otomis kaunohoag 'atakoa.
---
From Fiji Times (10 March 2004)
Residents on Rotuma will spend the weekend without fuel to run vehicles and generators because of poor shipping services, says senator and Rotuma Island Council member Gagaj Maraf.
He made the comment amid plans for an emergency vessel, the Bulou ni Ceva, to leave for Rotuma on Saturday.
The last ship that serviced the island was early last month.
Gagaj Maraf said the council would call a meeting this week on the island to discuss the issue before next week's visit by Rotuman MP and Assistant Minister in the PM's Office, Marieta Rigamoto.
Kadavu Shipping managing director Peter Lee said they were asked by Rotuma's district officer Luke Moroivalu to help transport food and fuel.
"There is a heavy demand for diesel to operate the generators and if not, they will have a crisis on hand," he said.
---
From Fiji Times (9 March 2004)
Rotuma would make a very attractive tourism destination.
The island has everything a tourist wants to see in this part of the world.
The island's traditional leader the Gagaj Maraf knows economic development on the island will receive a substantial lift if tourists travel to Rotuma. He could not have expressed better the thinking and hope of his people during debate in Upper House on the Fiji Island Visitor Bureau bill.
But he and his people know that travelling to the island is the biggest obstacle.
There has to be a regular and reliable service to Rotuma. Full stop.
At the moment the islanders are complaining about just that. For economic development to be given a serious lift, there has to be a regular link with the markets and businesses in the main trading countries.
The island virtually comes to standstill when there is a delay in boat service. Food supply runs low and the shop shelves lack the basic necessities which families need in the daily lives.
Farmers and fishermen cannot send heir produce to the markets on Viti Levu.
The Rotuman council on behalf of the people has to put pressure on the Government to provide this essential service to the island.
Better still the council should ask the Government help the islanders buy their own vessel. The council should be responsible for its operation. Ways can be found to make the operation commercially viable.
Not only tourism but a regular shipping service would help unlock the abundant resources in other industries which are in big supply on the island.
Because of its location and distance from the main urban centres it is often too easy to ignore the welfare of its inhabitants. But Rotuma is very much part of this land. And its economy needs to be moved away from traditional subsistence to money-making if the standard of living of the people is to be raised.
The council keeps in touch with Rotumans working on Viti Levu and Vanua Levu through a group comprising district representatives. The two groups are supposed to be working together on programmes which should benefit the islanders in general.
It would be a good idea if they can bring to the top of their list of priority issues the shipping service. The island and its people deserve it.
Maybe the Gagaj Maraf and his people may want to convince their parliamentarian Marieta Rigamoto, who incidentally is visiting the island next week, to push their case again with the Government. It's long overdue.
---
From Sanimeli Maraf in Rotuma (16 February 2004, posted 4 March)
The New Year seems to be a busy one for the hanua as well as the church side of things. The Rotuma Women's Association started again with a farewell luncheon to our coordinator, Mrs Moira Vafo'ou, who, after ten years in Rotuma, is tranferring to Nausori. We will miss her, I especially, as I have always relied on her advice. The women also invited Dr Ane Atalifo, who is transferring back to Suva. We are now waiting for her replacement, Dr Sumasafu Manueli, the son of Tafaki Manueli and Sarote of Fekeoko, Noa'tau.
Our Telecom here in Rotuma is getting back to normal. The whole of Rotuma was out completely, with no telephone communication for about three weeks, and it was horrible. You realise just how important the phone is to your everyday life, especially here in Rotuma.
We are looking forward to see the film of Vilsoni and Jeannette Hereniko, The Land Has Eyes, when they come to show it to us in Rotuma. We are all looking forward to that.
The boat Cagi Mai Ba will be in Rotuma this week Wednesday, and we're looking forward to getting supplies of sugar, flour, etc. etc. We have run out of flour and therefore bread. I baked bread for two churches for the "Lord's Supper" (omoe 'on gagaja) including the LDS elders, who asked me to bake for them; it was indeed a pleasure to say yes to them.
In Noa'tau district Gagaj Maraf bought a pool table for the youths to bring them together and to enjoy themselves. While writing this letter I can hear the laughter coming from the boys. At half-past ten it seems enough for the night! At times Gagaj Maraf has to switch off the generator without warning, so the boys have to dive to retrieve the money (50¢) they put up awaiting their turn. No females seem interested to play, so I have no partner and have kept away. A couple looks after the table. The money taken in each week is shared four ways, including a stipend for the couple who look after the table.
The moea 'ulu is in full swing, so fekei 'ul tuki with burnt sugar sauce is being enjoyed by everyone.
Gagaj Maraf is in Suva at this moment waiting for the Senate to meet at the end of February.
Cheers, and a very happy New Year to everyone who lives far away from Rotuma Island.
---
From Dick Sievinen in Florida (4 March 2004)
Things have been happening here at Rotuma East. Last weekend we had a get-together at the Ieli's. Harieta Guthrie and Tupou (Tiva's former classmate from Rotuma) drove up from Miami. Harieta's father is Pene Manueli and her mother is Vafo'ou from Itu'muta. Tiva & Jieni's friend Tupou is from Malhaha; her maiden name is Merutu and she is married to Rupeti.
We had a table full of island food and Uncle Alfred made two types of fekei. Akata, Alfred, and Jieni's daughter and grandson, Aisea, along with Tiva, myself, and Mari (visiting from Utah) enjoyed the kau kau.

Dane Guthrie
Harieta brought an article from the Miami Herald about her son Dane's signing a national letter-of-intent to attend the University of Florida and play football. Dane, a full academic qualifier, is 6 feet, 3 inches tall and weighs 240 pounds. He runs the 40-yard dash in 4.6 seconds and is considered one of the top recruits in the country at his position. He was selected to the all-state second team offense in Florida for 2003. Oldest son Sean has signed with the New York Giants of the National Football League. Sean will play for the Rhein Fire (Germany) in the National Football League's European Developmental League before joining the Giants at training camp in July.
Tiva and son Eric
At a recent awards ceremony, Eric Sievinen was named "Firefighter of the Year" for the City of South Ogden, Utah's Fire Department. The Department provides fire suppression and protection, technical rescue, hazardous material response and EMT/IV emergency response services. A firefighter/EMT, Eric graduated from the Utah Fire & Rescue Academy in Orem, Utah. He previously attended Mars Hill College in North Carolina for two years on a football scholarship. He is married to Linsey Brown and they have three daughters.