From Glory Brown (Titofag) in Hamilton, New Zealand (20 September 2004)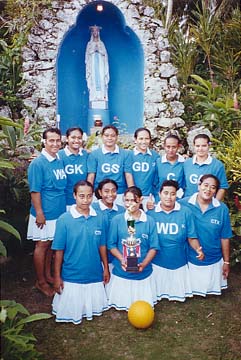 The Juju netball team
I took a trip to Rotuma recently to visit my father who is unwell, and was brought up to date with some local news.
I found that the Juju ladies netball team had won the Rotuman Women's Island championship on 7 May 2004. I believe that it should be brought to attention of relations around the globe.
The team included Christina Amonaki (Haga), Veronica Crocker (Koheatiu), Roseanna Rutofu (Tuai), Faga Amonaki (Haga), Tima Koli (Haga), Lusia Amonaki (Saukama), Stephene Mua (Tuai), Lisa Kemueli (Islepi), Georgina Aropio (Saukama) Ili Low (Haga), and Captain Mareta Fesaitu (Hahia); absent from the photo is Lusia Afasio (Haga).
A great thank you to all the women and school girls who took part, and also to the other teams that participated on that day.
---
From Dr Robin Mitchell in Suva (18 September 2004)
Sarote To Carry Fiji Flag At Paralympic Opening
Sarote Fiu has been selected to carry Fiji's flag at the opening of the Paralympic Games in Athens this evening (Friday 17th September). Sarote will be competing in the Shot Put event on Monday 27th.
Jennifer Liew the Fiji Paralympics Coach reports from Athens.
"The weather is very dry and hot and all athletes are glowing from working out in the sun..who would believe that we would miss the rain but we do...Suva's blue skies generally last 2 or 3 hours whereas here it is constantly clear skies with not a cloud in sight. Both Manasa and Sarote have conquered the jet lag heavies..Manasa found himself feeling unusually heavy in the water the first couple of days.....but he had a very good training session both yesterday afternoon and today....Tomorrow will be spent preparing for the opening ceremony. To date 131 countries have arrived and there are a scHeduled 138 for the opening ceremony - we are 4th to last.. as they are following the Greek alphabet.
One thing that we would like to acknowledge is that we are the only country that has their country name on their uniforms in the Greek alphabet and it has been noticed and appreciated by the Greeks themselves.
Sarote is to be our flag bearer tomorrow as she is the first Fiji woman Paralympian. Over the last few days I have been impressed by the athletisim of all the athletes their focus on their training and every thing they do would put alot of our able bodied people to shame..I feel privileged to have had this opportunity to work with our two athletes and to witness the paralympics and all they stand for.
Fiji has a lot of potential to develop our Disabled Athletes and get a good chance to win medals. At dinner this evening we got chatting to the Belgium Wheelchair Rugby Team. This is a new sport this time and they are typical fanatic Rugby Players so we will try and get to watch a game as this could be a potential sport for Fiji in the next Asia Pacfic Games.
Manasa's first event is the 200m Individual Medley which he will race on Thursday 23rd, and on Sunday 26th he will swim his 50m Freestyle.
Sarote competes on Monday 27th when she will throw the shotput.
There is food avaliable 24 hours a day and although some of it is a bit repetitive you can create an interesting meal by choosing from the different cuisines..we are all be very careful not to eat too much and saving the chance to eating the especially fattening stuff when their events are over. Well that is all for now .We will be late tomorrow due to the Opening ceremony scheduled to start at 8.30pm and finishing at 11.30pm . . ."
---
From Letila Mitchell in Fiji (14 September 2004)
Photos of Rotuman dancers at the Pacific Arts Festival in Palau
---
From Fijilive (14 September 2004)
Fiji sets new temperature records
A number of temperature records were broken during the month of August in Fiji according to a report by the Nadi weather office.
Average nighttime temperatures were the warmest on record at Vatukoula and Rarawai Mill and daytime temperatures were the warmest on record at Rotuma, the weather report stated.
Ono-lau experienced its lowest average night time temperature on record.
The report also stated that Fiji's weather has not been affected to date by the weak El Nino that is in place. However changes, especially in rainfall patterns, may occur in the coming months should the El Nino continue to develop.
Some El Nino events in the past--for example the 1987, 1997, 2002 episodes--have caused significant suppressions in rainfall.
Record rainfall was also recorded last August.
---
From Dr Robin Mitchell in Suva (12 September 2004)
Fiji at The Olympic Games
Fiji was represented by eight athletes and twelve officials at the Games of the XVIIIth Olympiad in Athens, Greece participating in six sports--Archery, Athletics, Judo, Shooting, Swimming, and Weightlifting. Six of the eight athletes qualified on merit for the Games through qualifying competitions in Oceania (including Australia and New Zealand), and all except one athlete were gold medallists at the XIIth South Pacific Games in Suva last year. The athletes on the whole performed well in Athens and are likely to represent Fiji again in Beijing. All of them are expected to do well in regional competitions in the coming years prior to the 2008 Olympic Games.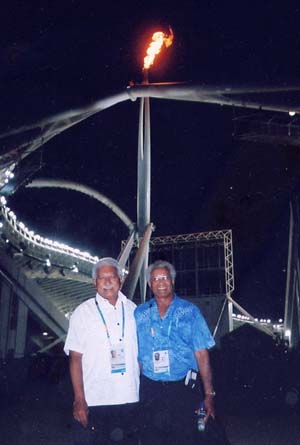 Dr Robin Mitchell, Member of the International Olympic Committee in Fiji (in white shirt) at the Olympic Games in Athens, with Sir John Dawanincura, Secretary General of the Papua New Guinea Sports Federation and National Olympic Committees and Vice President of ONOC (Oceania National Olympic Comittees).
No Rotuman athletes qualified for the Olympic Games this year and only two persons of Rotuman heritage were in Athens in an official capacity for Fiji--Dr Mitchell and Olaf Allan (son of Lillian Allan [nee Grant] and Olaf Snr).
Dr Mitchell was in Athens in his role as a member of the International Olympic Committee (IOC). Dr Mitchell, who is President of the Fiji Association of Sports and National Olympic Committee (FASANOC) and Secretary General of the Oceania National Olympic Committees, acted as the IOC observer in the Archery competition held during the first week of the Games in the historic Panathanaikos Stadium and in the second week worked at the Hockey venue.
Seventeen-year-old Olaf Allen was one of two Fiji participants at the Olympic Youth Camp, which is held during the period of the Olympic Games. The two Fiji participants were selected following a national competition that is open only to young Fiji National representatives. Olaf was nominated by Fiji Golf and in 2002 won the Heilala Golf Open in Tonga (as a 15 year old); he was a Fiji squad member for the 2003 South Pacific Games. In 2004 he won the Rewa Dairy Oceania Junior Championship and the Fiji Open Golf Championship. The other youth representative in Athens was Alissa Dean, who was double Gold medalist for Fiji in Badminton in the 2003 South Pacific Games.
For more information on Fiji at the Olympic Games visit www.oceaniasport.com/fiji/
---
From Fiji Times Online (11 September 2004)
Fiu makes history in Athens Paralympics
ROTUMA lass Sarote Fiu will carry Fiji's flag for the first time in the women's shotput event at the Athens Paralympics from September 17-28.
Fiu and swimmer Manasa Marisiale will represent the country at the Games and will be accompanied by swimming coach Jennifer Liew and chef de mission Bishwa Sidal.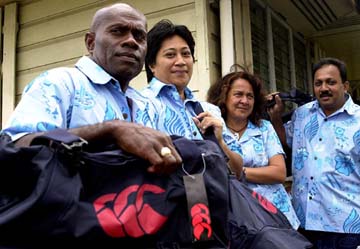 (Left to right) - Manasa Marasiale (Swimming), Sarote Fiu (Athletics), Jennifer Liew (Coach) and Bishwa Sidal (Chef de Mission)
Photo by Rama of the Fiji Times
A shy Fiu, who lost her arm in an accident when she was a little girl, said she was excited about taking part in the Paralympics.
"It was never a dream of mine to go to the Paralympics, but now that I'm going, it is really exciting," she said. "The family is happy and so am I."
Fiu said she looked forward to going to Athens and would try her best.
Marisiale, who suffers from cerebral palsy, will compete in the men's 50-metre freestyle and 200m individual medley.
Bishwa said the two athletes would try and achieve personal bests and better their standing internationally.
He added that Fiji had yet to win a medal at the Paralympics, but had won medals at the World Championships and other international tournaments. Fiji first participated in the Paralympics in 1996 in Atlanta in the United States.
Unlike other sporting competitions, the Paralympics athletes are not classified in weight or height, but grouped in sport classes defined by the degree of function presented by their disability.
Sports classes are identified by a letter, usually the initial letter of the sport and a number.
The two Fiji athletes, who leave for Athens this afternoon, will participate with 4000 competitors from 145 countries in 19 sports.
Meanwhile, the Athens Paralympics torch relay, which began yesterday, was lit in a ceremony in the ancient temple of Hephaestus, who was the disabled god of fire and metallurgy.
_______________________
Note: Also see the article published on the Oceaniasport website.
The farewell gathering seemed to be a Rotuman managed affair. The President of the Fiji Sports for the Disabled is Sumasafu Vilisoni and the MC was former paralympian Fuata Faktaufon.
The Chef de Mission--Bishwa Sidal--is married to Sita Tivaknoa daughter of Voi and Tokoara Penamena of Malhaha.
Sarote is the daughter of Mariko Fiu of Motusa and Tiu Fiu of Oinafa.
---
From Alan and Jan in Honolulu (8 September 2004)
Vilsoni and Jeannette Hereniko's feature film, The Land Has Eyes, will be shown at the Cinema Paradise Film Festival in Honolulu, which runs from 17-23 September. It will be screened at Varsity Theater at 6:00 PM on Friday, 17 September. All Rotumans in Hawai'i who have not yet seen this remarkable film are urged to attend.
For information call 808-550-0496
For $6 phone pre-sale tickets call 1-877-714-7668
For $6 On-line pre-sale tickets go to www.cinemaparadise.org
Tickets at the box office are $8
---
From Sanimeli Maraf in Rotuma (20 August 2004, posted 3 September)

In Noa'tau District we have had electricity since 21 July. It is on from 6 to 10 p.m. every evening, so at least we can relax and enjoy life in the island. Thanks to the Fiji Government. Kalvaka has its own generator, and this side from Matuea to Fafaisina has its own ECSO generator (27 KUA - 23 kilowatts, type HERIZ 50). It's $10 monthly plus extras for washing machines, videos & stereos, fridges, and florescent lights. Not allowed are irons, heaters, and stoves. There are 45 families on this side of Noa'tau. Now people are getting used to having lights every night and are accepting of the cost per family. For the likes of us, we're happy to pay extra. Our own generator is on from 6 - 10 a.m. because of our fridge, etc.

The Fiji Air engineers strike kept most of our visitors away, unable to visit Rotuma. People were told that there were no guarantees and were wait-listed because the flights were supposed to be fully booked. There was no flight on the 4th and at the last minute the one on the 9th arrived with only four people aboard, including Maraf, and on Friday the 13th only two people, the Mormon "elders," were on board. Most people withdrew their bookings. What a shame on the business side of things.

Message to Noona Stace-Gomes: Happy birthday dear . . . God bless.
---
From Fiji Times Online (3 September 2004)
Senators salute Langi
SENATORS on Wednesday saluted contributions made by Rotumans holding office in the country.
Senator Ratu Josaia Rayawa congratulated Reverend Jione Langi for being elected as President of the Methodist Church of Fiji and Rotuma three days ago.
Speaking in Fijian, Ratu Josaia said Fiji was blessed with some talented people from Rotuma such as the Chief Justice Daniel Fatiaki.
The senators were then asked to show their appreciation of Mr Langi's election as president of the church.
Mr Langi takes up his appointment in January.
---
From Fiji Times Online (1 September 2004)
Langi to Lead Methodists
Reverend Jione Langi
METHODIST Church secretary general Reverend Jione Langi was appointed the new president at the annual conference in Cicia.
His predecessor outgoing president Reverend Laisiasa Ratabacaca said from Cicia yesterday he accepted the new appointment since he felt the post deserved a new person.
"I'm very happy with Reverend Langi being elected as my successor," Mr Ratabacaca said.
"My three-year term is completed, so a new person should come in now."
Mr Ratabacaca said his successor was the outright holder of the post as a majority voted him in.
"The name that received more than 50.1 per cent will be the president but for Reverend Langi he received 53.37 per cent, which is a good indicator that the people want him," he said.
Mr Langi's appointment will be effective from January.
Mr Ratabacaca said the meeting had several issues on the agenda and would all be discussed before the conference ended on Sunday.
Good weather, according to Mr Ratabacaca, will allow them to complete the conference as scheduled.
A new division, Totoya, has been included in this meeting.
Mr Ratabacaca said Totoya's inclusion had increased the number to 48.
The Methodist Church has commended the Tikina o Cicia for their efforts in trying to ensure that the conference was a success.
"I thank Cicia on behalf of everyone else for their tireless efforts in seeing that we are all accommodated and fed well," he said.