From Maa Emerite Littlewood in Australia (29 April 2005)
Our family enjoyed seven weeks in Rotuma over the Christmas holidays. We stayed with my parents, Eliesa and Anne Vilsoni at 'Atapisi, Motusa. Having a beach in the backyard was an enormous blessing and in my husband's words, "it is a prime real estate." For my husband and my two boys, it was the second or third trip, but the first for the little princess of the house, Monique, and it was an experience she'll remember for a long time.
For our first major fun outing we attended the Motusa school concert. My son Justin joined a couple of the tautoga practises, but with the passing of Gagaj Tukagsau, there were no special performances on the day. I would like to thank Gagaj Tigarea and his committee for their dedication and hard work to improve the school. We also attended agricultural shows at Losa and Hapmak (Melsa'a). Congratulations to Fatiaki Paka of Losa for winning the trophy again.
Hooray, Motusa has electricity! As a line of one of the tiap hi'i says: "Faka se Mereke." Thank you Pat Faktaufon and the Motusa Committee in Suva for organising the puchase of the generator and lighting equipment. Thank you for the beautiful kato'aga. It was also great to have all of Motusa spend Christmas day together at the school. That was the celebration of a lifetime. Now we have photos and videos of our happy times with relatives and friends that we will treasure for years to come. Thank you to everyone involved especially the "hua'i ne hanue te Motusa."
See some of our photos so you can have a glimpse of the fun we had.
Hanisiof
Alalum 'on Gagaja la ma 'aus
---
From Utefern Tanu (25 April 2005)
Congratulations!
New born baby girl - Savannah Tanu, daughter of James and Tamara Tanu of St Claire, Sydney - born on the 1st of March, 2005.

Hanisiof,
Richard, Fern, Baby Fern & Uteneti
---
From Tania Lakokiperitania in Manukau City, New Zealand (21 April 2005)
Wishing our dearest mother & grandma, Rosarie Ackland, a belated happy 60th birthday
We thank you for your love!
We thank you for your time and dedication!
We thank you for everything that you have done for us!
God bless and our love to you always!
Hanisiof,

Mausio, Akata and the Tausie children, Mary, Mario, and Tania Lakokiperitania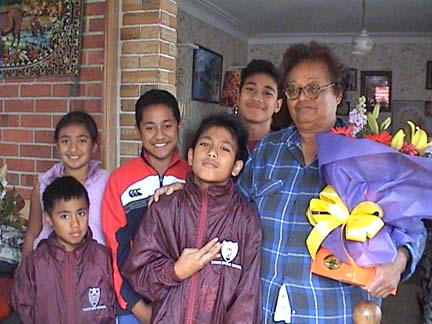 Rosie Ackland with mapiga
---
From Rejieli Paulo in London (18 April 2005)
I have been extremely busy this past year studying at the National Opera Studio in London. Well, the time has arrived! On the 5th of May this year, we will be performing selected Opera scenes at our Showcase Concert. It will be performed at the Queen Elizabeth Hall, London, with the London Ballet orchestra, conducted by Roy Laughlin.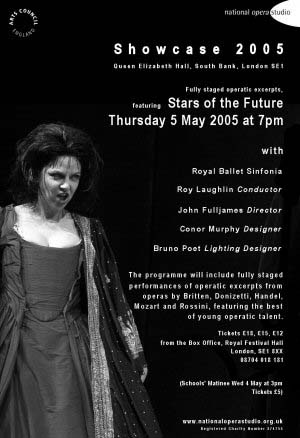 Announcement of Showcase 2005
We have all worked so hard and look forward to performing to the best of our ability. Many distinguished guests will be present including the media and agents.
This is a priceless opportunity to demonstrate our growth as artists over the last year (and our potential as future opera stars!). Since all my family and many of my friends are back home in Australia, I would be very grateful and feel very blessed to have as many friends as possible attend this brilliant evening in support of us, in particular, Maxine Montgomery and myself.
For all my loved ones back in Australia, I will be thinking of you on the night and ask if you could keep me in your prayers and if possible, and inform your London friends, families and colleagues who you think would be interested in attending.
I miss you all and have had you in my heart every minute of the day, I couldn't have done this without you. So many exciting things have happened since we arrived in London.
Duncan and Isabella are doing very well, we're all happy and healthy. Isabella is nearly two years old and she is a very caring, loving, intelligent and beautiful little girl. She loves to cuddle everyone and has won the hearts of all who have had the pleasure of meeting her. Her vocabulary is growing each day and I feel like the luckiest person in the world to have such a wonderful family.
Thank you for your prayers and well wishes. We look forward to seeing you all and send our love.
---
From Vamarasi Ieli at Brigham Young University, Laie, Hawai'i (8 April 2005)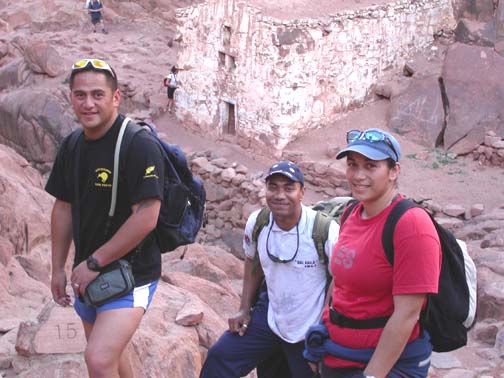 Hiagi Apao Ieli, center, climbs Mt. Sinai with friends.
Hiagi Apao Ieli from Elsee, Malhaha, son of Jare and Ledua Ieli, is currently serving in the Fiji Military, stationed in Israel. He recently traveled to Mt. Sinai with two members of the New Zealand Army. He is the first member of his family to be in the army.
He has also recently become a father to daughter MarilynOlivia.
Congratulations!
---
News from Bruce Tizard-Varcoe in England (6 April 2005)
Helava and new baby brother Lars
Congratulations to Katalina (nee Apao) and Michael Petersen on the birth of their second child, a son named Lars, born on 8th March and weighing at 8.14 lbs. Katalina's mother, Akaneta, arrived in the UK for the birth.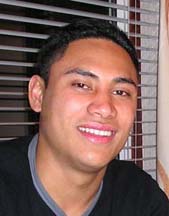 Sauriaki Mua
Sauriaki Mua, son of Mojito and Rejieli, arrived in the UK in April 2004 to join the British Army.
He successfully completed Phase 1 training in July and is currently doing Phase 2 with the REME Corp School of Electronics and Aeronautical Engineering, which takes two and a half years to complete. Upon completion, he will take up the post of Air Technician.
Note: the Rotuman boys in the British army not only go to the 'hot spots' of the world e.g. Iraq, Afghanistan, Bosnia etc, but also to places like Canada and in Sauriaki's case recently, a training trip to Barbados in the West Indies.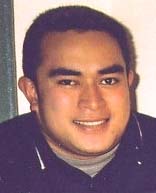 Stanley Faktaufon
Stanley Faktaufon, son of the late Mrs Susau Faktaufon, has been on guard duty at Buckingham Palace. He has also guarded Windsor castle (the Queen's residence), St. James Palace (Prince Charles's residence) and the Tower of London. Possibly the first Rotuman to do so.
Check out photos taken on Friday, 8 April 2005 at the Changing of the Guard ceremony, which takes place in the morning on a daily basis.
It's not all glamour for this Motusa lad though, as he's off on training next week to Wales in some of the harshest terrain in the U.K.
---
From Ravai Shaw in Wellington, New Zealand (6 April 2005)
Last month, on Saturday, 5 March, families and friends gathered at the Sheraton Fiji Resort, Denarau Island, to witness and celebrate the marriage of Tony Tua'toko and Olivia Mills, who is of Samoan and English heritage. Tony is the eldest child of Alfred and Rave Tua'toko.
The day dawned with many of the families meeting at the beach for an early morning swim in the sea and watch the sunrise, which was glorious. A few Rotuman golfers were out early at the Denarau Golf Course. Since there were no koua to attended to, immediate families were able to lie back and relax like the rest of the guests.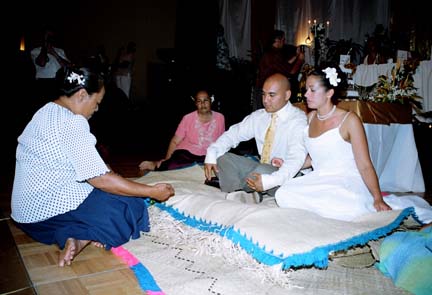 Tony and Olivia on apei
The wedding took place at 3 pm at Paradise Chapel (owned by Sheraton), located right on the beach. The marriage was officiated by Fekau Jione Langi, President of the Methodist Church in Fiji and Rotuma. Many of families and friends present came from New Zealand, Australia, and as far away as Shetland Island in Scotland and Dubai.
Cocktails at the beachside followed the service, with swaying coconut palms providing shade. The reception began at 6 pm in the Frangipani Room with about 200 guests. Tony's sigoa, Fesa'itu ma Mekato'a Katafono and family performed the traditional Rotuman 'of sope. Dinner followed and after the formal part of the evening was over, guests partied until it was time to close. For some who were still jovial and in the swing of things it was only a walk across the hotel foyer to the Planters Club, where they continued to dance the night away.
We thank God for making all this possible and for the many families and friends who were present to share this very special day with Tony and Olovia.
---
From Fern Tanu in Suva (5 April 2005)
Richard with Stan Waterman (underwater photograper for the movie, Jaws)
Richard Tanu is a dive master on board the yacht Nai'a Cruises Fiji Ltd. Richard has been a divemaster since 1996 and has dived with many well-known people and scientists.
Richard has been offered a scholarship to the United States to further his diving career by getting the highest qualification that a dive master can get. It is a 1-2 year course.
Congrats, Richie! Keep striving high . . . we're proud of you.
Hanisiof, Suva & Lautoka gang