From Richard Sievinen in Stuart, Florida (29 September 2005)
It's been several years since my last news report from "Rotuma East." This is the first anniversary since we were ground zero when hurricanes Frances and Jeanne hit the United States. Clean up and repairs continue and hopefully they will be completed shortly. There is light at the end of the tunnel.
Tiva Ieli Sievinen
Tivaknoa (Ieli) Sievinen, formerly of Malhaha, retired after 28 years as an educator in the Martin County School District. She began her career after receiving her bachelor's degree from Brigham Young University, Hawaii. Her career took her from classroom teacher through various assignments as a literacy project specialist and a reading specialist. She was selected "Teacher of the Year" in 1987-88 to represent the district at the state of Florida's annual competition. A Hawaiian-themed retirement party was held in her honor at the Holiday Inn in May. The superintendent of schools presented her with a plaque commending her for her long service to the district. Her peers then "roasted" her for one final time and gave her gifts to help ease her into retirement. Before Tiva performed some of her favorite Polynesian dances, the principal prefaced her introduction by saying that this was the first time the retiree provided the entertainment for her own retirement party.
It's a family affair at BYU-Hawaii. Daughter Mari is a senior majoring in Business Administration, and nephew Walter Aitu, an Information Systems major and Vamarasi Ieli, an Education major, are also currently pursuing their degrees at BYUH.
Hiagi Ieli, son of Alfereti and Jieni Ieli, and his wife Kafoa (Tevita) are now living and working in the area. Hiagi is a construction foreman for DiVosta Construction, a subdivision of Pulte Homes, the largest home builder in the United States, and Kafoa is a legal assistant for a local attorney.
Jieni's niece Jane (Lijiana Howard) Sturton and husband Mark stopped to visit for a few days on their way home to England. Jane is the daughter of Emeli and Tivao of Malhaha. They also spent several days in Miami visiting with Harieta Guthrie, daughter of Vafoou and Pene (Itu'muta & Noa'tau), before stopping in Washington D.C. to attend a business conference. Harieta's son Dane has transferred from the University of Florida to the Arizona State University to attend school and play football. This is Dane's second year.
| | | |
| --- | --- | --- |
| | | |
| Jiene Ieli showing Tiva's high school photo | Alfereti and Jiene Ieli | Jane and Mark Sturton |
---
From Elisapeti Inia in Suva (11 September 2005; posted 29 September)
At the Methodist Conference in Nadi there were a lot of things discussed, but the discussions of homosexuality and HIV/Aids were new to me. Excessive kava drinking was also on the agenda. During Reverend Elaisa Taito's time, when he was superintendent in Rotuma, the questions asked of all preachers at quarterly meetings were: 'Äe 'iom te 'oan? and 'Äe 'iom kav? The answer to the first question was always "'igka," but the answer to the second could be "'igka" for some and "iom kav mea'mea'" for most male preachers. When Elaisa and Wilson Inia were out of the picture the two questions were no longer asked. It is over twenty years now and some preachers get drunk from kava!
Injimo (the chairman of the Rotuma Council), Mrs. Rigamoto Langi, Mrs. Emily Fatiaki, and I were on the President's Panel. We were the four Rotumans whom Reverend Langi had invited to be on his panel before he died. Hanis ia! It was sad to miss him, the one who should have been chairing the Conference. The members chose the previous president, who retired last year, to chair the Conference and things ran smoothly right through the week. During the solevu week, F$1,955,709.26 was collected for the church. Next year the solevu will be opened by the Rotumans!
We discussed "Project Mana" during our annual meeting of the Church at Malhaha in May this year to start collecting money for the opening of the solevu in 2006 and hosting the Conference in 2007, which would have been the year Reverend Langi would have retired from his position of president. Because of his death, Rotuma will not be hosting the Conference in 2007, but we will concentrate on the solevu opening and I'm sure the target is two million. The question came up towards the end of the Conference as to who would open the solevu and Injimo spoke and confirmed that it will be Rotuma's turn next year, followed by great applause from the floor.
During our two-week stay in Nadi, all Rotumans were hosted by the people of Waqadra, a new section of Nawaka Division. They are raising money to build a church of their own and to support a catechist. They really looked after us well and before we left we presented them with a gift of F$6,000 to help them with the building of their new church.
The people here in Suva really enjoyed seeing The Land Has Eyes. Sapeta, Emily, Maniue, John Jr., and I were present on the first night before it was opened to the public on Thursday. Rotumans who meet me say, "'Amis 'oaf pau se mal ta. 'Amis kaha sar 'e scooter," etc., etc. Seeing it in the theater at Village Six is so different compared to seeing it on a bedsheet in Rotuma; it was so clear, and the island is so beautiful. Some Rotumans said, "Oh, we laughed and cried at the same time because we see our beloved land and things we saw in the film are so real and natural." Thanks to Vili and Jeannette and to all those good people who helped to make the film.
---
From Marg Bentley-Hazelman in Vancouver, B.C. (20 September 2005, posted 28 September)
Pita Aisake from Fapufa, Rotuma, is here on a two-week visit. This is his first trip to B.C. and we are delighted to have him. He was hosted by Les Knight, who visited Rotuma a few years ago with his family and stayed at Utetea with Randolph Bentley; they loved every minute of it and made some great friends there, one of them being Pita. Pita is only here for two weeks and after visiting with Les Knight will be spending time with his brother, Konousi, and Konousi's wife Sandra and their children, Hans and Tamara, and also with his cousin Margie Bentley-Hazelman. Les, Pita, and Konousi are planning a koua on Sunday, 25 September.
| | |
| --- | --- |
| | |
| Pita, Tamara, Sandra, Hans & Konousi Aisake | Pita, Les Knight & Konousi |
---
From Alan & Jan in Honolulu (15 September 2005)
We have received and uploaded a report from Caroline Clark concerning the reults of the survey she conducted regarding the Rotuma Website, as well as her complete M.A. thesis. We are very gratified by the results and would like to thank all of you who participated. Your overwhelmingly positive evaluations have motivated us to continue to find ways to improve the website so that it might better serve the needs of the global Rotuman community. We can assure you that we will seriously consider all of the suggestions you have made and will try to find ways to implement them if at all possible.
We would like to point out that the success of this website depends on your participation. We rely on people from the various Rotuman communities to send us news and photographs, announcements of community and family events, views on issues of importance to the Rotuman community, etc. Without your participation the value of the website would be greatly reduced. So if you have any information that is worth sharing, please take a few moments to send it on to us, and don't worry if your English is not up to standard. We will make whatever grammatical and spelling corrections needed to make sure that you will not be embarrassed. And, of course, if you prefer to write in Rotuman, we welcome that (although we do not feel that it is appropriate for us to edit Rotuman language texts and will not attempt to do so).
Hanisiof, Alan ma Jan
---
From The Irish Times (12 September 2005)
Seán Óg has his day in the sun
If there aren't bonfires on the Fijian island of Rotuma tonight there should be, writes Tom Humphries. A son of the soil and the sand has triumphed. There should at least be fireworks.
Long, long after yesterday's All-Ireland Senior Hurling Final had ended, a tousle-haired figure stood in the middle of Croke Park.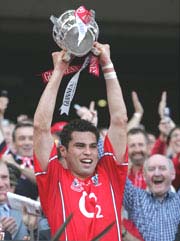 Seán Óg Ó hAilpín lifts the Liam McCarthy Cup after Cork defeated Galway in the All-Ireland Senior Hurling Final in Croke Park yesterday.
Photograph: Alan Betson
Seán Óg Ó hAilpín was wearing a tracksuit top, he was giving interviews, he was having his photograph taken and he was signing autographs. A hero's work is never done.
For those who made it to Croke Park yesterday to watch Cork defeat Galway with at least as much ease as the five-point margin suggested, the epilogue was at least as enjoyable as the game itself.
Many lingered to hear Sean Óg's victory speech.
There had been no more conjecture about the match itself than to whether Sean Óg would speak using all three of the tongues spoken in his family home in Blarney.
In the event he stuck to the fluent Irish which is his passion, eschewing the Fijian he uses when speaking to his parents or siblings or the English with which he greets the rest of us.
If there is a better story than Seán Óg's in the history of the GAA we should be told.
From Fiji to Sydney to Cork to the steps of Croke Park, there to raise the cup and to give a victory speech in strong Irish is an astonishing journey, leaving aside the sub-plots of his talented siblings and academic attainments.
Having captained Cork to their second All-Ireland win in succession, Seán Óg spoke about coming to Ireland at 11 years of age.
His early memories are of train journeys in the rain and the perpetual gloominess of his new home. He took to the almost impossible challenge of hurling though. Life was forever altered
"I started off in Na Piarsaigh, and then going to school in the North Mon. In those places you're told that Croke Park, the steps of the Hogan Stand, that's where you want to be. I bought into that growing up on the northside of Cork. I wanted to live that dream.
"Today it came true for me. It's an honour not just for me but to be associated with these lads," Seán Óg said.
As he spoke, the lads to whom he referred were gathered in the Cork dressing room reflecting on a win which significantly raises their stock in the pantheon of great sides from the southern capital.
Cork came to Croke Park yesterday favoured by the pundits and the bookmakers, but always aware that Galway had produced one of the great performances of recent years when disposing of Kilkenny at the semi-final stage.
Yesterday's game unfolded, though, in accordance with the precepts modern hurling adheres to. The side with the most experience and the most controlled hurling won through. Cork took the lead early on and never surrendered it.
---
From Bruce Tizard-Varcoe in England (12 September 2005)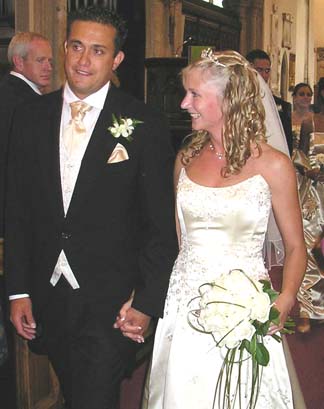 Mr & Mrs Simpson walk down the aisle together
Family and friends gathered at St Mary's church, Plympton, Devon (South West England) on Saturday, 23 July, to witness the marriage of Nigel Simpson, son of Tupou (Tippy) & Ian, to local girl Rebecca Marsh. Nigel's sister Alona was one of the bridesmaids, accompanied by two of the groomsmen, their Rotuman cousins Mahlon and Murray, who travelled up to England from Fiji. Rotuman guests included Elenoa Rigamoto, Sapeta Poar, Richard & Loraine and daughter Tieri Tizard-Varcoe, and Bruce & Leilani Tizard-Varcoe.
The reception was held in a marquee at Rebecca's family home, with the tables named after various islands in Fiji, including Rotuma - the Rotumans were seated at this table of course. Following the first course of the meal came the speeches from the bride's father Paddy, the best man, Daniel Rouse, and Nigel - with many words of thanks, stories, emotion and amusement too, including rugby references and Nigel's appetite - nine potatoes on his plate at a family dinner I recall.
The food and drink was excellent and for the entertainment there was a male singer and an Irish band, singing hits for both the young and the not so young. No event involving Rotumans can go without a Rotuman song or two. Have you ever seen or heard Kakau ma manumanu and Aus Noa'ia accompanied by an Irish band? Mahlon on guitar/lead vocal and Murray and Bruce as backing singers. The Rotumans took to the dance floor, the rest joined in, and much fun was had by all.
| | | |
| --- | --- | --- |
| | | |
| Cutting the cake | Groomsmen Murray and Mahlon | Simpson family - Tippy, Nigel & Rebecca, Ian, Alona |
---
From Fijitimes Online (10 September 2005)
Bringing a legend home
by Verenaisi Raicola
A Rotuman who has not visited her island home for the past 17 years said watching the movie The Land has Eyes made her want to return as soon as she had saved up for her fare.
Tausia Ravai, who was at the Village Six Cinemas yesterday, said the movie was excellent and that it was "cool" to watch Rotumans in a show that exposed their hidden talents and sacred beliefs to the world. An elated Ms Ravai said the movie highlighted the traditional beliefs preserved by more than 2500 Rotumans scattered all over the world.
"This movie helps the younger generation with their knowledge of historical beliefs valued by our older generation.
"But personally, it brought home much closer to me and that is why I want to save enough to re-visit my homeland, as soon as I can," she said.
Another viewer Akanisi Stephens said she certainly enjoyed the film and encouraged others to watch it.
"The movie shows a typical Rotuman island life and it is just so real that is why people should not hesitate to watch it."
Sixty-five year-old Faga Tiu who was among more than 20 viewers yesterday said she was more proud of her island and that the talents of Rotumans were "just too awesome to be real."
All these comments are just why the film's director, Professor Vilsoni Hereniko needs to write about more real life South Pacific experiences and have them produced into movies.The former Rotuma High School student, who later attended Queen Victoria School before pursuing studies at the University of the South Pacific is now a professor at the University of Hawaii.
Mr Hereniko said after being a playwright for more than 20 years since his early days at USP, making the transition from the stage to cinema was a natural progression.
"But writing for movies is more challenging and stretches me artistically that is why I wanted to venture into it in the first place as there was so much more out there to learn."
He discovered how filmmaking was a powerful medium and encouraged traditional societies in the Pacific to use it to tell their stories.
"People must not be afraid to use this medium- I know they would say it is about money, and technical exposure but all this could be worked around if there is a will to progress in the world of movies.
"Movie production also brings in employment for many people unlike writing a play or a novel which is done individually."
Hiring more than 300 people for The Land has Eyes was a challenging experience for him and his wife Jeannette Paulson-Hereniko, the producer of the movie.
"My wife, close friends and I contributed under $1million to produce the movie which is cheap in comparison to world standards."
Producing the movie themselves meant the couple had free artistic licence and could put in anything they wanted.
"That was why we had the script in Rotuman otherwise it would have been in English to make it more commercial and appeal to larger audiences."
On how challenging it was to train Rotumans who were first timers on the screen Mr Hereniko said, "It was not as challenging as expected and after two weeks of rehearsal they were ready to film.
"I guess because the story was close to their real life the actors did not have to pretend. Once they grasped the concept and did not pretend to be someone else it was simpler. Pretending is one of the worst things to tell somebody whose acting because viewers can easily detect it. I told them when they were acting to make things real and to treat it as a normal exposure."
The film's narrative is a clever interweaving of an ancient island legend with aspects of Rotuman culture, in the life struggles of the central character, Viki. An intelligent and strong girl whose family has faced shame for being poor, Viki eventually draws strength from the ancient Rotuman legend of the Warrior Woman, in her struggle to restore a tainted family reputation.
Viki's father is a man wrongfully accused of stealing coconuts, and convicted by a white judge. His family's poverty has also become a public embarassment when they're not able to meet such obligations as their offerings to the church, when family names are called for their soli (money offerings) at the Sunday service. But Viki believes in her father, a story-teller, who passes on to her, the legend of the Warrior Woman.
The tale is about seven sea-voyaging brothers who abandon their sister on Rotuma, a lush tropical island, after an unforgivable act was committed against her. Known as the Warrior Woman for her struggle and determination to survive on her own, Rotumans later regarded the Warrior Woman as the first inhabitant of the island.
Finding inspiration in the legend, Viki tries to impress her father by following the footsteps of Warrior Woman and by being strong for him, when he is wrongfully convicted. Despite her father's death, Viki later wins a scholarship to study in Fiji -- a dream come true.
University of the South Pacific first-year science student, Sapeta Taito, played Viki four years ago while she was a student on Rotuma. For her, the screening of the movie in Fiji is an exciting affair. She has encouraged friends to watch it, as it was something she enjoyed working in and hoped others would learn from.
"My friends have not watched the movie but I am telling them to go. I hope they would not make fun of me after watching the show but take the experience with them to another level," she said.
Mr Hereniko said the feedback from Rotumans all over the world was simply awesome and he was encouraged and moved by it.
"This makes me believe that the movie has been inspiring, especially for those watching images of home in a far away land."
Mr Hereniko said during the making of the movie, there were times when the couple thought they would not complete it and would become a laughing stock.
"I mean there were times when we ran out of money and it was just becoming too frustrating. There was another time when we were all ready to board a plane to Rotuma for the screening and could not go because it was too small for everyone. During that time our costume designer from America just got fed up and took the next flight to Australia. That was it, he just had enough and was disgusted at the slow response and the way things happened here so we lost him.
"Then there was the 2000 coup and I began to think we were really fighting against time. But this was where my Rotuman beliefs came in and I did not want to be ashamed for the rest of my life for an incomplete project. I mean in the islands when you do not complete something people write songs about your failure -- which is cynical but true."
The effort has been worth it. Screened in more than eight countries in the past four years, the film has been nominated in the Best Foreign Language Film category for the 2006 Oscars.
But for Mr Hereniko, there's a more simple satisfaction.
He said the excitement and joy in the eyes of more than 300 Rotumans who watched the movie on a projector eight times on the island last year was enough to last him a lifetime.
"I am gratified by that because this is something they would never forget-it was an empowering moment and I believe many were inspired to become story tellers. It was a moving experience because for those back on the island it was the first time they watched a movie on a big projector screen."
He said the message he wanted to emphasise was how Rotumans believed that the land had eyes, and teeth.
"This is central to the Rotuman belief about justice and whenever the western court is unable to deliver it, the land would. To me the land is like a human being -- it needs to be nurtured and cared for. It is vigilant and knows the truth and will haunt people who claim boundaries that do not belong to them. This is important to all indigenous cultures because without the land -- what else is there."
---
From Fijitimes Online (7 September 2005)
A CHILDHOOD guilt that led to the creation of the film The Land has Eyes could now earn Professor Vilsoni Hereniko an Oscar.
It is a milestone for the Rotuman and the country - it is the first time a local movie maker, a movie or Fiji has entered the annual Academy Awards.
Gushing with excitement and pride, chairman of the Fiji Audio Visual Commission, Jo Mar, said it was a proud moment for the "fledgling" industry that after two years it had been able to nominate an entry for the Best Foreign Language Film category in the 78th Annual Academy Awards.
"This really is an exciting development for the audiovisual industry in Fiji and especially for Professor Hereniko - as a nomination or an ultimate award - would generate considerable exposure for the country's fledgling industry," Mr Mar said.
He said the academy's recognition of the FAVC, effectively after slightly more than three years of operation, was also an achievement in itself.
The annual competition to recognise the best in the filmmaking world is organised by the Academy of Motion Picture Arts and Sciences. The winners in the various categories will be presented with their trophies at the 2006 Oscars Awards Night.
Prof Hereniko made the movie The Land has Eyes five years ago and it has been shown in various international film festivals such as Sundance, Moscow, Montreal, Rotterdam, Singapore, Toronto, Brisbane.
"These festival screenings have positioned the film in an advantageous position and indicate to the FAVC that it has at least some chance in entering the world's premier event," Mr Mar said.
Each country can nominate one entry in the foreign language category. However the film must be released commercially in a cinema for at least seven consecutive days in its country of origin and must be shown on 35mm or 70mm flim stock to qualify.
Mr Mar said the film was more remarkable considering the production was largely funded by Prof Hereniko and his wife Jeanette, who was the producer.
"The Government recognises the importance of such films made by the people of Fiji about their culture and way of life where they can see themselves on the big screen and which captures these images for prosterity," Mr Mar said.
The Government funded Prof Hereniko to transfer his film to 35mm so it could be entered in the Oscars.
Shot in Rotuma with a budget of just under $1million, the movie will be shown locally on a big screen this week for the first time, starting tomorrow. Mr Hereniko said he wrote the film based on his own childhood experiences.
It tells of Viki, played by Sapeta Taito, now a student at the University of the South Pacific, who redeemed her family's name by exposing the secrets of her island's most powerful and important people.
When Mr Hereniko was 14 his father died and because he wanted to have in his memory the image of his father when he was alive, he ran away and was only found after his father had been buried.
"I was the youngest of 11 children and what I did was regarded as cruel and shameful to my brothers and sisters," he said.
"And I carried that guilt and this movie was sort of to heal myself."
He said his father had been falsely accused of a crime and could not defend himself because was unable to speak English and the court interpreter had translated incorrectly.
"It shamed the family for many years," Prof Hereniko said.
More than 100 Rotumans appear in the film, with Doctor John Fatiaki playing the "villain" Poto.
Also featured in the movie is Elizabeth Inia, the first Rotuman woman to be trained as a teacher and who also taught Prof Hereniko.
Prof Hereniko is now writing his second film - Hibiscus - set in Suva in the year 2000. It tells of a love relationship between a Fijian and Indian.
"Shooting movies in Fiji is very cheap compared to the US, which is maybe why it came to under a $1million," Prof Hereniko said.
The film will be released on DVD next year as Prof Hereniko has a contract with a company which states it must be shown across the United States first before it is released on DVD.
---
From Fijitimes Online (6 September 2005)
Local playwright translates legend to celluloid
by Lusiana Speight
THE pride of the Rotuman and Fijian community will hit the big screen on Thursday in Suva, as the movie The Land has Eyes, makes its second appearance in cinemas for its first commercial screening.
Chief Executive for the Audio Visual Commission Dan Bolea said this opening would the first commercial release for the movie, which has already featured in top international film festivals in Sundance,Moscow, Montreal, Rotterdam, Singapore, Toronto and Brisbane.
Directed by local playwright Vilisoni Hereniko, the film is about the life struggles of a young South Pacific woman, Viki (played by University of the South Pacific student, Sapeta Taito).
Set in Rotuma, the film shows how Viki survives mistreatment from her community because of her family's poor status.
Shamed by her village for being poor, and the daughter of a wrongly convicted thief, Viki is inspired and haunted by the island's mythical Warrior Woman, played by Once Were Warriors' Rena Owen.
Viki learns about the Warrior Woman from her father Hapati (played by Voi Fesaitu) who is a village storyteller.
He tells Viki the tale of seven brothers and their sister on a voyaging canoe.
The story goes that "after the elder brother carried out an unforgivable act against the sister", the brothers abandoned her on the island of Rotuma.
Thus was said to be born the Warrior Woman, who in Rotuman folklore, is believed to be the island's first inhabitant.
Giving birth alone on the island, she struggled to survive through determination and hard work, and became well known by generations to come for her bravery.
Viki is often teased and misunderstood and plants a tropical flower garden as a haven she retreats to in times of trouble.
Determined to restore the family pride, Viki stands up to important members of her village and speaks against them, in a bid to reclaim her father's innocence.
Director Vilisoni Hereniko says he was inspired to direct the movie after listening to stories told by his father who, like the film character Hapati, was also a storyteller.
"Since film is the most powerful medium of storytelling today, I wanted to use it to tell a story, in much the same way my father did, except the medium is of course different," he said.
"I believe a powerful story has the potential to transform people's lives and I think The Land has Eyes has the potential to make people aware of our spiritual and enduring relationship with the land and to see the land as a living human being."