From Radio New Zealand International (30 December 2005)
Susau Strickland
Congratulations to Susau Strickland, who is one of four Pacific Islanders named in the New Year Hounours List announced today. Susau, an elder of the Kingsland Methodist Rotuman Congregation, has been awarded The Queen's Service Medal for 54 years of dedicated work nursing in Fiji, the Cook Islands, and New Zealand, and for 18 years working for the Little Sisters of the Poor at Herne Bay in Auckland.
---
From Monifa Fiu in Suva (23 December 2005)
It is coming near to an end of the year and I would like to share a few achievements by LäjeRotuma Initiative since January.
I am proud to announce that three of our dedicated volunteers have found jobs in the environment/conservation field here locally. One of LajeRotuma's objectives is to empower our young people who are volunteers by providing a learning experience during LRI efforts on our home island.
LRI congratulates Fesi Isimeli, a community facilitator trained by WWF Fiji to conduct community resource conservation consultations. She represented LäjeRotuma at the SeaWeb Communications Workshop, which assisted non-communications personnel to utilise the media to create an awareness of environmental issues. It is through her contact with LäjeRotuma's network that she met Freddy, the coordinator of the Mamanuca Environment Society, an environmental society formed by a group of tourist operators in the Mamanuca group of islands, west of Viti Levu. She recently graduated from the USP with a degree in Marine Affairs.
Three other volunteers who have recently found a job through their experiences with LäjeRotuma are Irava Tuatoko and James and David Solomone, dive volunteers who assisted Sidney and me during the annual coral reef monitoring program in Rotuma. All three are working in the tourist diving industry in Fiji.
---
From Fiji Government Website (20 December 2005, posted 23 December)
Airports Fiji Limited (AFL) general manager works Rupeni Mua said the Rotuma airstrip will be upgraded to include stop-over flights between other Pacific island nations. The Rotuma airstrip has been earmarked for upgrade along with airstrips at Bureta on Ovalau and in the Lau group, Mr Mua said. "These airstrips are required to cater for larger aircrafts which AFL intends to use in the future. The Government is responsible for the upgrade and maintenance of all outer island airstrips and AFL will commence works after they receive the funds from the Government."
---
From Alan and Jan in Honolulu (23 December 2005)
On Wednesday, 21 December, Walter Aitu and Rachael Sites were married at the Mormon Temple in La`ie, Hawai`i. A reception was held following the wedding in the ballroom at Brigham Young University Hawai`i where Walter is a student and from which Rachael has just graduated. The reception was a splendid island-style event, with enthusiastic participation by the Fijian contingent of students at BYUH. Walter's sister, Yvonne, and her husband Pita, flew in from California to participate in the event, which was emceed by Ieli Vamarasi.
In addition to a feast of Hawaiian foods, entertainment was provided by fellow students who performed various Polynesian (and Fiji Indian) dances.
---
From Fijitimes Online (23 December 2005)
Police officer becomes road accident victim
PLANS for a quiet Christmas for a police officer and his family were shattered after he died in a road accident early yesterday.
Inspector Maika Lagi, originally from Rotuma, died instantly after the police vehicle he was driving veered off the road at Kabisi, near Sigatoka, at 1:30 am yesterday.
IP Lagi, who was the West divisional administration officer, was returning to Lautoka with three other senior officers after attending the inaugural Police Awards for Service Excellence held in Suva on Wednesday night.
IP Lagi's wife, Suzie said the 42-year-old, who loved his work as an officer, was enjoying one of the brightest years in his 25-year career.
Mrs Lagi said he was promoted early this year to Sergeant. And two months ago he received his posting as DAO West and was promoted to Inspector.
Mrs Lagi, who is a bank officer in Nadi, said before his trip to Suva for the awards, they were discussing the idea of travelling to Suva for Christmas. However, she said IP Lagi did not want to travel to Suva, saying he preferred to spend a quiet Christmas with his family.
"We have three children, aged 20, 15 and 9. My youngest son lives with us while our two elder children live on Rotuma with relatives,'' she said.
"We relayed the message to them this morning and my daughter is really shaken up. Both of them will be arriving today with my mother.''
Mrs Lagi said after being told of the accident by former West divisional police commander Eroni Antonio at 6am, she had been in shock.
Police public relations officer Sylvia Low described IP Lagi as an exemplary officer who would be missed by colleagues.
Ms Low said the other officers travelling with IP Lagi and whose names had been withheld, suffered injuries but were treated and sent home.
Kabisi resident Satendra Sen, who lives 30 metres from where the accident took place, said his family was awoken after hearing a loud bang.
Mr Sen said he and his son saw one of the officers standing at the bottom of the driveway calling out for help.
"When we reached the scene, we saw the police vehicle upside down with all its wheels up in the air," he said.
"We saw three of them standing outside the van but there was another one who was seriously injured still trapped under the vehicle.''
Ms Low said investigations had started into the tragic accident.
_________________
Personal note from Alan & Jan
We are deeply grieved to learn of Officer Maika's death. We were present when he and Suzie were married, and helped to photograph their wedding. In fact, we wrote about their wedding in one of our publications, entitled "Rotuma: Interpreting a Wedding." Our hearts go out to Suzie and their children, to his father and mother (Gagaj Sautiak and Vamarasi of Oinafa), as well as to all who knew and loved Maika. He was an admirable young man and will be greatly missed. Hanisiof.
---
News from Tania Lakokiperitania in Auckland (20 December 2005)
Congratulations to Patrick, TaniRose, and Nigel Tausie for their achievements at Monte Cecilia Primary in Hillsborough, Auckland.
TaniRose, Patrick & Nigel
At the prize giving ceremony held on 19 December, Patrick received awards for best all around senior player of the year for rugby, best all around senior athlete, and the Tolich trophy for knowledge of scripture. Patrick is also the head boy of the school; he will be moving on to St. Peters College next year.
TaniRose was selected as a prefect for her house and will be year 6 next year.
Nigel received a trophy for best junior athlete of the year. He will be year 4 next year.

They are the 3 of 5 children of Mausio and Akata Tausie, who hail from the villages of Juju and Saukama in Rotuma. They are the grandchildren of Rosarie Ackland and the great-grandchildren of Tausie Mausio.
---
From Fijitimes Online (20 December 2005)
Letter to the Editor regarding News Report
I write to express my concern about a news segment aired on Hemisphere, a production of ABC (Asia Pacific) Television Network.
The news report was about the political situation back home in Fiji.
It had interviews with various important figures such as Commander Frank Bainimarama.
But there was an interview with a member of a national group which was quite unjustified. The interviewee stated that "being indigenous is a divine race from God".
This sounds a bit like something from a member of the Ku Klux Klan (KKK).
The saddest part was when the man said that Rotumans fell into the category of non-indigenous.
Listening to various legends about Fiji and Rotuma has actually paid off because I know educated Fijians who believe this is so. There is a legend of the seven brothers who traveled to Fiji along with their only sister.
Her name I believe was Bula Maiwasa in the Fijian version of the legend. She was raped and impregnated with a child of the eldest brother, later abandoned on the island of Rotuma to fend for herself and her child.
Further in the legend all brothers scattered into different islands of Fiji.
Through the child of the sister, all descendents shared a link with the descendents of the seven brothers.
In conclusion I strongly hope in the future Rotumans would not be alienated in Fiji.
Paul Crocker
American Samoa
---
From Elisapeti Inia in Rotuma (6 December 2005; posted 15 December)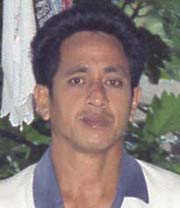 Chairman of the Rotuma Council, Tarterani Rigamoto
Tarterani Rigamoto is the newly elected chairman of the Rotuma Council. Several new mata (representatives) were elected during the October election, including Sukamanu Pene in Itu`muta (in place of Peter Underwood); Antonio (from the airport) in Itu`ti`u, because Injimo dropped out; Pensamino in Pepjei, taking the place of Kaurasi Samuela; Iva Emose in Noa`tau in place of Rupeti Mani; and in Oinafa Tarterani Rigamoto replaces the late Visanti Makrava.
During the election of the chairman the District Officer asked for the names of those who wanted to be chairman, and the names submitted were Sukamanu, Antonio, Gagaj Fatafes, Tarterani, and Pensamino. Tarterani received five votes (Tarterani, Gagaj Kausiriaf of Oinafa, Gagaj Markao of Itu`ti`u, Gagaj Osias of Itu`muta, and Ramsese of Malhaha), which was enough to win the election.
---
From Valesi Osotonu in California (6 December 2005)
Project Rotuma was intiated on 22 October 2005 by a group of individuals passionate about doing something for our people in Rotuma.

Our mission is to improve the quality of life on Rotuma for everyone through the donation of supplies, funding of public projects (in part or in full), and the development of income-generating opportunities for the people of Rotuma. Our vision is to contribute significantly to creating an economically viable Rotuma. We look forward to working closely with the district officer and the Rotuma Council.

For information on our cause please log on to http://www.projectrotuma.com
---
From Mahlon Isimeli in Suva (5 December 2005)
Iliesa Irava with trophies
On 24 November 2005, Rotuman Powerlifter Mr Iliesa Irava made the headlines again in his sport when he was named runner up to the "Male Sportsman of the Year 2005" at the Fiji Sports Awards Night. Mr Irava said that he was proud of this achievement and that he dedicated the win to Rotumans all over the world. In an interview during the awards ceremony he seemed very emotional and overcome by the recognition.
"I certainly would like to thank my family and the Rotuman community who have supported me in many ways. I am proud to put Rotuma on the map again."
Fiji Sevens maestro Waisele Serevi won the Male Sportsman 2005 award for his achievements with the Sevens team this year.