From Fijitimes Online (28 January 2006)
Reward for a good turn
by Lusiana Speight
IMAGINE a life on the high seas on board a luxury cruise liner that has four swimming pools, spas, poolside bars and other great attractions.
Imagine sharing a dining experience with the rich and famous and just enjoying a cruise through the Pacific Ocean.
Or just kicking it back each evening listening to the on board band jamming away.
One may be wondering how much a pop does this trip cost and whether there is the slightest possibility one can afford such a cruise in this lifetime.
The 12-day trip on board the luxurious Diamond Princess from Sydney to Auckland costs travellers a cool $US3000 ($F5200) per person for the cheapest cabin.
One wouldn't call it a room for its comfy interior defies the stereo-type of a cabin as the abode at sea resembles a five-star hotel room.
You all may be wondering what this writer is doing writing about a ship.
Well, it's about one family that took the latest trip from Sydney to Auckland.
That early this year saw the liner's guest list featuring a whopping 11 passengers from Fiji.
So who were these people rubbing shoulders with the rich and famous on the high seas in their sulu vakataga and mumus promoting a true island feel on this once-in-a-life-time opportunity.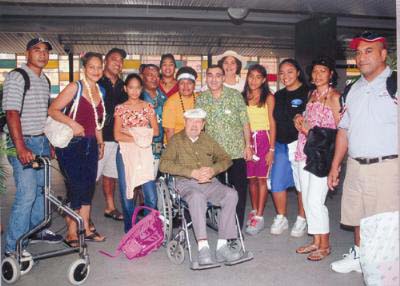 Lifetime experience ... members the Mausio, Fesaitu and Jiare clan who cruised in comfort
They were members of the Fesaitu, Mausio and Jiare families of Suva, Fiji.
The close-knit relatives from Suva and Lautoka were handsomely rewarded earlier this year for their kind hospitality to a visiting couple.
Unbeknown to them the couple splashed out thousands of dollars to ensure the 11 members were part of this 12-day delight.
Earlier this year, the family received a timely new year's gift that included the trip for 11 members of the family, leaving them only a few weeks to prepare for the cruise across the Pacific.
The family made their way to Sydney in the first week of January to board the ship from Darling Harbour.
Family spokesman Mario Mausio said the trip was made possible by the couple who wished to remain anonymous.
On board, amid well-heeled professionals and super rich folks, the Rotuman family remained un-swayed by the glamour of redolent luxury.
"We knew that this was simply through the grace of God that we were able to make this trip and we did not let it get into our heads. We simply remained ourselves," Mausio said.
"When you look at the guest list for the journey, Fiji had a massive 11 in total and that was something we thought very important in promoting Fiji because there were people from around the world who were intrigued by us, the group from Fiji."
Mausio said when the family went for dinner they intrigued travellers with their Fijian outfits that the family went out of their way to promote on the ship.
"We made sure that when we went for the trip we would be promoting Fiji on the cruise liner because we knew there would be potential visitors on the ship who most possibly did not have any idea where Fiji was," he said.
"So it was our duty as proud citizens of this country to promote Fiji through everything we did--from our clothes, to our bubbly island nature and our friendliness--these were the true indications of a true Fijian."
While this Rotuman man wore the sulu vakataga (men's formal sarong with pockets) along with the rest of the men in the family on the trip, the women lit up the ship with their colourful island mumus that definitely proved a head-turner. "People would come up to me and ask where we were from just from simply seeing our style of dressing.
"We would proudly say Fiji and show Fiji to them on the maps on the ship, explaining to anyone who wanted to hear about our beautiful country," Mausio said.
"Many men came to me to ask me why I was wearing a skirt and I would explain to them about it being our traditional costume.
"Many interested women would go up to my wife and the rest of the women in our family to ask about the mumus and where they could get one."
The family stood out at meal times as the noisiest and most fun-loving group in the dining hall.
"Most of the time during meals, our table would be full of new friends we had made on the ship," Mausio said.
"You know how us Fijians love our meals and enjoy it as much as we can. That's why most of our meal times were always noisy, something people from other countries found amusing and it would make them come to our table and find out why we were having so much fun."
Mausio and his family would like to thank the anonymous couple for an experience of a lifetime.
"We have them to thank for all this because we know that without them we would have never been able to experience something like that in our lives," he said.
"Today (yesterday) is the woman's birthday and we want to wish her a very happy birthday and hope she is blessed with her husband with more blessings with what they have blessed us with."
Before disembarking at Auckland, the family had enough friends to make up just a little fraction of the visitor arrivals into the country.
Hopefully soon their little promotional gig on the Diamond Princess will bear fruit with some of those on board that trip coming here to check out what they now believe is the happiest land on earth.
The family relive the trip with a daily exchange of stories, talking about the life on the seas among the well-heeled.
This was a lifetime experience for the family and they are optimistic about another experience aboard the Diamond Princess.
For now, though, they just want to wish their anonymous fairy God Mother a very happy birthday, saying may she have a wonderful day with her husband as a reward for throwing so much happiness at a simple family from Fiji.
---
From Fijitimes Online (24 January 2006)
No funds to repair State's boats
STUDENTS and teachers from outer islands are stranded because there are not enough government vessels since most are awaiting repairs.
The problem is further compounded by the surge in oil prices.
This was confirmed by the acting director of Government Shipping Services, Captain Seci Waqa, who said both reasons boiled down to the lack of money.
Repairs cannot be undertaken because funds earmarked for it in the 2006 Budget had yet to be released by the Finance Ministry.
"I had a meeting with senior officials and we can't provide services properly as we are waiting for the release of funds to service our vessels as the maintenance of these vessels require a lot of funds," said Captain Waqa.
He was responding to criticism from teachers and students wanting to travel to Lomaiviti and Lau for the start of the new school year but they cannot because of the breakdown of vessels.
Captain Waqa said the MV Raiyawa developed engine problems and could not travel to Lomaiviti as scheduled on Friday.
The only ship servicing the area is the MV Iloilovatu, which travelled last week to the Lau Group.
Captain Waqa and Transport Minister Ratu Naiqama Lalabalavu contradicted themselves on the availability of MV Raiyawa. Ratu Naiqama said the vessel left for Moala last week.
He said upon her return, she would take teachers and students to Kadavu and would then serve the Lomaiviti Group.
Captain Waqa said the fuel price restricted them from sailing the Iloilovatu more often.
"The cost of fuel has gone up so we can not schedule our ships to go to outer islands. For example the ship Iloilovatu consumes three tonnes (about 3000 litres) of fuel per day." Ratu Naiqama said the ministry had tried to address the problem of transporting teachers and students.
Passengers on the wharf at the Narain Jetty said the ship MV Raiyawa cannot sail and that was the reason why they were told to return home on Friday when they were supposed to leave Suva.
Ratu Naiqama said the ministry was not aware of any complaints from anybody and they were working with the Ministry of Education and they urged teachers and students to take their complaints to their ministry.
The Government announced an increase in funding for the shipping franchise scheme for 2006 to almost $2 million. Access to Rotuma, Lomaiviti, Kadavu, Cikobia, Yasawa and the Lau Group will be given a special government subsidy under the scheme.
And, $370,000 has been allocated to improve air access for uneconomical routes such as Vanuabalavu, Lakeba, Cicia, Koro, Rotuma, Moala and Gau.
A decision by Cabinet last week to provide monthly air services to Ono-i-Lau after it was included in the Government's domestic air services subsidy scheme was met with joy by people from the island. Fiji Labour party president, Jokapeci Koroi, who hails from Ono-i- Lau, said she was elated to hear the news, as it was very difficult to travel to her island.
---
From Fijitimes Online (21 January 2006)
Fruit flies cause concern
FIJI risks losing more than $20million annually from its fruit and vegetables exports if fruit flies plaguing Rotuma reach Fiji.
Acting director Quarantine and Inspection Division Hiagi Foraete said Fiji exported its fruit and vegetables to markets like Australia, New Zealand, Japan and sometimes the United States of America.
Mr Foraete said the quarantine department had identified a species of fruit fly that could harm local products.
"We have identified B. Kirki, which is a pest in Tonga and Samoa and is a real threat to Fiji's agriculture industry.
"This species of fruit fly tends to infect fruit like guava, mango and avocado by burrowing inside and laying its eggs inside the fruits.
"These eggs turn into larvae and that is what causes fruits to rot," he said.
He said fruit imported from overseas markets like Australia could carry fruit flies.
"We have identified the Queensland fruit fly that could get into the country through fruit imports from Australia if not inspected properly," he said.
As a precautionary measure, he said the quarantine department had stringent inspections at points of entry in Fiji.
"We very carefully check where the fruits and vegetables are coming from, how it was initially packed, in what state the fruit was picked so that we are able to prevent entry of fruit flies in Fiji.
"But we don't think that there is any such thing as two forms of ruling for private vessels and government vessels carrying cargo to and from Rotuma to Fiji," he said.
He said the Fiji Quarantine Department had put strict restrictions on fruits and vegetables from Rotuma, keeping in mind the damage that the fruit fly species from the island could do to the agriculture industry.
---
From Fijitimes Online (20 January 2006)
Ban on fruit from island
THE Quarantine Department has been accused of double standards in the inspection of vessels from Rotuma.
Schoolteacher Ieli Erasito, 44, said oranges and pineapples brought in by his nephew, Peter, and niece, Emily, were confiscated by quarantine officers.
"They only take things from commercial boats, they never check government vessels. It's not fair to take things only from some boats and not from government vessels," said Mr Erasito. The children travelled from Rotuma to Suva by the Western Shipping Company Limited-owned MV Cagi-Mai-Ba, which arrived at Narain Jetty in Walu Bay, Suva, on Wednesday morning.
But acting director quarantine Hiagi Foraete said the claims were false as all vessels were required to be checked.
"Under the Quarantine Act all vessels to and from Rotuma have to be inspected," he said.
Western Shipping Company Limited director operations Sai Ratu said they had received a directive to not carry fruit from Rotuma. "But if fruit are found on the vessel, then it's not the responsibility of the captain. The quarantine officers check the loading and confiscate the items."
Mr Foraete said many passengers travelling from Rotuma ignored the advice of quarantine officers on the movement of banned fruit and vegetables.
He said he would be sending official documentation to quarantine officers on Rotuma to show people what was banned when they complained.
The Ministry of Agriculture's Korinivia Research Station said the ban on fruit from Rotuma was because of the existence of the B.kirki and B. obscura fruit flies on Rotuma.
Those fruit flies are not present on the other islands in Fiji. Banned fruit and vegetables include oranges, pawpaw, breadfruit, avocado pear, Tahitian chestnut or ivi and guava.
---
From Jeannette Hereniko in Palm Springs, California (12 January 2006)
The Land Has Eyes opened in Brisbane, Australia on 1 January, and was screened at the Palm Springs International Film Festival on the 8th and 10th of January. It is scheduled to play in the San Francisco Bay Area on the 14th and 18th of January and at the Doris Duke Theater in the Honolulu on March 2nd, and will be screened in Seattle in April. A DVD of the movie is tentatively scheduled to be available in May of this year. For details go to the The Land Has Eyes website.
---
From Fijitimes Online (12 January 2006)
Bernie quits top level netball
AFTER ten years of international netball, Bernadette Ramafono has quit international netball because of personal and work commitments.
Bernadette Ramafono
The midcourt ace has dropped out of the Commonwealth Games in Melbourne and the 2007 World Netball Championship squad prior to the team's first build up tour to Australia next week.
"It's really unfortunate that I'll have to miss these two championships but all good things come to an end," said Ramafono.
With a career in the military and studies, the Rotuman lass made the decision after some consultation with national coach Megan Simpson.
"I had told her about my commitments and took some time to think about it before making this decision to step down from the national level for a while," she said.
Along with her military obligations, Ramafono will complete her degree in IT and Management at the University of the South Pacific this year.
"It's not easy having to balance work, studies and netball so I had no option but to focus on where my priority lies and give way to the younger players that are now proving themselves," she said.
The 30-year-old netballer made her debut at the national level after being selected into the national squad whilst a Form Seven student at Adi Cakobau School in 1995.
"I've enjoyed my short experience training under Megan and will surely miss her expertise and could only wish I could stay on but there's time for everything," she said.
Ramafono said taking onboard Simpson to take Fiji into the Melbourne Games and WNC was very opportune for Netball Fiji.
"We're lucky to have such a coach who sets the pace, leads by example which motivates players so much," she said.
---
From Lucy Ferei in Riverside, California (7 January 2006)
Lucy with daughters and friend
On 31 December 2005 we celebrated our daughter's, Sophia Ferei Asuega, 21st birthday. I am the daughter of late gagaj Ferei ma Makereta of Tuakoi, Itu`ti`u, Rotuma. My husband is George Asuega whose father is the late Loimata Asuega of Pago Pago, American Samoa, and his mother is the late Seini Fotu of Vanuabalavu, Lau.
Sophia attended Rotuma High School and is currently attending college. Her major is business administration. We have three other daughters: Margaret (16), Jessica (15), and Henrietta (10).
A special thank you to our families in Fiji and Rotuma for their thoughts and prayers. Also to our friends and extended families here in the U.S and Canada. Thank you all for making her day special and memorable.
---
From Makereta Mua in Suva (7 January 2006)
Rotuman Chants and Hymns CD
A collaborative recording project was undertaken in 2004 by Dr Karl Neuenfeldt, Associate Professor at the School of Contemporary Communication, Central Queensland University in Australia, the Rotuman Churchward Chapel Choir and the Oceania Centre for Arts and Culture at the University of the South Pacific (USP) in Suva. The project was initiated by Dr Karl Neuenfeldt whose research interests include music and dance of the Aboriginal and Torres Strait islander communities in Australia. Dr Neuenfeldt is particularly interested in the influence of Rotuman music on the performance culture of Torres Strait islanders. After consulting with the head of the Oceania Centre for the Arts and Culture, Professor Epeli Hau'ofa, various Rotuman elders, the Resident Minister of the Churchward Chapel, Rev. Iven Fatiaki and choirmaster, Samuela Taukave, it was decided to produce a CD on five traditional chants (tautoga) and five church hymns (mak ka pelu). The songs were sung by the Churchward Chapel Choir and the CD is under the care of the Oceania Centre for the Arts and Culture at USP. The CD was produced by Karl Neuenfeldt and Nigel Pegrum, recorded at the Media Centre, University of the South Pacific and mixed at Pegasus Studios in Cairns, Australia.
The first two sua are reflections of the migration of Rotumans to Australia and the experiences they and their descendants encountered over time.
The tiap hi offers greetings and good wishes to Rotuman relatives and friends in Australia.
The tiap forau refers to the migration of Rotumans to the Torres Strait in search of better opportunities in the pearling industry, their experiences and the benefits derived by their relatives back home in Rotuma.
The last piece is a traditional song about a heron.
The second track is a particular beating of the lali to inform Rotumans that the church service is about to begin.
The remaining five church hymns mak ka pelu are from the Rotuman Hymn Book (RHB 143, 140, 306, 209 and 304).
The Oceania Centre for Arts and Culture invites all members of the Rotuman community and the public at large to the launching of Rotuman Chants and Hymns CD on Thursday, 26 January 2006 at the Oceania Centre for Arts and Culture, University of the South Pacific, Suva at 7:00 pm.
The CD will be sold at the launching and the price is F$20 per CD. All enquiries regarding CD sales can be directed to Ann Barratt at the Oceania Centre via Phone 3232832 or email oceania@usp.ac.fj
To hear sound clips go to album page