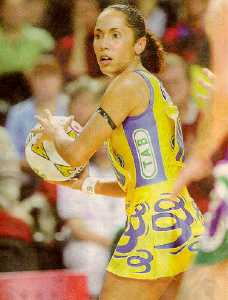 Selina Gilsenan in action
From Carl Gilsenan in Sydney, Australia (27 February 2006)
Selina Gilsenan (my sister), a part-Rotuman, will be playing netball for Australia in the upcoming Commonwealth games. As far as I know, Selina will be the first ever Rotuman to represent Australia in any sporting event. She has to date played over ten matches for Australia, touring New Zealand and Jamaica last year. Selina plays for the Sydney Swifts in the national competition in Australia. Selina is the daughter of Chris and Alisi Gilsenan. Alisi is from Itu`muta and Malhaha respectively. Selina's grandmother is Fuata Aisea from Itu`muta, whose parents are Selina (after whom Selina is named) and Aisea. Selina's grandfather is Aisea from Malhaha (she never met him because he died an early death).
---
From Monifa Fiu in Suva (27 February 2006)
LajeRotuma Initiative (LRI) has been awarded the Commonwealth Silver Award by the Commonwealth Youth Programme in recognition of youth participation in environmental issues. CYP is an international development agency that works to give young people the skills, confidemce amd avenues to create a better future for themseleves, their families and for their communities.
LRI invites you to the Silver Award ceremony at the Churchward Hall, Rewa Street on Friday, 3 March at 9:30-10am. This has been jointly organised by the Ministry of Youth and the LRI. It is with great hope that the team will see you there.
---
From Fijitimes Online (21 February 2006)
Authority targets renewable energy
THE Fiji Electricity Authority wants to be powered 100 per cent by renewable energy by 2011, Minister for Works Savenaca Draunidalo says.
Mr Draunidalo made the comment while opening a regional workshop on Renewable Energy and Energy Efficiency at Nadave, in Tailevu, yesterday.
"As we all know, the world price of crude oil has increased dramatically in the past two years. With these increases, it is highly unlikely that it will return to its previous levels nor will it be the last of the increases or fluctuations.
"The increases have certainly had negative impacts on all our economies," he said.
Mr Draunidalo said the situation was now very critical in that governments worldwide were considering the use of nuclear and other controversial forms of energy.
"Here in Fiji, the Government has put in place strategies through its Strategic Development Plan on initiatives to take us forward in this regard.
"As part of this plan, the FEA is embarking on an ambitious goal of becoming a 100 per cent renewable energy power utility by 2011."
He said to date the authority had commissioned two new hydroelectric systems since 2004, was working on a wind farm at Butoni, near Sigatoka, and discussing major investments in hydropower, wind energy and biofuels with leading agencies, including the Asian Development Bank.
Mr Draunidalo said one of the biofuel projects had been commissioned last month with the wind project expected to be commissioned before the middle of the year.
He said a sub-committee was established last year by Cabinet to look at the viability of the production and use of such fuels.
The workshop heard the ADB had developed four proposals for Fiji's renewable energy and energy efficiency program — a hydropower development in Namosi Province for village electrification and electricity sales to FEA, biofuel development using coconut oil as a diesel replacement on Rotuma, development of an 'Energy Efficiency Service Company (EESCO) concept and geothermal resource investigation for Viti Levu and Vanua Levu.
The weeklong project is attended by delegates from Pacific Island energy offices and power utilities.
---
From Konousi Aisake in British Columbia (15 February 2006)
Noa`ia e`mauri to all Rotumans around the globe.
The future of the Rotuman community (Hugagesea) in Vancouver, British Columbia, Canada is secure, due to new ideas and understandings.
Our new mode of operation is:
(1) To promote our youths. Our youths are given first choice to volunteer themselves for any vacant positions in the committee.

(2) If several youths volunteer for the same position, then an election is held.

(3) No dues are required to be a member. Every Rotuman around the globe is welcome along with their friends.

(4) Our Hugagesea club is funded by donations from members who can afford it and from proceeds of our annual Rotuma Day celebration. Every donation, no matter how much, is equally appreciated.
I'm proud to say that our youths have taken the leadership rolls of president, vice-president, and secretary. I am the treasurer, a parent acting as an adviser if needed. I hope that our way doing things in Vancouver will provide a model for Rotuman communities elsewhere. It has worked well for us in building a strong community based on our Rotuman heritage.
Our Rotuma day function this year is on 20 May.
The highlight will be a traditional tautoga performance followed by fara time.
If anyone would like to be with us please let us know.
PH 604 5962849 or e-mail S_Aisake @ telus.net
---
From Fijitimes Online (11 February 2006)
Ambulance for island hospital
THE Government of Japan yesterday signed a grant in Suva for a new ambulance for Rotuma Hospital.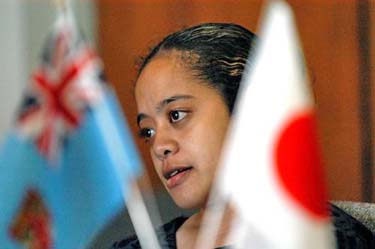 Dr Susana Pene of Rotuma Hospital at the signing of the MOU at the Japanese Embassy
The $US44,132 grant was signed by Japanese Ambassador Masashi Namekawa and acting Rotuma Hospital sub-divisional medical officer Doctor Susana Pene at the Japanese Embassy.
Director Central Eastern Health Services Doctor Salimoni Tuqa said the ambulance would help solve one of the most urgent needs at the hospital.
Dr Tuqa said Rotuma people faced difficulties transporting their sick to hospital and it was costly to hire a vehicle because there were not many on the island.
Dr Tuqa thanked the Japanese Government for its continuous assistance to the country as a whole.
Mr Namekawa said funding for the project was in line with Japan's policy of promoting development at grassroots level and was sourced from its Grant Assistance for Grassroots Human Security Projects Program.
"The program is designed to address basic human needs including water, health, education, vocation training, environment and rural infrastructure.
"This ambulance will ensure people of Rotuma have access to mobile health services and their sick will be promptly transported to the hospital."
Ms Pene, who replaces Dr Sumasafu Manueli, contributed the success of the grant to her predecessor.
"Dr Manueli made the request last year and all credit goes to him. It is unfortunate he could not make it in time from Rotuma for the signing," she said.
---
From Fijitimes Online (10 February 2006)
A deep sense of belonging
by Amelia Vunileba
Makereta Mua with a copy of the CD
CULTURE and traditions are fading fast. If indigenous people are not careful, their heritage could be lost to the sands of time.
And if that happens, identities will also be lost because that is what sets us apart from other races.
Rotumans are a unique lot. Even though they are Fijians by stature, they have their own traditions which make them unique.
The Rotuman community last month launched a CD of songs of their ancestors. The CD contains traditional Rotuman chants and hymns depicting the experiences of those who went to the Torres Strait in search of opportunities in the pearling industry.
The CD, titled Rotuman Hymns and Chants, was launched on January 26 by Churchward Chapel chief steward, Vilisoni Fauoro at the Oceania Centre for Arts and Culture at the University of the South Pacific.
Production assistant and cultural liaison officer, Makereta Mua, said songs had been sung by the Churchwood choir.
"The migration of Rotumans to Torres Strait happened in the 1860s to the 1900s and the chants and hymns talk about that period," she said.
"Initially there were discussions between Doctor Karl Neuenfeldt, Associate Professor at the School of Contemporary Commun-ication at Central Queens-land University and Pro-fessor Epeli Hau'ofam, head of the Oceania Centre for Arts and Culture at USP, about the possibility of undertaking recording projects with an emphasis on combining different Pacific musical traditions.
"I was also in touch with Dr Neuenfeldt regarding my research on the Rotuman diaspora to the Torres Strait, particularly the influence of Rotuman music and dance on the culture of the Eastern Islands on Torres Strait."
Makereta said she was asked to find a group of Rotumans who could sing the traditional Rotuman chants similar to the Rotuman chants that maritime workers took with them to Australia in the late 1800s.
She said in 2004, Dr Neuenfeldt, Nigel Pegrum, the Churchwood chapel choir and the Oceania Centre for Arts and Culture recorded the CD.
She said the CD was to include five traditional Rotuman chants called the tautoga and five church hymns or mak ka pelu.
"The CD was recorded at the USP's media centre and mixed in the Pegasus Studio at Cairns, Aus-tralia," said Makereta.
"Four of the five traditional chants or tautoga were composed by the former resident minister of Churchward, Reverend Iven Fatiaki," she said.
"The first two sua and tiap hi are reflections of the migration of the Rotumans to Australia and the experiences they and their descendants encountered over time.
"The tiap forau refers to the migration to Torres Strait.
"These people had gone in search of better opportunities in the pearling industry which benefited relatives back home," she said.
Makereta said the remaining five hymns or mak ka pelu were sung, along with the use of a bell or triangle, and the style of singing was similar to the Lauan polotu and Tongan hiva usu.
She said the only other instruments used were wooden sticks on folded mats for the tautoga and an unused fire bell for the mak ka pelu.
"Churchward choirmaster Samuela Taukave said the bell organised the tones and helped with the rhythm and timing of the hymns."
Makereta said this was not the first CD on tautoga or mak ka pelu but it was the first of its kind because it talked about what the Roumans went through when they migrated to the Torres Strait.
"It is also new, given the fact the tautoga chants acknowledge Rotumans in Australia and gives special recognition to the presence of part-Rotumans in the Torres Strait.
"The migration of Rotumans to Fiji and other parts of the world has occurred since the 1880s and the trend is still continuing.
"More Rotumans are living in parts of Fiji and abroad than on the island and this interaction with other ethnic groups through migration has created a distinctive sense of Rotuman identity."
Makereta said the CD helped link Rotumans all over the world through music and Mr Fatiaki summed it up when he said: "Music will help people bring the past to the present, remembering what was done.
"The happenings of the past can be related through music to perhaps revive what happened and maintain the culture."
"The lyrics emphasise the importance of the Rotuman value of hard work and sharing.
"It gives Rotumans a greater appreciation of what their ancestors went through."
She said while some young Rotumans were interested in traditional music, most were not too keen on it because of perhaps the influence of Western music and ever-changing urban lifestyle.
Makereta said the impact of globalisation would be hard to change and this had resulted in most people being drawn away from traditional practices and culture.
She said the major challenge for most traditional societies was to prevent the loss of individual cultures. One way to achieve this was through the promotion of such hymns and chants.
"Rotumans need to stop awhile and critically look within their society and ask themselves who is a Rotuman, or what are Rotuman traits and practices."
Makereta was passionate about the CD and said if there wasn't any effort to promote tradition and culture, they would be lost.
She said, "if no deliberate attempt is made to create the appropriate awareness and promote active programmes among our people, it is quite possible that in the not-too-distant future we could be just another scatter of people without roots on which to claim an identity."
"One way of creating awareness is for parents, grandparents, elders and leaders in the community to make a concerted effort to inculcate these important values to the younger generation," she said.
She said it would be good to teach indigenous language, music and dance in primary and secondary schools. It could be included in the school curriculum.
She said the CD was one way of capturing traditional music and dance for future reference.
Makereta said there were close to 100 people at the launch, including the Minister for Information, Marieta Rigamoto.
The CD costs $20 and can be bought at the Oceania Centre for Arts and Culture at USP.
---
From Fijitimes Online (7 February 2006)
Student bound for world forum
GERALDINE Varea, 22, a student of the Davuilevu Theological College has been chosen to represent the Methodist Church in Fiji at the World Council of Churches assembly in Brazil this month.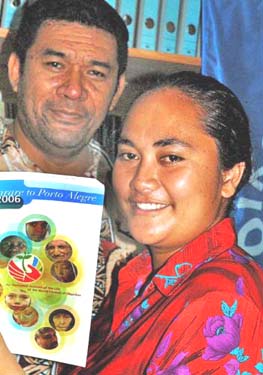 Feiloakitau Kaho Tevi, the executive secretary of World Council of Churches, and Geraldine Varea in Suva yesterday
The young Rotuman lass will accompany assistant church general secretary Reverend Tuikilakila Waqairatu to the meet, which will be held from February 14 to 23 at Porto Allegre.
She said the churches were doing their part in addressing some of the critical issues facing the country and the Pacific in general and that people should pitch in and help. She said the involvement of non-Christians was important because issues like HIV/AIDS, globalisation and climate change affected everyone.
Feiloakitau Tevi, executive secretary of the WCC in the Pacific, said the delegation would focus on four key issues with which Pacific islanders were struggling.
These included continued effects of nuclear testing in the Pacific, consequences of climate change on Pacific island states, combating the spread of HIV/AIDS and development of Pacific alternatives to economic globalisation.
Mr Tevi said the delegation would call on the WCC to be vocal and help remind the world of the plight of Pacific islanders suffering the consequences of nuclear testing.
See a related article in Pacific Magazine.
---
From Fereti Sosefo in Iraq (6 February 2006)
The last few days were quiet around the international zone where we were staying because of the tremendous operation to clear insurgents around Baghdad by the ever stronger US marines and US army. The international zone is where the residences of the Iraqi President and Prime minister are located, along with the American, British, and the Australian embassies, and all foreign security firms and Department of Defense contractors. The firm we are protecting now is housed in one of Saddam Hussein's main palaces in Baghdad, called "Believers Palace." Underneath the palace is Saddam's main bunker, which can accommodate about 160 personnel. The bunker is 1,800 sq meters, walls up to 2m thick, with 3-ton steel doors. There are two escape tunnels, and from the point of entrance in the palace down to the bunker is the equivalent of a double story building, which is why the bombs never reach down below. That is some of the news I would like to share with Rotumans until my next article. I will be leaving to Fiji on Friday for four weeks leave, and I will spend three weeks in my village of Motusa in Rotuma; I am very much looking forward to it. To all my relatives around the world, noai`a `e mauri, and especially to my sister in Canada with her husband and her two boys. God bless you all. Hanisiof,
e-mail <feretisosefo@yahoo.com>
---
From Fijitimes Online (5 February 2006)
THE Prime Minister, Laisenia Qarase, has indicated that if he wins the 2006 election, it may be his last term in politics.
While celebrating his 65th birthday at the weekend, Mr Qarase said he was still fit for another five years in politics.
He said two of his cabinet ministers had indicated they would not contest the election in September.
"Minister for Foreign Affairs Kaliopate Tavola has indicated he won't be contesting and so is Minister for Information Marieta Rigamoto," Mr Qarase said.
Ms Rigamoto said she decided not to contest the election because she wanted to give young Rotumans a chance to serve in the House of Representatives.
"Rotuma has only one seat in Parliament and I have served for seven years. I think it's time someone else got a chance," she said.
Ms Rigamoto said she would take a break first before she considered what to do next.
Mr Qarase said he had a quiet Sunday lunch with his family yesterday.
He turned 65 on Saturday and had two parties with friends.
"I'm a senior citizen now," he joked.
---
From Fereti Sosefo in Baghdad, Iraq (1 February 2006)
I would like to pass on what we, the Rotumans in Iraq have seen, and what`s happening in this war-torn country. My name is Fereti Sosefo, from the village of Motusa; my parents are Betty and Jio. The other Rotuman with me is Niafe Tausie from Malhaha. We are working for Sabre International Security, a London based company, although we now have a sister company in Iraq. We provide armed security to Parsons Company, an American firm that is doing reconstruction work in Iraq building hospitals, prisons, courthouses, and dams. We are doghandllers, and were trained in England from April to June 2004. We first came to Iraq in August 2003, and are still here. Our Fiji office is located in Suva, opposite Kasapia Hardware on High Street. I am now preparing to take my annual leave to Fiji and very much look forward to it, especially since this is the most dangerous place on earth. Car bombs, sucide bombers, mortar fire, ieds (improvised explosive devices) are the weapons these terrorists use everyday here in Baghdad. God bless you all and noai`a to all the Rotumans around the world.
More from Fereti Sosefo in Iraq (2 February)
We first came to Iraq to provide armed static guard for our clients, but the local Iraqis went to work in their vehicles, so the threat of carbombs was there. Mirror searches to detect explosives was not good enough, so dogs trained to sniff and find explosives were brought in. Our dogs sniff the following explosives, to name a few: TNT, PE4, cortex, C4 and many more. We were sent to England for training to be able to work with the dogs. There were eight of us, six Fijians and two Rotumans, and now the six Fijians have left for home and only the two of us are still here in Iraq, along with the eight dogs we brought from England. Since then the company has bought an additional five dogs, so we now have thirteen here. We were also trained with attack dogs, which are used for crowd control. The last five dogs were bought from South Africa and will only respond to S. African language commands. Everyday I search a hundred plus vehicles. My shift starts at 4:30 am in the morning and lasts until 11:30, when Tausia another Rotuman comes to relieve me until 5:30 pm in the afternoon.
About our backgrounds: I joined the Fiji military forces in 1987 during the first coup, and after completing recruit training, I served with the Third Infantry Battalion, Fiji Military Forces until I resigned in 1993. I also spent a few years in Lebanon with the peacekeeping force, and was in Egypt with the multinational force and with observers in the Sinai Desert until the year 2000 crisis in Fiji, when I went home and rejoined the army. My last tour of duty was in Lebanon, until 2001. Tausia was in the Fiji Army Engineers until 2003, when he left to join this company, which was already in Iraq.
---
From Curleen Langman in California (1 February 2006)
Project Rotuma, which is based in California, held a fundraiser on 26 November 2005 to launch its identity and assist with legal costs. Our next fundraiser, the 1st Annual Helava 'Charity Ball, will be held on Saturday, 29 April 2006 in the San Francisco Bay area.
We invite all Rotumans (besides our loyal friends and supporters) in the USA and abroad who are able to travel to San Francisco using 'flight miles', 'free miles', staff travel discounts...or other affordable means, to attend. Tickets are $150 a couple (pair, partners, friends, twins etc.). Proceeds will be used toward the procurement supplies and equipment for Rotuma Hospital. We invite you to enjoy this special night with us and discover what Project Rotuma is doing for Rotuma. Please mark your calendars now.